Industry Overview
The market for metaverse in gaming is anticipated to increase dramatically, going from $12.56 billion in 2022 to $175.58 billion in 2030. It will register a CAGR of 44.5% during the forecast period. The Metaverse is an interface that integrates social networking, online gaming, remote work, Virtual Reality (VR), Augmented Reality (AR), and cryptocurrency to allow individuals worldwide to communicate digitally. Metaverse has attracted significant investment from venture capital, tech behemoths, and game companies. Perseverance is the most common driving force in the Metaverse. Thus, it remains available even after a player has finished using the gaming platform. It also delights players because of the virtual environment it gives for the digital recreation of real-world experiences. On metaverse platforms, players frequently come across objects that appear to be remarkably realistic. They can converse with other players, interact with virtual objects via haptic gloves and jackets, and even trade virtual goods.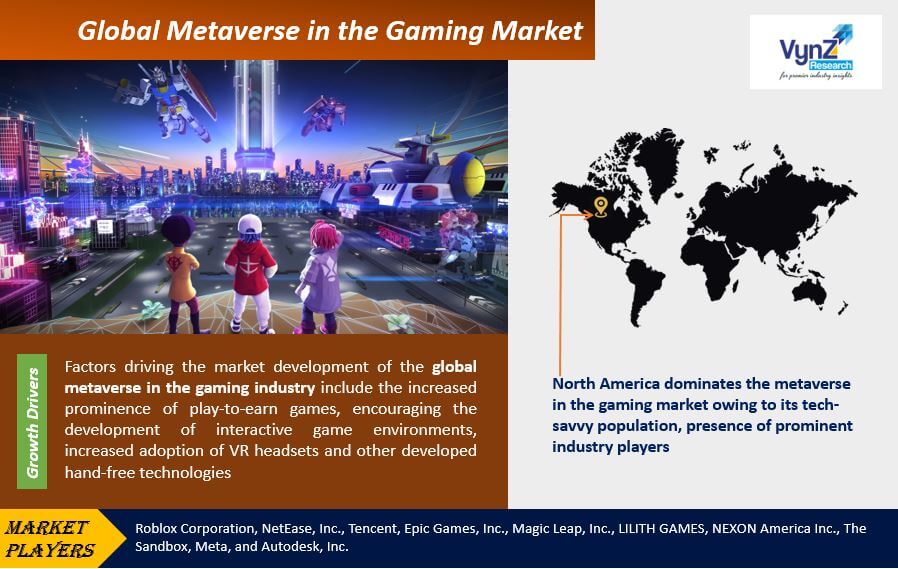 Metaverse in the gaming market allows users to earn huge amounts of money through online processes. Moreover, several metaverse platforms are launched by gaming giants who are paying enormous money in NFTs.
Market Segmentation
Insight by Component
Based on Components, the Global Metaverse in Gaming Market is bifurcated into Hardware and Software. Software is further segmented into VR Metaverse Games and Gaming Engines. Hardware is further divided into 3D Headset, Metaverse Wearables, and Gaming Console. Software is expected to have the fastest growth during the forecast period owing to the rising number of users playing games in the metaverse, the development and adoption of VR software in gaming platforms, the enrichment of the gaming experience through the integration of full display screens, VR headsets, 3D technology, tactile sensation, etc. The gaming business has transformed as a result of the metaverse's rapid growth in game software, which has integrated focus, locus, and Sensus to create a highly immersive and dynamic three-dimensional platform. 
Insight by Technology
Based on Technology, The Global metaverse in Gaming Market is segregated into Augmented Reality, Virtual Reality, Mixed Reality, Extended Reality, Blockchain, Non-Fungible tokens (NFT), and Others.  Non-Fungible Token is secured via blockchain technology and acts as a bridge to the metaverse, thus facilitating identity, social, and community experiences in the environment. NFTs are anticipated to have a high CAGR during the forecast period owing to increased adoption to purchase in-game attributes on P2E gaming platforms, using NFTs to handle secure property transactions in the metaverse, and robust growth of NFT gaming.
Insight by Age Group
Based on Age Group, The Global metaverse in Gaming Market is divided into 11 to 19 Years, 20 to 35 Years, and Above 35 Years. The 11–19 age group is anticipated to increase at the highest rate because of the increasing number of game businesses trying to develop metaverse for kids and young people. To boost sales, a rising number of toy companies, including Lego, are exploring the metaverse industry.
Insight on Platform
Based on Platform, The Global metaverse in Gaming Market is categorized into Desktop, Mobile, Console, and Others. The desktop segment dominates the market due to the increased use among online gamers. Moreover, the mobile category is expected to have a high CAGR during the forecast period as it increases companies' revenue owing to increased use by mobile gamers.
Insight by Game Genre            
Based on Game Genre, The Global Metaverse in Gaming Market is segmented into Action, Adventure, Casual, Role-Playing, Simulation, Sports & Racing, and Strategy. Strategy is expected to have a high CAGR during the forecast period. The games help players to find a vast, open world that has cooperative gameplay and social features.
Global Metaverse in Gaming Market Report Coverage
| | |
| --- | --- |
| Report Metric | Details |
| Historical Period | 2018–2022 |
| Base Year Considered | 2023 |
| Forecast Period | 2023 - 2030 |
| Market Size in 2022 | $12.56 Billion |
| Revenue Forecast in 2030 | $175.58 Billion |
| Growth Rate | CAGR 44.50% |
| Segments Covered in the Report | By Component, By Technology, By Age Group, By Platform, and By Game Genre |
| Report Scope | Market Trends, Drivers, and Restraints; Revenue Estimation and Forecast; Segmentation Analysis; Impact of COVID-19; Companies' Strategic Developments; Market Share Analysis of Key Players; Company Profiling |
| Regions Covered in the Report | North America, Europe, Asia-Pacific, Middle East, and Rest of the World |
Industry Dynamics
Growth Drivers
Factors driving the market development of the global metaverse in the gaming industry include the increased prominence of play-to-earn games, encouraging the development of interactive game environments, increased adoption of VR headsets and other developed hand-free technologies, and mounting investment to create several versions of the metaverse. Moreover, the increased user base and gamers spending significantly in the gaming industry along with increased use of augmented and virtual reality, live streaming, and e-commerce prospects have led to future market growth. Furthermore, the adoption of virtual reality technology, cross-reality gaming, the gamification of other activities, blockchain-based gaming, and mobile metaverse gaming are some of the current trends in this field. Additionally, the emergence of metaverse gaming is further aided by the rise of mobile gaming and the expansion of high-speed internet connection. Thus, the metaverse platform improves the digital experience by establishing a virtual world in which users can engage in immersive gaming, execute transactions, network, socialize, mingle, trade virtual property, consume electronic content, and attend virtual events.
Challenges
There are some restraints faced by the metaverse in the gaming market. Firstly, a gamer experiences simulator sickness, a form of motion sickness, when engaging in immersive activities. Moreover, just like in the offline, online, and social media worlds, instances of harassment and abuse are progressively rising in the metaverse platforms. For example, some women alleged that attackers had touched their avatars. Also, the gaming metaverse is hampered by the expensive equipment cost, the early development stage, the unwillingness to invest in new untested technologies, local government regulations, environmental impact, and privacy issues.
Opportunities
While businesses in every sphere are still debating the different opportunities that the Metaverse brings, users have observed a significant growth potential in Metaverse gaming as it provides opportunities for new business models and has the ability to strengthen relationships between companies and their customers. There is increased prominence among gamers to adopt metaverse platforms and a rising number of choices for M2E (Move to Earn), P2E (Play to Earn), and S2E (Sleep to Earn) in the metaverse market. The future of metaverse gaming will be heavily influenced by innovative thinking and experimentation because the metaverse is a young and rapidly developing subject. Thus, adding new products and services, improving customer acquisition, and creating new gaming communities among their customers, of which can provide lucrative prospects for market expansion of the global metaverse in the gaming industry in the future.
Geographic Overview
North America
Europe
Asia Pacific (APAC)
Rest of the World (RoW)
North America dominates the metaverse in the gaming market owing to its tech-savvy population, presence of prominent industry players such as Apple, Inc., Microsoft, and Google, increased disposable income, robust development of emerging technologies, upsurge in the use of VR devices, blockchain technology, and digital currency, and increased regulations and policies regarding the adoption of NFTs and blockchain, thereby propelling the market development of metaverse in the gaming industry in the region.
Competitive Insight
To boost their presence in the market, leading businesses have chosen new launches and product showcases as their plan for expansion. Furthermore, companies are adopting strategies like M&A, joint ventures, and strategic agreements and are increasingly investing in R&D activities to develop novel technologies.
A prominent global developer and publisher of video game IP across a number of genres and platforms, NetEase Games is the online games branch of NetEase, Inc. Knives Out, Harry Potter: Magic Awakened, and Naraka: Bladepoint are just a few of the games that NetEase Games is currently developing and releasing. They also have agreements with large entertainment companies like Warner Bros. and Mojang AB (a Microsoft subsidiary). Additionally, NetEase Games promotes the expansion and development of its creative international studios in the US, Canada, Europe, and Japan. According to a top corporate official, Chinese internet giant NetEase is using its technological strength with its own 3D game engines and other advantages to better tap into the metaverse.
One of the largest gaming firms in the world, Nexon, is exploring web3 like several of its Asian competitors. Based on the 20-year-old massively multiplayer online game, the MapleStory creator is building a blockchain-powered ecosystem where users can exchange non-fungible tokens for in-game items like clothing, equipment, and virtual pets. With the help of a few partners, Nexon is enabling its transition to web3. The company has already made the decision to use Polygon, an Ethereum scaling solution that is well-liked by game creators, as the platform for trading MapleStory Universe's digital products. Additionally, the South Korean gaming company announced in May 2023 that it is joining up with another web3 business, Haechi Labs, a provider of crypto audits and wallet solutions utilized by more than 500 enterprises.
Recent Development by Key Players
In response to the ongoing momentum of the Web3 transformation, NetEase Media, the content consumption division of the Chinese Internet company NetEase, has jumped into the fray and created NETALAND, a platform for all forms of entertainment. The new virtual environment, which was introduced on April 9, 2023, is intended to offer marketers "comprehensive and effective" Metaverse marketing solutions and makes the claim that it will "enable a more cemented relationship between consumers and brands and their products."
The Sandbox and Gamer Arena, Turkey's top gaming platform, will collaborate in May 2023. The goal of this partnership is to develop a distinctive, interactive gaming environment called The Sandbox where players can use their skills. This collaboration incorporates The Sandbox's "Play, Create, Earn" model and Gamer Arena's "Challenge & Earn" model.
Key Players Covered in the Report
Some of the major players operating in the global metaverse gaming industry include Roblox Corporation, NetEase, Inc., Tencent, Epic Games, Inc., Magic Leap, Inc., LILITH GAMES, NEXON America Inc., The Sandbox, Meta, and Autodesk, Inc.
The Metaverse in the Gaming Market report offers a comprehensive market segmentation analysis along with an estimation for the forecast period 2023–2030.
Segments Covered in the Report
By Component

Hardware

3D Headset
Metaverse Wearables
Gaming Console

Software

VR Metaverse Games
Gaming Engines

By Technology

Augmented Reality
Virtual Reality
Mixed Reality
Extended Reality
Blockchain
Non-Fungible Token (NFT)
Others

By Age Group 

11 to 19 Years
20 to 35 Years
Above 35 Years

By Platform

Desktop
Mobile
Console
Others

By Game Genre

Action
Adventure
Casual
Role-Playing
Simulation
Sports & Racing
Strategy
Region Covered in the Report
North America
Europe

Germany
U.K.
France
Italy
Spain
Russia
Rest of Europe

Asia-Pacific (APAC)

China
Japan
India
South Korea
Rest of Asia-Pacific

Rest of the World (RoW)

Brazil
Saudi Arabia
South Africa
U.A.E.
Other Countries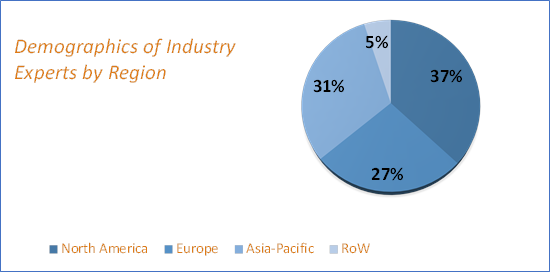 Source: VynZ Research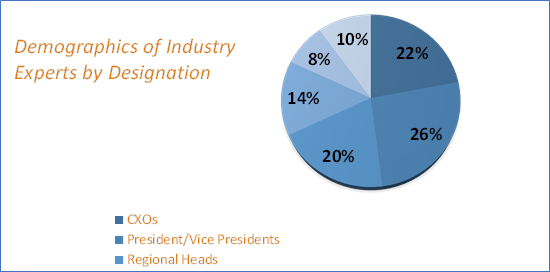 Source: VynZ Research