Industry Overview
The global visualization and 3D rendering software market was valued at 1.50 billion in 2022 and is anticipated to expand to USD 7.56 billion by 2030, growing at a CAGR of 22.5% from 2023 to 2030. Visualization and 3D rendering software are gaining strong acceptance in many industries, due to the continuous expansion of their applications such as architectural and product visualization, high-end video games, marketing, advertising, and training simulations in several industries. It has the ability to provide/create for users to draw prototype designs, realistic images and give users a full visualization of the space for presentation and full understanding before actually building anything. It helps in the design of their spaces, and resources and helps organizations to proactively avoid rejections and mistakes and ensure to create better design products. Innovative technologies, just-in-time marketing, the emergence of user-friendly renderer interface, and high competitive rivalry are the trends stimulating market growth of the visualization and 3D rendering software market.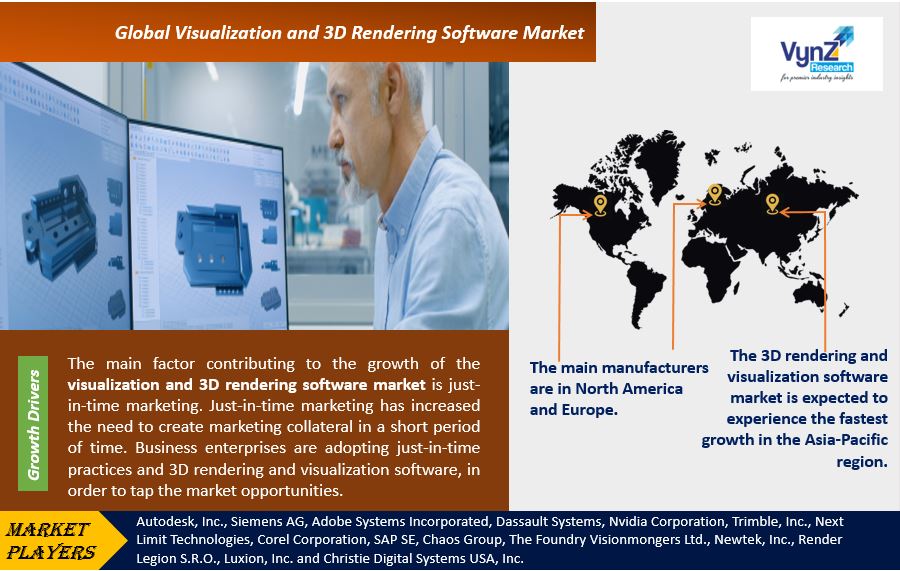 Visualization and 3D rendering software are used for graphical user interfaces in industries such as transportation and telecommunications to provide the required information in an efficient and effective manner. In today's scenario, visual presentation is considered the most important and effective form of marketing due to the boom in the media and entertainment industry. 3D rendering adds realistic lighting simulations, shadows, atmosphere, colors, textures, and optical effects and helps to display images in the form of abstract images.
Market Segmentation
Insight by Deployment Type
Based on deployment type, the visualization and 3D rendering software market is bifurcated into on-premise and cloud. Among both segments, cloud-based visualization in the 3D rendering software market is anticipated to witness the fastest growth during the forecast period because different companies rely on cloud-based services to access technology from different locations and reduce installation costs. Cloud-based solutions provide businesses with high scalability, increased mobility, and on-demand availability of resources.
Insight by Application
Based on application, the market is categorized into high-end video games, marketing, and advertisement, training simulation, and architectural and product visualization. Of all these categories, marketing and advertising is expected to have the highest growth over the forecast period as it saves time and cost on prototyping. With the implementation of prototyping, organizations can customize their products according to customer requirements. In addition, this feature facilitates the global adoption of visualization and 3D rendering software, as it does not require special tools and processes to make design changes to the product.
Insight by End User
Based on end-users, the market is segmented into media and entertainment, healthcare and life sciences, architecture, building, and construction, design and engineering, academia, and others. The healthcare and life sciences segment is poised to witness substantial growth in demand for visualization and 3D rendering software in the forecast period due to the increasing demand for easy-to-use renderer interference, and the adoption of technologically advanced solutions by vendors and payers. Moreover, 3D visualization can be used for purposes such as anatomical imaging to improve surgical planning, diagnosis, and outcomes.
Visualization and 3D Rendering Software Market Report Coverage
| | |
| --- | --- |
| Report Metric | Details |
| Historical Period | 2018–2022 |
| Base Year Considered | 2022 |
| Forecast Period | By 2030 |
| Market Size in 2022 | $1.50 Billion |
| Revenue Forecast in 2030 | $7.56 Billion |
| Growth Rate | CAGR 22.5% |
| Segments Covered in the Report | By Deployment Type, By Application, and By End-User |
| Report Scope | Market Trends, Drivers, and Restraints; Revenue Estimation and Forecast; Segmentation Analysis; Impact of COVID-19; Companies' Strategic Developments; Market Share Analysis of Key Players; Company Profiling |
| Regions Covered in the Report | North America, Europe, Asia-Pacific, Middle East, and Rest of the World |
Industry Dynamics
Growth Drivers
The main factor contributing to the growth of the visualization and 3D rendering software market is just-in-time marketing. Just-in-time marketing has increased the need to create marketing collateral in a short period of time. Business enterprises are adopting just-in-time practices and 3D rendering and visualization software, in order to tap the market opportunities.
Growing Demand in Industries: The increasing adoption of 3D visualization and rendering software across sectors like architecture, automotive, entertainment, and manufacturing is driving market growth. These industries rely on high-quality visual representations for design, prototyping, marketing, and production purposes.
Advancements in Technology: Rapid advancements in computer processing power and graphics capabilities have enabled more sophisticated and realistic rendering techniques. Real-time rendering, ray tracing, and global illumination techniques have become more accessible, enhancing the quality of visual outputs.
Virtual and Augmented Reality Applications: The rise of virtual and augmented reality technologies has fueled the demand for visualization and rendering software. These tools enable the creation of immersive VR experiences and AR applications for industries like gaming, architecture, and training.
Cloud-based Rendering Solutions: Cloud-based rendering services offer increased scalability and flexibility, allowing users to render complex scenes without the need for expensive hardware infrastructure. This trend has gained popularity, particularly among small and medium-sized studios.
Integration with Design and CAD Software: Visualization and rendering software often integrate with popular design and Computer-Aided Design (CAD) tools, providing a seamless workflow from modeling to rendering. This integration streamlines the creative process and enhances collaboration among professionals.
Furthermore, by using the software, business enterprises can attract customers in real-time, helping them reduce costs and avoid waste. By using 3D and visualization software, business enterprises can complete projects on time and with reduced costs. To boost the user interface, 3D-enabled devices are used rapidly. The growing urbanization and smart cities will positively impact the visualization and 3D rendering software services market growth rate.
Opportunity
The growing demand for prototypes is a key factor in creating growth opportunities for the visualization and 3D rendering software market. Prototyping creates opportunities for visualization and 3D rendering software because it enables designers to obtain a realistic view of the image and provides a broader scope than CAD models. It helps designers to provide a comprehensive authentication to end customers that are looking for more realistic product designs, rather than simply displaying the design on screen. The adoption of rapid prototyping in 3D rendering and visualization software, as well as in product development and design, is a profitable decision and is increasingly adopted by manufacturing organizations. Furthermore, the increase in adoption of cloud-based 3D rendering services and the rise in demand for high-level gaming and videography will offer remunerative growth opportunities for the market players in the visualization and 3D rendering software market globally.
Challenges
Lack of proper infrastructure and lack of awareness especially in emerging economies are hindering the growth of the market to some extent.  Lack of availability of 3D content and shortage of visualization infrastructure is one of the major challenges faced by the visualization and 3D rendering software market.
Geographic Overview
Geographically, North America is the largest in the visualization and 3D rendering software market because there is an increase in the demand for this technology by the well-established players of this region and rise in demand for this software from the media and entertainment industries.
Several organizations in the value chain are acquiring other companies in their respective markets to maintain their competitive position and provide effective solutions to their users. The main manufacturers are in North America and Europe. However, the 3D rendering and visualization software market in the Asia Pacific and MEA regions, mainly in countries such as China, Japan, South Korea and India, is growing rapidly. The growing demand for software will be attributed to designer agencies and architectural firms, visual effects studios, BIM modelers, and film studios around the world.
As advanced technologies are increasingly used by several developing countries in the construction industry, the 3D rendering and visualization software market is expected to experience the fastest growth in the Asia-Pacific region. Due to the development of urban infrastructure and the increasing number of construction projects in the hotel, retail, and education sectors, the construction industry in the region is booming, promoting the growth of the visualization and 3D rendering software market in the region.
Competitive Insight
Key industry players are adopting various strategies such as mergers & acquisitions, new product development, and partnerships in order to gain traction in the market. Market players are investing in R&D activities to develop innovative solutions in order to have a competitive edge over competitors. Moreover, the industry is mainly focused on providing creative, cost-effective, and user-friendly solutions to its customers.
Surbana Jurong and AutoDesk worked together to promote advanced technology adoption, sustainable design quality, and digital skills development in order to strengthen Surbana Jurong's technological leadership and competitive differentiation.
Dassault Aviation has signed a partnership agreement with Dassault Systems for the use of the 3DEXPERIENCE platform for the maintenance of its digital industrial processes.
Some of the key companies offering products and services in the visualization and 3D rendering software market include Autodesk, Inc., Siemens AG, Adobe Systems Incorporated, Dassault Systems, Nvidia Corporation, Trimble, Inc., Next Limit Technologies, Corel Corporation, SAP SE, Chaos Group, The Foundry Visionmongers Ltd., Newtek, Inc., Render Legion S.R.O., Luxion, Inc. and Christie Digital Systems USA, Inc.
The Visualization and 3D Rendering Software Market report offers a comprehensive market segmentation analysis along with an estimation for the forecast period 2023–2030.
Segments Covered in the Report
By Deployment Type
By Application Type

High-end Video Games
Marketing & Advertisement
Training Simulation
Architectural and Product Visualization

By End User

Media and Entertainment
Healthcare and Life Sciences
Architecture
Building & Construction
Design and Engineering
Academia
Others
Region Covered in the Report
North America
Europe

Germany
U.K.
France
Italy
Spain
Russia
Rest of Europe

Asia-Pacific (APAC)

China
Japan
India
South Korea
Rest of Asia-Pacific

Rest of the World (RoW)

Brazil
Saudi Arabia
South Africa
U.A.E.
Other Countries

Source: VynZ Research