Industry Overview
The global Agricultural Robots market is estimated to increase from USD 6.2 billion in 2022 to USD 15.5 billion by 2030, representing a 18.5 percent compound annual growth rate (CAGR) throughout the forecast period.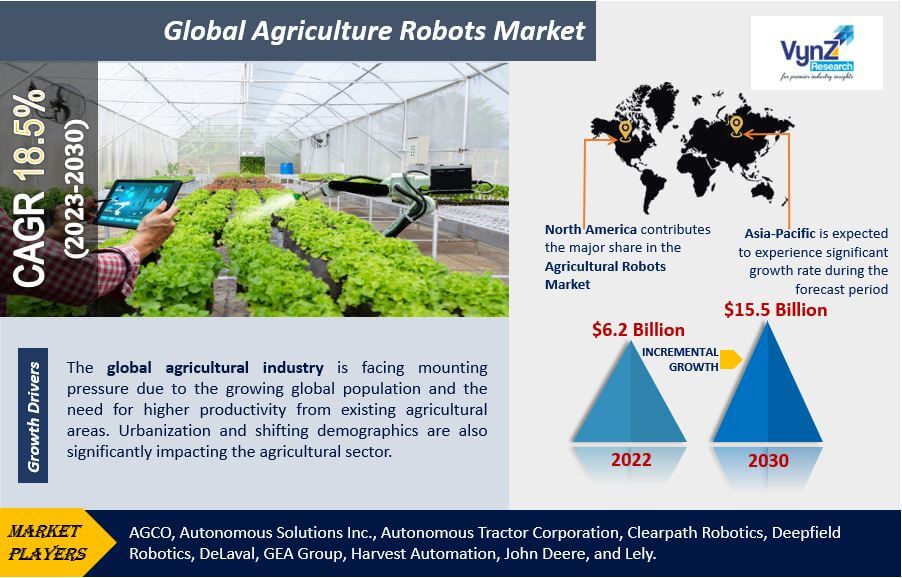 Agricultural robots are advanced technological devices designed to assist farmers with a wide range of tasks and operations. These robots are equipped with capabilities to analyze, observe, and perform numerous functions, and they can be customized and programmed to meet specific needs. They are an excellent solution for farmers who want to alleviate the burden of repetitive tasks. With the use of agricultural robots, farmers can optimize their abilities and utilize their intellectual capabilities. These robots are now widely used in performing specialized agricultural chores, although previously, only operators used them. The primary goal of introducing robotics in agriculture is to reduce physical strain on humans and provide maximum benefits to farmers.
Industry Trends
The businesses operating in the various sectors across the world have experienced a negative impact such as disrupted supply chains of raw materials & goods, revenue losses, and others owing to COVID-19 outbreak. Also, business activities and movements related agricultural robotics market were restricted due to the quarantine measures and major factory shutdown. In addition, the global players operating in the agricultural robots market experienced a reduction in the demand for agriculture robots across various farm applications. Further, majority of the players experienced these negative impacts, which is anticipated to be short term impact.
The companies operating in the global agricultural robots markets are focused on developing, launching, experimenting a wide range of robotics system with advanced features for various agricultural tasks. Also, rising demand for food supply, growing popularity of indoor farming, rising population, and increasing adoption of automation technology in farming is anticipated to boost the market for Global Agricultural Robots market. Further, development of robotic products with enhanced precision, accuracy and multimodal system with more advanced technology is anticipated to provide a lucrative growth opportunity for the players operating in the market.
Market Segmentation
Insight by Type
Driverless Tractors
Unmanned Aerial Vehicles (UAVs)
Milking Robots
Automated Harvest Robots
Material Management
Others
Based on Type, the global Agricultural Robots Market is segmented into Driverless Tractors, Unmanned Aerial Vehicles (UAVs), Milking Robots, Automated Harvest Robots, Material Management, and Others. Also, it is analysed that, automated harvest robots segment is has the highest market share and is anticipated to maintain its lead during the forecast period owing to labour efficiency and ease of operation offered by these types of robots.
Moreover, automated harvest robots also offers advantages such as improved supply chain, reduced food wastage and increase in yield, improved supply chain, and others. In addition, Unmanned Aerial Vehicles (UAVs) segment is anticipated to exhibit remarkable growth rate throughout the forecast period owing to wide range of applications such as soil assessment, crop protection, soil assessment, Irrigation & drainage planning, and others.
 Insight by Application
Dairy Management
Harvest Management
Soil & Irrigation Management
Field Farming
Others
Based on Application, the global Agricultural Robots Market is across Dairy Management, Harvest Management, Soil & Irrigation Management, Field Farming, and Others. Dairy Management system is the highest contributing segment to the global market in terms of revenue and is anticipated to dominate the market throughout the forecast period. Also, adoption of robotics in dairy management offers advantages such as help in harvesting high quality milk, decrease in labour, efficient management, and others, which in turn makes milking robots as preferred choice among farmers.
Further, field farming is anticipated to experience exponential growth rate during the forecast period owing to low chances of errors in operations, high velocity and quality of operations, and others.                                                                             
Insight by Offering
Hardware
Software
Services
The global Agricultural Robots Market is segmented into three categories: hardware, software, and services.The Hardware is the highest contributor in terms of revenue to the global market and is expected to maintain this over the forecast period owing to high cost of hardware components that are installed in agricultural robots. In addition, Services segment is anticipated to exhibit remarkable growth rate during the forecast period due to increasing adoption agricultural robots by farmers for enhanced production and quality of agricultural operations.
Agriculture Robots Market Report Coverage
| | |
| --- | --- |
| Report Metric | Details |
| Historical Period | 2018–2022 |
| Base Year Considered | 2022 |
| Forecast Period | By 2030 |
| Market Size in 2022 | $6.2 Billion |
| Revenue Forecast in 2030 | $15.5 Billion |
| Growth Rate | CAGR 18.5% |
| Segments Covered in the Report | By Type, By Application, and By Offering |
| Report Scope | Market Trends, Drivers, and Restraints; Revenue Estimation and Forecast; Segmentation Analysis; Impact of COVID-19; Companies' Strategic Developments; Market Share Analysis of Key Players; Company Profiling |
| Regions Covered in the Report | North America, Europe, Asia-Pacific, Middle East, and Rest of the World |
Industry Dynamics
Growth Drivers
Shortage of labour for agricultural activities and growing population
The global agricultural industry is facing mounting pressure due to the growing global population and the need for higher productivity from existing agricultural areas. Urbanization and shifting demographics are also significantly impacting the agricultural sector. Moreover, developed countries such as the U.S. and UK are heavily reliant on migrant labor, and there has been a decline in agricultural employment in recent years, according to World Bank data. This labor shortage, coupled with an aging farmer population, limits the supply of manual labor and hampers agricultural yields.
To address this challenge, the adoption of robotic automation in agricultural activities can perform repetitive and unwanted tasks and attract skilled operators to non-repetitive tasks. For instance, in dairy management, robots can perform tasks related to feeding and cleaning, freeing up farmers to focus on decision-making. Automation companies are developing robots that can help farmers carry out agricultural activities more efficiently and effectively, thus driving the growth of the global agricultural robots market.
Additionally, the growing demand for food production worldwide, advancements in Internet of Things (IoT) and navigation systems, and the rising popularity of indoor farming are propelling the growth of the agricultural robots market.
Challenges        
High initial setup cost associated with robotics for small farms
The sudden and exponential growth in adoption of agricultural robots to carry out various agricultural has left behind the huge number of small scale farms owing to high initial and procurement cost of agricultural robots. For instance, the cost of a tractor with driverless capability can cost more than $100,000, and might not provide enough returns for the small scale farmers as they are not able to get profit owing to less production. Also, this issue is one of the major concerns in countries like China, India, Brazil, and others as farmers have low income and are not technically aware. Thus, high cost associated to adoption of automation robots in agricultural activities is restraining the growth of Global Agricultural Robots market for small farmers.
Furthermore, technological barrier for development of fully autonomous robots, and limited awareness about the application of robots in agriculture activities among small scale farmers are the factors restraining the growth of global market.
Opportunities
Adoption of multimodal robotics systems in farms
Adoption of heterogeneous and multimodal platforms that combines aerial and ground based vehicles provides lucrative opportunities for intelligence, targeted support, and mission planning. Cooperative and collaborative operation between different robots offers advantage for the large scale dairy and agricultural operations as the operations can be done parallel offering better outcome. Also, different type robots and autonomous systems used in agricultural operations can be integrated together in a systemic approach. In addition, controlling multiple robots with the help of centralized software platform is anticipated to offer great benefit for large scale farm automation. Further, multimodal systems offer ability to operate group of agricultural robots to perform various operations such as weeding and spraying simultaneously, which in turn provides a lucrative growth opportunity for the market players to develop advanced and efficient multimodal systems for agricultural robots.
Moreover, integration of telematics sensors in robots, and development of fully autonomous agricultural robots is anticipated to provide a lucrative growth opportunity for the players operating in the Global Agricultural Robotics Market.
Geographic Overview
North America
Europe
Asia Pacific (APAC)
Rest of the World (RoW)
North America contributes the major share in the Agricultural Robots Market owing to significant adoption of Agricultural Robots for various agricultural activities and livestock management. In addition, growing adoption of precision farming practices is anticipated to drive the Agricultural Robots market during the forecast period.
Moreover, Asia-Pacific is expected to experience significant growth rate during the forecast period owing to shortage of agricultural labourers and increasing cost of labour. In addition, incorporation of automation in agriculture activities promises better quality solutions and enhanced productivity.
Competitive Insight
The industry players operating in the Global Agricultural Robots Market includes number of regional, local and global level companies. These companies operating in the market are highly competitive, with all the players constantly focused to occupy the larger market share. The industry players operating in the Global Agricultural Robots Market are expanding their business by adoption strategies such as product launch, product development, investment, acquisition, partnership, and collaboration.
Technology companies are focusing on development of robots that will help the farmers to carry out the agricultural tasks efficiently. For instance, on April 2022, Solinftec, a Lafayette-based technology company has launched a new robot which will help the farmers to monitor and scan the field. Also, the company will be partnering with GROWMARK Inc, an agricultural cooperatives based in North America. In addition, the companies will run the agricultural robot in 2022 and will examine it in field ecosystem, which also includes health of crops. Further, the software used in the robots uses artificial intelligence and algorithm for examination of field.
The leading robotics companies operating in the market are introducing new range of agricultural robots with advanced and enhanced features to help farmers. For instance, on February 2022, Verdant Robotics, has introduced the first multi-action autonomous farm robots specifically for specialty crops, which in turn will allow superhuman farming. Also, the company has expanded the robot-as-a-service (RaaS) model in order to meet farmer's growing demand for profitable and sustainable growing practices.
AGCO is one of the leading companies based in U.S. involved in manufacturing of agricultural machinery. Also, the wide product range of the company includes tractors, combine harvesters, hay & forage, application equipment, seeding & tillage, smart faming, ground care, and others. In addition, AGCO also has various brands namely Massey Ferguson, Valtra, Fendt, and others.
GEA is one of the largest system suppliers for various industries such as pharmaceutical and food & beverage. In addition, the portfolio of the company includes plants and machinery, and advanced process technology, components, and comprehensive services. Also, the product & technologies of the company offers automation & control systems, bakery equipment, brewing systems, and others.
Recent Development by Key Players
The global leaders involved in manufacturing of heavy equipment, agricultural machinery, diesel engines, forestry machinery, and others are acquiring various technologies for development of advanced agricultural machineries. For instance, on May 2022, John Deere, has acquired number of patents and various technological property from Light, a technology company. In addition, the technology acquired specializes in camera-based perception and depth sensing for autonomous vehicles, which will be used for the development of autonomous tractors.
On April 2022, John Deere, formed a joint venture with an unmanned spray system company named GUSS. With the help of this venture, GUSS will get help from John Deere to collaborate with Deere's sales channel. Also, GUSS will continue with its development and enhancement of products to best serve customers.
On July 2021, AGCO Corporation, a leading company involved in design and development of and agricultural machinery has announced the pilot of its Precision Ag Line (PAL) program. This Precision Ag Line (PAL) program is a tool which is designed in order to streamline support services for customers in farming using AGCO solutions with mixed-fleet operations.
Key Players Covered in the Report
Some of the foremost players in the Agricultural Robots industry are AGCO, Autonomous Solutions Inc., Autonomous Tractor Corporation, Clearpath Robotics, Deepfield Robotics, DeLaval, GEA Group, Harvest Automation, John Deere, and Lely.
The Agricultural Robots Market research includes a comprehensive market segmentation analysis as well as projections for the analysis period 2023-2030.
Segments Covered in the Report
By Type
Driverless Tractors
Unmanned Aerial Vehicles (UAVs)
Milking Robots
Automated Harvest Robots
Material Management
Others
By Application
Dairy Management
Harvest Management
Soil & Irrigation Management
Field Farming
Others
By Offering
Hardware
Software
Services
Region Covered in the Report
North America
Europe

Germany
U.K.
France
Italy
Spain
Russia
Rest of Europe

Asia-Pacific (APAC)

China
Japan
India
South Korea
Rest of Asia-Pacific

Rest of the World (RoW)

Brazil
Saudi Arabia
South Africa
U.A.E.
Other Countries

To explore more about this report - Request a free sample copy