Industry Overview
cobalt from used batteries through reclamation and reprocessing, and after that, these materials are employed again to make fresh batteries. Battery recycling has become more and more necessary as the number of electric vehicles and renewable energy storage devices has increased. By limiting hazardous waste and lowering the demand for raw material extraction, battery recycling solves environmental issues. Additionally, it encourages resource conservation and sustainability. Furthermore, the growth of battery recycling market is being driven by strict rules and an increasing awareness of the ecological consequences of incorrect disposal. Because of this, the market for battery recycling is expected to develop significantly in the near future.
Global battery recycling market was worth USD 13.80 billion in 2022 and is expected reach USD 58.80 billion by 2030 with a CAGR of 22.14% during the forecast period, i.e., 2023-2030. The growing demand for battery recycling is driven by the rising demand for electric vehicles and renewable energy storage. Battery recycling conserves resources, reduces waste, and complies with environmental regulations, making it a crucial solution for sustainable energy transition.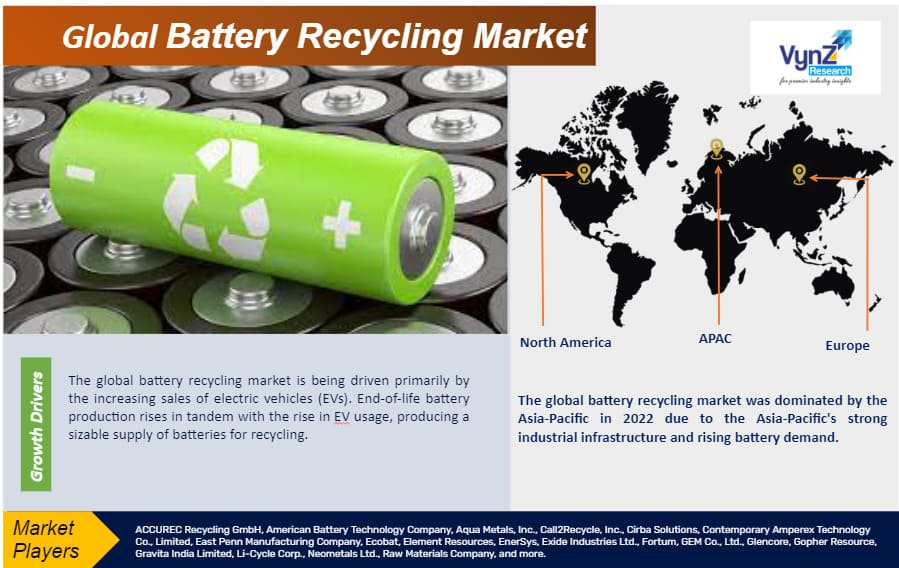 Geographically, the market is expanding rapidly in North America, Europe, and the Asia Pacific, as a result of the presence of large battery manufacturing companies, huge investment in the R&D, and rising demand for electric vehicles; however, the market confronts constraints such as developing efficient recycling technologies, managing diverse battery chemistries, ensuring safe handling of hazardous materials, and establishing a streamlined collection infrastructure to address the escalating demand for sustainable energy solutions. Overall, the global battery recycling market offers potential prospects for market participants to develop and fulfill the growing needs of wide range of industries including transportation, energy storage, consumer electronics, and other industries.
Market Segmentation
Insight by Source
Based on the source, the global battery recycling market is segmented into automotive batteries, consumer electronics, and industrial batteries. In 2022, automotive batteries dominated the global battery recycling market due to extensive uses of lead acid and Li-ion batteries in the automotive sector. Moreover, major automakers forming alliances with recycling firms, such as Toyota's with Aqua Metals, is an example of how committed the industry is to environmentally friendly battery disposal. Automotive batteries are best handled by specialized recycling facilities, such those run by Exide Technologies. The automotive industry is predicted to become even more significant in the battery recycling market as the transition to electric vehicles quickens, highlighting its vital role in sustainable battery management.
Insight by Recycling Process
Based on the recycling process, the global battery recycling market is segmented into hydrometallurgical process, pyrometallurgical process, and mechanical process. In 2022, hydrometallurgical process dominated the global battery recycling market due to its efficiency and adaptability. Metals are dissolved in a liquid media during this process, enabling accurate recovery and separation. Moreover, this process offers metal output and minimal impact on the environment. Prominent alliances such as Li-Cycle's agreement with Anheuser-Busch demonstrate the company's flexibility in recycling different kinds of batteries. Moreover, improvements in this process, such the Spoke & Hub model from Li-Cycle, increase its efficacy. The hydrometallurgical process continues to play a key role in determining the direction of battery recycling market in light of the growing need for environmentally friendly battery alternatives.
Insight by Chemistry
Based on chemistry, the global battery recycling market is segmented into lead acid battery, Li-ion battery, nickel-based battery, and other batteries. Lead acid battery chemistry dominated the global battery recycling market in 2022 because lead acid batteries are used in so many automotive and industrial applications. The industry's focus is exemplified by Ecobat's wide network of recycling facilities, including its Covington factory, which specializes in lead acid battery recycling. Furthermore, Ecobat and automakers have partnered to provide the Closed Loop service, which highlights the circular economy concept for lead acid batteries. Moreover, lead acid battery manufacturing has a strong infrastructure and requires effective recycling techniques, which makes it a dominant force in the global battery recycling market.
Insight by Material
Based on material, the global battery recycling market is segmented into metals, electrolyte, polymers, other materials. Metals dominated the global battery recycling market in 2022 due to economic and environmental benefits. Metals like lead, lithium, nickel, and cobalt are crucial components in batteries. Recycling these metals reduces the need for mining, which can have significant environmental impacts. For instance, lead-acid batteries are almost 100% recyclable, with lead being one of the most recycled materials globally. Additionally, technologies like hydrometallurgical processes enable efficient extraction and purification of metals from discarded batteries. This not only conserves resources but also minimizes waste, making metal recycling the preferred choice in the battery recycling industry.
Battery Recycling Market Report Coverage
| | |
| --- | --- |
| Report Metric | Details |
| Historical Period | 2018–2022 |
| Base Year Considered | 2023 |
| Forecast Period | 2023 - 2030 |
| Market Size in 2022 | $13.80 Billion |
| Revenue Forecast in 2030 | $58.80 Billion |
| Growth Rate | CAGR 22.14% |
| Segments Covered in the Report | By Source, By Recycling Process, By Material and By Chemistry |
| Report Scope | Market Trends, Drivers, and Restraints; Revenue Estimation and Forecast; Segmentation Analysis; Impact of COVID-19; Companies' Strategic Developments; Market Share Analysis of Key Players; Company Profiling |
| Regions Covered in the Report | North America, Europe, Asia-Pacific, Middle East, and Rest of the World |
Industry Dynamics
Growth Drivers
Growing sales of electric vehicles
The global battery recycling market is being driven primarily by the increasing sales of electric vehicles (EVs). End-of-life battery production rises in tandem with the rise in EV usage, producing a sizable supply of batteries for recycling. Investment in cutting-edge recycling technologies is fueled by this boom. For instance, Redwood Materials, founded by former Tesla CTO JB Straubel, has partnered with top EV makers to effectively recycle their battery packs. Furthermore, the building of Gigafactories, such as Tesla's in Nevada, highlights the volume of batteries produced, which in turn increases the number of recyclable batteries. This spike in demand for environmentally friendly battery disposal methods expands the market and fosters a positive feedback loop between the uptake of EVs and the expansion of the battery recycling market.
Growing focus on environmental sustainability and regulatory compliance
The global battery recycling market is expanding due in large part to the growing focus on environmental sustainability and regulatory compliance. Stricter laws around the world require batteries to be disposed of responsibly, which is driving businesses to find recycling options. Innovative techniques, such as the Spoke & Hub approach used by companies like Li-Cycle to effectively recycle lithium-ion batteries on a massive scale. Li-Cycle's partnerships with companies like Anheuser-Busch and Marubeni demonstrate the industry's joint efforts to implement sustainable practices. Furthermore, there must be a steady supply of recycled battery materials to meet the growing demand for electric vehicles and renewable energy storage systems. Therefore, the global battery recycling market is growing quickly because of the confluence of growing sustainable energy usage, regulatory demands, and environmental concern.
Challenge
Handling of diverse battery chemistries
The complexity of managing different battery chemistries is one of the biggest obstacles facing the global battery recycling market. Certain battery types – such as lithium-ion, lead acid, and nickel-cadmium – need special recycling procedures. One of the biggest challenges is coming up with effective and affordable ways to remove valuable components from these different chemistries. In order to guarantee resource recovery that is both safe and efficient while reducing environmental impact, recycling systems require ongoing study and innovation.
Geographic Overview
North America

Europe

Asia Pacific (APAC)

Rest of the world
The global battery recycling market is segmented into North America, Europe, the Asia-Pacific, and rest of the world region. The global battery recycling market was dominated by the Asia-Pacific in 2022 due to the Asia-Pacific's strong industrial infrastructure and rising battery demand. One example of the region's innovation is the partnership between Umicore and China's Contemporary Amperex Technology Co., Ltd. (CATL) for the closed-loop recycling of lithium-ion batteries. LG Chem also prioritizes recycling technology in order to increase their market share. Further, the Asia-Pacific region is a leader in battery recycling because to its ability to push technological improvements and fulfill the ever-increasing needs of the global sustainability movement. Its supremacy is further supported by its strict environmental legislation and growing electric vehicle market.
Competitive Insight
Umicore is one of the industry's most well-known leaders in battery recycling. The company is headquartered in Belgium and has positioned itself as a major player in battery recycling market with a strong commitment to sustainability. Its Hoboken plant, one of the biggest recycling facilities in the world, is a prime example of their abilities and it processes a variety of battery types, such as lead acid, nickel-cadmium, and lithium-ion, demonstrating Umicore's extensive capabilities. Partnerships with electric vehicle manufacturers such as Tesla, where battery materials are recycled for closed-loop production, demonstrate the company's creative approach. This cooperative approach not only highlights Umicore's impact but also highlights its crucial role in determining the battery recycling market's sustainable future.
Ecobat is a well-known player in the global battery recycling market and is valued for its sophisticated procedures and wide network. One of the biggest lead acid battery recycling plants in the world, the Covington, Georgia factory, is part of the company's network of cutting-edge recycling facilities. Ecobat is an expert in the recycling of lead acid batteries, an important area for sustainable energy storage. Their dedication to circular economy principles is demonstrated by their creative Closed Loop service, which they offer in collaboration with significant automakers. Through the process of recovering and repurposing lead, Ecobat plays a crucial role in lessening the environmental impact of lead-acid batteries, hence securing its leading position in the global battery recycling market.
Recent Development by Key Players
In October 2023, Stellantis signed a memorandum of understanding with Orano Electric to establish a joint-venture for recycling end-of-life electric vehicle batteries and scrap from gigafactories in Enlarged Europe and North America. This joint-venture will ensure that Stellantis has additional access to cobalt, nickel, and lithium necessary for electrification and energy transition.
In October 2023, Circu Li-ion secured €8.5 million funding in a seed round. Circu Li-ion is a European battery upcycling company with a mission to save the planet by boosting the value of each battery. The company raised €4.5 million in equity, which was led by BonVenture and another €4.0 million grant from the EICA (European Innovation Council Accelerator) and collaborations with recyclers and OEMs.
Key Players Covered in the Report
ACCUREC Recycling GmbH, American Battery Technology Company, Aqua Metals, Inc., Call2Recycle, Inc., Cirba Solutions, Contemporary Amperex Technology Co., Limited, East Penn Manufacturing Company, Ecobat, Element Resources, EnerSys, Exide Industries Ltd., Fortum, GEM Co., Ltd., Glencore, Gopher Resource, Gravita India Limited, Li-Cycle Corp., Neometals Ltd., Raw Materials Company, RecycLiCo Battery Materials Inc., Redwood Materials Inc., Shenzhen Highpower Technology Co., Ltd., Stena Recycling, TES, Terrapure, The Doe Run Company, The International Metals Reclamation Company, and Umicore.
The battery recycling market report offers a comprehensive market segmentation analysis along with an estimation for the forecast period 2023–2030.
Segments Covered in the Report
Hydrometallurgical process

Pyrometallurgical process

Mechanical process
Lead acid battery

Li-ion battery

Nickel-based battery

Other batteries
Metals

Electrolyte

Polymers

Other materials
Region Covered in the Report
Germany

U.K.

France

Italy

Spain

Russia

Rest of Europe
China

Japan

India

South Korea

Rest of Asia-Pacific
South America

Middle East and Africa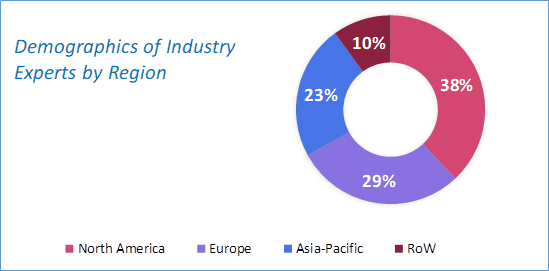 Source: VynZ Research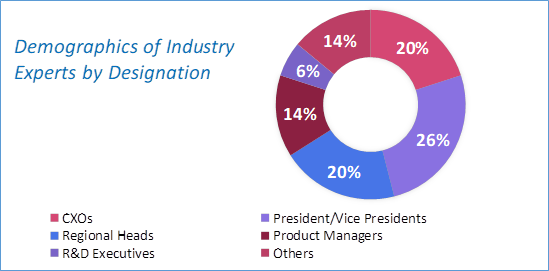 Source: VynZ Research