Industry Overview
The global Building Information Modeling (BIM) market is poised for substantial growth, with an estimated value projected to surge from USD 6.2 billion in 2022 to a staggering USD 13.3 billion by 2030. This impressive growth reflects a robust compound annual growth rate (CAGR) of 12.7% during the forecast period spanning from 2023 to 2030. BIM, also known as Building Information Modeling, is a cutting-edge software utilized across various stages of infrastructure project planning and execution. It leverages digital technology to create accurate digital representations of physical building structures.
The primary objective of building information modeling software is to enhance project performance and deliver superior outcomes. Consequently, real estate corporations, construction firms, and architectural, engineering, and construction (AEC) professionals have embraced BIM as an indispensable tool for effective project lifecycle management. BIM empowers construction managers to efficiently gather data and information from multiple disciplines, enabling seamless communication and collaboration.
Users of BIM gain a competitive edge through enhanced data exchange and coordination among diverse stakeholders, resulting in heightened construction productivity. Moreover, the burgeoning BIM market growth is driven by the global rise in government regulations mandating BIM adoption and the continuous expansion of the construction sector.
The BIM market is on a remarkable growth trajectory, driven by technological advancements, improved project management capabilities, and increased demand for enhanced construction efficiency. By embracing BIM, organizations in the real estate, construction, and AEC sectors can unlock new opportunities and achieve greater success in an evolving industry landscape.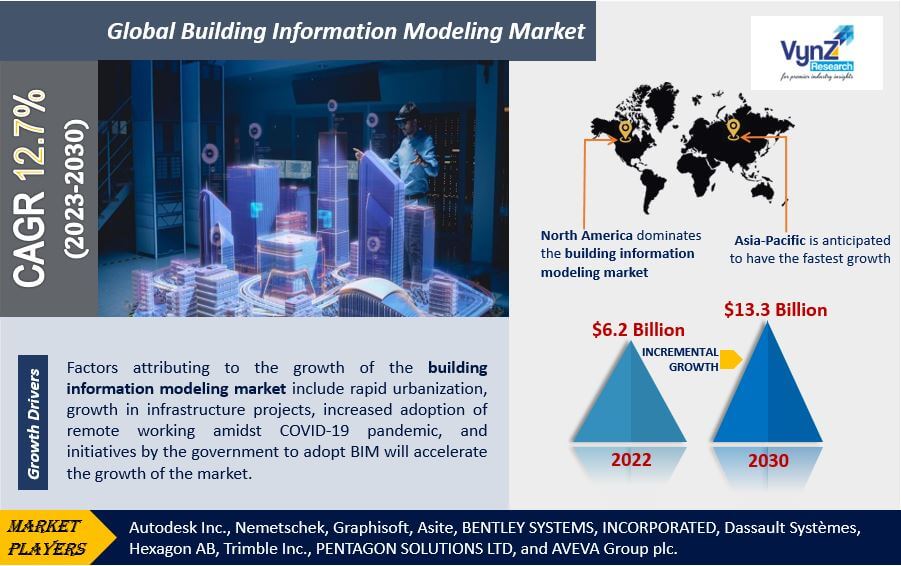 In the pre-COVID-19 situation, the BIM market had been on the rise. BIM is an approach that offers features like visualization and collaboration, design and construction planning synchronization, conflict identification, and cost reduction. The increased demand for housing and infrastructure development as the world's population and economies grow is expected to fuel the global construction industry's growth, resulting in a strong demand for BIM from construction professionals to more efficiently plan, design, and manage building projects. As a result, BIM's 3D model-based approach to delivering building projects has gained traction all around the world. Rising trends in modern technology have resulted in the growing adoption of novel techniques in the construction industry's working standards.
Market Segmentation
Insight by Offering Type
Based on offering type, the global building information modeling market is bifurcated into software and services. The software is further divided into architectural design, sustainability, structures, mep, construction, and facility management. the services are further divided into software support and maintenance and project management and support. Software is anticipated to have the largest share in the market owing to the rise in the adoption of BIM solutions in the AEC industry. Most of these companies have begun to use these technologies to integrate all construction operations, such as procurement and data management, in order to boost overall project productivity. However, the services category is predicted to expand the most, owing to a surge in the acceptance of services among end-users, since they assure the proper operation of BIM software and platforms.
Insight by Deployment Type
Based on deployment type, the global building information modeling is bifurcated into on-premise and cloud. On-premise contributes the largest in the market owing to increased concern related to data security in construction projects. The cloud segment is anticipated to have high growth as it does not involve capital cost and less maintenance requirements, thus preferred by mid-sized institutions.
Insight by Project Lifecycle
Based on the project lifecycle, the global building information modeling market is segmented into preconstruction, construction, and operation. The preconstruction phase is anticipated to have a high share during 2023-2030 as most of the work is done during this phase.
Insight by Application
Based on application, the global building information modeling market is segmented into the building, industrial, civil infrastructure, oil & gas, utilities, and others. The building application is anticipated to witness the largest share during 2023-2030 owing to the rising number of building or construction projects which includes business centers, shopping centers, and retail shops. The building application consists of commercial, residential, and retail buildings.  These applications focus on the use of BIM by firms that are primarily responsible for working on the construction of commercial and retail structures (i.e., new work, additions, modifications, maintenance, and repairs). When 3D modeling of a building is done and the overall flow of the project is decided, BIM is most typically utilized for building design during the preconstruction phase.
Insight by End-User
Based on end-user, the global building information modeling market is segregated into AEC professionals, consultants & facility managers, and others. The AEC Professionals contribute the largest share in the market due to the ability to build information modeling software solutions to help architects and engineers understand upcoming challenges of a project ahead of time.
Building Information Modeling Market Report Coverage
| | |
| --- | --- |
| Report Metric | Details |
| Historical Period | 2018–2022 |
| Base Year Considered | 2022 |
| Forecast Period | 2023-2030 |
| Market Size in 2022 | $6.2 Billion |
| Revenue Forecast in 2030 | $13.3 Billion |
| Growth Rate | CAGR 12.7% |
| Segments Covered in the Report | By Offering Type, By Deployment Type, By Project Lifecycle, By Application, and By End-User |
| Report Scope | Market Trends, Drivers, and Restraints; Revenue Estimation and Forecast; Segmentation Analysis; Impact of COVID-19; Companies' Strategic Developments; Market Share Analysis of Key Players; Company Profiling |
| Regions Covered in the Report | North America, Europe, Asia-Pacific, Middle East, and Rest of the World |
Industry Dynamics
Industry Trends
The increased trends of IoT in the construction sector, increased adoption of AR/VR, the surge in adoption of Green BIM, and mounting emphasis of business to introduce novel standards like ISO 19650 in BIM are the trends prevalent in the market.
Growth Drivers
The growth of the building information modeling (BIM) market is influenced by various factors that contribute to its success. These include rapid urbanization, infrastructure project growth, increased adoption of remote working due to the COVID-19 pandemic, and government initiatives promoting BIM adoption. These factors are expected to drive the market's expansion.
Moreover, the market growth will be propelled by the increased digitalization in the building sector, higher investments in information technology, rising global demand for public infrastructure, growing adoption of 3D modeling, and cost reduction in 3D modeling processes. BIM offers significant advantages, such as facilitating easier work plan analysis, cost estimation, and manpower requirements assessment for construction projects.
The inclusion of 4D and 5D features in BIM is crucial as they assist in analyzing project timelines and total costs for completion. Furthermore, BIM tools have continuously evolved, incorporating additional functionalities like 6D and 7D. The 6D feature enables the tracking of construction sustainability through extensive energy analysis and monitoring of sustainable elements. On the other hand, the 7D capabilities encompass construction lifecycle management, maintenance plans, and technical assistance.
In summary, BIM provides numerous benefits including reduced building and project management costs, improved productivity, simplified project information discovery, efficient planning coordination, and enhanced viewing experience. These advantages contribute to the widespread adoption and growth of the BIM market.
Challenges
The high initial cost of BIM, lack of trained professionals, and low digitalization in the construction industry may hamper the growth of the market. The lack of standardization, rising concerns related to cyber security, and data violation globally may hinder the growth of the global BIM market during 2023-2030.
Opportunities
The development of information technology and cloud computing, increased adoption of SMART technology, along the inclusion of training programs at institutional levels will create opportunities for the growth of the BIM market. During the forecast period, technical developments in data management at remote servers and improved inter-coordination amongst users using cloud-based solutions are expected to give attractive prospects for market expansion.
Geographic Overview
North America dominates the building information modeling market due to the rising demand for BIM in commercial and personal infrastructures in the region.  They are early adopters of developed BIM technology and are increasingly used by contractors, engineers, and architects. They use the BIM process to increase project productivity during the design and construction phases, as well as to reduce project-related errors and achieve a high return on investment. The region's strong economic position and active government assistance have aided in the widespread adoption of modern technologies in the construction sector, which is fueling BIM market expansion.
Asia-Pacific is anticipated to have the fastest growth due to the increasing software service providers, mounting penetration of digital technology, increased adoption of BIM model for improvement and optimization solutions over legacy systems, rising demand to restructure existing developments so as to reduce overall cost will accelerate the growth in the region.
Competitive Insight
The building information modeling industry continues to be a cutting-edge environment, where cost-based innovation and enhanced integration, both promise significant growth prospects. The market's major players are always investing in the development of enhanced solutions and new cloud technologies, allowing new players to enter the market with similar software designs and specifications. The strategies adopted by BIM industry players include partnerships, product launches, M&A, and enhanced R&D activities so as to sustain their position in the market. Thus, the competition is intensified as the market players are working continuously to expand globally and differentiate their offerings via innovation and price strategies along with regulation by the government to mandate BIM adoption in several pilot projects.
Bentley Systems Inc. is one of the leading software development firms that specializes in surveying, modeling, design, engineering, construction, and management of industrial plants and infrastructure. BIM Machine, which uses Bentley Systems software, assists surveyors, architects, planners, contractors, maintenance engineers, and managers in going digital and maximizing the value of digital technology.
The Nemetschek Group is a pioneer in the development and promotion of OPEN BIM systems and processes, which enable seamless and unrestricted cooperation between many disciplines throughout the whole building lifecycle, regardless of the software used. OPEN BIM is built on open standards like buildingSMART's IFC. BuildingSMART is a part of the Nemetschek Group and fully supports its openBIM program.
The Nemetschek Group, one of the world's leading software providers for the AEC/O industry, announced in June 2022 that its brands Allplan and SDS2 would unite to provide a comprehensive and customer-focused BIM solution portfolio for the whole structural workflow. Allplan, a global provider of BIM design software solutions based in Germany, will offer engineering detailing software for steel as part of the merger. Allplan will also strengthen its position as a global expert in platform-based BIM solutions for the construction lifecycle. As a result, SDS2, a major provider of BIM solutions for the structural steel detailing sector based in the United States, is dramatically expanding its concrete construction expertise. They will be able to become a multi-material provider by combining their skills.
In April 2022, Trimble announced the availability of Trimble® Quadri Building Information Modeling (BIM) collaboration software in North America. Quadri software, which is well-known in Europe, provides a shared data environment for 3D project models, allowing planners, designers, construction teams, and project owners working on infrastructure projects such as roads, bridges, and trains to collaborate across the project. The improved data flow allows for a more efficient and construction-ready design, bridging the gap between the office and the field.
Some of the major players in the building information modeling industry include Autodesk Inc., Nemetschek, Graphisoft, Asite, BENTLEY SYSTEMS, INCORPORATED, Dassault Systèmes, Hexagon AB, Trimble Inc., PENTAGON SOLUTIONS LTD, and AVEVA Group plc.
The Building Information Modeling Market report offers a comprehensive market segmentation analysis along with an estimation for the forecast period 2023–2030
Segments Covered in the Report
By Offering Type

Software

Architectural Design
Sustainability
Structures
MEP
Construction
Facility Management

Services

Software Support and Maintenance
Project Management and Support

By Deployment Type 
By Project Lifecycle

Preconstruction
Construction
Operation

By Application

Building
Industrial
Civil Infrastructure
Oil & Gas
Utilities
Others

By End User 

AEC Professionals
Consultants & Facility Managers
Others
Region Covered in the Report
North America
Europe

Germany
U.K.
France
Italy
Spain
Russia
Rest of Europe

Asia-Pacific (APAC)

China
Japan
India
South Korea
Rest of Asia-Pacific

Rest of the World (RoW)

Brazil
Saudi Arabia
South Africa
U.A.E.
Other Countries