Industry Overview
The global cryocooler market size is expected to grow from USD 3 billion in 2021 to USD 10.5 billion by 2030, registering a CAGR of 7% during the forecast period. A standalone mechanical refrigerator called a cryocooler or a cryogenic cooler is used for active cooling at very relatively low temperature. In order to absorb the environmental heat and radiate it at low temperatures, it uses cryogenic fluids that contain the gases helium, nitrogen, and hydrogen and circulate in a thermodynamic cycle. The fluid is precooled in a heat exchanger, expanded at very low temperatures, and compressed at room temperature. In order to precool the high-pressure fluid before it enters the compressor intake, the returning low-pressure fluid goes through the heat exchanger once more. Pulse-tube, Brayton, Stirling, Gifford-Mahon, and Joule-Thomson types of cryocoolers are frequently available in the market. Compact, vibration-free, energy-efficient, and low maintenance, they have a wide range of uses in the medical, mining, military, aerospace, automotive, and power industries.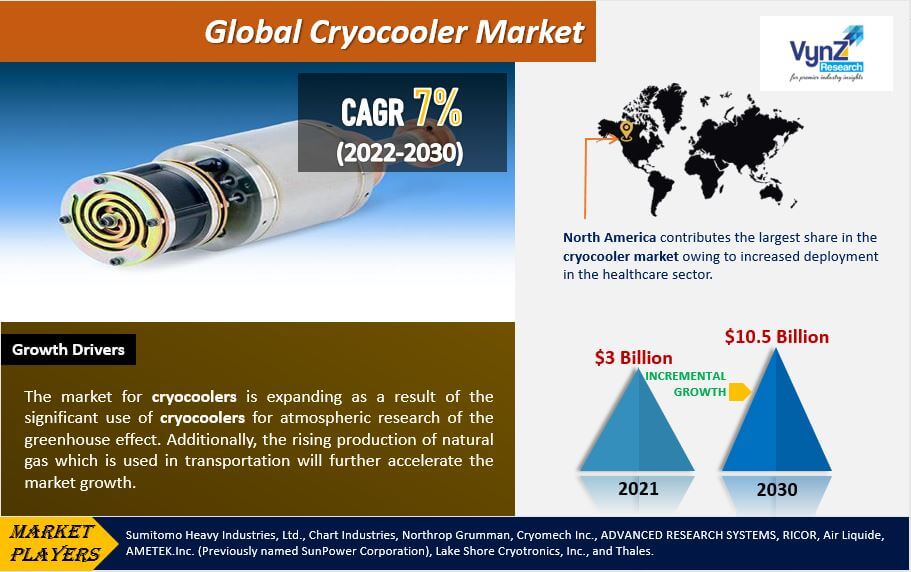 Industry Trends
The COVID-19 pandemic had an impact on the global cryocooler industry owing to passive demand and delay in project completion. Furthermore, the supply chain disruptions have led to reduced demand in end user industry verticals like energy, transportation, military equipment, etc. Nevertheless, some end-user industry verticals like healthcare, R&D sector has shown a stable growth in the global cryocooler industry.
Market Segmentation
Insight by Offering
Hardware 

Compressors
Cold Heads
Heat Dissipation Pipes
Power Conditioning Units
Others

Services 

Technical Support Services
Product Repairs and Refurbishment Services
Preventive Maintenance Services
Customer Training Services
The rising use of compressor in cryocoolers over the forecast period is estimated to dominate the hardware cryocooler market. A critical part of a cryocooler is the compressor. The compressor's major task is to convert low-pressure gas to high-pressure gas. A compressor is used to transfer helium gas, which aids in lowering compression and removing heat compression.
Insight by Product
Gifford-McMahon (GM)
Brayton Cryocoolers
Pulse-Tube (PT)
Stirling
Joule-Thomson (JT)
Others
Stirling cryocooler category is anticipated to have a high CAGR during the forecast period owing to increased implementation in various applications like R&D, military, healthcare, and commercial. Furthermore, increased expenditure by developing economies like China, India, Malaysia, Thailand in several end-user verticals like manufacturing, semiconductor, medial, military, etc., will drive the market demand for Stirling cryocooler category during the forecast period. 
Insight by Heat Exchanger Type 
•    Regenerative Heat Exchangers
•    Recuperative Heat Exchangers
Regenerative heat exchangers dominate the global cryocooler market owing to its increased adoption in Gifford-Mcmahon, Pulse-Tube, and Stirling cryocoolers. The extensive range of uses for these cryocoolers in the military, space, medical, energy, agricultural, and biological industries, among others, contributes to their high heat exchanger usage.
Insight by Temperature Range
•    1k–50k
•    50k–100k
•    100k–300k
•    Others
50k-100k dominates the global cryocooler market as they are deployed in applications like liquefaction of nitrogen and mixed gases and cooling the gas temperature ranges between 60 and 80 K. Cooling of satellites normally occurs in the milliwatt range at 60-80K using cryocoolers, which can provide cooling up to a range of 100K.
Insight by Operating Cycle
•    Open-Loop Cycle
•    Closed-Loop Cycle
Due to their broad range of uses, which include IR detectors/sensors, thermal cameras, MRI, surgical probes, night vision systems, superconducting devices, and commercial refrigerators, closed-loop cycle cryocoolers are predicted to witness higher growth during the analysis period. The advent of high-temperature infrared detectors with cooling ranges between 150 and 200 K is the result of recent technological developments. Due to the absence of mechanical components, small size, and quick cooling capabilities, closed-cycle systems like JT cryocoolers are employed in a variety of applications in night vision systems
Insight by Application
Healthcare
Commercial
Military
Energy
Research and Development
Environmental
Space
Transport
Agriculture & Biology
Mining and Metal
Others
Military application is anticipated to have a high CAGR during the forecast period. Cryocoolers are used in the military to maintain cryogenic temperatures for cooling infrared sensors to around 80 Kelvin that are installed in night vision-based systems, satellite-based surveillance, and missile guidance. Cryocoolers are also widely utilised in defense applications, mostly to cool infrared focal planes. For mid-wave infrared (usually 3–5-micron wavelength) and long-wave infrared (commonly 9–12-micron wavelength) sensors, cryocoolers are typically employed to cool intrinsic semiconductor-type focal planes. Nevertheless, the widespread usage of cryocoolers in high-end systems and detectors, including scaled-down payloads, thermal weapon sights, UAVs, and missile warning systems, among others, also contributes to the market's expansion.
Table - Magnetic Refrigeration Market Report Coverage
Cryocooler Market Report Coverage
| | |
| --- | --- |
| Report Metric | Details |
| Historical Period | 2018–2021 |
| Base Year Considered | 2022 |
| Forecast Period | 2022 - 2030 |
| Market Size in 2021 | $3 Billion |
| Revenue Forecast in 2030 | $10.5 Billion |
| Growth Rate | CAGR 7% |
| Segments Covered in the Report | By Offering, By Product, By Heat Exchanger Type, By Temperature Range, By Operating Cycle, By Application. |
| Report Scope | Market Trends, Drivers, and Restraints; Revenue Estimation and Forecast; Segmentation Analysis; Impact of COVID-19; Companies' Strategic Developments; Market Share Analysis of Key Players; Company Profiling |
| Regions Covered in the Report | North America, Europe, Asia-Pacific, Middle East, and Rest of the World |
Industry Dynamics
Growth Drivers
Increased Demand for Effective Cooling Systems for the Production of Magnets, Superconductors, and Power Systems will 
Drive Market Growth
One of the main factors fueling the market expansion is the growing need for effective cooling systems for the manufacturing of superconductors, magnets, and power systems. This is also due to the extensive use of closed-loop cryocoolers for commercial freezers, infrared (IR) sensors, detectors, thermal cameras, and night vision devices. Moreover, cryocoolers are also used in semiconductor fabrication units and magnetic levitation trains for superconductivity applications.
Additionally, the market is growing as a result of the rising use of the product for maintaining low temperatures when operating surgical probes and magnetic resonance imaging (MRI) equipment. In hospitals and healthcare facilities, cryocoolers are also employed for advanced cancer treatments, proton therapy, cryosurgery, and the liquefaction of oxygen, which is promoting market expansion. Also, the rapid scarcity of helium gas in emerging countries has also aided the market's expansion.
The market for cryocoolers is expanding as a result of the significant use of cryocoolers for atmospheric research of the greenhouse effect. Additionally, the rising production of natural gas which is used in transportation will further accelerate the market growth.
Challenges
Low Efficacy in Closed Cycle Mode and Increased Internal Losses may Stymie Market Expansion
Internal losses associated with many of the regenerative and recuperative cryocoolers have a substantial impact on system efficiency, and this is the major factor impeding cryocooler market growth. The irreversible gas compression mechanism in cryocoolers causes system regenerator inefficiency. Other internal losses, including pressure drop loss and clearance seal loss, have a negative impact on system performance.
Cryocoolers' high input power requirements and performance constraints are anticipated to act as the primary growth-restraining factors during the forecast period whilst the leakage of cryogen gases may pose a threat to the market's expansion from 2022 to 2030.
Opportunities
The rising market demand for satellite monitoring and missile guidance in the military application will create promising market opportunities for the industry players in the global cryocooler market during the forecast period. Other growth-promoting innovations include the creation of space cryocoolers i.e., applications in planetary science and space astronomy and other technological advancements. These cutting-edge variations can resist the vibrations of launch and prolonged exposure to space radiation. The market is expected to rise as a result of a number of other factors, such as the expanding use of cryogenically cooled low-noise amplifiers in cellular telephone base stations and intense research and development (R&D) efforts.
Geographic Overview
North America
Europe
Asia Pacific (APAC)
Rest of the World (RoW)
North America contributes the largest share in the cryocooler market owing to increased deployment in the healthcare sector for proton therapy to treat cancer and extensively used for satellite monitoring and missile guidance in the military sector. Furthermore, the presence of prominent industry players, robust industrialization, mounting R&D activities in space applications by NASA, and increased installation of cryogenic technology in aircraft carriers will further drive the market demand for cryocoolers during the forecast period. 
Competitive Insight
Prototype designers, hardware manufacturers, and original equipment manufacturers are major cryocooler market stakeholders. Designers of prototypes create personalized cryocoolers for specific end-use industries. Heat dissipation pipes, feedthrough pipes, service tubes, cold heads, compressors, pressure vessels, and vibration absorbers are all available from hardware manufacturers. OEMs, on the other hand, manufacture cryocoolers in bulk and provide services depending on the needs of end-users.
The key industry players are emphasizing expanding their reach in the military and energy sectors. Also, they are partnering with government and research organizations to expand their businesses. 
Cryomech is a well-known innovator in the design and production of innovative cryorefrigerators (also known as cryocoolers). In order to meet market demands in the fields of medical & life sciences, clean energy & helium recovery, and ultra-low temperature physics research, the firm designs and produces high-end cryocoolers and cryostats. Their Product portfolio includes GIFFORD-MCMAHON CRYOCOOLER, PULSE TUBE CRYOCOOLER, CRYOSTATS, LIQUID HELIUM MANAGEMENT PRODUCTS, COLD HELIUM CIRCULATING SYSTEMS, LIQUID NITROGEN PLANTS.
Cryocoolers for Space and Tactical missions demanding high performance, reduced mass, excellent dependability, and low system-level cost have been provided by Northrop Grumman for a long time with great success. Cryocoolers from Northrop Grumman are available in a wide range of configurations to accommodate various cryogenic requirements. 
These consist of:-
Four typical compressor sizes.
Different Cold heads There are designs that offer cooling from 1.7 Kelvin to 300 Kelvin, including single - or multi-temperature linear, coaxial, and Joule-Thomson cold head variations.
Alternatives for multistage cooling
Choices for remote cooling
Thus, the electronics and proven cryocoolers from Northrop Grumman provide scalability, effective performance, and guaranteed reliability to enable crucial performance with assured mission success.
Recent Development by Key Players
At the American Physical Society (APS) March 2022 Meeting, Cryomech unveiled its brand-new PT310 Pulse Tube cryocooler. The PT310 cryocooler achieves its best heat lift performance at 3 Kelvin (K), allowing dry dilution refrigerators to reach millikelvin temperatures.
Fronti Fabrications, Inc., a leader in engineering, machining, and welding for the cryogenic and gas industries, has been fully acquired by Chart in May 2022. In addition, Fronti provides newly constructed pressure vessels and carries out repairs in accordance with the ASME code. The front offers a well-known team with more than 20 years of liquefaction, heat exchanger, and cold box manufacturing experience to increase Chart's cold box production capacity and capability, including work being done on Chart's hydrogen and helium liquefiers.
For the next-generation proton therapy system currently being built, Sumitomo Heavy Industries, Ltd. executed proton beam acceleration tests on its internally produced superconducting cyclotron in October 2021 and verified the formation of a high-intensity proton beam of 1,000 nA.
Key Players Covered in the Report
Some of the major players in the cryocooler market include Sumitomo Heavy Industries, Ltd., Chart Industries, Northrop Grumman, Cryomech Inc., ADVANCED RESEARCH SYSTEMS, RICOR, Air Liquide, AMETEK.Inc. (Previously named SunPower Corporation), Lake Shore Cryotronics, Inc., and Thales.
The Cryocooler Market report offers a comprehensive market segmentation analysis along with an estimation for the forecast period 2022–2030.
Segments Covered in the Report
By Offering

Hardware 

Compressors
Cold Heads
Heat Dissipation Pipes
Power Conditioning Units
Others

Services 

Technical Support Services
Product Repairs and Refurbishment Services
Preventive Maintenance Services
Customer Training Services

By Product 

Gifford-McMahon (GM)
Brayton Cryocoolers
Pulse-Tube (PT)
Stirling
Joule-Thomson (JT)
Others

By Heat Exchanger Type 

Regenerative Heat Exchangers
Recuperative Heat Exchangers

By Temperature Range 

1k–50k
50k–100k
100k–300k
Others

By Operating Cycle 

Open-Loop Cycle
Closed-Loop Cycle

By Application

Healthcare
Commercial
Military
Energy
Research and Development
Environmental
Space
Transport
Agriculture & Biology
Mining and Metal
Others
Region Covered in the Report
North America
Europe

Germany
U.K.
France
Italy
Spain
Russia
Rest of Europe

Asia-Pacific (APAC)

China
Japan
India
South Korea
Rest of Asia-Pacific

Rest of the World (RoW)

Brazil
Saudi Arabia
South Africa
U.A.E.
Other Countries

Source: VynZ Research