Industry Overview
The global electronic toll collection (ETC) market is anticipated to grow from USD 7.8 billion in 2022 and will reach USD 14 billion by 2030, registering a CAGR of 7.9% during the forecast period 2023-2030.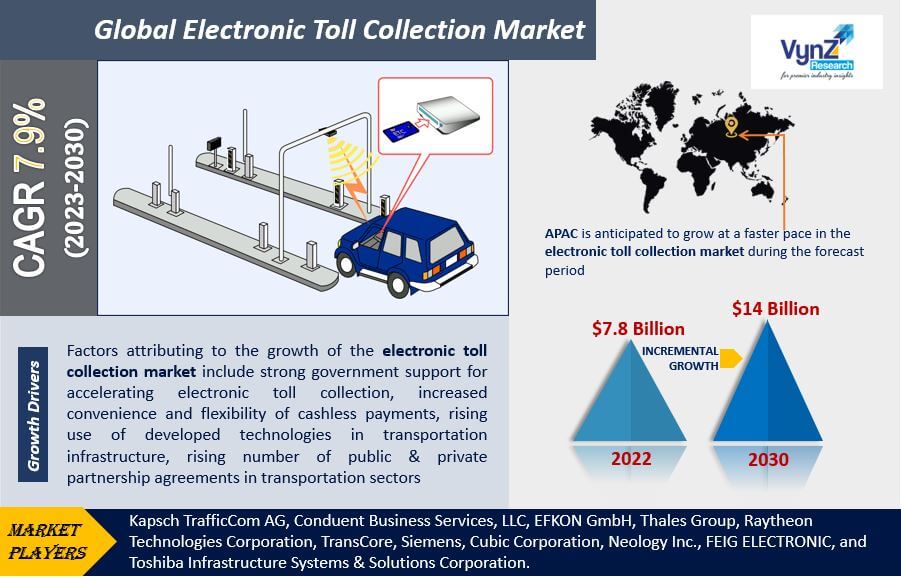 Electronic toll collection is a high-end cashless toll collection technology that helps to alleviate traffic congestion at various toll collection sites due to the time-consuming procedure of collecting cash or plastic money and includes easy operating buttons and user-friendly design. These tolls do not necessitate vehicles stopping at toll booths for toll collection. These devices acquire information by scanning automobiles as they approach toll booths. They use cash tolls so that vehicles can pass by the booth without any transponder effects for a longer length of time, disrupting supply chains. Because it eliminates manual work, electronic toll collection reduces traffic problems. The overall expansion of the Electronic Toll Collection market is being fueled by the escalating adoption of electronic equipment, wireless connectivity, the increasing prevalence of internet connectivity, and other new technologies.
Transponders, cameras, RFID chips, controllers, and processors are among the various components and gadgets used in electronic tolling systems. Countries like China and the United States are severely impacted by COVID-19 and are major suppliers of components and raw materials. borders and severe lockdowns implemented as preventative measures, this will affect the supply chain of electronic components and gadgets directly. There will be expected delays in the supply of raw materials to manufacturers who meet the requirements of tolling system integrators, as well as delays in the delivery of products to integrators, due to stringent regulations and guidelines formulated in the transacting countries, which are expected to have long-term consequences in the transacting countries.
Market Segmentation
Insight by Type
Based on type, the global electronic toll collection market is bifurcated into transponder-/tag-based tolling systems and other tolling systems. Vehicles make extensive use of transponders, which are devices that interact with roadside equipment. To complete the transaction, this equipment is usually positioned on the front side of the vehicle. The device contains basic vehicle information like toll facility, identification number, and vehicle type; the vehicle identification number is linked to the consumer's bank account, from which the toll payment is deducted after the consumer's approval. The toll bill is subsequently emailed to the bank account's e-mail address.
Insight by Sub-System Type
Based on sub-system type, the global electronic toll collection market is segregated into Automatic Vehicle Classification (AVC), Violation Enforcement System (VES), Automatic Vehicle Identification System (AVIS), and others. The AVIS is anticipated to have a high CAGR during 20223-2030 owing to the increased adoption of intelligent transportation system technologies to detect and track stolen vehicles across the country. Toll collection and automatic vehicle identification are both aided by the use of electronic toll-collecting systems and AVI technology. Using secure RFID tags or cards can eliminate the need to manually identify a vehicle, thus AVI technology streamlines access control and vehicle identification.
Insight by Payment Method
Based on the payment method, the electronic toll collection market is divided into prepaid, hybrid, and postpaid. The prepaid segment dominates the market owing to the rising demand for a fast, hassle-free, and cashless transaction processes which will provide direct payment of the toll fees from the prepaid or savings account. The prepaid tag allows for toll charges to be deducted automatically and vehicles to pass through without having the need to stop for transactions. Because the prepaid card system is linked to the Toll Management Systems, toll operators can discern vehicle classifications and collect appropriate toll payments from the prepaid card (TMS).
Insight by Technology
Based on technology, the global electronic toll collection market is segmented into Radio-frequency Identification (RFID), Dedicated Short-range communication (DSRC), Infrared, GNSS & GPS, and Video Analytics. RFID is anticipated to have a high CAGR during 2023-2030 in the electronic toll collection market as it involves low operational cost, enhances transparency, and offers a smooth exchange of payment information.  RFID technology uses radio-frequency electromagnetic waves to identify cars that are equipped with RFID tags. As a result, the market's expansion can be ascribed to rising demand for reducing traffic congestion near toll collection sites.
Insight by Application
Based on Application, the global electronic toll collection market is segmented into highways, bridges, and urban areas. Highways contribute the largest share in the market owing to technological development and strong government support will add ETC systems as it is a cost-effective solution and resolve toll collection issues on highways.
Electronic Toll Collection Market Report Coverage
| | |
| --- | --- |
| Report Metric | Details |
| Historical Period | 2018–2022 |
| Base Year Considered | 2022 |
| Forecast Period | 2023-2030 |
| Market Size in 2022 | $7.8 Billion |
| Revenue Forecast in 2030 | $14 Billion |
| Growth Rate | CAGR 7.9% |
| Segments Covered in the Report | By Type, By Sub-System Type, By Payment Method, By Technology, and By Application |
| Report Scope | Market Trends, Drivers, and Restraints; Revenue Estimation and Forecast; Segmentation Analysis; Impact of COVID-19; Companies' Strategic Developments; Market Share Analysis of Key Players; Company Profiling |
| Regions Covered in the Report | North America, Europe, Asia-Pacific, Middle East, and Rest of the World |
Industry Dynamics
Industry Trends
The growing number of expressway networks being built around the world, particularly in developing nations, is driving up demand for electronic toll collection systems. Also, the constant surge in the number of smart cities, decrease in traffic congestion, and reduction in pollution levels are the trends that may propel the growth of the electronic toll collection market.
Growth Drivers
Factors attributing to the growth of the electronic toll collection market include strong government support for accelerating electronic toll collection, increased convenience and flexibility of cashless payments, rising use of developed technologies in transportation infrastructure, rising number of public & private partnership agreements in transportation sectors, growing consumer use of modern digital technologies, and ETC acts as an effective solution for reducing traffic congestion, accidents, and pollution with improved traffic flow per lane. The electronic toll collection market is driven by the high acceptance of these systems due to the use of cutting-edge technology solutions such as GPS and GNSS toll collection, tracking solutions, and DSRC, as well as the use of video analytics to efficiently manage traffic in congested locations.
Challenges
The main disadvantage of this technology is the possibility of failure of the electronic toll system due to dirt, fog, rain, or moisture on the tag. Furthermore, the car tags are simple to duplicate. The complexity of the tag electrical system raises the build-up cost, stifling the electronic toll market's expansion. The stringent regulatory norms, lack of standardization in toll collection systems, interoperability, huge dependency on the government to approve electronic toll collection, and selection of toll technology will pose a challenge in the growth of the electronic toll collection market. Furthermore, massive initial costs incurred in installation and huge operating and maintenance costs may hamper the growth of the electronic toll collection market.
Opportunities
An increase in the use of blockchain technology in toll collection systems, a shift away from coin-based or manual tolling systems, and increased collaborations between the public and private sectors for transportation will provide lucrative opportunities for the electronic toll collection market during the forecast period 2023-2030.
Geographic Overview
APAC is anticipated to grow at a faster pace in the electronic toll collection market during the forecast period 2023-2030 owing to urbanization and industrialization, leading to increased use of vehicles that may lead to traffic congestion. The implementation of ETC systems in this region prevents accidents and improves the environment. ETC solutions have been placed at several toll plazas in China, Japan, and India. In short, the adoption of ETC systems has aided in better traffic management and revenue accountability in these countries. Drivers may commute at high speeds owing to ETC systems, conserving gasoline. Because of technology penetration, robust digitization, and increased acceptance of the toll management system, countries like India are likely to grow at a faster rate.
Competitive Insight
The electronic toll collection industry is characterised by market participants' R&D efforts aimed at the development and marketing of novel technologies. Companies are concentrating their efforts on getting contracts for small, medium, and large-scale deployment projects in order to implement their solutions in various nations.
Kapsch TrafficCom is a renowned ITS provider specializing in toll collecting, traffic management, safety and security, smart urban mobility, and connected cars. Kapsch TrafficCom's end-to-end solutions serve as a one-stop-shop for its customers, covering everything from components and design to system installation and operation. The development, installation, and operation of electronic toll collecting and traffic control systems are the company's major business. Kapsch TrafficCom delivers an efficient and powerful SmartTOLL Suite to fulfill the needs of clients and customers all over the world.
EFKON GmbH is a prominent provider of Intelligent Transportation Systems (ITS), Electronic Toll Collection (ETC), enforcement, and traffic telematics systems throughout the world. They have extensive experience with all main electronic tolling systems, which enables them to offer reliable, intelligent, and future-proof solutions. EFKON provides high-quality state-of-the-art technology adapted to unique customer needs, from innovative components to bespoke turn-key solutions. The remarkable performance based on service, security, reliability, and accuracy has already been relied on by reference projects all over the world.  EFKON provides a solution portfolio in electronic enforcement, toll collection, traffic telematics, or in-vehicle applications.
In February 2022, The Bay Area Toll Authority (BATA) has awarded Conduent Transportation, a global business unit of Conduent Incorporated, a five-and-a-half-year contract renewal to continue processing automated tolling transactions at seven state-owned bridges in the San Francisco region, as well as the iconic Golden Gate Bridge. Conduent also provides BATA customer assistance to motorists and processes FasTrak® parking charges and tolls on area Express Lanes at the San Francisco International Airport. The contract is worth around $286 million in total.
In June 2021, Plenary Infrastructure Group (Plenary) has granted Kapsch a contract to develop a new toll collecting system for the Louisiana Highway (LA-1) for the Louisiana Department of Transportation and Development (LADOTD). The project is an addition to Kapsch's existing contract with Plenary, which calls for the company to provide an end-to-end all-electronic tolling system as well as related maintenance services to a maj\jor bridge and tunnel replacement in Belle Chasse, Louisiana. In January 2020, the Plenary began work on the new bridge and tunnel.
Some of the major players in the electronic toll collection market include Kapsch TrafficCom AG, Conduent Business Services, LLC, EFKON GmbH, Thales Group, Raytheon Technologies Corporation, TransCore, Siemens, Cubic Corporation, Neology Inc., FEIG ELECTRONIC, and Toshiba Infrastructure Systems & Solutions Corporation.
The Electronic Toll Collection Market report offers a comprehensive market segmentation analysis along with an estimation for the forecast period 2023–2030.
Segments Covered in the Report
By Type

Transponder-/Tag-based Tolling Systems
Other Tolling Systems

By Sub-System Type

Automatic Vehicle Classification (AVC)
Violation Enforcement System (VES)
Automatic Vehicle Identification System (AVIS)
Others

By Payment Method 
By Technology 

Radio-frequency Identification (RFID)
Dedicated Short-range communication (DSRC)
Infrared
GNSS & GPS
Video Analytics

By Application

Highway
Bridges
Urban Areas
Region Covered in the Report
North America
Europe

Germany
U.K.
France
Italy
Spain
Russia
Rest of Europe

Asia-Pacific (APAC)

China
Japan
India
South Korea
Rest of Asia-Pacific

Rest of the World (RoW)

Brazil
Saudi Arabia
South Africa
U.A.E.
Other Countries