Industry Overview
The global energy efficient motor market size is expected to reach USD 53.4 billion by 2028 from USD 37.45 billion in 2021, registering a CAGR of 7% during the forecast period. Energy-efficient motors are those type of motors that have features made using better materials and updated production processes. These motors often have greater service factors, less waste heat production, longer bearing lives, low maintenance costs, and lower vibration. These motors improve efficiency by reducing losses, which typically represent 3-6 percent of the energy flowing through the motor. The future of the energy-efficient motor sector is promising. Due to continual breakthroughs in equipment used in industrial, commercial, residential, automotive, and agricultural applications, the energy-efficient motor sector is expected to make significant progress over the study period.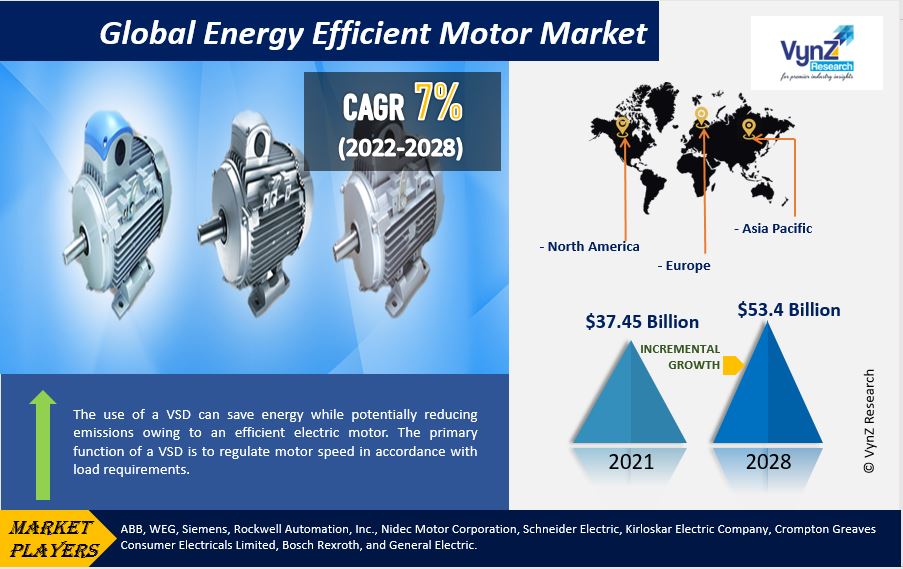 Industry Trends
The market for energy efficient motors is continuously expanding, with high market demand. The market is driven by the global impact of the energy crisis, as well spike in oil, gas, and commodity prices, and disruptions in energy supply chains. Furthermore, the turbulent financial market and expanding global energy demand drive the need for new, innovative energy production and supply solutions.
The COVID-19 outbreak's detrimental effects on a number of important businesses, including retail, transportation, and the automotive sector, among others, have slowed the growth of the global energy-efficient motor industry.
Market Segmentation
Insight by Efficiency Level
Standard (IE1)
High (IE2)
Premium (IE3)
Super Premium (IE4)
IE2 motors category is anticipated to contribute the largest market share during the forecast period as it has high efficiency levels i.e., equivalent to CEMEP EFF1 class and EP Act level. As an alternative to IE3 motors, IE2 motors can be utilised with inverters. The demand for IE1 motors has significantly altered as a result of IE2 motors, which are more efficient than EFF2 motors and generate less residual heat. Additionally, the installation of IE2 motors is now required by all regions' as per Minimum Energy Performance Standards (MEPS). These elements are anticipated to contribute to the market expansion for IE2 motors' energy-efficient motors during the analysis period.
Insight by Type
DC Motor

Brushed DC Motors
Brushless DC Motors

AC Motor

Induction Motors
Synchronous Motors
AC Motors dominates the market owing to increased concern related to carbon emissions and rising consumption of energy power which promote the advancement of better energy efficient AC motors.
Insight by Application
Fans
Air Compressor
Pumps
Material Handling
Material Processing
HVAC
Pumps contributes the largest market revenue in the energy efficient motor market owing to increased adoption in several end-user verticals like oil & gas, commercial, agriculture, and water and wastewater industries and are the key consumer of electricity in the industrial sector.
Insight by End-User Vertical
Commercial Building
Automotive
Residential
Aerospace and Defense
Industrial
Agriculture
Industrial end-user vertical contribute the largest share in the energy efficient motor market as these motors are widely deployed in several industries like marine, power & energy, oil &gas, mining, water & waste water so as to reduce operational cost and energy consumption.
Energy Efficient Motor Market Report Coverage
| | |
| --- | --- |
| Report Metric | Details |
| Historical Period | 2016–2021 |
| Base Year Considered | 2021 |
| Forecast Period | By 2028 |
| Market Size in 2021 | $37.45 Billion |
| Revenue Forecast in 2028 | $53.4 Billion |
| Growth Rate | CAGR 7% |
| Segments Covered in the Report | By Efficiency Level, By Type, By Application, and By End User Vertical |
| Report Scope | Market Trends, Drivers, and Restraints; Revenue Estimation and Forecast; Segmentation Analysis; Impact of COVID-19; Companies' Strategic Developments; Market Share Analysis of Key Players; Company Profiling |
| Regions Covered in the Report | North America, Europe, Asia-Pacific, Middle East, and Rest of the World |
Industry Dynamics
Growth Drivers
Adoption of VSD lead to Market Growth for Energy-Efficient Motors
The use of a VSD can save energy while potentially reducing emissions owing to an efficient electric motor. The primary function of a VSD is to regulate motor speed in accordance with load requirements. The incorporation of the VSD enhances the effectiveness of the overall system. Thus, manufacturers are rapidly adopting factory automation to increase production capacity along with reducing errors, processing time, and dangerous environmental effects. This serves as a driving factor for the energy-efficient motor market, enabling it to expand at a constant rate. Energy efficient motors have a reduced failure rate and a greater tolerance for overload circumstances, making them very appealing to end customers from a variety of industries.
Factors attributing to the growth of the energy efficient motor market are increased penetration of LED, rising need to save energy and increase demand to reduce cost over traditional motors, government initiatives to adopt energy-efficient motors, increased need to lessen greenhouse effect, and surge in adoption of energy efficient motors in industrial sector.
Additionally, the market for energy-efficient motors is positively impacted by the accelerated development of technology, rapid urbanization, and growth in acceptance due to the high tolerance for overload conditions.
Customers' preferences for energy efficient motors are being influenced by their advantages over regular motors, including their high-quality lamination, insulation, and minimal fan losses.
Challenges
High Cost of IE4 Motors may Stymie Market Growth
The market's growth is anticipated to be hampered by the high cost of super premium efficiency (IE4) motors. The initial cost of energy-efficient motors costs more as compared to standard motors. Due to the use of premium materials and improved manufacturing and design processes to increase efficiency, IE4 motors are more expensive. To cut down on resistance losses, these motors' rotors use larger-diameter copper wires and more aluminium. To cut down on winding losses, an improved cooling fan is also used. The overall cost of these types of motors is raised by the usage of high-end, pricey materials.
Market expansion is constrained by high initial investment, the reduced growth rate of electric vehicle sales in BRIC nations, and a dearth of awareness among the public about the benefits associated with efficient motors will adversely impact market sales. Thus, the major challenge is the high purchasing price, which prevents small-scale businesses from using these motors in their facilities.
Opportunities
Additionally, in the forecast period of 2022 to 2028, the market players will benefit from ongoing innovation in energy-efficient technology to minimize electricity usage, thereby creating promising opportunities for the market growth of the energy efficient motors. The market revenue is being driven by the enormous need for energy-efficient motors in HVAC applications, machine tools, home appliances, power tools, and autonomous robotics.
Geographic Overview
North America
Europe
Asia Pacific (APAC)
Rest of the World (RoW)
North America contributes the largest share in the energy efficient motors market owing to the increasing energy prices and concern related to energy efficiency will lead to increased emphasis on high-efficiency motors that use less electricity. The region's market share demonstrates the substantial reliance of the industrial, automotive, and agricultural sectors on energy-efficient motors for a variety of activities. Energy-efficient motors are in extremely high demand throughout the region as a result of the expanding necessity for high-efficiency electrical equipment to function properly.
Europe is anticipated to grow at a faster pace during the forecast period owing to rising demand from the residential sector, mounting growth in GDP per capita income, surge in demand for home appliances.
Competitive Insight
The key players in the energy-efficient motor industry aim to expand their production capacity while also enhancing cost efficiency and streamlining their operations, aided by new digitalization opportunities. In addition, significant expansion efforts by MNCs and well-established organizations, as well as new product launches, collaborations, M&As, are predicted to raise the market share of energy efficient motors.
For all applications, ABB provides a wide selection of highly efficient motors and generators.  Even in the most difficult situations, ABB has what it takes to help every sector and application achieve new heights of efficiency and energy savings. Electric motors and generators are built to work consistently no matter how demanding the process or application and to have low life cycle costs by combining the best materials currently available with cutting-edge technology. Their product portfolio include ABB IE5 SynRM and Drives, EC Titanium Integrated Motor Drive, Synchronous Motors, High Voltage Induction Motors, etc.
The industry's efforts to increase energy efficiency are led by Nidec Motor Corporation. They  have contributed to the formulation of electric motor energy efficiency policies. Highly efficient commercial and industrial motors from the U.S. MOTORS® brand NEMA Premium® line are built to directly replace older, still-in-use motors. This line aids industry in conserving energy and adhering to current energy efficiency rules. The enhanced open drip-proof and entirely enclosed motors found in NEMA Premium® U.S. MOTORS® brand motors meet or exceed legal requirements.
In order to increase overall motor efficiency, reduce power consumption, assist the uptake of renewable energy sources, and participate in the worldwide effort to save energy and reduce carbon emissions, Nidec provides high-efficiency brushless DC motors to the world.
Recent Development by Key Players
The demand for the most advanced, energy-efficient pumping equipment has never been more pressing as energy prices rise. In response to that need, in April 2022, Nidec Motor Corp. unveiled SynRATM, an avant-garde, synchronous motor with a pending patent. The new motor, with ratings of IE 4 and IE 5, provides one of the best efficiencies possible for today's commercial pumping and HVAC equipment when partnered with the ID300 PerfectspeedTM integrated drive. This new technology from Nidec's U.S. MOTORS® brand offers the benefit of simple motor replacement without the need to install a full new system and controls, saving time and money. It also offers significant energy savings.
Businesses can reduce operating expenses and enhance environmental performance by adopting variable frequency drives (VFDs) to enhance motor control performance and motor efficiency. The new Energy Savings Calculator from Rockwell Automation in September 2021, allows businesses to estimate the potential savings VFDs that might bring to their chemical operations. For each electrically operated asset, the calculator displays possible energy and carbon emission reductions. The calculator will estimate the savings users can obtain by converting to VFDs by simply answering few questions regarding their application. The calculator is perfect for uses involving electric motors not currently under the control of VFDs, such as those in the chemical industry and elsewhere.
Key Players Covered in the Report
Some of the prominent players in the global energy efficient motor industry include ABB, WEG, Siemens, Rockwell Automation, Inc., Nidec Motor Corporation, Schneider Electric, Kirloskar Electric Company, Crompton Greaves Consumer Electricals Limited, Bosch Rexroth, and General Electric.
The Energy Efficient Motor Market research includes a comprehensive market segmentation analysis as well as projections for the analysis period 2022-2028.
Segments Covered in the Report
By Efficiency Level 

Standard (IE1)
High (IE2)
Premium (IE3)
Super Premium (IE4)

By Type

DC Motor
Brushed DC Motors
Brushless DC Motors
AC Motor
Induction Motors
Synchronous Motors

By Application

Fans
Air Compressor
Pumps
Material Handling
Material Processing
HVAC

By End User Vertical

Commercial Building
Automotive
Residential
Aerospace and Defense
Industrial
Agriculture
Region Covered in the Report
North America
Europe

Germany
U.K.
France
Italy
Spain
Russia
Rest of Europe

Asia-Pacific (APAC)

China
Japan
India
South Korea
Rest of Asia-Pacific

Rest of the World (RoW)

Brazil
Saudi Arabia
South Africa
U.A.E.
Other Countries

To explore more about this report - Request a free sample copy