Industry Overview
The free space optics (FSO) market is witnessing significant growth with a projected value of USD 1.9 billion by 2030, showcasing a remarkable compound annual growth rate (CAGR) of 30% from 2022 to 2030. Starting at USD 0.55 billion in 2022, this global market is poised for substantial expansion in the coming years.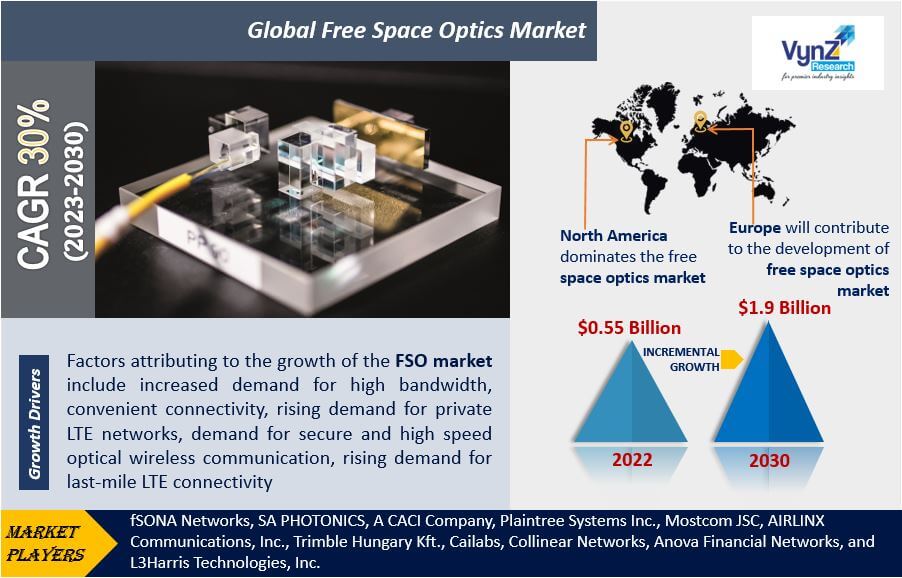 The global FSO communication is a technique of optical wireless communication that carries data through light propagation in free space and is suitable to transmit data in localities that are not fit for physical connections. Inter-satellite communications, satellite to ground communication, and several airborne applications are all possible with this communication technology. The rising application of free optics in military applications, aerospace & defense industry, satellite links, deep space probes, UAVs, communicating to remote areas will accelerate the growth of the free space optics market. Ease of deployment, resistance to electromagnetic interference, high bit rates with few or no errors, and high security are some of the important aspects that provide free space optics communications a technical edge and are driving the global free space optics market forward.
The COVID-19 outbreak has led to the adoption of remote work culture, resulting in increased demand for strong data transition. Also, it has favorably affected the FSO communication market owing to a substantial rise in BYOD technology.
Market Segmentation
Insight by Component
Based on component, the global free space optics market is segregated into transmitters, receivers, modulators, demodulators, and others (encoders and decoders). The transmitter is anticipated to have a high CAGR as it uses a laser for data transmission and is less expensive as compared to other hi-tech wireless technologies such as LTE-U/LAA, WiGig. Modulators and demodulators are anticipated to grow at a faster rate as it offers high-bandwidth transmissions by using the broad spectrum of light.
Insight by Platform
Based on platform, the global free space optics market is divided into the terrestrial platform, satellite platform, and airborne platform. The terrestrial platform contributes to the largest share in the FSO market. The satellite FSO platform is anticipated to have a high CAGR during 2023-2030 owing to increased demand for navigation and telecommunication applications. For inter-satellite communications, satellites use FSO technology, which uses a laser beam to transmit data.
Insight by Range Type
Based on range type, the global free space optics market is segmented into short-range, medium-range, and long-range. The short-range is anticipated to have a high revenue during 2023-2030 and the long-range is expected to have a high CAGR during 2023-2030.
Insight by Application
Based on application, the global free space optics market is classified into storage area network, data transmission, mobile backhaul, enterprise connectivity, disaster recovery, defense, satellite, and others. The data transmission dominates the free space optics market as data is transmitted over encrypted connection via FSO and is more secured in comparison to RF or other wireless transmission technologies. Moreover, it has the ability to provide optical bandwidth connections, which transmit data such as voice, documents, and video through an invisible light beam, boosting segment growth.
Free Space Optics Market Report Coverage
| | |
| --- | --- |
| Report Metric | Details |
| Historical Period | 2018–20222 |
| Base Year Considered | 2022 |
| Forecast Period | 2023-2030 |
| Market Size in 2022 | $0.55 Billion |
| Revenue Forecast in 2030 | $1.9 Billion |
| Growth Rate | 30% |
| Segments Covered in the Report | By Component, By Business Function, By Type, By Deployment Mode, By Organizational Size, and By Vertical |
| Report Scope | Market Trends, Drivers, and Restraints; Revenue Estimation and Forecast; Segmentation Analysis; Impact of COVID-19; Companies' Strategic Developments; Market Share Analysis of Key Players; Company Profiling |
| Regions Covered in the Report | North America, Europe, Asia-Pacific, Middle East, and Rest of the World |
Industry Dynamics
Industry Trends
The increased adoption of 3G and 4G networks in free space optics, commercialization of FSO technology for two-way communication, innovation of developed coding schemes to enhance the communication process and transmits quality data, and ease in installation of the technology are the key trends in the free space optics market. Furthermore, several R&D organizations like European Space Agency (ESA), the National Aeronautics and Space Administration (NASA), and Japan Aerospace Exploration Agency (JASA), etc. are making advancements in FSO communication solutions.
Growth Drivers
Factors driving the growth of the FSO market include increased demand for high bandwidth and convenient connectivity, rising demand for private LTE networks, the need for secure and high-speed optical wireless communication, growing demand for last-mile LTE connectivity, and the search for an alternative to RF technology. These factors will significantly contribute to the expansion of the FSO market. Moreover, the industry will experience growth due to the increasing prominence of smartphones and the rising number of satellites used in satellite communication applications. Additionally, government initiatives aimed at facilitating the seamless adoption of IoT in various industry verticals will promote the rapid deployment of FSO communication systems worldwide. Furthermore, the market will benefit from lower installation costs, a growing demand for widespread digital connectivity, and the absence of licensing requirements, all of which will foster the market's growth.
Challenges
The high installation cost and the environmental interference or atmospheric attention like fog and heavy rains will affect the signal quality, which may hinder the growth of the market. However, in order to tackle this problem, laser tracking devices, multi-beam, multi-path architecture, and hybrid dual-mode RF technology will lessen the effects of atmospheric attenuation, resulting in moderate growth in the FSO market. The lack of devices with greater photon efficiency and a high data rate is limiting the growth of the free space optics sector.
Opportunities
The growing innovations in the communication and technology sector such as the advent of optical angular momentum will create opportunities for growth in the FSO market. The novel product development and companies and governments adopting FSOs for temperature measurement applications will further accelerate opportunities for growth in the free space optics market.
Geographic Overview
North America dominates the free space optics market as it is widely adopted in aerospace and defense industries and increased implementation of free space technology. Furthermore, increased R&D activities, growth in digital platforms, early penetration of latest technology like smartphones, BYOD, etc., continued network facilitation and upgrades, Furthermore, the presence of well-established research centers in Western and Eastern Europe will contribute to the development of free space optics market.
Competitive Insight
The market is highly dynamic as there are many big and small players operating in the free space optics market. The companies in the free space optics market are adopting organic and inorganic strategies like a product launch, product approval, patents, M&A, partnerships, collaborations to expand their business and customer base.
MOSTCOM is a world pioneer in developing Free-space optics-based wireless optical communication systems with unique technical properties. The company's expertise is in the development and commercialization of novel products in the FSO-systems industry. The following are their applications: last-mile telecom solutions, such as the 4th generation of atmospheric FSO-systems with a market-leading 30 Gbps capacity, laser communication methods between mobile objects, such as cars, ships, balloons, unmanned aerial vehicles, and airplanes, that are both fast and safe, high-speed underwater laser communication systems, as well as space communication systems
Trimble is one of the prominent leaders in next-generation optical wireless communication devices and solutions based on breakthrough free-space optics communication technology. Trimble's FSO Gigabit Range provides consistent performance and security in all weather situations. The 8th generation FSO technology, low-latency wireless bridges, standard advanced swap out FOC, faster than fiber optics and RF technologies, and user-friendly control system are all key elements of these solutions.
In December 2022, SA Photonics, Inc., a leading producer of revolutionary multi-domain photonics technology for free-space optical (FSO) communications, has been acquired by CACI International Inc. The Photonic Solutions department at CACI has decades of experience in photonic design services, product development, and implementation of FSO communications and LiDAR sensing solutions. The combined portfolios represent a rare combination of research and development (R&D) innovation and scaled production capabilities, owing to the acquisition of SA Photonics and recent important successes with NASA, the Intelligence Community (IC), and the burgeoning low-earth-orbit (LEO) sector.
In October 2022, Cailabs, a French deep tech business that designs, manufactures, and distributes unique photonic solutions, has received Bpifrance Deeptech's funding to help expedite the development and commercialization of its laser communication solutions. Cailabs will be able to focus on the development and production of the TILBA-ATMO device, which increases free space optical communication as it has a two-year Bpifrance Deeptech project.
Some of the key players in the global free space optics market include fSONA Networks, SA PHOTONICS, A CACI Company, Plaintree Systems Inc., Mostcom JSC, AIRLINX Communications, Inc., Trimble Hungary Kft., Cailabs, Collinear Networks, Anova Financial Networks, and L3Harris Technologies, Inc.
The Free Space Optics Market report offers a comprehensive market segmentation analysis along with an estimation for the forecast period 2023–2030
Segments Covered in the Report
By Component 

Transmitters
Receivers
Modulators
Demodulators
Others

By Platform

Terrestrial Platform
Satellite Platform
Airborne Platform

By Range Type 

Short-Range
Medium-Range
Long-Range

By Application 

Storage Area Network
Data Transmission
Mobile Backhaul
Enterprise Connectivity
Disaster Recovery
Defense
Satellite
Others
Region Covered in the Report
North America
Europe

Germany
U.K.
France
Italy
Spain
Russia
Rest of Europe

Asia-Pacific (APAC)

China
Japan
India
South Korea
Rest of Asia-Pacific

Rest of the World (RoW)

Brazil
Saudi Arabia
South Africa
U.A.E.
Other Countries