Industry Overview
The global energy harvesting system market is estimated to be valued at USD 456.3 million in 2020 and is expected to reach USD 684.3 million by 2027, growing at a CAGR of 8.8% during 2021-2027. The growth of this market is attributed towards excessive demand for durable, safe and power-efficient systems that necessitate least amount of maintenance along with increasing initiatives undertaken by government authorities towards green energy.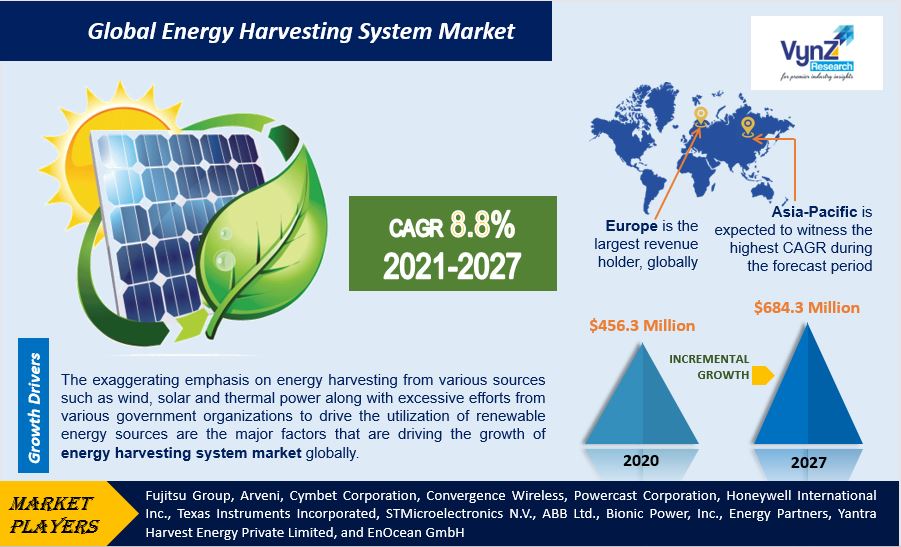 Energy harvesting systems develops diverse arrangements established upon the amount, source and type of energy that is converted into electrical energy. This harvesting system utilizes a source of energy such as light, vibration and heat.
Market Segmentation
Insight by Technology
On the basis of technology, the energy harvesting system market is segmented into vibration, radio frequency (RF), light and thermal. Among all these segments, light energy has been generating largest revenue throughout the estimated period and will continue to be the most used technology during the forecast period. The large market size of light energy segment is due to massive accessibility of advanced applications and availability of sunlight in the solar energy domain across the globe.
Insight by Component
Based upon component, energy harvesting system market is categorized into transducer, storage battery, and PMIC. Among all these components, transducer is anticipated to witness highest CAGR of 12.1% during the forecast period. The extensive growth of this segment is pertaining towards excessive utilization of IoT by several industry domains, technological enhancement in networking and power intelligence across the world. Moreover, reduced costs of actuators and sensors are another factor driving the growth of transducer that is thereby strengthening the growth of energy harvesting system globally. Transducer is further subcategorized into photovoltaic, piezoelectric, electrodynamic, electromagnetic, RF transducer and thermoelectric.
Insight by Application
On the basis of application, energy harvesting system market is classified into Industrial, Building and Home Automation, Consumer Electronics, Security, and Transportation. Of all these applications, building and home automation is observing increasing demand in the energy harvest system market across the globe. Extensive increase in installation and execution of sensor-based techniques along with increase in demand for energy proficient power systems from commercial domain to residential domain.
Industry Dynamics
Growth Drivers
The exaggerating emphasis on energy harvesting from various sources such as wind, solar and thermal power along with excessive efforts from various government organizations to drive the utilization of renewable energy sources are the major factors that are driving the growth of energy harvesting system market globally. With the alarming rate of air pollution and global warming government organizations are continuously making determinations in order to eliminate the dependence and overutilization of fossil fuels and hence stimulate the adoption of renewable energy sources.
Furthermore, increasing procedures for diminishing of carbon footprints worldwide is another factor pertaining towards the growth of global energy harvesting system market. Additionally, ever-changing patterns in rainfall and soaring temperatures are further fluctuating the budding arrangements of plants thereby strengthening the requirement of energy harvesting system and thus increasing its market revenue.
Challenges
Lack of standardization and consumer awareness is expected to further hinder the growth of global energy harvesting system market. Moreover, the availability of abundant encrypted devices and ecosystems reduces the efficiency of energy harvesting system industry that is less user-friendly and restraining the growth of energy harvesting system market across the globe.
Industry Ecosystem
Globally industry players operating in energy harvesting system market are leveraging market growth by launching new products in the market that is further enhancing their products portfolio. For instance, EnOcean GmbH launched self-powered wireless sensors in IoT for energy harvesting solutions that is based upon standardized specifications.
Geographic Overview
Geographically, energy harvesting system market in Europe is the largest revenue holder, globally. The growth of energy harvesting system market in this region is attributed towards widespread adoption of this system in automotive domain for the establishment of both commercials as well as passengers' car segment. Moreover, Asia-Pacific is expected to witness the highest CAGR during the forecast period owing to exaggerated growth in both manufacturings as well as construction domain in various emerging countries of this region.
Competitive Insight
Some of the major companies operating in the global energy harvesting system market includes Fujitsu Group, Arveni, Cymbet Corporation, Convergence Wireless, Powercast Corporation, Honeywell International Inc., Texas Instruments Incorporated, STMicroelectronics N.V., ABB Ltd., Bionic Power, Inc., Energy Partners, Yantra Harvest Energy Private Limited, and EnOcean GmbH.
Primary Research
VynZ Research conducts extensive primary research to understand the market dynamics, validate market data and have key opinions from the industry experts. The key profiles approached within the industry includes, CEO, CFO, CTO, President, Vice President, Product Managers, Regional Heads and Others. Also, end user surveys comprising of consumers are also conducted to understand consumer behaviour.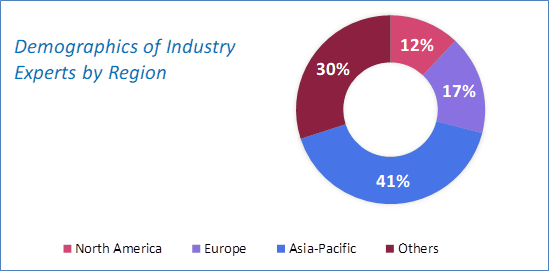 Source: VynZ Research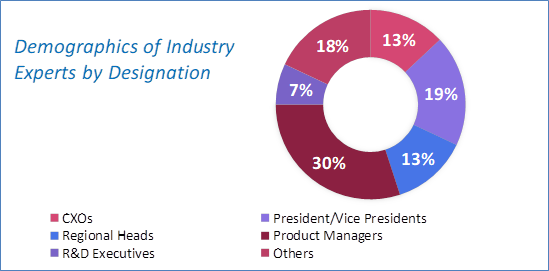 Source: VynZ Research