Industry Overview
The global HVAC insulation market is driven by the increasing global warming and extensive utilization of eco-friendly systems. Furthermore, it has been observed that the industrial and commercial sectors are major driving forces compared to residential sector in HVAC insulation market. Moreover, HVAC saves the waste energy and saves heavy energy bills for its users and thus demanded drastically across the globe.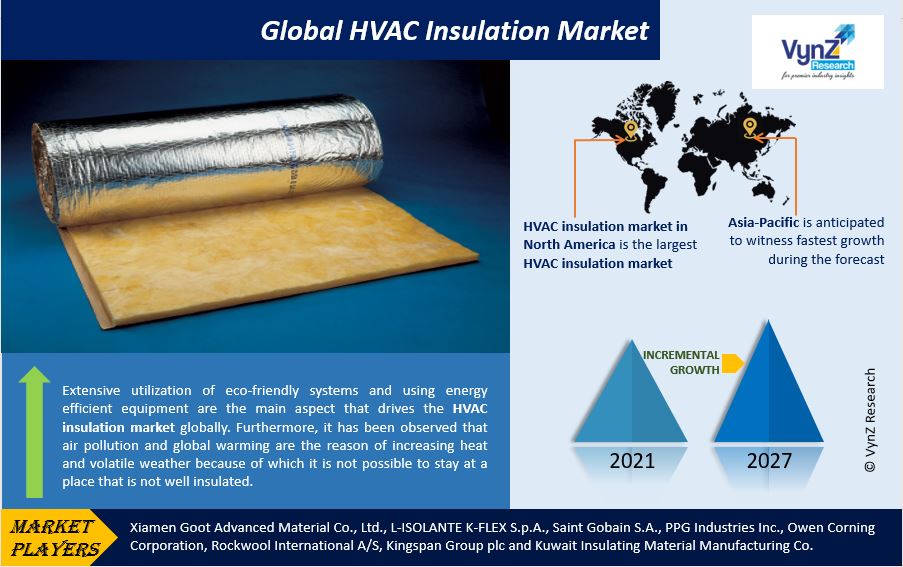 Market Segmentation
Insight by Component
Based upon component, the HVAC insulation market segmented into ducts and pipes. Among these two segments, pipes accounted for larger share throughout the estimated period due to extensive utilization of metal pipes and polypropylene pipes. Polypropylene pipes are used in cooling systems, snow melting, radiant heating and chiller installations. Furthermore, metal pipes are extensively used for commercial purposes and largely installed in hotels, malls, airports and IT parks. Moreover, extensive utilization of pipe insulation for both commercial and residential purpose is further bolstering the growth of the HVAC insulation market across the globe.
Insight by Type
On the basis of type, HVAC insulation market is categorized into nitrile rubber, expanded polystyrene (EPS) foam, phenolic foam, stone wool, glass wool and polyisocyanurate (PIR). Among all these segments, glass wool is anticipated to generate largest revenue by 2023 due to its increasing uses for home insulation that helps in minimizing the threat of fire. The vendors are providing glass wool that enables heat resistance and thermal insulation, electric and lightweight material that is considered to be extremely beneficial for incorporation in any commercial as well as residential building.  
Insight by Application
There are three types of HVAC insulation applications commercial, residential and industrial. Among all these segments, HVAC insulation system is observing increased application in commercial buildings. The growth of this segment is attributed towards extensive utilization of HVAC ducts in commercial buildings that helps in dispersing conditioned air to various areas of the building. Moreover, these insulation ducts thus helps in optimizing energy savings, helps in reducing noise and controls condensation in commercial buildings.
Industry Dynamics
Industry Trend
Increasing emphasis of organizations in the industrial and commercial domain towards adoption of energy efficient equipment is the key trend observed in the HVAC insulation market. Moreover, global warming and air pollution have made the HVAC insulation systems a necessity thus growing the demand of these systems. According to a recent report, it has been observed that some of the luxurious residential complexes have installed HVAC insulation systems to provide good quality air and maintain a good temperature according to the weather.
Growth Drivers
Extensive utilization of eco-friendly systems and using energy efficient equipment are the main aspect that drives the HVAC insulation market globally. Furthermore, it has been observed that air pollution and global warming are the reason of increasing heat and volatile weather because of which it is not possible to stay at a place that is not well insulated. This is a very crucial reason that is accelerating the demand of HVAC insulation systems worldwide.
Moreover, there are various environment friendly offerings that are promoted seeking the opportunity to restrict the pollution to a level and then gradually reduce it. As a result this is another factor pertaining towards the growth of the HVAC insulation market and thereby strengthens its demand across the globe. Furthermore, all the organizations tend to use equipment that are energy efficient and helps in reducing the pressure of bearing high costs. Due to its benefit such as cost effectiveness and efficiencies HVAC insulation market is witnessing high growth throughout the estimated period.
Challenges
Improperly designed duct system, leakage ductwork, poorly sealed grills, twisted, kinked, crushed or torn air ducts, partially insulated ducts and dirty air ducts are some of the problems that are face by the consumers in the HVAC Insulation systems. Dirty duct causes infection and allergies to the consumers, improper design declines the efficiency to 75% or even less and torn air ducts causes problem in ventilation and airflow. These factors can result to major restraints in the growth of HVAC insulation market across the globe.
Industry Ecosystem
Globally industry players are leveraging market growth through the development of innovative solutions in HVAC insulation systems. They are providing various solutions to the customers that will make the installation of the system easy and less time taking. The companies are implementing research and development activities the way to decline the costs of the system along with being more efficient and effective since temperature maintenance and air purity are the priority for the users to install this system.
Geographic Overview
Geographically, HVAC insulation market in North America is the largest HVAC insulation market due to increasing policies and reforms formulated by the government such as Weatherization Assistance Program. The program aims at promoting thermal insulation in low-income households group and is one of the major factors attributed towards the growth of HVAC insulation market across the globe.  
Moreover, Asia-Pacific is anticipated to witness fastest growth during the forecast period due to extensive climate variability in this region. Extensive awareness for adopting energy efficient alternatives in buildings is another factor contributing towards the growth of HVAC insulation market across the globe.
Competitive Insight
HVAC insulation industry players are investing in improving the quality of material and developing latest technologies that is strengthening their position in the market.  However, it has been observed that local players are depending upon new technology to develop cost efficiencies, thus increasing the rivalry in the market to some extent. The key players of the global HVAC insulation market are Xiamen Goot Advanced Material Co., Ltd., L-ISOLANTE K-FLEX S.p.A., Saint Gobain S.A., PPG Industries Inc., Owen Corning Corporation, Rockwool International A/S, Kingspan Group plc and Kuwait Insulating Material Manufacturing Co.