Industry Overview
The laser technology market has experienced significant growth and is projected to continue expanding at a rapid pace. Valued at USD 11.2 billion in 2022, it is expected to reach USD 19.50 billion by 2030, exhibiting a robust CAGR of 8.5% from 2023 to 2030. Laser devices, which emit coherent light through optical amplification, are witnessing a surge in demand across various sectors, particularly in healthcare, small-scale device manufacturing, optical communications, and material processing. This increasing demand can be attributed to the superior performance of lasers compared to traditional processing technologies. Consequently, the global laser technology market is thriving due to these key driving factors.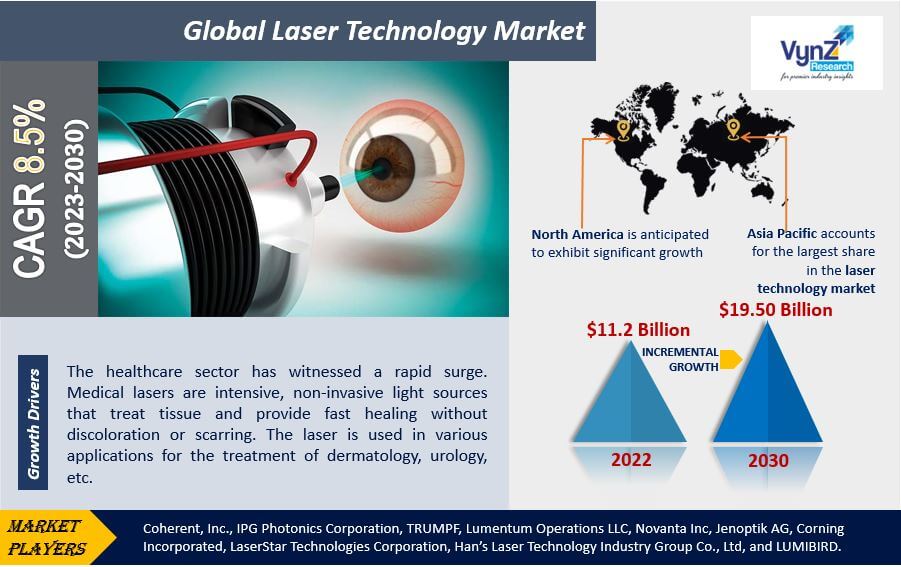 Moreover, fast administering laser machine tools from various verticals, increasing need for cost-effective, new, and different markets in laser technology are propelling the market demand.
The COVID-19 outbreak has adversely affected the business sector globally as the manufacturing sector had a severe impact by supply chain disruptions, lack of labor, lack of raw material, etc., resulting in reduced demand for their business products. The researchers are taking initiatives to innovate laser sensors that can detect the virus at an early stage of infection from nasal swabs or saliva within a few minutes. In October 2020, Caltech introduced a cost-effective "SARSCoV2 RapidPlex" wireless sensor that can diagnose the COVID19 virus using a rapid blood or saliva test in few minutes. This wireless sensor transmits information to the end user's mobile phone through Bluetooth.
Market Segmentation
Insight by Laser Type
Based on the laser type, the global laser technology market is segmented into solid-state lasers, liquid lasers, gas lasers, and others. The solid-state laser is anticipated to grow at a high CAGR during the forecast period due to its high efficiency than gas lasers, simple structure, economical casting, and less material wastage in the active medium. Moreover, the widespread adoption of solid lasers in diverse applications including metal processing, eye surgery, red-green-blue (RGB) light sources in laser printers and projectors, measurement of environmental instrumentation and optical transmission systems will further boost the growth of the segment, resulting in the growth of the global laser technology market.
Insight by Application
Based on application, global laser technology is categorized into optical communication, laser processing, and others.   Among all these segments, optical communication is anticipated to grow at a high CAGR during the forecast period. The rise in the use of laser light as a high-speed transmitter in digital and analog fiber optic networks and the increasing demand for VCSEL for data transmission will lead to the growth of the optical communication segment. Thus, expected to increase the demand for laser technology over the forecast period. Laser processing dominates the market in 2020 owing to its various benefits such as high precision, efficiency, and quality.
Insight by Revenue
Based on revenue, the global laser technology market is bifurcated into system revenue and laser revenue. System revenue is anticipated to dominate the market during the forecast period owing to revenue generation from sales of various types of laser systems such as marking & engraving, welding & brazing, cutting & scribing, drilling, cladding & coating, annealing, and material removal. These are used in several end-user verticals such as industrial, commercial, automotive, defense, and healthcare.
Insight by End-Use Industry
Based on the end-use industry, the global laser technology market is divided into telecommunications, industrial, semiconductor & electronics, commercial, aerospace & defense, automotive, healthcare, research, and others. The healthcare segment is anticipated to grow at a high CAGR over the projected period owing to technological developments such as confocal microscopy, dermatological treatment, ontogenetic, laser vision correction, and dynamic contrast-enhanced MRI in lasers and an increase in the number of aesthetic laser treatments in Asia as a result of medical tourism. Moreover, the increasing number of cost-effective laser treatments will propel the growth of the global laser technology market. The automotive industry will also grow at a high CAGR during the forecast period which is mainly due to the widespread use of laser technology in the cutting and welding processes of thin-walled components and the optimization of the compactness of components in automobiles manufacturing.
Global Laser Technology Market Report Coverage
| | |
| --- | --- |
| Report Metric | Details |
| Historical Period | 2018–2022 |
| Base Year Considered | 2022 |
| Forecast Period | By 2030 |
| Market Size in 2021 | $11.2 Billion |
| Revenue Forecast in 2030 | $19.50 Billion |
| Growth Rate | CAGR 8.5% |
| Segments Covered in the Report | By Laser Type, By Application, By Revenue and By End-Use Industry |
| Report Scope | Market Trends, Drivers, and Restraints; Revenue Estimation and Forecast; Segmentation Analysis; Impact of COVID-19; Companies' Strategic Developments; Market Share Analysis of Key Players; Company Profiling |
| Regions Covered in the Report | North America, Europe, Asia-Pacific, Middle East, and Rest of the World |
Industry Dynamics
Industry Trends
Laser technology will play a pivotal role in the industry 4.0 concept. With the introduction of industry 4.0 and smart factory solutions, enterprises are witnessing an increased output, improved efficiency, and low-cost benefit, improved quality, and a rise in production capacity. Laser-based Industry 4.0 features technologies such as IoT, AI, cloud computing, cognitive computing, etc. The government initiatives such as Make in India, Smart Cities Mission, Industrial Value Chain Imitative, etc. will play an important role in propelling the growth of the laser technologies markets globally.
Growth Drivers
The healthcare sector has experienced a rapid surge, with the utilization of medical lasers as prominent tools. These intensive and non-invasive light sources are highly effective in treating tissue and promoting fast healing, all while minimizing discoloration or scarring. Medical lasers find diverse applications in fields like dermatology, urology, and more. The growth of the laser technology market is propelled by several factors. Firstly, medical lasers are increasingly utilized in treating a wide range of diseases, driving their demand. Additionally, there is a growing preference for non-invasive therapies delivered through medical lasers. The market is further bolstered by the adoption of laser-based applications in various technologies such as LiDAR and the development of photonics technology. Government investments in laser technology and the rising demand for lasers in the military and defense sectors also contribute to market growth. Furthermore, the increasing popularity of cosmetic surgeries and the adoption of laser technology in semiconductor optoelectronics are expected to fuel the global expansion of the laser technology market.
Challenges
High deployment cost, high upfront investment, technical complexity in high-power lasers, high power consumption, lack of skilled workforce, uncertain regulatory compliance, radioactive pollution, will hamper the growth of the global laser technology market. The operation and installation process of laser technology is complex and requires enormous resources, which is expensive and hinders the growth of this market.
Opportunities
The increase in the demand for laser technology in robotics, use of laser technology in defense & security for R&D of laser-based weapon systems and plasma-based weapon systems, rising use in consumer electronic devices, and increase in adoption of lasers in optical communication provides lucrative growth opportunities for stakeholders in the global laser technology market.
Geographic Overview
Geographically, Asia Pacific accounts for the largest share in the laser technology market in 2020 due to the rise in R&D investments, increase in population, increasing demand for cost-effective and fast processing laser machine tools from semiconductor, automotive, industrial, and telecommunications will propel the growth of the market in the region. China, India, South Korea, and Japan are the major contributors to the growth of the APAC market.
North America is anticipated to exhibit significant growth i.e., a fast CAGR over the forecast period owing to consistent development in R&D, especially in the military & defense sector, increasing healthcare expenditure, rising number of cosmetic surgeries, an increasing market for aesthetic laser treatments, and advancements in optical communications and data storage.
Competitive Insight
There is high competition in the laser technology market which is forcing industry players to focus on mergers and acquisitions, product innovation and cost-efficiency to ensure long-term sustainability and for strengthening their position in the market. For instance: Trumpf acquired a minority stake in GLOphotonics, a France-based laser technology startup and Jenoptik launched F-theta lenses that are suitable for ultra-short pulse lasers.
Coherent is the world's leading manufacturer of laser technology and provides technical innovation and reliability in a wide spectrum of applications in life sciences, research, medicine, and manufacturing. Coherent offers a wide portfolio of lasers i.e. CO2 lasers, diode lasers, diode laser modules, fiber lasers, excimer lasers, ion lasers, laser light engines, machine vision lasers, nanosecond lasers, USP Lasers, Ultrafast Lasers Oscillator.
Han's Laser Smart Equipment Technology is a leading laser machinery provider for industrial manufacturing. Their wide range of portfolio includes robot welding station series, laser welding automotive production line, customized laser welding series and standard laser welding station series and is adopted across different industrial verticals railway communication, automobile, mechanical engineering, elevator, agricultural machines, petroleum production, and package, and sheet metal processing.
Some of the key players operating in the laser technology market: Coherent, Inc., IPG Photonics Corporation, TRUMPF, Lumentum Operations LLC, Novanta Inc, Jenoptik AG, Corning Incorporated, LaserStar Technologies Corporation, Han's Laser Technology Industry Group Co., Ltd, and LUMIBIRD.
Forecast Parameters
Identifying variables and establishing market impact.
Establishing market trends regionally.
Analyzing opportunities and market penetration rates by understanding product commercialization, regional expansion.
Analyzing demand and supply trends and changes in industry dynamics to establish future growth.
Analyzing sustainability strategies adhered by market participants in an attempt to determine future course of the market.
 Analyzing historical market trends and super-imposing them on the current and future variables to determine year-on-year trend.
Understanding adoption, development, distribution and regulatory framework.
Data Validation
Estimated and forecasted data was validated through industry experts.
Apart from industry experts, data triangulation methods were used for validation.
Bottom up and top down approach has been used for estimation and forecast of market data, whereas top down approach was used for validation.
Demand as well as supply side surveys were conducted in order to understand the industry dynamics and data validation.
Research Phases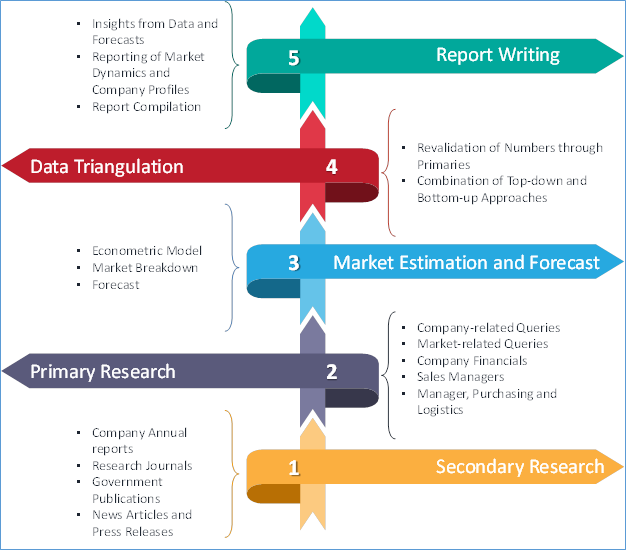 Primary Research
VynZ Research conducts extensive primary research to understand the market dynamics, validate market data and have key opinions from the industry experts. The key profiles approached within the industry includes, CEO, CFO, CTO, President, Vice President, Product Managers, Regional Heads and Others. Also, end user surveys comprising of consumers are also conducted to understand consumer behavior.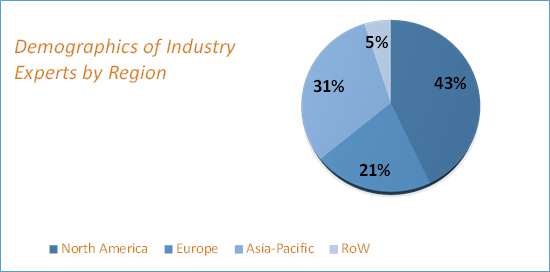 Source: VynZ Research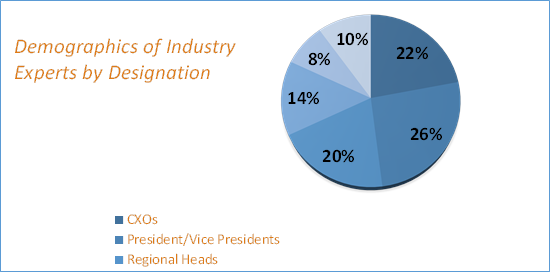 Source: VynZ Research