Industry Overview
According to market research, the global lithium-ion battery market is expected to achieve a substantial growth rate, with a projected CAGR of 12.8% during the forecast period, resulting in a market size of USD 127.7 billion by 2030. Rechargeable lithium-ion batteries are a cutting-edge technology that uses lithium ions as the primary component of its electrochemistry, providing exceptional voltage and charge storage per unit mass and volume compared to other battery types. The market expansion of lithium-ion batteries is expected to be driven by a variety of factors, including their extended lifespan, reduced battery prices, high density, and increased usage in consumer electronics, as well as the growing research and development activities undertaken by various organizations and battery manufacturers.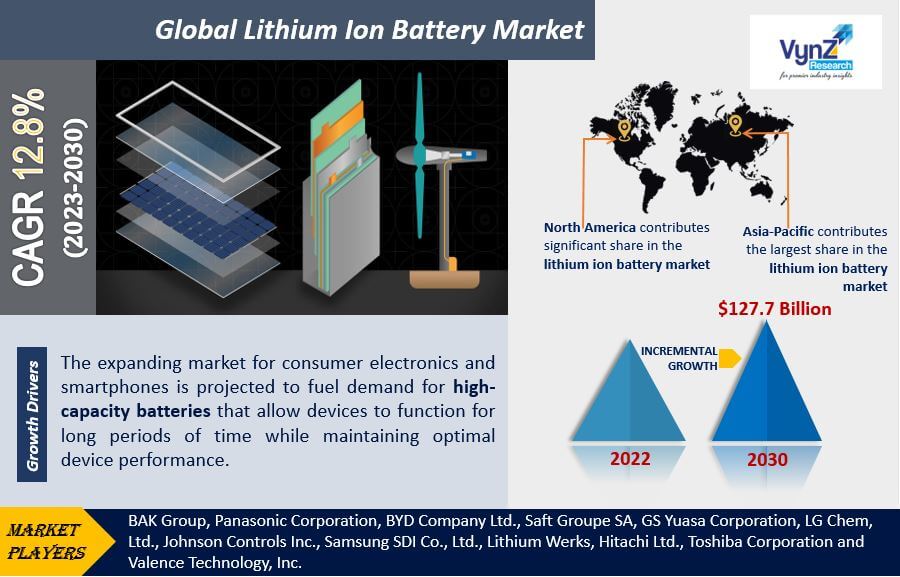 Industry Trends
The increased prominence of internet usage will further accelerate the consumer demand for smart phones, tablets, laptops, etc. Also, the increased disposable income and changing lifestyle of consumers are the trends that may proliferate the market growth of lithium ion batteries in several industry verticals.
Russia and Ukraine have large lithium reserves that have yet to be used, and Russia is a major supplier of nickel, palladium, aluminium, platinum, steel, and copper. As a result of the crisis in Ukraine and the sanctions imposed on Russia, some industrial raw materials will undoubtedly be in short supply. Also, Li-ion battery market will be influenced to some extent, but the effects will not be significant. In terms of lithium, the most important factor to remember is that there is a vast majority of reserves in Russia and Ukraine which are unexplored. Although the war has slowed ambitions to extract it, it hasn't halted much existing production.
During the prolonged COVID-19 epidemic, lithium-ion battery manufacturers are focused on mission-critical projects in pivotal industries to keep economies functioning. To secure a steady revenue stream in the midst of the ongoing COVID-19 epidemic, lithium-ion battery manufacturers are focused on important revenue-generating businesses including grid electricity and consumer electronics.
Market Segmentation
Insight by Type
Lithium Nickel Manganese Cobalt (Li-NMC)
Lithium Titanate Oxide (LTO)
Lithium Manganese Oxide (LMO),
Lithium Cobalt Oxide (LCO)
Lithium Iron Phosphate (LFP)
Lithium Nickel Cobalt Aluminum Oxide (NCA)
Lithium Iron Phosphate (LFP) contributes the largest share in the lithium ion battery market owing to rising demand of batteries having portability, durability, and efficacy. Furthermore, LFP batteries offers long shelf life and is one of the safest solution, thus driving growth of the segment.
Lithium Cobalt Oxide contributes fastest growth in the lithium ion battery market owing to ongoing research and development and ability to enhance cathode and electrolyte solutions. Thus, propelling the growth of the lithium cobalt oxide segment in several industry verticals.
Lithium Nickel Manganese Cobalt (NMC) category is anticipated to have a high CAGR during the forecast period owing to reduced cost and long life. Moreover it is extensively adopted in several equipment's like electric bikes and electric powering trains.
Insight by Power Capacity
0 to 3,000 mAh
3,000 mAh to 10,000 mAh
10,000 mAh to 60,000 mAh
More than 60,000 mAh
The 10,000–60,000 MAh segment accounts for the largest market share in the lithium ion battery during the forecast period. More than 10,000 mAh Li-ion batteries are used in high-capacity applications such as electric vehicles, plug-in hybrid electric vehicles, e-motorcycles, material handling equipment, marine, robots, industrial, telecommunication systems, electronic cash registers, standby power supplies, golf cart vehicles, hybrid trucks, buses, smart grid, aviation industry, automated guided vehicle, yachts, solar backup power, energy storage system (ESS) platforms, military applications, low earth orbit (LEO), medium earth orbit (MEO), and geostationary or geosynchronous orbit (GEO) satellites, and launch vehicles
Insight by End User
Consumer Electronics

Smartphones
Laptops
UPS
Others

Automotive

Battery Electric Vehicles
Plug-In Hybrid Electric Vehicles

Industrial

Construction Equipment
Mining Equipment

Power
Medical
Aerospace and Defense
Marine
The automotive industry is anticipated to have the largest share in the lithium ion battery market owing to reduced dependency on fossil fuels by the automotive sector, rising sale of electric vehicles. Furthermore, compared to nickel-based batteries, self-discharge is less than half. When a lithium-ion battery is brand new, it does not require extensive priming. Lithium-ion batteries require low-maintenance and can sustain hundreds of charge/discharge cycles. Due to their enticing features like high energy efficiency, long life cycle, high energy density, and high power density, lithium-ion batteries are currently the most ideal energy storage device for powering electric vehicles (EVs). Because lithium-ion batteries have higher energy densities than lead-acid or nickel-metal hydride batteries, they may be made smaller while maintaining the same storage capacity. Furthermore, increased government expenditure is critical in accelerating the adoption of electric vehicles.
Furthermore, due to EPA rules on lead contamination and the related environmental concerns, as well as laws on lead-acid battery storage, disposal, and recycling, demand for lithium-ion batteries in automobiles has increased.
Lithium Ion Battery Market Report Coverage
| | |
| --- | --- |
| Report Metric | Details |
| Historical Period | 2018–2022 |
| Base Year Considered | 2022 |
| Forecast Period | By 2030 |
| Market Size in 2022 | $xx.x Billion |
| Revenue Forecast in 2030 | $127.7 Billion |
| Growth Rate | CAGR 12.8% |
| Segments Covered in the Report | By Type, By Power Capacity, and By End User |
| Report Scope | Market Trends, Drivers, and Restraints; Revenue Estimation and Forecast; Segmentation Analysis; Impact of COVID-19; Companies' Strategic Developments; Market Share Analysis of Key Players; Company Profiling |
| Regions Covered in the Report | North America, Europe, Asia-Pacific, Middle East, and Rest of the World |
Industry Dynamics
Growth Drivers
Surge in Demand from Consumer Electronics Propelling the Market Demand for Lithium ion Batteries
The demand for high-capacity batteries in the consumer electronics and smartphone market is set to grow, driven by the need for devices to operate for extended periods while maintaining optimal performance. These batteries, commonly used in smartphones, laptops, iPods, PDAs, and other electronic devices, are also applied in various other products such as radio-controlled hobby vehicles, notebooks, portable vaporizers, drones, and unmanned aerial vehicles. The current market trend favors connected and smart consumer products, and when developing such devices, the battery's power capacity is a critical consideration. Given their design flexibility, rechargeability, and ability to be customized to specific sizes, lithium-ion (Li-ion) batteries are the preferred choice for consumer electronics. Consequently, the future presents numerous lucrative business opportunities in the lithium-ion battery market.
Several factors contribute to the growth of the lithium-ion battery market. First, the increased demand for continuous power supply in critical infrastructure following the impact of COVID-19 has bolstered the need for these batteries. Additionally, industries are experiencing a surge in demand for battery-operated material handling equipment due to automation. The rising popularity of plug-in vehicles, the constant development of smart devices, and the rapid adoption of lithium-ion batteries in the renewable energy sector are also driving market growth. Moreover, the market is expected to expand due to the utilization of lithium-ion batteries for large-scale energy storage and stationary standby applications, including uninterruptible power supply (UPS) systems, switchgear, and control devices.
Challenges
Li-ion batteries, while their scientific potential, nonetheless have numerous flaws, particularly in terms of safety. Because they contain flammable electrolytes, so they must be handled with caution. Some of the primary factors that are predicted to stymie the market's growth include concerns about the transportation and storage of spent batteries.
The significant cost associated with lithium-ion batteries compared to lead-acid, sodium-sulfur, and nickel-metal-hydride batteries is predicted to limit their usage. As a result, market growth is being hampered by the poor acceptance rate of these batteries due to their expensive cost.
Opportunities
Over the projected period, the significant emphasis of leading manufacturers on boosting lithium ion battery manufacturing capacity is expected to provide profitable and bright prospects to the lithium-ion battery market. In the near future, the growing use of Li-ion batteries in digital cameras is expected to open up new business opportunities. Because the growing disposable waste of lithium-ion batteries is becoming a serious environmental issue, stakeholders in the lithium-ion battery sector are investing more in material recycling research to reduce their environmental impact.
Geographic Overview
North America
Europe
Asia Pacific (APAC)
Rest of the World (RoW)
Asia-Pacific contributes the largest share in the lithium ion battery market owing to rising demand for smartphones and tablets along with electric vehicles in developing countries like China, Japan, and India, an upsurge in funding from the government, increased disposable income and rising consumer awareness about environment-friendly technologies will proliferate the market growth of the lithium ion batteries in the region.
North America contributes significant share in the lithium ion battery market owing to surge in sale of electric vehicles, supportive federal policies, presence of prominent industry players, thereby propelling the market demand for lithium ion batteries in the region.
Competitive Insight
The worldwide lithium-ion battery industry is extremely fragmented owing to the presence of domestic players. For the advancement of the lithium-ion battery industry, most of the leading market players are partnering with government authorities.
The key industry participants are focusing on strategic collaborations to achieve a competitive advantage. To establish their brand in the lithium-ion battery market, prominent industry players are using methods such as mergers, acquisitions, partnerships, and joint ventures. In order to gain a dominant position in the lithium-ion battery market, these techniques are also assisting in improving production efficiency and lowering overall battery prices. The government is also assisting on a major scale in this regard.
Panasonic Corporation is a world pioneer in the development of breakthrough technology and services for consumer electronics, housing, automotive, and business-to-business applications (B2B).
Panasonic's specialised technologies have made batteries thinner and lighter for use in devices such as notebook computers and mobile phones. They are also used in electric vehicles (EV), backup base stations for mobile telephones, solar-powered electricity storage systems, and a variety of other industrial applications. Panasonic continues to improve battery materials and manufacturing processes, while also working to improve battery control technology, thus allowing Panasonic batteries to be used safely, particularly when layering up from cell to pack, module, and system. These activities contribute to Panasonic's batteries' high reliability.
Cylindrical, prismatic, and polymer batteries, as well as battery packaging and solutions, are among BAK Power's goods and services, which are largely employed in new energy vehicles, consumer products, and backup energy storage. They offer a complete line of BAK Lithium Ion Battery batteries ranging in size from 2200mah to 5000mAh.
Recent Development by Key Players
In April 2022, Li-Cycle Holdings Corp., a Toronto-based lithium-ion battery recycler that will recycle scrap material from Ultium Cells' electric-vehicle battery-cell production, has a commercial agreement in place for the recyclable material with South Korea's LG Energy Solution. A second agreement was reached with LG Chem Ltd. and LG Energy Solution for the sale of nickel sulphate from Li-hub Cycle's in Rochester, New York. Meanwhile, work is underway to construct a 120,000-square-foot facility adjacent to the Lordstown megafactory to recycle manufacturing scrap and materials from Ultium Cells.
Panasonic Corporation stated in February 2022 that its Energy Company will open a production plant at its Wakayama Factory in western Japan to build new "4680" lithium-ion batteries for electric vehicles (EVs) in order to expand its company globally.
Key Players Covered in the Report
BAK Group, Panasonic Corporation, BYD Company Ltd., Saft Groupe SA, GS Yuasa Corporation, LG Chem, Ltd., Johnson Controls Inc., Samsung SDI Co., Ltd., Lithium Werks, Hitachi Ltd., Toshiba Corporation and Valence Technology, Inc. are the major players providing lithium ion battery.
The Lithium Ion Battery Market research includes a comprehensive market segmentation analysis as well as projections for the analysis period 2023-2030.
Segments Covered in the Report
By Type

Lithium Nickel Manganese Cobalt (Li-NMC)
Lithium Titanate Oxide (LTO)
Lithium Manganese Oxide (LMO),
Lithium Cobalt Oxide (LCO)
Lithium Iron Phosphate (LFP)
Lithium Nickel Cobalt Aluminum Oxide (NCA)

By Power Capacity

0 to 3,000 mAh
3,000 mAh to 10,000 mAh
10,000 mAh to 60,000 mAh
More than 60,000 mAh
By End User

Consumer Electronics

Smartphones
Laptops
UPS
Others

Automotive

Battery Electric Vehicles
Plug-In Hybrid Electric Vehicles

Industrial

Construction Equipment
Mining Equipment

Power
Medical
Aerospace and Defense
Marine
Region Covered in the Report
North America
Europe

Germany
U.K.
France
Italy
Spain
Russia
Rest of Europe

Asia-Pacific (APAC)

China
Japan
India
South Korea
Rest of Asia-Pacific

Rest of the World (RoW)

Brazil
Saudi Arabia
South Africa
U.A.E.
Other Countries

To explore more about this report - Request a free sample copy