Industry Overview
The global manufacturing execution system market will be valued at USD 11.3 billion in 2021 and will grow to USD 17.9 billion by 2027, having an 8.4% CAGR during 2021-2027.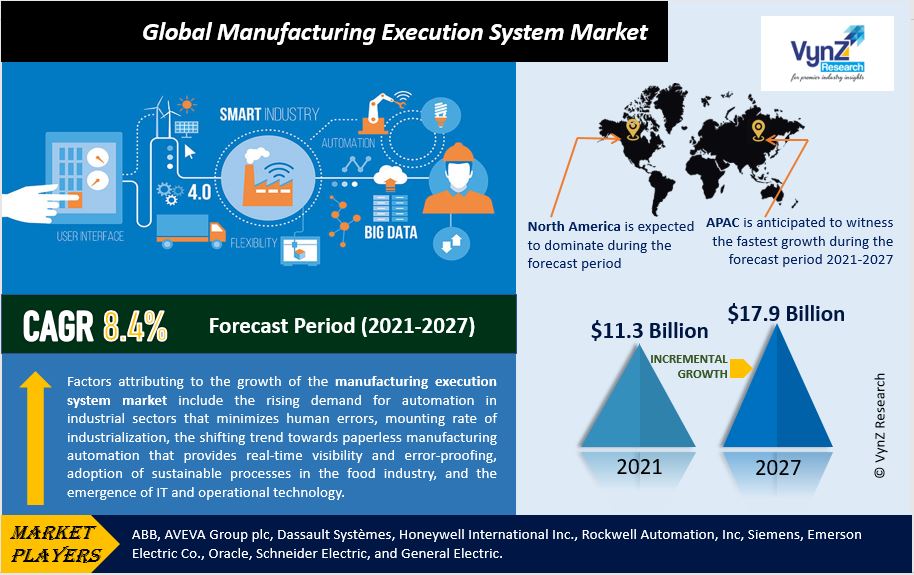 Manufacturing Execution System (MES) is an IT-enabled software that manages, monitors, and synchronizes the execution of real-time processes that are required to convert raw materials are converted into intermediate products and finished products. Work orders are synchronized with production planning and enterprise-level systems like ERP and Product Lifecycle Management through these systems The organizations are considering quality so as to make distinct systems and processes, thus a crucial factor in the manufacturing system strategy leading to the adoption of a manufacturing execution system. Factors driving the growth of the manufacturing execution system market are the requirement for mass production and connected supply chain to handle the rising population, rising adoption of automation in process and discrete industries along with low deployment cost, and mounting IT and OT convergence in different manufacturing industries.
The COVID-19 outbreak has a long-term disruption in various processes and discrete industries.  In the process industries, the impact of COVId-19 has varied i.e., it has impacted heavily on aviation, oil & gas, and other materials sectors and has reduced ongoing production volume but limited disruption in industries like as food & beverages, pharmaceuticals, power generation, and chemicals.
Market Segmentation
Insight by Component
Based on component, the manufacturing execution system market is bifurcated into software and services.  The services are further segmented into implementation, software upgrade, training, and maintenance. Manufacturers are offering services such as opportunity assessment, solution migration and improvement, product appraisal, Manufacturing Execution System application configuration, business analysis, and multi-level support services, which are expected to provide service segments with a high CAGR during the forecast period.
Insight by Deployment
Based on deployment, the manufacturing execution system market is segregated into on-premise, on-demand, and hybrid. The on-premise deployment of MES dominates the market as it is involved in various process industries such as oil & gas, pharmaceuticals & life sciences, chemicals, food & beverages, pulp & paper, etc. This is due to the fact that they provide manufacturers to manage the system within the premises and reduce the time and cost, thus providing increased security and improving the productivity of processes.
However, the on-premise segment has observed the slowdown in 2020 as many enterprises have reduced their workforce but the maintenance of on-premise manufacturing execution systems requires trained staff which should be present on the shop floor. Thus, a hybrid model which requires minimum human intervention has helped manufacturers to get the maximum from the manufacturing execution system during the post-COVID-19 crisis.
Insight by Process Industry
Based on process industry, the manufacturing execution system market is categorized into food & beverages, oil & gas, chemicals, pulp & paper, pharmaceutical & life sciences, energy & power, water & wastewater management, and others. The pharmaceutical industry is anticipated to contribute to the largest share as life science companies offer solutions that standardize the manufacturing processes across various sites located globally. Furthermore, the rising concern towards counterfeit drugs which enter the supply chain has provided the global track and trace regulations so as to protect patient safety and ensure product integrity. For instance, EU Falsified Medicine Directive (EUFMD), the US Drug Supply Chain Act (DSCSA), and other global regulations have allowed manufacturers to ensure compliance and provide innovative technologies to manage the administrative burden.
Insight by Discrete Industry
Based on the discrete industry. the global manufacturing execution system market is categorized into automotive, aerospace, medical devices, consumer packaged goods, and others (electronics & semiconductor, textile, solar & photovoltaic cells, printing & publishing, furniture & wood products). The automotive industry is the major user owing to the set of operations involved in cars' production is complex.
Industry Dynamics
Industry Trends
With the rising adoption of Industry 4.0, AI, and IIoT in plants, the agility, and interoperability of manufacturing execution systems have become strategic so as to handle complex and future businesses are the key trends in the manufacturing execution system market.  
Growth Drivers
Factors attributing to the growth of the manufacturing execution system market include the rising demand for automation in industrial sectors that minimizes human errors, mounting rate of industrialization, the shifting trend towards paperless manufacturing automation that provides real-time visibility and error-proofing, adoption of sustainable processes in the food industry, and the emergence of IT and operational technology. The industrial verticals are looking for ways and means to enhance the efficiency and productivity of manufacturing processes during the COVID-19 pandemic. MES facilitates the flow of information from the manufacturing floor to the entire company. This improves the visibility of the manufacturing floor and is easy to perform with real-time control and adjustment. Thus, the manufacturing execution system plays a significant role in coordinating production processes, logistics, system automation, and sales and planning, etc. The ability of MES to coordinate different features and provide a holistic view to different key stakeholders will help end-users to improve overall enterprise performance, compliance, and regulatory requirements.
Challenges
The increased costs for maintenance and installations, complex processes, lack of awareness about the advantages of MES solutions among SMEs are the factors that may hamper the growth of the MES market.
Opportunities
The manufacturing execution system market provides opportunities like the need to eradicate expensive tailored extensions to commercial products, the convenience of off-shelf functionality in MES, high degree of integration with other solutions, integration of solutions such as ERP and PLM, and penetration of IoT technology in manufacturing industries to market automation.
Geographic Overview
North America is expected to dominate during the forecast period owing to the rising adoption of manufacturing execution systems in process and discrete industries and the presence of industry players to develop MES solutions. However, the market has slowed down due to the COVID-19 crisis. However, the US government has passed a $ 2 trillion stimulus package, the so-called Coronavirus Aid, Relief, and Economic Security (CARES) Act, resulting in the growth of the North American market.
APAC is anticipated to witness the fastest growth during the forecast period 2021-2027 owing to the rising demand for manufacturing execution systems to implement shift from manual or legacy systems to automated systems and surge in a number of manufacturing plants in different sectors like automotive, textiles, power, and pharmaceuticals. Furthermore, the Chinese market is anticipated to grow significantly owing to the rising number of manufacturing units in the country, thus creating the demand for MES software.
Competitive Insight
Due to a large number of big and small competitors, the manufacturing execution system industry is very dynamic. The industry players are focusing on strategies like M&A, partnerships, collaborations, & agreements, product launches, and product expansions to maintain a competitive edge in the market.
Honeywell International Inc. is one of the leading providers of Manufacturing Execution Systems (MES) for the process industries. Honeywell's production management portfolio comprises MES applications for a variety of industries, including refining, petrochemicals, oil and gas, metals, minerals and mining, and pulp, paper, and flat sheet manufacturing. Thus, Honeywell's Manufacturing Execution System helps plant managers to have access to comprehensive performance data in real-time and capitalize on opportunities quickly and effectively.
ABB's next-generation manufacturing execution system offers continuous orchestration and harmonization for all units involved in the manufacturing process. ABB's Manufacturing operating System has a key element manufacturing execution system that provides increased efficiency and productivity of the plant as well as increases the flexibility of the entire production process.
Honeywell acquired Performix Inc., a provider of manufacturing execution system (MES) software to the pharmaceutical and biotech industries, in September 2021. Based on Honeywell's strategy, the acquisition creates a world-leading integrated software platform for customers in the life science industry to attain faster compliance, increased reliability, and increased production throughput at the highest quality levels.
AVEVA strategically teamed with Planet Together, a prominent provider of the Advanced Planning & Scheduling (APS) technology, in April 2021. This collaboration will provide rapid innovations to the AVEVA Manufacturing Execution System in terms of visual planning and scheduling, multi-plant production planning and production schedule enhancement, and expanding AVEVA's investments in Industry 4.0 manufacturing solutions.
Some of the key players operating in the manufacturing execution system market: ABB, AVEVA Group plc, Dassault Systèmes, Honeywell International Inc., Rockwell Automation, Inc, Siemens, Emerson Electric Co., Oracle, Schneider Electric, and General Electric.

Source: VynZ Research