Industry Overview
Discover the Rapid Growth of the Global Material Handling Equipment Market: USD 238.5 Billion in 2022 to Reach USD 316.7 Billion by 2030 with a 5.45% CAGR.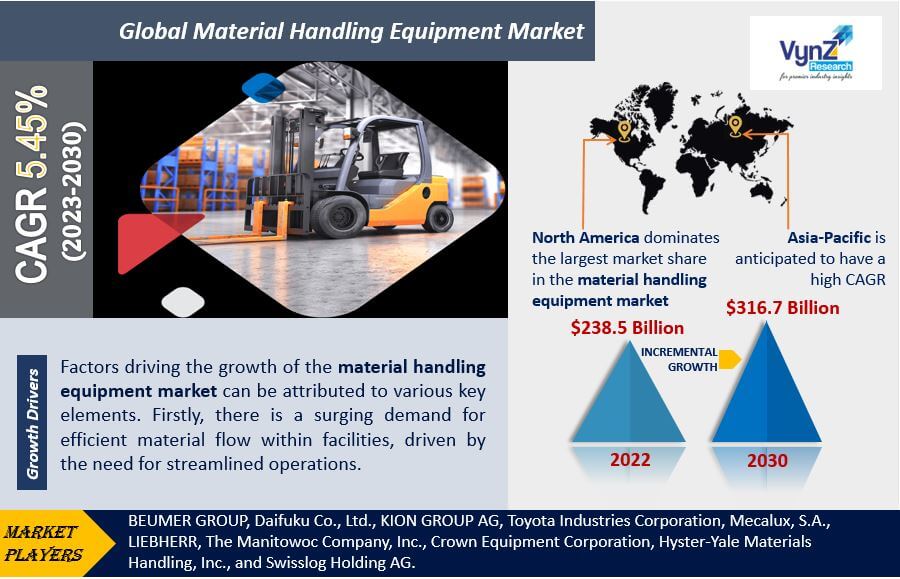 The rising demand for industrial trucks, crane & lifting equipment, conveyor and storage & racking systems in construction, automotive, food & beverage, mining industries, etc. will accelerate the growth of the market. Material handling equipment is a tool or a set of tools that help with the safety, storage, management, movement, and retrieval of materials and products. This equipment is used to manage the movement, storage, and distribution of products in warehouses and manufacturing facilities. It boosts productivity in manufacturing operations by improving logistics. It necessitates the use of a warehouse in order to transfer products quickly, process orders, and locate stockpiles. It boosts the global market's growth by optimizing floor space utilization, effective supply chain, minimizing idle time at manufacturing plants, efficient and smooth inflow and outflow of raw materials and goods, cost-effective, elegant plant blueprints, and concise method for the swift transformation of goods across manufacturing plants and warehouses.
Despite a slight drop in demand for industrial applications in 2020, tremendous expansion in the e-commerce sector aided market growth throughout the pandemic. Notwithstanding the lockdown, there was strong demand for grocery delivery and distribution, which aided the industry's growth. Aside from OEMs, the epidemic has spurred other supply chain organisations to look into solutions that might assist them in making better decisions by applying AI to analyse massive amounts of data collected on a regular basis. A mix of data-driven insights and hindsight will aid in the development of a robust supply chain that is supported by technological advancements in equipment.
The COVID-19 pandemic prompted a demand for a completely automated solution in the manufacturing sector, with enterprises planning to increase automated solution investments in the next years. Also, companies are planning to improve their conveyor and sortation systems. However, as a result of the epidemic, numerous medium-sized enterprises have canceled or postponed plans to buy or upgrade new equipment.
Market Segmentation
Insight by Equipment Type
On the basis of equipment type, the global material handling equipment market is classified into industrial trucks, crane & lifting, and racking & storage. Over the projection period, the crane and lifting segment will occupy a significant share of the market. Increased mining activities for metals, as well as an increase in the number of commercial and residential projects that require equipment to lift heavy materials or other construction raw materials, are boosting the expansion of this category in the global market over the projection period.
Insight by Operations
The machine handling equipment market is divided into assembly, distributions, transportation, and others, based on operations. Due to rapid expansion and increased investments in making the supply chain strong, transportation holds the largest share and is also predicted to grow at the fastest pace during 2021-2027.
Insight by End-Use
On the basis of end-use, the global material handling equipment market is segmented into chemical, consumer goods & electronics, food & beverages, automotive, construction, e-commerce, pharmaceuticals, aviation, and others. The e-commerce segment is anticipated to have a high CAGR during 2023-2030 owing to the increasing demand for material handling, storage, and mobility inside the industrial plant for efficient production and material packaging is likely to boost sales of material handling equipment throughout the forecast period.
The automotive end-use segment is anticipated to have a significant share owing to the increased adoption of AGVs, or automated guided vehicles, which are favored by automakers due to the autonomy they provide when performing daily operations.
Material Handling Equipment Market Report Coverage
| | |
| --- | --- |
| Report Metric | Details |
| Historical Period | 2018–2022 |
| Base Year Considered | 2022 |
| Forecast Period | 2023-2030 |
| Market Size in 2022 | $238.5 Billion |
| Revenue Forecast in 2030 | $316.7 Billion |
| Growth Rate | 5.45% |
| Segments Covered in the Report | By Equipment Type, By Operations, and By End-Use |
| Report Scope | Market Trends, Drivers, and Restraints; Revenue Estimation and Forecast; Segmentation Analysis; Impact of COVID-19; Companies' Strategic Developments; Market Share Analysis of Key Players; Company Profiling |
| Regions Covered in the Report | North America, Europe, Asia-Pacific, Middle East, and Rest of the World |
Industry Dynamics
Industry Trends
The extensive adoption of IoT, cloud-based operations, and AI has led to automated storage and retrieval systems (ASRS) and are equipped with intelligent software like Big Data, 3D visualization, and business analytics resulting in the rising trend towards the growth of the global material handling equipment market. The increasing trend towards innovation in image-based scanning, the introduction of RFID tags, integration of telematics solutions and tracking sensors, easy to use and track mobile apps are enhancing the growth of smart equipment, the need for forklifts is expanding, owing to increasing innovation in product lifting vehicles with sensor-based technology are the trends that will propel the growth of the machine handling equipment market.
Growth Drivers

Factors driving the growth of the material handling equipment market can be attributed to various key elements. Firstly, there is a surging demand for efficient material flow within facilities, driven by the need for streamlined operations. This demand is further bolstered by the rapid expansion of the global e-commerce sector, which necessitates smooth and swift movement of goods. Additionally, the market experiences growth due to the increasing number of infrastructural activities taking place worldwide and the consequent need for reliable material handling equipment.
Furthermore, the market benefits from the upgradation of existing machinery. With advancements in power and battery technologies, emerging economies such as India and China have become attractive destinations for foreign investments. These investments not only promote infrastructure and industrial development but also contribute to the overall growth of the material handling equipment market.
Moreover, businesses across industries are opting for equipment to enhance job efficiency and reduce labor costs in the face of rising labor expenses and safety concerns. This inclination towards equipment adoption acts as a driving force for market expansion. Furthermore, as technology continues to advance, there is an increasing demand for automation and productivity, which further propels the growth of the material handling equipment market.
Lastly, the growing necessity for efficient material movement necessitates the adoption of automated procedures, leading to the expansion of the market. This increased demand for automation in material handling processes contributes to the overall growth and development of the industry.
In summary, factors such as the rising demand for effective material flow, the growth of the e-commerce sector, infrastructural activities, the upgradation of existing machinery, investments in power and battery technologies, rising labor costs and safety concerns, technological advancements, and the need for efficient material movement are all key drivers of the material handling equipment market's growth.
Challenges
The high deployment cost of the equipment on the ground level along with the additional cost to repair and maintain heavy machinery will pose challenges in the material handling equipment market. High expenses of investing large cash flow to create and install some warehouse software that may be required to properly integrate and operate some of the machines involved will also stymie the market expansion. Furthermore, a lack of awareness to operate equipment and real-time technical challenges will restrain the growth of the material handling equipment market.
Opportunities
The materials handling equipment business is predicted to benefit from China's One Belt One Route (OBOR) plan, also known as the Belt and Road Initiative (BRI). The idea to link a network of rail and road lines from China to Europe via the Middle East will spur economic development.
Geographic Overview
North America dominates the largest market share in the material handling equipment market owing to the presence of the e-commerce industry, increased demand for durable and non-durable commodities prompting manufacturing enterprises to invest in significant assembly lines and equipment will propel the growth of the market.
Asia-Pacific is anticipated to have a high CAGR during 2021-2027 owing to the investment by manufacturing companies in emerging economies, mounting manufacturing and automotive process units in countries like South Korea, Taiwan, China, growing production capabilities, growth in GDP, implementation of innovative material handling equipment for effective utilization of manufacturing capacities will further proliferate the growth of the market.
Competitive Insight
Companies engage in mergers and acquisitions, expand their geographical presence, as well as new product development in order to increase their market share and obtain a competitive advantage over their competitors.
Daifuku Co., Ltd. is one of the world's top suppliers of material handling systems to the factory and distribution, cleanroom, automotive, airport, and general industry markets, with a comprehensive support system that includes everything from consultancy to after-sales services. Daifuku has production and sales centers in 23 countries and territories, with its headquarters in Osaka, Japan. Consulting, planning, design, manufacture, installation, maintenance, upgrading, and retrofitting are all part of its "Total Solution Experience." Their products include Automated Storage & Retrieval System (AS/RS), Vehicle Systems, Conveyors & Sorters, Picking Systems, Rack Systems, and IT Systems.
Toyota Industries creates, manufactures, and sells industrial vehicles such as lift trucks, as well as other materials handling equipment and systems for transportation, storage, and sorting of products. They offer optimum materials handling solutions based on technological capabilities and materials handling know-how to help customers overcome their logistics difficulties. Toyota Material Handling Group (TMHG) also provides materials handling equipment and services to customers all over the world under the TOYOTA, RAYMOND, and CESAB brands.
In November 2021, With the construction of a new supply chain solutions plant in Jinan, China, KION GROUP AG is pursuing its growth strategy in the Asia Pacific (APAC). KION's new counterbalance truck plant, which is nearing completion, will be adjacent to the new plant. This significant project, according to the global intralogistics supplier, will allow it to expand its product offering for warehouses and distribution centers in one of the most important and active material handling markets in the world. The KION Group's long-term expansion of operations in APAC, particularly in China, is critical to the company's growth strategy: in August 2020, the company began building on a new counterbalance truck manufacturing facility. The facility manufacturing forklift trucks is expected to be finished in early 2022.
In June 2021, In response to the tremendous surge of interest from omnichannel and D2C operators, BEUMER Group, one of the world's leading suppliers of automated material handling systems, has unveiled its own unique BG Pouch System®. This revolutionary technology adds a pouch sortation solution to BEUMER Group's warehouse and distribution portfolio, meeting the ever-increasing demands of today's modern fulfillment and distribution operations. The BG Pouch System was created to alleviate the unprecedented pressure to deliver financial and logistical efficiency in the demanding e-commerce environment, and it seamlessly integrates with BEUMER Group's existing end-to-end integration solutions for fashion companies to solve intralogistics challenges.
Some of the industry players in the global material handling equipment market include BEUMER GROUP, Daifuku Co., Ltd., KION GROUP AG, Toyota Industries Corporation, Mecalux, S.A., LIEBHERR, The Manitowoc Company, Inc., Crown Equipment Corporation, Hyster-Yale Materials Handling, Inc., and Swisslog Holding AG.
The Material Handling Equipment Market research includes a comprehensive market segmentation analysis as well as projections for the analysis period 2023-2030.
Segments Covered in the Report
By Equipment Type

Industrial Trucks
Crane & Lifting
Racking & Storage

By Operations

Assembly
Distributions
Transportation
Others

By End-Use

Chemical
Consumer Goods & Electronics
Food & Beverages
Automotive
Construction
E-commerce
Pharmaceuticals
Aviation
Others
Region Covered in the Report
North America
Europe

Germany
U.K.
France
Italy
Spain
Russia
Rest of Europe

Asia-Pacific (APAC)

China
Japan
India
South Korea
Rest of Asia-Pacific

Rest of the World (RoW)

Brazil
Saudi Arabia
South Africa
U.A.E.
Other Countries