Industry Overview
The millimeter wave technology market is expected to expand significantly in the coming years, with a projected size of USD 9.9 billion by 2030. This represents a compound annual growth rate (CAGR) of 21.5% during the forecast period from 2023 to 2030, up from USD 3.5 billion in 2022. Millimeter wave technology, also known as extremely high frequencies (EHF), is an electromagnetic technology that provides a radio frequency spectrum that is highly suitable for 5G networks. It enables wireless broadband communication at faster speeds and is utilized in a wide range of products, including smartphones, automobiles, medical devices, and more.
With the rapid advancement of digital network connections, numerous devices are being connected to improve industries such as healthcare, education, and beyond. As the global market continues to expand, there is a growing interest in integrating autonomous millimeter wave technology into these devices.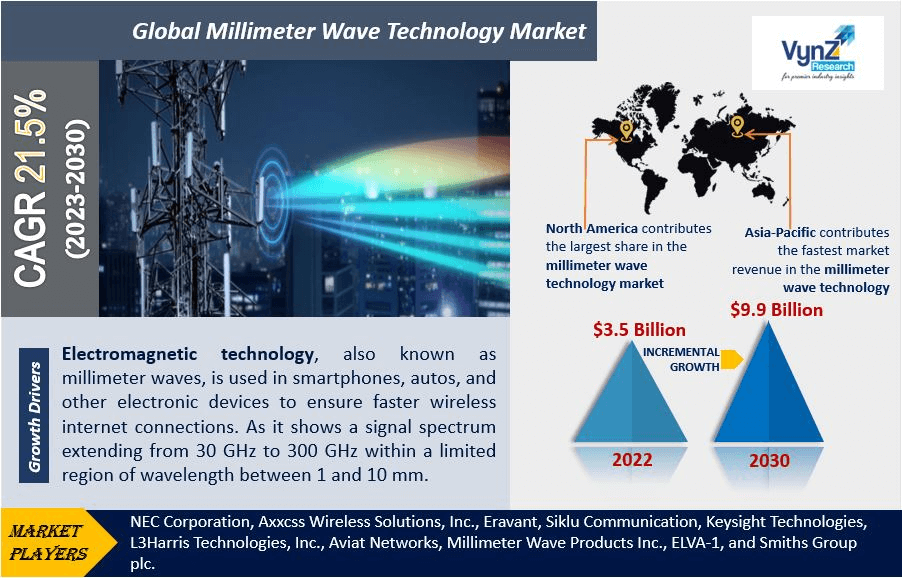 The millimeter wave technology market is increasingly being adopted in several industry verticals like mobile & telecom, consumer & commercial, automotive, aerospace & defense.
Industry Trends
The increased testing of 5G technology in countries like China, Japan, the US, and South Korea and the increased adoption of autonomous vehicles are the trends that are prevalent in the MMW technology market.
The COVID-19 outbreak had an adverse impact on the global economy and consumers. There was a temporary shutdown of several manufacturing hubs owing shortage of raw material, components, and finished goods. However, the emergence of 5G in online services, retail, manufacturing and healthcare owing to the need for advanced connectivity will drive the growth of the millimeter wave technology market.
Market Segmentation
Insight by Component
Antennas & Transceiver Components
Frequency Sources & Related Components
Communication & Networking Components
Imaging Components
RF & Radio Components
Sensors & Controls
Interface Components
Power & Battery Components
Others
Frequency Sources and Related Components are anticipated to have the largest market revenue during the forecast period owing to the increased adoption of oscillators that generates 30GHz to 300 GHz signals. The nature of the frequencies engaged in the component manufacturing process determines the efficiency of signals generated by millimeter wave devices.
Insight by Product
Radar and Satellite Communication Systems
Telecommunication Equipment
Scanning Systems
Others
Telecommunication equipment is anticipated to contribute the largest share in the MMW technology market owing to the increased adoption of millimeter wave components for 5G backhaul, indoor and outdoor telecom equipments. Millimeter waves, with their potential to carry gigabits of data per second, are revolutionizing fifth-generation (5G) cellular connectivity, thereby revolutionizing the telecommunications sector.
Insight by Frequency Band
95–300 GHz
57–95 GHz
24–57 GHz
The frequency band of 57-95 GHz is anticipated to have a high CAGR during the forecast period owing to increased adoption in several applications like autonomous mining, traffic monitoring, automated cruise control, and perimeter protection. The E-band and V-band lie in the 57-95 GHz frequency band and is highly adopted in military & defense, radar and satellite communications, telecommunication equipment, etc.
Insight by License Type
Fully Licensed Frequency Millimeter Wave
Light Licensed Frequency Millimeter Wave
Unlicensed Frequency Millimeter Wave
A fully licensed frequency millimeter wave is anticipated to remain dominant during the forecast period owing to the increased prominence of the mobile and telecom sector. Due to the lack of security in the unlicensed spectrum, users are projected to use light licensed and fully-licensed frequency bands in the near future.
Insight by End Use
Mobile & Telecom
Military & Aerospace
Consumer & Commercial
Healthcare
Industrial
Imaging
Automotive & Transportation
Others
The mobile & telecom end-use segment contributes the largest share in the millimeter wave technology market as it helps in transmitting the data over long distances. Furthermore, large-scale adoption of 5G in mobile phones, mounting telecom infrastructure, and an upsurge in demand for high-speed data transfer and communication arising from the residential and commercial sectors will proliferate the growth of the mobile and telecom segment in the MMW technology market.
Millimeter Wave Technology Market Report Coverage
| | |
| --- | --- |
| Report Metric | Details |
| Historical Period | 2018–2022 |
| Base Year Considered | 2022 |
| Forecast Period | By 2030 |
| Market Size in 2022 | $3.5 Billion |
| Revenue Forecast in 2030 | $9.9 Billion |
| Growth Rate | CAGR 21.5% |
| Segments Covered in the Report | By Component, By Product, By Frequency Band, By License Type, By End Use |
| Report Scope | Market Trends, Drivers, and Restraints; Revenue Estimation and Forecast; Segmentation Analysis; Impact of COVID-19; Companies' Strategic Developments; Market Share Analysis of Key Players; Company Profiling |
| Regions Covered in the Report | North America, Europe, Asia-Pacific, Middle East, and Rest of the World |
Industry Dynamics
Growth Drivers
Surge in the adoption of higher bandwidth with high internet speed will drive the MMW technology's market growth
Millimeter wave technology, also referred to as electromagnetic technology, is being widely employed in electronic devices like smartphones and automobiles to facilitate faster wireless internet connectivity. With a frequency range extending from 30 GHz to 300 GHz and a limited wavelength range of 1 to 10 mm, millimeter wave devices operate at extremely high frequencies (EHF). This technology is gaining significant popularity in both commercial and industrial sectors, enabling wireless connectivity for smart devices and wearables. As demand for bandwidth increases due to high-speed online gaming, video conferencing, media exchange over the internet, and video streaming, millimeter wave technology is expected to experience a surge in demand.
The global millimeter wave technology market is also witnessing growth due to other factors, such as the widespread adoption of small-cell backhaul networks, increasing demand for security and radar applications, and the growing use of millimeter wave technology-based scanner systems in airports worldwide. The continuous penetration of cloud computing, internet services, and e-government services is further expected to drive demand beyond the projected period.
Challenges
The Limited Range and Environmental Concern may Stymie the Growth
One of the key issues facing the millimeter wave technology business is the limited range of the technology. The shorter the wavelength, the lower the transmission range for a given power, according to the law of physics. While signals in lower frequency bands can travel more miles and pass through hard structures more easily, millimeter wave signals only travel a few miles and can not penetrate concrete materials efficiently. This limitation limits the range to 10 meters or less, limiting the worldwide millimeter wave technology market's growth.
The decreasing penetration power and adverse impact on the environment will hamper the growth of the global millimeter wave technology market during the forecast period. The physical attributes of millimeter waves may pose a further impediment to the millimeter wave technology market's growth in the near future.
Opportunities
The rising novel applications in the defense and aerospace sector, development of autonomous vehicles, increased number of IoT devices, and adoption of V-band millimeter wave for last-mile connectivity will create significant market opportunities in the millimeter wave technology solutions industry.
Due to a shift in consumer choice from conventional automobiles to smart driver's assistant cars that aid with automatic parking, braking, GPS navigation, blind-spot detection, collision avoidance system, and other features, thereby increased the market demand for millimeter wave technology in unmanned vehicles. As a result, such advantages can only be obtained through the use of millimeter wave technology.
Geographic Overview
North America
Europe
Asia Pacific (APAC)
Rest of the World (RoW)
North America contributes the largest share in the millimeter wave technology market owing to higher adoption of bandwidth-intensive mobile communications, implementation of small-cell backhauls networks, and creation of developed millimeter-wave-based interferometric synthetic aperture and security solutions, thereby driving the growth in the region.
Asia-Pacific contributes the fastest market revenue in the millimeter wave technology and is anticipated to grow at a significant pace during the forecast period. China and South Korea are the key contributors owing to initiatives by the government, development, and upgradation of telecom infrastructure, and increased funding for R&D activities.
Competitive Insight
Product launches, product approvals, and other organic growth strategies such as patents and events are being prioritized by a number of companies in millimeter wave technology market. In the MMW technology market, acquisitions, partnerships, and collaborations are adopted in inorganic growth strategies. These actions have made it possible for industry players to increase their client base and revenue. With the increased demand in the worldwide industry, key participants in the millimeter wave technology market are expected to benefit from lucrative growth prospects in the future.
The global market for 3D metrology is moderately fragmented. The packaging industry offers lucrative growth potential, which is expected to attract several new participants to the market. In order to acquire a competitive advantage over competitors, innovation is likely to play a critical role. Companies in the market are also focusing on product launches, expanding their solution offerings and customer base via M&A, collaborations, and partnerships for maintaining a strong market foothold in the 3D metrology industry.
In the global infrastructure wireless sector, Axxcss Wireless Solutions and its subsidiaries, including REMEC Broadband Wireless, Moseley Associates, CarrierComm, E-Band Communications, and Axxcelera Broadband Wireless, have pioneered the technology and market leadership. With speeds up to 40 Gbps and frequencies up to 90 GHz, they offer world-class solutions. E-Band Communications LLC is the world's leading manufacturer of high-reliability, high-capacity, and low-latency wireless mmWave systems for 5G, multimedia, gaming, and other latency-sensitive applications.
Eravant is a US-based manufacturer of next-generation standard and custom millimeter wave products and components that is credited with revolutionizing the millimetre wave element market through ststandardizationand scale-up processes. Eravant develops and manufactures millimeter-wave electronic components and subassemblies for the aerospace, defense, communications, and automotive industries. Heavy investment in product development continues to yield first-to-market designs that enable customers to deal with millimeter-wave applications across the spectrum. Eravant designs and manufactures active and passive components for commercial, test, and military applications from 18-220 GHz.
Recent Development by Key Players
NEC Corporation announced in June 2022 that it has reached an agreement with NTT DOCOMO, INC. (DOCOMO) and NIPPON TELEGRAPH AND TELEPHONE CORPORATION (NTT) to work on 6th generation mobile communication system (6G) experimental trials. 6G will require continuous development in communications technology along with ultra-low power consumption of 1/100 and coverage that reaches from the depths of the ocean to the heights of outer space so as to achieve 10 to 100 times higher speeds and capacities than the 5th generation mobile communication system (5G).
In March 2021, Keysight Technologies, Inc., one of the global tech company that provides advanced design and validation solutions to help accelerate innovation to connect and secure the world, has announced that it has partnered with Aview to establish a millimeter wave radar laboratory in Suzhou, China, to aid in the development of self-driving technologies.
Key Players Covered in the Report
Some of the major players operating in the millimeter wave technology market include NEC Corporation, Axxcss Wireless Solutions, Inc., Eravant, Siklu Communication, Keysight Technologies, L3Harris Technologies, Inc., Aviat Networks, Millimeter Wave Products Inc., ELVA-1, and Smiths Group plc.
The Millimeter Wave Technology Market research includes a comprehensive market segmentation analysis as well as projections for the analysis period 2023-2030.
Segments Covered in the Report
By Component

Antennas & Transceiver Components
Frequency Sources & Related Components
Communication & Networking Components
Imaging Components
RF & Radio Components
Sensors & Controls
Interface Components
Power & Battery Components
Others

By Product

Radar and Satellite Communication Systems
Telecommunication Equipment
Scanning Systems
Others

By Frequency Band

95–300 GHz
57–95 GHz
24–57 GHz

By License Type

Fully Licensed Frequency Millimeter Wave
Light Licensed Frequency Millimeter Wave
Unlicensed Frequency Millimeter Wave

By End Use

Mobile & Telecom
Military & Aerospace
Consumer & Commercial
Healthcare
Industrial
Imaging
Automotive & Transportation
Others
Region Covered in the Report
North America
Europe

Germany
U.K.
France
Italy
Spain
Russia
Rest of Europe

Asia-Pacific (APAC)

China
Japan
India
South Korea
Rest of Asia-Pacific

Rest of the World (RoW)

Brazil
Saudi Arabia
South Africa
U.A.E.
Other Countries

To explore more about this report - Request a free sample copy