Industry Overview
The North America Testing, Inspection and Certification (TIC) market size is expected to grow from USD 46.56 billion in 2021 to USD 58.83 billion by 2030, witnessing a CAGR of 6.3% during the forecast period.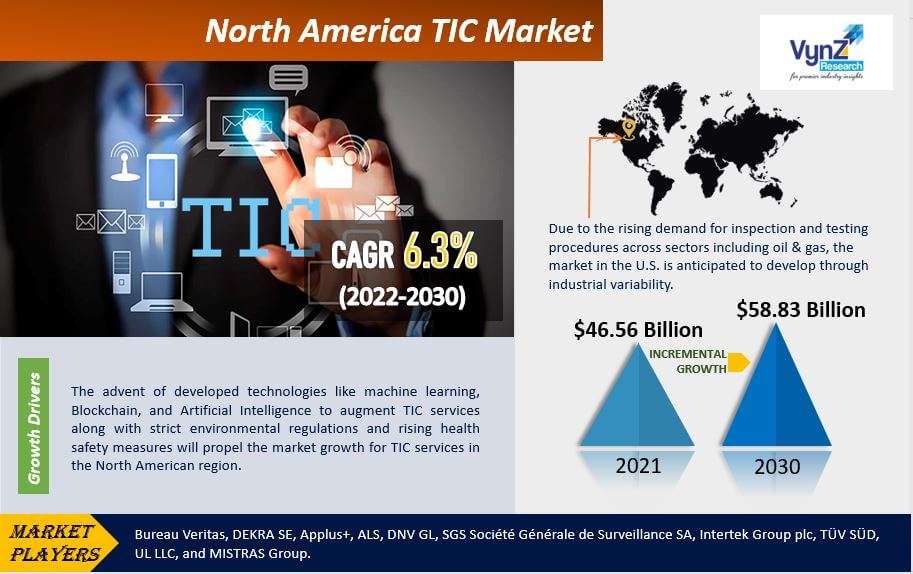 Testing represents an industrial process that verifies that manufactured goods, individual components, and multi-component systems are suitable for the intended uses. The operational components of quality control i.e., inspection and testing are the most important aspect for survival of every manufacturing firm. The other factors of cost, productivity, on-time delivery, and market share are all directly supported by quality control. A key element to ensure that the infrastructure, services, and products adhere to safety and quality standards and laws is done by testing, inspection, and certification (TIC).  The TIC market in the North American region is anticipated to grow because of the growing market demand for inspection and testing processes at frequent intervals in certain industries, such as oil and gas, regardless of the industrial seasonality.
Owing to COVID-19 Pandemic, there is increased adoption of medical devices, equipment, PPE kits which has accelerated the market growth for the TIC services in the healthcare sector. Additionally, the market will offer considerable potential to the vendors supplying medical supplies in the healthcare industry due to the ongoing race to develop vaccines.
Market Segmentation
Insight by Sourcing Type
Based on Sourcing Type, the North America TIC industry is bifurcated into In-House and Outsourced. Over the anticipated period, outsourcing services are anticipated to grow at a high CAGR.  Well-known businesses and government organizations are increasingly using outsourced specialists to handle their TIC needs. The company's main goal in outsourcing TIC operations is to reduce costs so that it can concentrate on its core competencies. External TIC service providers assist companies in achieving enhanced product quality by employing testing personnel with expertise in a wide range of TIC methods and techniques. This allows for high-quality assurance across all of its services.
Insight by Service Type
Based on Service Type, the North America TIC industry is segmented into Testing, Inspection, and Certification. Testing Services is anticipated to contribute the largest share in North America's TIC industry owing to the rising concern among consumers about the quality of products and stringent government regulations and standards. The rise in conscientious consumerism is encouraging businesses to adopt testing services to protect their brand by abiding regulatory norms and policies.
The market in the North American region is observing developments in the certification standards also. For example, the Canadian Food Inspection Agency was informed by the US Fish and Wildlife Service of the certification requirements for future exports of live finfish (including salmonid species), germplasm or genetic material for culture, stocking, enhancement, and research on dead eviscerated salmonids for end-use from Canada to the US. Over the forecast period, this is anticipated to favourably contribute to market growth.
Insight by Industry Vertical
Based on Industry Vertical, the North America TIC industry is categorized into Agriculture & Food, Construction, Life Science, Consumer Goods & Retail, Transportation, Energy, Oil, Gas & Chemical, Mining, Environmental, and Others. During the projection period, it is anticipated that the market for consumer goods and the retail sector will grow at a high CAGR. The need for safety requirements and consumer quality standards is significantly growing. The rise in consumer expenditure and growing consumer awareness of the quality and safety of consumer goods are factors that influence the demand for TIC services in the consumer market. Also, the TIC services of the consumer products industry are also being driven by strict rules and regulations from local, national, and international governments, as well as an increase in the marketability of the product due to conformance to the established standards, will drive the market growth for the TIC services in the North American region. 
Healthcare sector is anticipated to have significant growth in the North America TIC industry during the forecast period. The increased adoption of a sedentary lifestyle has been the main factor causing the high incidence of chronic illnesses throughout the world, which has exacerbated the demand for healthcare monitoring systems and drugs that can be used to treat them. These systems have become an essential part of the global medical care and services sector, thereby raising concerns about the quality and safety of the devices among patients and medical professionals.
Vendors of medical equipment create are developing products and devices according to quality and safety requirements so as to ensure that the product and devices are safe to use.  Since doing an in-house test is more expensive due to strict restrictions, several businesses are outsourcing the medical device testing, inspection, and certification services.
North America TIC Market Report Coverage
| | |
| --- | --- |
| Report Metric | Details |
| Historical Period | 2018–2021 |
| Base Year Considered | 2022 |
| Forecast Period | 2022 - 2030 |
| Market Size in 2021 | $46.56 Billion |
| Revenue Forecast in 2030 | $58.83 Billion |
| Growth Rate | CAGR 6.3% |
| Segments Covered in the Report | By Sourcing Type, By Service Type, and By Industry Vertical |
| Report Scope | Market Trends, Drivers, and Restraints; Revenue Estimation and Forecast; Segmentation Analysis; Impact of COVID-19; Companies' Strategic Developments; Market Share Analysis of Key Players; Company Profiling |
| Regions Covered in the Report | North America (U.S., Canada, and Rest of North America) |
Industry Dynamics
Growth Drivers
The advent of developed technologies like machine learning, Blockchain, and Artificial Intelligence to augment TIC services along with strict environmental regulations and rising health safety measures will propel the market growth for TIC services in the North American region. Moreover, the increased awareness among consumers about customized and standard products will strengthen the market demand for TIC services, thereby bolstering the growth of North America's TIC services industry. The market in North American nations is being driven by the expanding demand for regulation of processes, materials, equipment, and technologies and ensuring their safety. Additionally, the industry is expanding as a result of rising trade flows, integrated supply chains, and increased corporate outsourcing of quality assurance work to outside parties.
The development of advanced aeronautical equipment with improved quality and safety features has been fostered by the development of digital technologies and telecommunication, which also ensures standards of excellence. It has further enhanced the investment in testing abilities and instilled confidence in newly developed civilian aviation or defense contractor customers.
The increased number of strict government rules designed to improve consumer safety and raise product quality will fuel the North American TIC market. The region imports goods worth billions of dollars to meet the constantly expanding consumer demand. The majority of imports do not meet the regional regulatory agencies' standards for consumer safety. In order to assure adherence to the norms and regulations established by the government, this is increasing the demand for TIC services in the North American region among numerous industry verticals.
Challenges
Barriers to entry for new companies and issues about standardization, particularly with regard to cross-border transactions may stymie market expansion for the TIC industry in the North American region.
Opportunities
The novel R&D activities in the TIC will provide potential market opportunities for the businesses in the industrial, oil, gas, and chemicals industry verticals. New opportunities are opening up for TIC service providers with the implementation of new food safety requirements. For TIC operators, the steady digitization of goods and services is crucial since it not only affects current TIC services and procedures but also creates new market opportunities.
The market demand for TIC services will increase throughout the projected period as a result of these new advancements, which will accelerate the rise of industrial applications and improve the compatibility of TIC companies for future appraisal and development.
Geographic Overview
Due to the rising demand for inspection and testing procedures across sectors including oil & gas, the market in the U.S. is anticipated to develop through industrial variability. The U.S. government has announced numerous improvements to certification standards and development projects, which will increase demand for TIC in the nation. Additionally, the nation is home to extensive mining operations, which is fueling rapid growth among TIC service providers in the US.
Competitive Insight
The industry players are entering into strategic collaborations to enhance their market share and profitability. The TIC market in North American region is competitive. Numerous players, including SGS, Applus, SYNLAB, SOCOTEC, Kiwa Group, TUV Nord, and Bureau Veritas, are present in the North American TIC industry. To increase their market share, big corporations are using inorganic growth techniques including mergers and acquisitions. Also, to widen their geographic reach and boost profitability, these businesses are mostly focusing on small players. Mid-size and smaller businesses are, however, expanding their market presence by acquiring new contracts and by tapping into new markets as a result of technical improvements and product innovations.
DEKRA is one of the world's leading expert organisations that provides cutting-edge professional services in vehicle inspection, expert appraisals, industrial product testing and certifications, management system certifications, safety consulting, and other areas. The industry verticals catered by DEKRA SE include Automotive & Mobility, Medical & Chemical, Financial Services, Energy & Utilities, Transportation, Information & Communication Technology, Consumer Goods Manufacturing, and Industrial Goods Manufacturers.
Since 1919, SGS has conducted business in the United States. SGS North America's operations are spread the United States, Canada, and Mexico. The services offered by SGS include connectivity & products, Health & Nutrition, Knowledge Solutions, Digital Solutions, Natural Resources, Industries & Environment, and Sustainability Solutions. Their traditional and innovative testing, verification, and certification services are customized and provide:
Rapid and precise results
Extensive experience, professionalism, and dedication to surpass client expectations
All-in-one solutions
SGS provides local services in North America for all global products.
Recent Development by Key Players
In September 2022, SGS has announced the acquisition of Penumbra Security, Inc. in the United States. Penumbra, founded in 2011 and headquartered in Clackamas, Oregon, USA, is a recognized leader in information security, conformance testing to government standards and regulatory compliance for multinational corporations. The organisation has been granted accreditation by the National Voluntary Laboratory Programs for Federal Information Processing Standard test methods (FIPS 140-2/3), which evaluates the security needs of cryptographic modules used by federal entities.
In June 2022, Advanced Testing Laboratory (ATL), a pioneer in scientific sourcing services for the North American markets for consumer healthcare products, cosmetics and personal care, and medical devices, has been acquired by Bureau Veritas. ATL is based in Cincinnati, Ohio, and offers services throughout the whole product life cycle, including research and development, substance and product validation, production, and distribution. Analytical chemistry, engineering, life science, product performance, product safety & regulatory, quality assurance, and regulatory compliance are just a few of the services offered.
Key Players Covered in the Report
Some of the major players operating in the North America TIC industry include Bureau Veritas, DEKRA SE, Applus+, ALS, DNV GL, SGS Société Générale de Surveillance SA, Intertek Group plc, TÜV SÜD, UL LLC, and MISTRAS Group.
The north America TIC market report offers a comprehensive market segmentation analysis along with an estimation for the forecast period 2022–2030.
Segments Covered in the Report
By Sourcing Type
By Service Type

Testing
Inspection
Certification

By Industry Vertical

Agriculture & Food
Construction
Life Science
Consumer Goods & Retail
Transportation
Energy
Oil
Gas & Chemical
Mining
Environmental
Others
Region Covered in the Report
North America

U.S.
Canada
Rest of North America
PRIMARY RESEARCH INTERVIEWS – BREAKDOWN