Industry Overview
The projected growth of the worldwide printed electronics industry is poised to be significant, with an estimated increase from USD 9.78 billion in 2022 to a remarkable USD 28.3 billion by 2030. This forecast period, spanning from 2023 to 2030, anticipates a compound annual growth rate (CAGR) of 18.4%.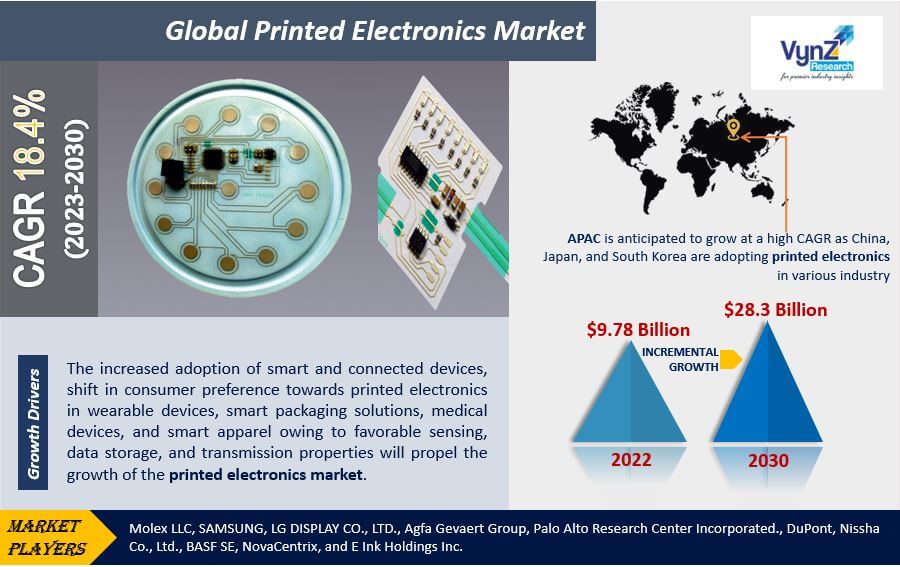 Printed electronics is a type of printing technology that is used to make electronic devices by printing or substrates and has its applications in diverse industries, including automotive, healthcare, consumer electronics, etc. The increased consumer demand has forced manufacturers to produce lightweight, better quality smart electronic devices like smart TV, keyboard, antennas, etc. Thus, the mounting demand from the consumer electronics industry to develop energy-efficient, thin, and flexible consumer electronics, increasing use of printed electronics for the development of smart and connected devices, and rising adoption of IoT by industry verticals will propel the growth of the printed electronics market.
The COVID-19 outbreak has hampered the growth of the printed electronics market owing to decreased shipments of printed electronics. Companies like Samsung, LG, etc. have suffered huge financial losses owing to the temporary closure of production of components along with less availability of raw material and lack of labor force due to travel restrictions and reduced orders for manufacturing.
Market Segmentation
Insight by Material
Based on material, the global printed electronics market is categorized into inks and substrates. The inks are sub-divided into conductive inks, dielectric inks, and others. The conductive inks are further divided into conductive silver inks, conductive copper inks, transparent conductive inks, silver copper inks, and carbon inks. The substrates is sub-divided into organic substrates and inorganic substrates. The organic substrates is further divided into polymers (polyimides, polyethylene naphthalate, and polyethylene terephthalate), paper (polyacrylate, polystyrene, polyvinylpyrrolidone (PVP), and polyvinyl alcohol), and other organic substrates. The inorganic substrates are further divided into a glass and other inorganic substrates. The inks segment dominates the market in 2020 and is anticipated to have a high CAGR during the forecast period 2023-2030 as ink is one of the vital materials that are used in the fabrication of printed electronics. Moreover, the rising demand for developed printing technologies with enhanced quality conductive inks and are used in compact devices will accelerate the growth of the segment. Graphene ink, for example, is being developed to create low-cost, flexible, water-resistant, and highly conductive electronic circuits.
Insight by Printing Technology
Based on printing technology, the global printed electronics market is divided into inkjet printing, screen printing, flexographic printing, gravure printing, and others. The inkjet printing is further sub-divided into continuous inkjet printing and drop-on-demand inkjet printing. The drop-on-demand inkjet printing is further divided into thermal drop-on-demand inkjet printing, piezo drop-on-demand inkjet printing, and electrostatic drop-on-demand inkjet printing. The screen printing is sub-divided into flatbed screen printing and rotary screen printing.
Screen printing dominates the printed electronics market owing to the rising adoption of screen printing to manufacture displays and sensors. Screen printing is the most widely adopted technology for producing displays for commercialized gadgets like smartphones and laptops and is also used to manufacture sensors and photovoltaic (PV) cells since it allows specific printing of thin and thick lines on substrates. Furthermore, screen printing provides an easy application on a wide range of inks and dyes that are both durable and flexible.
Moreover, inkjet printing is witnessing significant growth owing to its features like the flexibility of printing, less material consumption and wastage, compactness, and initial setup cost.
Insight by Resolution
Based on the resolution, the global printed electronics market is segmented into below 100 lines/cm, 100 To 200 lines/cm, and above 200 lines/cm. The above 200 lines/cm is anticipated to witness a high CAGR during the projected period owing to the rising adoption of this resolution in developing novel printed electronics with enhanced functionalities.
Insight by Application
Based on application, the global printed electronics market is divided into displays, RFID tags, batteries, photovoltaics cells, lighting, and others. The displays are sub-divided into e-paper displays and electroluminescent (EL) displays. The e-paper displays are further divided into electrochromic displays, electrophoretic displays, and other e-paper displays. The electroluminescent (EL) displays are further divided into OLED displays, flexible OLED displays, and LCD. The photovoltaic cells are further divided into sensors, touch sensors, gas sensors, humidity sensors, pressure sensors, image sensors, temperature sensors, and others. The lighting segment is further divided into electroluminescent lighting and OLED lighting. The lighting segment is anticipated to have a high CAGR during the forecast period 2023-2030 as it is replacing tungsten, halogen, and fluorescent lamps, which are costly. The increasing demand for economical, customized, and energy-efficient lighting and investments by the government to develop printed OLED-based lighting will fuel the growth of the market.
The sensor segment is anticipated to have the significant growth owing to the rising demand for IoT devices in various industry verticals. Smart patches and sensors are adopted to track temperatures and moisture in the healthcare industry. Also, manufacturers are making advancements in sensors so as to track COVID-19 symptoms.
Insight by End-User
Based on end-user, the global printed electronics market is categorized into automotive and transportation, healthcare, consumer electronics, aerospace and defense, construction and architecture, retail and packaging, others. Among end-user, the aerospace & defense sector is anticipated to have a high CAGR as printed electronics devices are light in weight, highly reliable, simple, and require less maintenance. Furthermore, market participants can create unique materials for missiles, aircraft wings, rockets, and other defense equipment by printing electrical circuits on 3D surfaces.
Global Printed Electronics Market Report Coverage
| | |
| --- | --- |
| Report Metric | Details |
| Historical Period | 2018–2022 |
| Base Year Considered | 2022 |
| Forecast Period | By 2030 |
| Market Size in 2022 | $9.78 Billion |
| Revenue Forecast in 2030 | $28.3 Billion |
| Growth Rate | CAGR 18.4% |
| Segments Covered in the Report | By Material, By Printing Technology, By Resolution, Application, and By End User |
| Report Scope | Market Trends, Drivers, and Restraints; Revenue Estimation and Forecast; Segmentation Analysis; Impact of COVID-19; Companies' Strategic Developments; Market Share Analysis of Key Players; Company Profiling |
| Regions Covered in the Report | North America, Europe, Asia-Pacific, Middle East, and Rest of the World |
 Industry Dynamics
Industry Trends
The substantial growth in the electronics industry and the rising demand for next-generation flexible products that requires energy-efficient, thin and sustainable consumer electronics are the key trends in the printed electronics market. Furthermore, the increased prominence of IoT and rising demand for developed OLED displays and printed RFID devices will further led to the usage of technology as it offers less production cost, high efficiency, and less power consumption.
Growth Drivers
The printed electronics market is experiencing significant growth due to various factors. Firstly, the increasing popularity of smart and connected devices has contributed to this growth. Consumers are increasingly adopting wearable devices, smart packaging solutions, medical devices, and smart apparel that incorporate printed electronics. These devices offer favorable sensing, data storage, and transmission capabilities, making them highly desirable.
Additionally, there has been a notable shift in consumer preference towards printed electronics in wearable devices, smart packaging solutions, medical devices, and smart apparel. This preference can be attributed to the advantages provided by printed electronics, such as their lightweight nature, adaptability, and ability to conform to different shapes and sizes.
Innovations in the field of printed electronics have also played a crucial role in driving market growth. Additive manufacturing and screen-printed technologies have revolutionized the production process, enabling cost-effective and efficient manufacturing of printed electronic components. Moreover, the widespread adoption of printed sensors and panels in aircraft cockpits and navigation systems, as well as military vehicles, has further fueled market growth.
The automotive industry has also witnessed substantial growth in the adoption of printed electronics. The thinness, rapidness, and flexibility of printed electronic components make them highly suitable for automotive applications. This trend is expected to continue, contributing to the overall growth of the printed electronics market.
So, The printed electronics market is set to grow significantly due to factors such as the increasing adoption of smart devices, consumer preference for printed electronics in various applications, technological advancements, and the mounting growth in the automotive industry. The lightweight nature and adaptability of printed electronics will be key drivers of market growth.
Challenges
The high cost associated with installing the printing system and the commercialization of new and cost-efficient inks may hamper the growth of the printed electronics market.  Moreover, lack of knowledge about the development of inks, substrates to improve the performance of printed electronics are the challenges faced by the industry.
Opportunities
The process of 3D manufacturing will create opportunities for growth in the printed electronics market. Furthermore, the advent of novel applications, massive investment by industry players for R&D activities, and functionalities of printed electronics and their integration into multiple products will provide significant growth opportunities in the market.
Geographic Overview
APAC is anticipated to grow at a high CAGR as China, Japan, and South Korea are adopting printed electronics in various industry verticals owing to the advantages offered like transparency, lightweight, flexible, and stretchable materials. Furthermore, industrial development and concentration of industrial activities in China and Japan will accelerate the growth in the region. Also, significant growth in demand for electronic appliances like mobile, tablets, laptops and wearable electronics such as fitness trackers, AR headsets will bolster the growth in the region.
Competitive Insight
The manufacturers are adopting technology into different products based on the requirement and supply it to the retailers or distributors for sales. The industry players are entering into various strategies like M&A, partnerships, product launches, and focusing on R&D activities to enhance printing capabilities and establish an edge against the competitors.
PARC is one of the leading innovators in printed electronics and has experience in electronics and provides new and current printing technology according to industrial specifications. They are developing printing multi-material 3D objects with electronic and mechanical functionality.
Molex is one of the leading providers of connectors and interconnects components. Molex offers a wide range of innovative PE designs so as to develop customer programs from concept to commercialization, aiding customers to fulfill their design dreams. Molex is one of the market leaders in three industrial areas: fine-line printing, large-format printing, and high-speed and roll-to-roll printing.
In July 2021, DuPont acquired Laired Performance Materials (China), a leading provider for high-performance electromagnetic shielding and thermal management solutions. This acquisition will strengthen the company's electronic and industrial segments.
Some of the industry players in the printed electronics market include Molex LLC, SAMSUNG, LG DISPLAY CO., LTD., Agfa-Gevaert Group, Palo Alto Research Center Incorporated., DuPont, Nissha Co., Ltd., BASF SE, NovaCentrix, and E Ink Holdings Inc.
The Printed Electronics Market report offers a comprehensive market segmentation analysis along with an estimation for the forecast period 2023–2030.
Segments Covered in the Report
By Material 

Inks

Conductive Inks

Conductive Silver Inks
Conductive Copper Inks
Transparent Conductive Inks
Silver Copper Inks
Carbon Inks

Dielectric Inks
Others

Substrates

Organic Substrates

Polymers

Polyimides
Polyethylene naphthalate,
Polyethylene Terephthalate

Paper

Polyacrylate
Polystyrene
Polyvinylpyrrolidone (PVP)
Polyvinyl Alcohol

Other Organic Substrates

Inorganic Substrates

Glass
Other Inorganic Substrates

By Printing Technology

Inkjet Printing

Continuous Inkjet Printing
Drop-On-Demand Inkjet Printing

Thermal Drop-On-Demand Inkjet Printing
Piezo Drop-On-Demand Inkjet Printing
Electrostatic Drop-On-Demand Inkjet Printing

Screen Printing

Flatbed Screen Printing
Rotary Screen Printing

Flexographic Printing
Gravure Printing
Others

By Resolution 

Below 100 Lines/cm
100 To 200 Lines/cm
Above 200 Lines/cm

By Application 

Displays

E-Paper Displays

Electrochromic Displays
Electrophoretic Displays
Other E-Paper Displays

Electroluminescent (EL) Displays

OLED Displays
Flexible OLED Displays
LCD

RFID Tags
Batteries
Photovoltaic Cells

Sensors
Touch Sensors
Gas Sensors
Humidity Sensors
Pressure Sensors
Image Sensors
Temperature Sensors
Others

Lighting

Electroluminescent Lighting
OLED Lighting

Others

By End-User 

Automotive and Transportation
Healthcare
Consumer Electronics
Aerospace and Defense
Construction and Architecture
Retail and Packaging
Others
Region Covered in the Report
North America
Europe

Germany
U.K.
France
Italy
Spain
Russia
Rest of Europe

Asia-Pacific (APAC)

China
Japan
India
South Korea
Rest of Asia-Pacific

Rest of the World (RoW)

Brazil
Saudi Arabia
South Africa
U.A.E.
Other Countries

Source: VynZ Research