Industry Overview
The global process automation and instrumentation market is projected to experience substantial growth in the coming years. Starting from a value of USD 70 billion in 2022, the market is expected to reach a staggering USD 82.6 billion by 2030. This growth trajectory indicates a Compound Annual Growth Rate (CAGR) of 2.7% during the forecast period spanning from 2023 to 2030.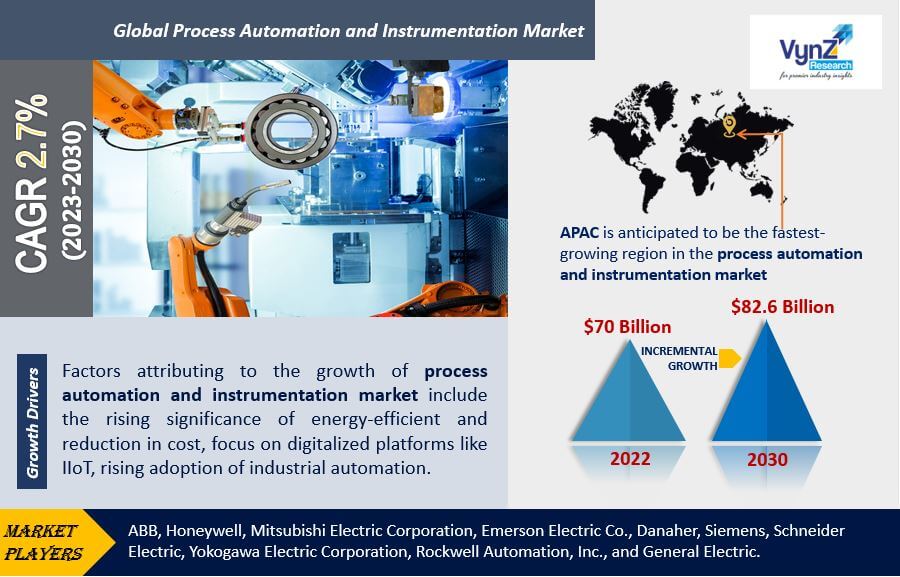 Process automation and instrumentation is a method of monitoring and controlling various business production processes. It is the technology-enabled automation and instrumentation of complex business processes that assist in streamlining operations, meeting organizational goals, improving quality, and lowering operating costs. The technology also entails using numerous interrelated processes to monitor and control physical quantities. The key drivers of process automation and instrumentation market development are mounting concerns about planned functional safety and protection, increasing demand for energy-efficient manufacturing processes, rising labor expenses, and high productivity levels with low prices.
The COVID-19 pandemic has led to huge losses to manufacturers globally. Process automation and instrumentation are serving industries like oil and gas, chemical, and power generation industries. These industries have cut back on their production services for the time being owing to reduced demand and supply chain disruption. As a result, demand for process automation and instrumentation has decreased, which is having a snowball impact on the market. However, the steps taken in fiscal policy by regional financial institutions to help manufacturing facilities floating during the COVID-19 pandemic will drive the growth in the process automation and instrumentation market.
Market Segmentation
Insight by Instrument
The market is classified into three categories based on instrument: field instrument, control valve, and analytical instrument.The field instrument segment dominates the global process automation and instrumentation market as field instrument plays a significant role in process control to measure and track crucial elements like pressure, temperature, level, and flow in process industries such as chemicals, oil & gas, mining, and pharmaceuticals. From a control room, this equipment can be operated or automated. Moreover, it is essential to attain information easily, speedily, securely, and precisely from field instruments in all the process industries.
Insight by Solution
The market is divided into PLC, DCS, SCADA, HMI, safety automation, APC, and MES based on solution. HMI segment is anticipated to have a high CAGR during the forecast period. HMI is a graphical user interface in a computer that interfaces with a specialized computer that is placed in the plant. HMI allows plant operators to extract actionable and useful data from plant equipment. HMI receives data from other connected systems, processes it, and displays it on a display screen for the operator to see. Thus, helps in improving productivity and operator safety by reducing human involvement in production operations. The rising use of HMI systems in process industries is driving the demand of the segment.
Moreover, MES is anticipated to grow at a faster pace owing to enhancing productivity, reducing the cycle time, and eradicating human dependency for processing data. These are cost-effective opportunities in operations and deliver the enhanced performance of production assets across the supply chain.
Insight by Industry Vertical
Food & beverages, pharmaceuticals, chemicals, energy & power, oil & gas, metals & mining, water & wastewater, pulp & paper, and others are the industry verticals in which the market is segmented. The pharmaceutical industry is anticipated to have a high CAGR during the forecast period owing to the increased significance of offering precision measuring equipment so as to provide an accurate dose of medicine, and the mounting need for process automation solutions in various processes like manufacturing, testing, drug development, packaging, and distribution will bolster the growth of the process automation and instrumentation market.
Energy & Power industry holds a significant share owing to the rising demand for electricity, rising need for clean and smart energy, shifting needs of consumers to overcome power generation and distribution losses are some of the factors that drive the industry players of energy & power to have process automation and instrumentation solutions. Furthermore, massive deployment in the value chain of the oil & gas industry owing to rising energy requirements will help the oil & gas industry to have process automation.
Process Automation and Instrumentation Market Report Coverage
| | |
| --- | --- |
| Report Metric | Details |
| Historical Period | 2018–2022 |
| Base Year Considered | 2022 |
| Forecast Period | 2023-2030 |
| Market Size in 2022 | $70 Billion |
| Revenue Forecast in 2030 | $82.6 Billion |
| Growth Rate | CAGR 2.7% |
| Segments Covered in the Report | By Instrument, By Solution, and By Industry Vertical |
| Report Scope | Market Trends, Drivers, and Restraints; Revenue Estimation and Forecast; Segmentation Analysis; Impact of COVID-19; Companies' Strategic Developments; Market Share Analysis of Key Players; Company Profiling |
| Regions Covered in the Report | North America, Europe, Asia-Pacific, Middle East, and Rest of the World |
Industry Dynamics
Industry Trends
The growing trends of the industry 4.0 revolution have created smart automation in the manufacturing sector which offers benefits like productivity gains, enhanced team performance, error reduction, decrease cost, and producing high-quality. The rising demand for achieving process optimization in reduced time in industrial operations along with initiatives by the government to adopt automation are the trends prevalent in the industry.
Growth Drivers
The growth of the process automation and instrumentation market is driven by several key factors. Firstly, there is a growing emphasis on energy efficiency and cost reduction, which has led to increased demand for these technologies. Additionally, the focus on digitalized platforms like the Industrial Internet of Things (IIoT) has contributed to market growth.
Furthermore, the rising adoption of industrial automation and the implementation of stringent compliances and regulations to enhance production have also played a significant role in driving the market forward. The optimal utilization of resources is another important factor contributing to the market's growth.
The market is also benefiting from increased investment in the automotive industry and continuous upgrades of manufacturing units in the oil & gas and utility sectors. These investments are propelling the demand for process automation and instrumentation solutions.
Moreover, proactive solutions that effectively govern component failures and the growing adoption of multivendor portable applications are further fueling market growth.
Overall, these various factors are creating a favorable environment for the expansion of the process automation and instrumentation market.
Challenges
The massive initial investment for solutions like MES and devices like process analyzers, transmitters, and control valves along with high operational and maintenance costs are acting as a restraint for the market. Moreover, social distancing norms and lockdowns have impacted the demand and supply of products, resulting in short-term and medium-term challenges for the process automation and instrumentation market. Also, limited penetration by small and medium-sized enterprises owing to their definitive budget will pose a challenge in the market.
Opportunities
The increasing demand for safety automation systems to protect any terrorist attacks, theft, and accidents, and malfunctioning of equipment, resulting in providing tremendous opportunities for growth in process automation and instrumentation as they can handle and control emergency and complex processes.
Geographic Overview
APAC is anticipated to be the fastest-growing region in the process automation and instrumentation market owing to the increasing infrastructural investments in the energy & power sector due to the rising demand for electricity and better power reliability, rising demand for oil & gas and food & beverage due to the rising population, robust industrialization, favorable government policies, and constant growth in industrial activities will fuel the growth in the region.
Competitive Insight
The process automation and instrumentation are moderately fragmented with many players entering into partnerships, acquisitions, product launches, and R&D activities to have a competitive edge in the market.
Mitsubishi Electric is focused on technological innovation and ceaseless creativity and its process automation solutions are aiding customers to visualize and optimize their operations.  Mitsubishi Electric combines the power of process automation and digital data to provide cutting-edge solutions to organizations.
ABB is one of the leading global technology companies that is engaged in power automation technologies and is focused on transforming society to achieve a more productive sustainable future. Process Automation business provides a variety of solutions for process and hybrid industries, including industry-specific integrated automation, electrification, and digital solutions, control technologies, software, and advanced services, as well as measurement & analytics, marine, and turbocharging.
In November 2021, Honeywell has delivered a novel process automation functionality Experion Process Knowledge System (PKS) 520.1 for end-users.  It has laid the foundation of Experion PKS Highly Integrated Virtually Environment (HIVE) which has reduced the complexity and cost of automation projects.
Mitsubishi Electric updated its SCADA selection for the EMEA region in March 2021, now offering two additional types of software for system monitoring and process control under the "GENESIS64" series, in addition to the previous "MAPS" SCADA software. The new product line will address a wide range of IoT requirements, from small production line monitoring and control to multi-site monitoring and business intelligence (BI) for plant-wide systems, process automation, and utility and building automation.
Some of the leading players in the process automation and implementation industry include ABB, Honeywell, Mitsubishi Electric Corporation, Emerson Electric Co., Danaher, Siemens, Schneider Electric, Yokogawa Electric Corporation, Rockwell Automation, Inc., and General Electric.
The Process Automation and Instrumentation Market report offers a comprehensive market segmentation analysis along with an estimation for the forecast period 2023–2030.
Segments Covered in the Report
By Instrument

Field Instrument
Control Valve
Analytical Instrument

By Solution

PLC
DCS
SCADA
HMI
Safety Automation
APC
MES

By Industry Vertical

Food & Beverages
Pharmaceuticals
Chemicals
Energy & Power
Oil & Gas
Metals & Mining
Water & Wastewater
Pulp & Paper
Others
Region Covered in the Report
North America
Europe

Germany
U.K.
France
Italy
Spain
Russia
Rest of Europe

Asia-Pacific (APAC)

China
Japan
India
South Korea
Rest of Asia-Pacific

Rest of the World (RoW)

Brazil
Saudi Arabia
South Africa
U.A.E.
Other Countries