Industry Overview
The global silicon carbide market is anticipated to grow from USD 900 million in 2021 to USD 2,117 million by 2027, registering a CAGR of 18.5% during the forecast period 2021-2027.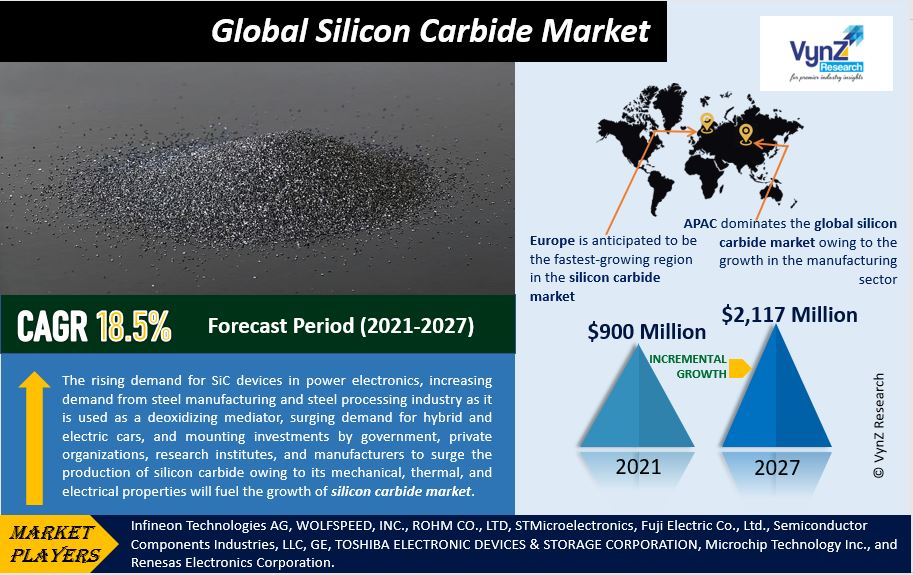 Silicon carbide semiconductors also called carborundum are rare mineral moissanite and are a crystalline compound of carbon and silicon. SiC has a number of advantages, including the ability to provide a larger range of p- and n-type control for device fabrication, a 3x bandgap, and a 10x breakdown electric field strength. Silicon carbide semiconductors have high thermal conductivity, low thermal expansion, and high strength, making them extremely resistant to thermal shock. Silicone is extensively utilized as an electrically insulative or conductive material that can be employed in a variety of applications. Silicon carbide semiconductors are increasingly being used in high-frequency radar systems, satellite communications, microwave links, and mobile phones due to their superior properties. It is mostly utilised in power electronics, particularly in the manufacture of solar cells. It's also widely employed in the aerospace, medical, defense, automotive, and communication fields.
The COVID-19 pandemic has disrupted the supply chain along with a decrease in demand for various industry verticals, resulting in an adverse impact on the silicon carbide industry. Furthermore, there was a decline in sales in the automotive industry and reduced demand from other industries too like aerospace & defense, electronics industry, etc. that has also impacted the silicon carbide industry due to work stoppages, lack of labor, and supply chain disruptions. However, the market is anticipated to bounce back and restore its growth trajectory during the forecast period 2021-2027.
Market Segmentation
Insight by Type
Based on type, the global silicon carbide market is categorized into black silicon carbide and green silicon carbide. The black silicon carbide contributes to the largest share in the market as it has a low cost, low density, high-temperature strength, high thermal conductivity, excellent chemical resistance, and low thermal expansion and is extensively used for grinding nonferrous materials, abrasives, filling up ceramic parts and finishing tough and hard materials.
Insight by Device Type
The global silicon carbide market is divided into three categories based on device type: SIC discrete device, SIC bare die, and SIC module. The SIC discrete device is further bifurcated into SIC diode and SIC MOSFET. The SiC discrete device dominates the market owing to the rising demand for SiC discrete devices in various applications such as RF, cellular base station, power supplies, and inverters. Moreover, SiC discrete devices are adopted in high-power applications as it offers a high switching speed that will fuel the growth.
Insight by Application
On the basis of application, the SiC market into power grid devices, Flexible AC Transmission Systems (FACTs), High-Voltage, Direct Current Systems (HVCDs), power supplies and inverters, RF devices & cellular base stations, lighting control systems, industrial motor drives, flame detectors, EV motor drives, EV charging stations, electronic combat systems, wind turbine, solar power systems, and others. The power supplies and inverters segment contributes to the largest market share owing to the surge in demand for highly effective and stable power supplies like power modules, uninterrupted power supply, and wireless charging devices in the automotive, power electronics, renewable power generation, and telecommunication sector. Furthermore, SiC devices enable customers to maintain high efficiency by operating in the double-conversion mode.
Insight by Industry Vertical
Based on industry vertical, the global silicon carbide market is categorized into energy & power, automotive, renewable power generation, defense, power electronics, aerospace, telecommunication, and others (space research and nuclear power). The automotive industry vertical contributes to the largest share owing to the rising demand for power electronics in the automotive industry globally. Moreover, traction inverters in EVs as it offers high thermal and load cycling, increased reliability, high efficiency and voltage capabilities, reduced size, ability to operate at high temperatures will fuel the growth of the sector. The aerospace sector is anticipated to have a high CAGR owing to the rising commuter level and increasing demand for aircraft and aerospace parts like electrical components, scanning mirrors, and space-based telescopes. SiC offers properties like exceptional mechanical power and excessive hardness that make its apt for manufacturing the body of military aircraft and also vehicle protection covering.
Silicon Carbide Market Report Coverage
| | |
| --- | --- |
| Report Metric | Details |
| Historical Period | 2015–2020 |
| Base Year Considered | 2021 |
| Forecast Period | 2021-2027 |
| Market Size in 2021 | $900 Million |
| Revenue Forecast in 2027 | $2117 Million |
| Growth Rate | CAGR 18.5% |
| Segments Covered in the Report | By Type, By Device Type, By Application, and By Industry Vertical |
| Report Scope | Market Trends, Drivers, and Restraints; Revenue Estimation and Forecast; Segmentation Analysis; Impact of COVID-19; Companies' Strategic Developments; Market Share Analysis of Key Players; Company Profiling |
| Regions Covered in the Report | North America, Europe, Asia-Pacific, Middle East, and Rest of the World |
Industry Dynamics
Industry Trends
One of the major trends in the silicon carbide market is the continued increase in the number of players in the industry and investment in the automotive industry. In addition, technological advances and optimizations are important factors that manufacturers should focus on.
Growth Drivers
The rising demand for SiC devices in power electronics, increasing demand from steel manufacturing and steel processing industry as it is used as a deoxidizing mediator, surging demand for hybrid and electric cars, and mounting investments by government, private organizations, research institutes, and manufacturers to surge the production of silicon carbide owing to its mechanical, thermal, and electrical properties will fuel the growth of silicon carbide market. Moreover, owing to its capacity to tolerate high temperatures, it is also employed in the production of brake discs for sports automobiles. This property has led to its use in the aerospace and defense industries, particularly in bulletproof jackets and pump shaft sealing. Silicon carbide is also employed in the oilfield as a component of drilling and extraction pumps. Silicon carbide's exceptional surface hardness is one of the main reasons for its widespread use in oilfield applications. These factors will accelerate the growth of the silicon carbide market.
Challenges
The rising material and fabrication cost, lack of skilled workforce, complexity within the manufacturing process, and negative impact of the COVID-19 outbreak may hamper the growth of the silicon carbide market. Moreover, substitutes like gallium nitride in power modules as gallium nitride transistors will be a threat to SiC as gallium nitride transistors are cheap and can be operated at low voltages. Also, challenges related to the designing of SiC MOSFETs, limited infrastructure, strict rules, and regulations may hamper the growth of the silicon carbide market.
Opportunities
Silicon carbide is one of the few compound semiconductors being evaluated for use in the manufacturing of power semiconductors for 5G communication and the rising demand for renewable energy applications, resulting in creating opportunities for silicon carbide market growth.
Geographic Overview
APAC dominates the global silicon carbide market owing to the growth in the manufacturing sector, favorable regulatory environment, increased investment in infrastructure, less labor, and operating cost will fuel the growth in the region.
Europe is anticipated to be the fastest-growing region in the silicon carbide market owing to the growth in the aerospace and defense industries and the developed automotive industry in the region. Furthermore, the development in the manufacturing sector and increased disposable income will propel the demand for electronics and automobiles in the region.
Competitive Insight
The industry leaders are innovating novel products and developments and are entering into acquisitions, partnerships, collaborations, contracts, and agreements to have a competitive edge in the market.
WOLFSPEED, one of the prominent providers of silicon carbide, has provided high power silicon carbide in power electronics, substrates, epitaxy, and RF applications. They have a fully commercialized and broad portfolio in the field of silicon carbide and Gan-on-Silicon Carbide solutions to the market. Wolfspeed WolfPACKTM modules are suitable for designers aiming to increase efficiency and power density while staying within industry standards. The module family is a fantastic choice for quick design implementation, scalability, and lower assembly costs.
ROHM is one of the leaders in the growth of SiC power devices and modules that save energy in a variety of applications. Due to its low ON resistance and improved high-temperature, high-frequency, and high-voltage performance as compared to silicon, silicon carbide (SiC) devices have emerged as the most viable candidate for next-generation, low-loss semiconductors. SiC Schottky barrier diodes (SBDs), SiC MOSFETs, full SiC power modules (integrating SiC SBDs and MOSFETs), and high heat-resistance power modules are all part of ROHM's extensive range.
In May 2021, Infineon Technologies signed a supply contract with Showa Denko Corporation, a Japanese wafer manufacturer to offer a wide portfolio of silicon carbide material (SiC) including epitaxy. Thus Infineon has secured more base material for the increasing demand for SiC-based products as it is used in the fields of photovoltaic, industrial power supply, and charging infrastructure for electric vehicles.
In December 2021, STMicroelectronics is one of the world's leading semiconductor companies serving customers across the spectrum of electronics applications, announcing the 3rd generation STPOWER Silicon Carbide (SiC) MOSFET 1 and bringing the latest power devices to the electric vehicle powertrain (EV) and other applications where energy efficiency and reliability are important criteria.
Some of the industry players in the silicon carbide market include Infineon Technologies AG, WOLFSPEED, INC., ROHM CO., LTD, STMicroelectronics, Fuji Electric Co., Ltd., Semiconductor Components Industries, LLC, GE, TOSHIBA ELECTRONIC DEVICES & STORAGE CORPORATION, Microchip Technology Inc., and Renesas Electronics Corporation.

Region Covered in the Report
•    North America
- U.S.
- Canada
- Mexico
•    Europe
- Germany
- U.K.
- France
- Italy
- Spain
- Russia
- Rest of Europe
•    Asia-Pacific (APAC)
- China
- Japan
- India
- South Korea
- Rest of Asia-Pacific
•    Rest of the World (RoW)
- Brazil
- Saudi Arabia
- South Africa
- U.A.E.
- Other Countries