Industry Overview
The global smart agriculture market is anticipated to grow from USD 12.7 billion in 2021 to USD 21.7 billion by 2027, thus projected to grow at a CAGR of 10.2% during the forecast period 2021-2027. Smart agriculture is the farming process that uses agricultural robots to automate farming processes like soil maintenance, weeding, fruit picking, harvesting, planting, and irrigation, resulting in optimizing yield and helping in preserving the resources. The smart agriculture market is projected to have substantial growth due to the adoption of advanced technologies such as artificial intelligence (AI) and the internet of things (IoT), increasing pressure on the food supply system as a result of a rapidly growing population. The need to automate commercial greenhouses, rising implementation of Controlled Environmental Agriculture (CEA) concept in greenhouses, eliminates the threat of declining pasture and increasing crop yield, increasing population, mounting demand for fresh and high-quality food, a shift in preference of consumers, the emerging concept of innovative technologies like AI, robotics, IoT, sensors, RFID tags, and Cloud-based software, thereby driving the growth of smart agriculture market.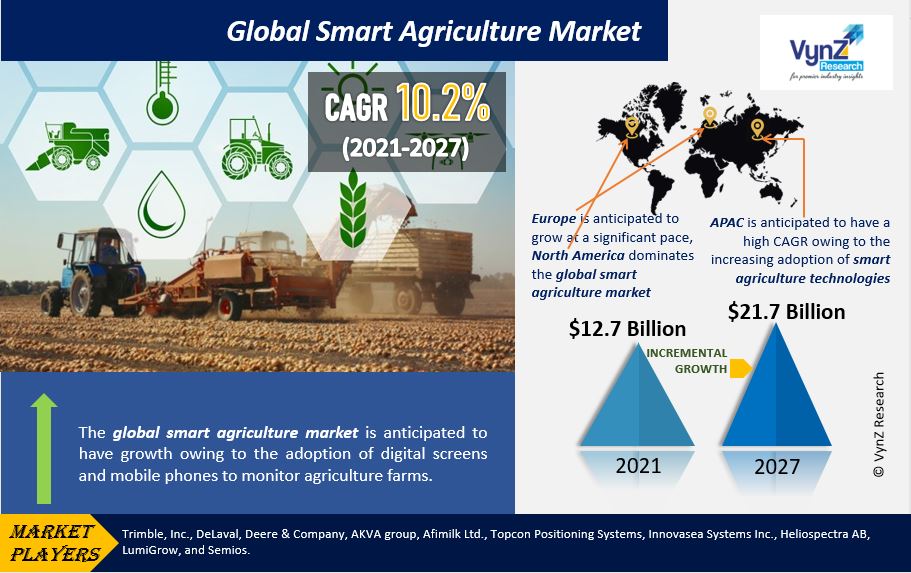 The COVID-19 crisis had had an adverse impact on the supply chain of the smart agriculture market as some of the major players are located in China and the US. These countries were massively impacted by the pandemic during the first quarter of 2020. However, the market is anticipated to have a U-shaped recovery in 2021 owing to the increasing demand for equipment and automation products in diverse applications like precision farming, precision livestock, precision aquaculture, etc.
Market Segmentation
Insight by Agriculture Type
Based on agriculture type, the global smart agriculture market is segmented into precision farming, fish farming, livestock monitoring, precision aquaculture, precision forestry, smart greenhouse, and others. Precision farming dominates the market and the demand is continuously increasing owing to enhancement in software and hardware technologies like sensors, robotic automation in the agriculture sector. Precision aquaculture will be led by feeding management owing to monitoring, control, and surveillance of automated aquaculture farms via IoT-based monitoring devices, underwater ROVs, and smart camera systems, resulting in enhancing farm productivity and efficiency.
Insight by Offering
Based on offering, the global smart agriculture market is categorized into hardware, software, and services. Hardware is sub-divided into sensor-based monitoring systems, smart detection systems, GPS enabled ranging systems. Software is further subdivided into web-based and cloud-based. Services are sub-divided into system integration and consulting, support and maintenance, connectivity services, managed services, and professional services. The service segment is anticipated to have fast growth owing to the robust transformation of agriculture as per the service perspective. Service-based smart agriculture offer farmers to increase the yield. For example, CropX, an agriculture-based analytics company, launched an adaptive irrigation software service, that offers the increment of crop harvest, cost-saving for water & energy, and environmental conversation. All such elements may increase the demand for service-based smart agriculture systems, techniques and further surge the market growth. Cloud-based software is gaining importance as it provides flexibility in monitoring agriculture activities from remote locations with help of an internet connection.
Insight by Application
Based on application, the global smart agriculture market yield monitoring, field mapping, crop scouting, weather tracking and forecasting, irrigation management, farm labor management, financial management, feeding management, milk harvesting, breeding management, fish tracking, and fleet navigation, water quality management, HVAC management, and others. Yield monitoring is anticipated to grow at a high CAGR during the forecast period as it is the practiced application of smart agriculture and generates fertilizer and recommends pH correction. The irrigation segment is anticipated to have remarkable growth as smart irrigation systems will have effective utilization of fertilizers, reduce wastage resulting in increased crop yield. Moreover, the rapid growth in population and overexploitation has led to the increase in demand for water, resulting in the growth of smart irrigation systems in the agriculture sector.
Insight by Farm Size
Based on farm size, the global smart agriculture market is categorized into small, medium, and large. Medium-sized farms lead the smart agriculture market owing to the presence of many medium-sized farms globally, high penetration of technologies, flexibility in the integration of software tools with hardware equipment, and the use of automated tools have reduced labor cost.
Industry Dynamics
Industry Trends
The transformation in business models, technological advancement, organizational changes, improvement in hardware and software technology i.e., the introduction of smart sensors, robotic automation, modern biologicals, digital data are creating a revolution in the field of smart agriculture and are the trends prevalent in the market.  
Growth Drivers
The global smart agriculture market is anticipated to have growth owing to the adoption of digital screens and mobile phones to monitor agriculture farms. The rising prominence of modern technologies like AI, robots, IoT, location systems, and sensors to analyze crop's health, adoption of RFID tags, smart greenhouse applications like LED grow lights, sensors, HVAC systems, and monitoring systems, growing demand for food globally, mounting need for livestock health will propel the growth of the smart agriculture market.
Challenges
The high cost of smart agriculture equipment, lack of awareness among farmers, the massive investment required to deploy different components in agriculture, and smart agriculture adopting different methods to deliver passive medium and nutrient solution in plant root which is costly method may hamper the growth of the smart agriculture market.
Opportunities
The agritech startups are innovative in the smart agriculture market as it integrates AI, IoT, data analytics, and remote sensing technologies to offer immediate solutions for farmers' problems resulting in creating opportunities in the global smart agriculture market.
Geographic Overview
North America dominates the global smart agriculture market owing to the increase in usage of developed technologies in the agriculture areas in the region. Europe is anticipated to grow at a significant pace owing to the rising support from the government in adopting smart agriculture activities. Many agricultural associations have come together and formed a North America Climate Smart Agriculture Alliance (NACSAA), a platform for educating and equipping the cultivators to sustainably increase agricultural productivity.
APAC is anticipated to have a high CAGR owing to the increasing adoption of smart agriculture technologies, smart irrigation controllers, and AI-based farm analytics services in the region. Moreover, there is a growing demand for automation of livestock farms and aquaculture farms that drives the smart agriculture market in the region.
Competitive Insight
The industry players are adopting strategies such as partnerships and agreements and making investments in mergers and acquisitions to enhance their product portfolio in the global smart agriculture market.
Trimble Inc., a global technology leader having 40-history in agriculture and a focus on precision agriculture to provide simplicity and interoperability, reliability, efficiency, accuracy in getting maximum yield and achieving profitability.
Topcon offers a complete precision agriculture solution by providing precision automatic steering, variable speed control, automatic section control,  data management for crop detection, and GNSS landscaping for water management. Topcon offers innovative, easy-to-use technology to improve decision-making, efficiency,  productivity, and solve farm problems.
DeLaval has launched the RC550 and RC700 robot collectors designed for hard floors to improve cow comfort and hoof condition. It is a unique rotary manure intake system that can process any manure without the use of additional water.
John Deere launched, AutoPath i.e., a new precision AG application that uses data captured from the first path of a field to create accurate row guidance for all subsequent field paths, regardless of the machine type or device width. AutoPath is included in the John Deere Generation 4 Automation Bundle and can be used with 4600 Command Center integrated displays or  4640 universal displays.
The prominent players in the global smart agriculture market include Trimble, Inc., DeLaval, Deere & Company, AKVA group, Afimilk Ltd., Topcon Positioning Systems, Innovasea Systems Inc., Heliospectra AB, LumiGrow, and Semios.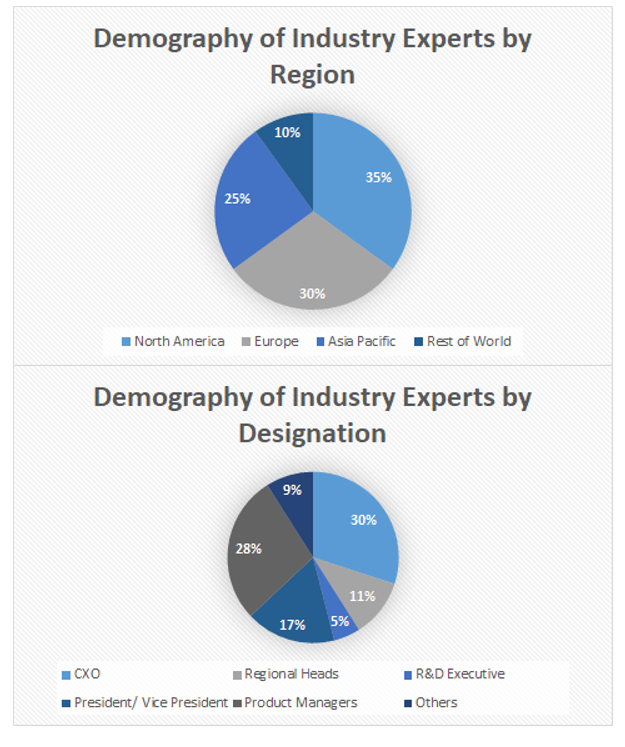 Source: VynZ Research