Industry Overview
The smart glass market, with a valuation of USD 3.8 billion in 2022, is poised for substantial growth at a CAGR of 12.5%. By 2030, it is projected to reach a noteworthy milestone of USD 8.5 billion, demonstrating its immense potential throughout the forecast period. Smart glass, a specialized glass variant, exhibits unique characteristics by altering its appearance in response to voltage, light, temperature, or heat, while still facilitating the transmission of light.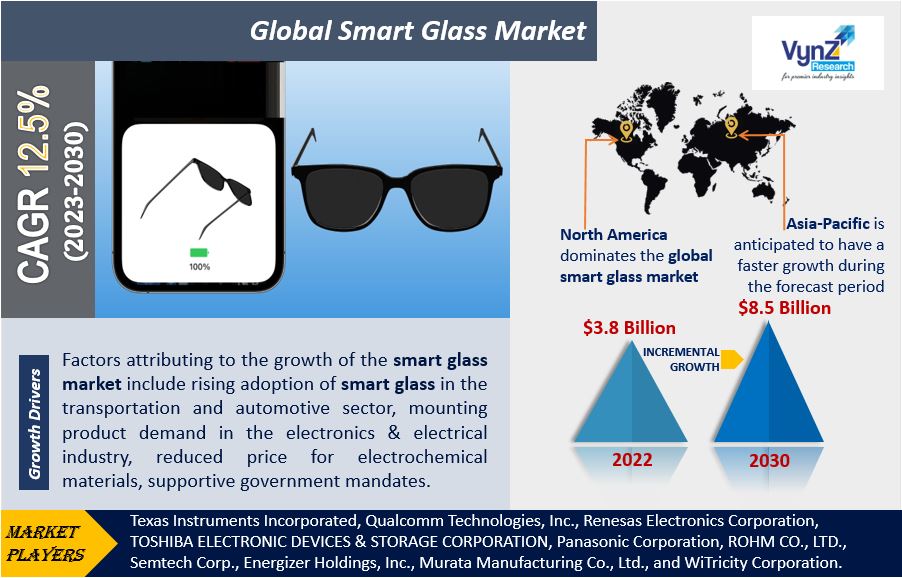 Thermochromic, electrochromic, photochromic, suspended particle device (SPD), polymer disperse liquid crystal (PDLC), micro-blinds, and nanocrystal glass are all examples of smart glass. Electrochromic windows are a common application for these glasses in the building industry. The expansion of the Smart Glass Market has been fuelled by the increased acceptance of sustainable solutions in the automotive and architectural industries. Regulatory reforms for green buildings, like LEEDS, National Green Building Standard, Green Globes, and others, are encouraging commercial building owners to invest in smart energy-saving solutions, such as smart glass.
The COVID-19 pandemic has adversely affected the global smart glass industry as the major application areas like architecture and the automotive industry declined. There was a halt in the new construction projects and the temporary shutdown of manufacturing facilities further hindered the growth of the smart glass market. However, the initiatives by the government in the form of relief funds will offer financial relief to the businesses that face economic challenges during pandemic times.
Market Segmentation
Insight by Technology
Based on technology, the global smart glass market is bifurcated into active glass and passive glass. The active glass is further divided into electrochromic, nanocrystal, micro blends, suspended particle device (SPD), polymer dispersed liquid crystal (PDLC), and others. The passive glass is further divided into photochromic, thermochromic, and others. Active glass contributes to the largest share. This is a form of glass that uses electricity to control or adjust light transmission. It's a user-controlled technology that adjusts the voltage supply and delivers results on demand. SPD dominates the smart glass market owing to the increasing energy consumption levels in commercial and residential buildings. Moreover, SPD glass can change from translucent to dark in 1-3 seconds, providing instant and exact light control. The optical quality of this glass is remarkable, allowing it to efficiently control glare from sun rays. Furthermore, SPD smart glass guarantees strong UV resistance while providing adequate natural sunlight. The electrochromic technology is anticipated to have a high CAGR during the forecast period owing to a decrease in response time to apply glass effects, rising demand for luxury automobiles, increased usage in rearview mirrors, switchable windows, sunroofs, etc., and high blockage power to UV rays. Photochromic is an evolving segment owing to its wide adoption in the domestic and automobile sectors.
Insight by End-User Industry
The global smart glass market is segmented by the end-user industry into architectural, transportation, consumer electronics, power generation, and others. The architecture is further divided into commercial, educational buildings, corporate, healthcare & lab facilities, retail, and residential. The transportation is further divided into automotive (sunroofs, rearview mirrors, windows, windshields, bus/rail), aerospace (dimmable windows and exit doors), railways, and marine (windows and skylights). The transportation segment dominates the smart glass market owing to the rising energy concerns and environmental consciousness are creating opportunities for growth in the transportation sector. Smart glass materials have been incorporated into the designs by several automobile manufacturers to benefit from their antiglare, remote access, and dynamic light emission adjustment properties. Smart glass can also be found in the form of doors, windows, sunroofs, windshields, rearview mirrors, and skylights in the transportation industry. Smart glasses reduce heat output, provide shading, limit viewing scope, and give users their privacy.
Low-emissivity, self-cleaning, and sun control glasses are all expected to become popular in the building industry in the near future. Furthermore, the growing number of infrastructure projects, as well as numerous restoration and renovation activities in commercial and residential structures, are driving the architectural segment forward.
Smart Glass Market Report Coverage
| | |
| --- | --- |
| Report Metric | Details |
| Historical Period | 2018–2022 |
| Base Year Considered | 2022 |
| Forecast Period | 2023-2030 |
| Market Size in 2022 | $3.8 Billion |
| Revenue Forecast in 2030 | $8.5 Billion |
| Growth Rate | CAGR 12.5% |
| Segments Covered in the Report | By Technology, and By End-User Industry |
| Report Scope | Market Trends, Drivers, and Restraints; Revenue Estimation and Forecast; Segmentation Analysis; Impact of COVID-19; Companies' Strategic Developments; Market Share Analysis of Key Players; Company Profiling |
| Regions Covered in the Report | North America, Europe, Asia-Pacific, Middle East, and Rest of the World |
Industry Dynamics
Industry Trends
The increasing trend of digitalization and technological development like Industry 4.0, IIoT, are used by automakers to reduce cost and add value via customization. The adoption of wearable computing is also gaining significant traction owing to the rising focus on smart glasses. The increased deployment of augmented reality, virtual reality, and diminished reality makes smart glass unique and offers the development of novel applications.
Growth Drivers
The growth of the smart glass market is influenced by several key factors that contribute to its expansion. These include the increasing adoption of smart glass in the transportation and automotive sector, growing demand for smart glass in the electronics and electrical industry, cost reduction of electrochemical materials, government mandates and legislation promoting energy-efficient products. In addition, the industry is expected to experience a boost in the coming years due to the inherent thermal and acoustic insulation, energy conservation, and appealing 3D designer proposals offered by smart glasses. These glasses are equipped with energy-saving and auto-dimming features, resulting in lower maintenance costs. Consequently, the perceived benefits of smart glass outweigh the initial investment. Furthermore, the market's growth prospects are expected to increase as there is a significant shift in customer preference towards glass instead of traditional bricks and cement walls. The recent trend of large, floor-to-ceiling glass windows also opens up new commercial opportunities for manufacturers in the smart glass market. Moreover, the market will be driven by the rising demand for comfort, convenience, and environmentally friendly solutions, as well as the need to protect residents from harmful UV radiation.
Challenges
The huge cost of manufacturing smart glass products, limited penetration in emerging economies, increased competition from flexible plastic technologies, and lack of awareness regarding evolving innovations by the service providers may hamper the growth of the smart glass market.
Opportunities
The increased demand for solar power generation plants will create opportunities for growth in the smart glass market as it used solar panels to absorb the maximum amount of light to generate electricity. The performance of photochromic and thermochromic smart glasses is influenced by sunlight, either directly or indirectly. The use of auto-dimmable smart glass can significantly cut electricity consumption, particularly for heating and cooling systems, thereby creating growth opportunities in the smart glass market.
Geographic Overview
North America dominates the global smart glass market owing to the mounting adoption in the automotive production and transportation sector, increased disposable income, value-added product offerings like laminated glazing, and energy conservation guidelines for buildings.
Asia-Pacific is anticipated to have a faster growth during the forecast period owing to the increased adoption in the construction projects, transportation, and consumer electronics sector in the region. For instance, the adoption of SPD in the latest variants of Mercedes-Benz cars.
Competitive Insight
The industry players are adopting strategies like partnerships, mutual agreements, M&A to sustain themselves in the smart glass market. Moreover, they are adopting innovative ways for product launch and product development to expand their geographical presence and are integrating with various automobile manufacturers, investing in R&D activities, and establishing new production facilities to sustain themselves in a competitive market. Because of the growing need for energy-efficient buildings, many OEM manufacturers are focusing on the residential and commercial facades. In numerous economies, such as the United States, the United Kingdom, France, China, Canada, and Germany, energy conservation and decreased CO2 emissions have become an integral component of the environmental agenda.
View, Inc. is a glass manufacturing firm established in the United States that makes smart glass based on electrochromism. View Smart Windows employ artificial intelligence to change automatically in reaction to the sun, allowing more natural light and unobstructed views while reducing heat and glare. View Smart Windows increase the health and productivity of building occupants while also lowering energy consumption.
Polytronix, Inc.'s films and glass division has been producing Switchable Privacy Glass to meet today's technological demands. Polyvision Switchable Privacy Film and Switchable Privacy Glass is an opaque white smart film laminated between two pieces of glass that can be turned into a clear glass pane in a matter of seconds. In both interior and outdoor installations, Polyvision Smart Privacy Glass panels give easy-to-control privacy and security. Thus,  Polyvision is a cutting-edge film and glass product with a wide range of creative uses.
IoTium, the global provider of secure, cloud-managed, software-defined IoT networks, has been purchased by View, Inc., the leader in smart building platforms and smart windows in July 2021.  Building owners can easily achieve enterprise-grade security, lower operational expenses, and gain real-time access over their entire real estate portfolios using IoTium's easy-to-deploy solutions.
January 2021 - Research Frontiers' SPD-Smart light control film is a crucial component of SPD-SmartGlass devices. This film allows users to regulate the shade of glass or plastic objects quickly, precisely, and consistently, either manually or mechanically, at the touch of a button. Hundreds of thousands of cars, planes, yachts, trains, residences, offices, museums, and other structures use Research Frontiers' smart glass technology.
Some of the industry players in the smart glass industry include Saint-Gobain, AGC Inc., GENTEX CORPORATION, View, Inc., Nippon Sheet Glass Co., Ltd, Research Frontiers, Polytronix, Inc., Pleotint LLC., Smartglass International, and INNOVATIVE GLASS CORPORATION.
The Smart Glass Market report offers a comprehensive market segmentation analysis along with an estimation for the forecast period 2023–2030.
Segments Covered in the Report
By Technology

Active Glass

Electrochromic
Nanocrystal
Micro Blends
Suspended Particle Device (SPD)
Polymer Dispersed Liquid Crystal (PDLC)
Others

Passive Glass

Photochromic
Thermochromic
Others

By End-User Industry

Architectural

Commercial
Educational Buildings
Corporate
Healthcare & Lab Facilities
Retail
Residential

Transportation

Automotive
Aerospace
Railways
Marine

Consumer Electronics
Power Generation
Others
Region Covered in the Report
North America
Europe

Germany
U.K.
France
Italy
Spain
Russia
Rest of Europe

Asia-Pacific (APAC)

China
Japan
India
South Korea
Rest of Asia-Pacific

Rest of the World (RoW)

Brazil
Saudi Arabia
South Africa
U.A.E.
Other Countries