Industry Overview
The global tunable diode laser analyzer (TDLP) market size is anticipated to reach USD 578 million by 2027 from USD 420 million in 2021, registering a market share of 7.5% (CAGR) during the forecast period 2021-2027. Tunable Diode Laser (TDL) technology is well-known and recognized technology to measure trace gas components such as H2O, H2S, CO, NH3, and C2H2. Tunable diode laser analyzers use extremely responsive and precise measuring signals to support process control systems for better safety, energy efficiency, and productivity of industrial processes, making them a perfect solution for measuring hazardous and corrosive gases. Because of their prompt response, high dependability, resistant nature, minimum downtime, better spectral resolutions, and reduced maintenance costs, these devices are extremely popular in gas monitoring and measurement applications. Additionally, TDLAs are widely used in hydrocarbon processing and power generation applications. Thus, due to the benefits and intriguing properties like real-time monitoring, web-based interface, non-contact measurements, digital signal processing, and connection associated with these devices, the tunable diode laser analyzer market is growing significantly.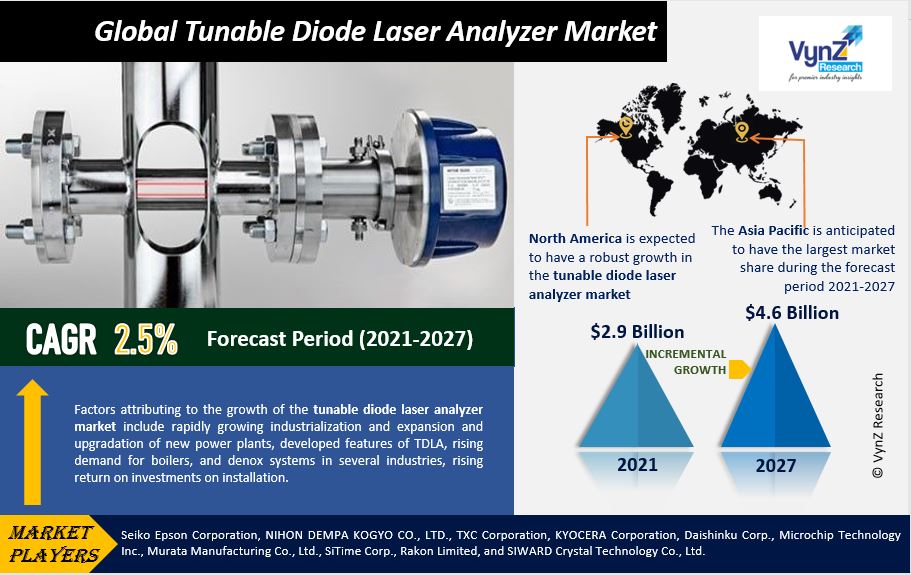 The COVID-19 pandemic has had a significant influence on the worldwide oil and gas business, as production facilities around the world have been shut down that has led to excess production of oil and gas and low global demand as a result of the global lockdowns. Thus, there was a decrease in demand for tunable diode laser analyser. However, the gradual re-opening of various enterprises and industries as a result of the government's relaxations will prove to be an important growth factor.
Market Segmentation
Insight by Measurement Type
Based on measurement type, the global tunable diode laser analyzer market is bifurcated into in-situ and extractive. The in-situ contributes to the largest share in the market owing to the ease of customization, reduced cost of ownership, and control it provides. Rising measurement errors linked to gas sample conditioning and extraction are expected to drive demand for in situ measurement, which in turn will drive the global TDLA market's growth during the forecast period.
Insight by Gas Analyzer
Based on the gas analyzer, the global tunable diode laser analyzer market is segmented into Oxygen (O2) Analyzer, Ammonia (NH3) Analyzer, Cox Analyzer, Moisture (H2O) Analyzer, HX Analyzer, CxHx Analyzer, and Others. The oxygen analyzer is anticipated to have a high CAGR during the forecast period 2021-2027 due to the robust industrial growth. Oxygen analyzers are used in applications such as combustion control, process quality, safety, and environmental monitoring. These are employed in a range of measurement situations such as power plant boiler trimming, refinery and petrochemical furnace optimization, process safety in vent headers, and ethylene product quality. If the oxygen concentration is outside the predetermined limits, the oxygen analyzer's measurement can be used to trigger other actions, such as the sound of an alarm, hence increasing demand for TDLA throughout these industries.
Insight by End-User Industry
Based on the end-user industry, the global tunable diode laser analyzer market is classified into oil and gas, fertilizer, metal, power generation, healthcare, cement, chemical, pulp and paper, and others. The oil & gas segment dominates the TDLA market owing to the increased demand for low concentration gas detection and sophisticated hydrocarbon gas detection among process activities in oil fields and the petrochemical industry.  Furthermore, TDLAs are widely adopted in natural gas and LNG plants so as to easily detect and remove moisture in the gas streams, resulting in protection from corrosion in the pipelines.   Also, they are deployed in refineries to detect corrosive sulfur compounds, which may incur high operational and maintenance costs for process infrastructure.
The healthcare segment is expected to have a high CAGR during the forecast period 2021-2027 owing to the rising need for precise and robust sample gas analysis, leading to the growth of TDLAs in the healthcare industry.
Tunable Diode Laser Analyzer Market Report Coverage
| | |
| --- | --- |
| Report Metric | Details |
| Historical Period | 2015–2020 |
| Base Year Considered | 2021 |
| Forecast Period | 2021-2027 |
| Market Size in 2021 | $420 Billion |
| Revenue Forecast in 2027 | $578 Million |
| Growth Rate | CAGR 7.5% |
| Segments Covered in the Report | By Measurement Type, By Gas Analyzer, and By End-User Industry |
| Report Scope | Market Trends, Drivers, and Restraints; Revenue Estimation and Forecast; Segmentation Analysis; Impact of COVID-19; Companies' Strategic Developments; Market Share Analysis of Key Players; Company Profiling |
| Regions Covered in the Report | North America, Europe, Asia-Pacific, Middle East, and Rest of the World |
Industry Dynamics
Industry Trends
The increased adoption of TDLA solutions is enhanced by mounting awareness of the technology like raman analyzers, quantum cascade aLaser analyzers, and cavity ring-down spectroscopy (CRDS). Furthermore the continuous advancement and growth prospects of TDLA market will lead to adoption in various industry verticals such as healthcare, chemical, etc.
Growth Drivers
Factors attributing to the growth of the tunable diode laser analyzer market include rapidly growing industrialization and expansion and upgradation of new power plants, developed features of TDLA, rising demand for boilers, and denox systems in several industries, rising return on investments on installation. The increasing demand to measure harmful gases in emissions, as well as mounting issues about the consequences of hazardous gases in places like mines, gas, and oil fields, are the main market drivers for tunable diode laser analyzers. Furthermore, the mounting automation of processes in several industries, growing opportunities in pharmaceutical and healthcare industries amidst the COVID-19 crisis, mounting innovation to measure temperature, pressure, the mass flux of gas, and stringent rules by governments to adopt this technology along with the escalating need for improving energy-efficiency and safety standards across many industries will accelerate the adoption of tunable diode laser analyzers.
Challenges
One of the biggest drawbacks of a tunable diode laser analyzer is that it measures atmospheric pressure, which results in broader absorption lines and causes interference from surrounding lines of other atmospheric species. The detection accuracy of a tunable diode laser analyzer can be lowered by even the tiniest amount of noise emitted by the light source or optical system. Also, the high development and infrastructure cost, and lack of awareness about developed technology,  may stymie the growth of the tunable diode laser analyzer market. Furthermore, the reduced prices of competitive technologies to analyze gas such as evolved gas analyzers, and thermal and infrared gas analyzers may further hinder the growth of the market.
Opportunities
The fast-optical analyzer in the TDLA enables measurement for flue gas, a process gas for upstream, midstream, and downstream activities in the cement, oil and gas, and power generating industries. The tunable diode laser analyzer industry will see new opportunities as noise-reducing mechanical design improves and governments throughout the world regulate the use of TDLA in sophisticated process facilities.
Geographic Overview
The Asia Pacific is anticipated to have the largest market share during the forecast period 2021-2027 owing to the rapidly growing industrialization and modernization. Furthermore, emerging economies like China and India will see growth in numerous industries like metal & mining, pulp & paper, cement, and power generation, leading to the mounting installation of TDLAs in the region.  The rapid expansion of the TDLA market in China can be attributed to the country's foundries, which are an important part of the semiconductor chip manufacturing process. Semiconductor Manufacturing International Corporation (SMIC) of China and Grace Semiconductor Manufacturing Corporation (GSMC) of China are two of the world's top wafer foundries. As a result, tunable diode laser technology has a lot of applications in the semiconductor industry in the country.
North America is expected to have a robust growth in the tunable diode laser analyzer market owing to strict industrial emission norms and regulations by the Environmental Protection Agency (EPA) to curb the emission of greenhouse gases, solid waste and provide environmental sustainability.
Competitive Insight
Manufacturers are providing compact tunable diode analyzers to cater to a wide range of industry applications. With support for in-situ and extractive measuring methods, these fast-updated optical analyzers provide measurements for process gas, flue gas, and impurity analysis throughout the upstream, middle, and downstream activities.
The industry players are making huge investments in R&D activities to differentiate their products, innovate their products, and improve quality so as to stay competitive in the market. Furthermore, industry players are making strategic initiatives like M&A, alliances, and geographical expansion. Moreover, manufacturers are progressively providing after-sales support and services for their TDLA equipment across its entire lifecycle, from installation through calibration and preventive maintenance.
Emerson is a global scientific and technological company that provides customers with innovative solutions in the industrial, commercial, and residential markets. In the mid-infrared wavelength range, Emerson's Quantum Cascade Laser technology provides quick, high-resolution spectroscopy for detecting and identifying a variety of compounds. When combined with Tunable Diode Laser (TDL) spectroscopy, a single instrument may expand the insight and monitor spectroscopic light in both the near and mid-infrared ranges.
Based on over 30 years of high-risk research and development in electro-optics and laser technology, NEO Monitors is a leading manufacturer and provider of Tuneable Diode Laser Absorption Spectroscopy (TDLAS) gas and dust analyzers. NEO Monitors develops and sells specialized LaserGas and LaserDust solutions to measure dust and gas in several industries globally. Their solutions are focused on three primary goals: processes should be optimized, controlling and enhancing safety, and emissions should be measured. NEO Monitors LaserGas applies TDLA Spectroscopy, a non-contact optical measurement technique using a solid-state laser light source.
In February 2022, Servomex, one of the precision measurement technology manufacturers launched its latest product, the Laser 3 Plus Environmental (Laser 3 Plus) which is a Tunable Diode Laser (TDL) analyzer used to constantly analyze ammonia (NH3) emissions. The Laser 3 Plus, which comes with auto-validation software, also conforms with Procedure 6 (40 CFR Part 60, Appendix F), which stipulates that all continuous emissions monitoring systems (CEMS) equipment must be capable of performing daily quality testing. TDL sensing techniques on the device are non-contact and low-maintenance, which decreases associated downtime during the quality test.
In April 2021, the TDLS8200 probe-type tunable diode laser spectrometer has been created by Yokogawa Electric Corporation and will be available for purchase on May 6 as part of its OpreXTM Analyzer series. The TDLS8200 will be able to detect oxygen, carbon monoxide, and methane gas concentrations directly and at high speed, while maintaining low installation cost, good measurement stability, and high dependability as the previous TDLS8100. The TDLS8200 will be expanded with the release of a version that can take measurements in situations with temperatures up to 850°C, in addition to the capacity to simultaneously measure three separate gas types. This will allow for measuring oxygen, carbon monoxide, and methane in a steady and simultaneous manner.
Some of the major players in the tunable diode laser analyzer industry include Emerson Electric Co., Yokogawa Electric Corporation, ABB, Servomex, Endress+Hauser Group Services AG, AMETEK.Inc., NEO Monitors, Siemens, METTLER TOLEDO, and SICK AG.
The Tunable Diode Laser Analyzer Market research includes a comprehensive market segmentation analysis as well as projections for the analysis period 2021-2027.
Segments Covered in the Report
By Measurement Type
By Gas Analyzer

Oxygen (O2) Analyzer
Ammonia (NH3) Analyzer
Cox Analyzer
Moisture (H2O) Analyzer
HX Analyzer
CxHx Analyzer
Others

By End-User Industry 

Oil and Gas
Fertilizer
Metal,
Power Generation
Healthcare
Cement
Chemical
Pulp and Paper
Others

Region Covered in the Report
North America
Europe

Germany
U.K.
France
Italy
Spain
Russia
Rest of Europe

Asia-Pacific (APAC)

China
Japan
India
South Korea
Rest of the World (RoW)

Brazil
Saudi Arabia
South Africa
U.A.E.
Other Countries