Industry Overview
The global wireless charging market is anticipated to grow at a CAGR of 23% during 2023-2030 and will reach from USD 5.2 Billion in 2022 to USD 14.6 billion by 2030. The transmission of energy from a power source to a consuming device without the use of wires or cables is known as wireless charging. A charging station (or transmitter) sends out the energy, which is received by a receiver (embedded in a device) and used to charge the battery. Wireless chargers use electromagnetic induction to transfer power from one device to another via a charging station. It has a wide range of uses in a variety of industries and sectors, including automobiles, healthcare, and manufacturing owing to its effective, safe, and consistent method to charge and power many electrical devices. Thus, The various advantages of wireless charging, such as ease of use and mobility, protection from electric shocks, flexibility, etc. are all contributing to the global wireless charging market's growth.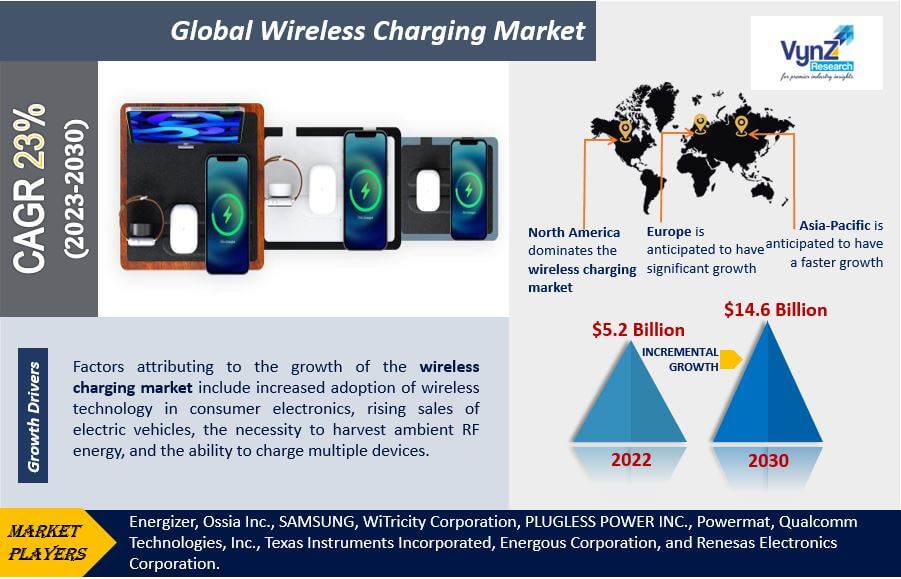 The COVID-19 pandemic has led to a downward trend in the wireless charging market in 2020 as there was less support from the government in other sectors and they were concentrating more on health services to curtail the pandemic. Moreover, supply chain disruptions, lockdowns have also impacted the growth of the wireless charging market. However, the market is anticipated to recover and there will be an increase in the adoption of wireless charging in consumer electronics and automotive industries.
Market Segmentation
Insight by Technology
Based on technology, the global wireless charging market is segmented into inductive, RF, resonant and others. Because of its widespread application, inductive technology is mature and in high demand in the wireless charging market. In the wireless charging sector, however, RF and resonant technologies are gaining traction. Qualcomm and Samsung enable resonant technology, which allows several devices to be charged at the same time.
Insight by Application
Based on application, the global wireless charging market is segmented into aerospace & defense, automotive, consumer electronics, healthcare, and industrial. Consumer electronics is anticipated to have the largest share during 2023-2030 as smartphones, laptops, tablets, MP3 players, wearables, gaming consoles, and personal digital assistants (PDAs) are in great demand, particularly in the Asia Pacific area, due to changing consumer lifestyle choices, urbanization, and the expanding number of internet users. Thus, companies in the consumer electronics sector are offering wireless charging technologies.
Wireless Charging Market Report Coverage
| | |
| --- | --- |
| Report Metric | Details |
| Historical Period | 2018–2022 |
| Base Year Considered | 2022 |
| Forecast Period | 2023-2030 |
| Market Size in 2022 | $5.2 Billion |
| Revenue Forecast in 2030 | $14.6 Billion |
| Growth Rate | CAGR 23% |
| Segments Covered in the Report | By Technology, and By Application |
| Report Scope | Market Trends, Drivers, and Restraints; Revenue Estimation and Forecast; Segmentation Analysis; Impact of COVID-19; Companies' Strategic Developments; Market Share Analysis of Key Players; Company Profiling |
| Regions Covered in the Report | North America, Europe, Asia-Pacific, Middle East, and Rest of the World |
Industry Dynamics
Industry Trends
The increasing trend to adopt IoT, smart wearables, smartphones, and other electronic devices will drive the growth of the wireless charging market. The current trends in the wireless charger industry are the installation of wireless charging at retail and public outlets, as well as the installation of wireless charging in the automotive sector.
Growth Drivers
Factors attributing to the growth of the wireless charging market include increased adoption of wireless technology in consumer electronics, rising sales of electric vehicles, the necessity to harvest ambient RF energy, and the ability to charge multiple devices. Most electronic devices, like smartphones, laptops, wearable electronics, and portable devices, require wireless power transfer. The development of efficient charging technologies for portable electronics and wearable gadgets that can increase device durability is projected to drive the electronics wireless charging market to significant growth. Furthermore, the continuous trend of device miniaturization in the consumer electronics market and increasing applications of wireless charging in the healthcare segment will accelerate the growth of the market. Nevertheless, consumers are expecting easy-to-use charging alternatives with shorter charging periods and more positioning flexibility. Manufacturers are concentrating on providing seamless charging methods to improve the consumer experience.
Challenges
High-cost technology for integration and slower charging compared to alternative charging technologies are projected to stifle industry expansion. Furthermore, the low efficiency of wireless chargers and lack of universal standards may pose a challenge in the growth of the wireless charging market. Devices that do not support the Qi wireless charging standard are incompatible with the charging pad. As a result, accessory manufacturers are already providing wireless charging alternatives for these devices. Different types of wireless chargers, such as charging pads, charging bowls, and charging boxes, are required for various devices, posing the issue of compatibility. Thus, a user is forced to buy a large number of wireless chargers in order to accommodate a variety of items.
Opportunities
The increased usage of the Internet of Things (IoT) and extensive research in far-field wireless charging technologies are projected to provide attractive prospects for market expansion in the future.
Geographic Overview
North America dominates the wireless charging market owing to the increased demand for novel technologies regarding wireless charging in automotive and consumer electronics devices.
Europe is anticipated to have significant growth during the projected period due to the surge in demand for fuel-efficient and durable charging systems for electronic products like power tools and portable gadgets.
Asia-Pacific is anticipated to have a faster growth owing to the increased volume of electronic devices like smartphones and laptops.
Competitive Insight
With start-ups and established market participants, the wireless charging market is highly fragmented. Players are attempting to set themselves apart by emphasizing quality and price. The rising number of product launches, acquisitions, geographical expansion, agreements, and collaboration will provide promising opportunities for the industry players in the wireless charging market.
Ossia is testing people's preconceptions about what wireless power can do. Ossia's Cota technology, based in Redmond, WA, revolutionizes wireless power by safely transmitting targeted energy to devices at a distance. Ossia's unique RF smart antenna technology automatically maintains numerous devices charged without any human intervention, providing an efficient and fully wire-free, powered-up world that is always on and always connected.
WiTricity is the world's leading wireless charging company, enabling a sustainable future of electric and autonomous mobility. WiTricity's unique magnetic resonance technology is being integrated into the EV roadmaps of global automakers and Tier 1 suppliers, and it is the cornerstone of significant global standards being established to promote wide-scale adoption. WiTricity technology is responsible for advancements such as dynamic charging of moving vehicles and charging of autonomous robotics and vehicles without human involvement. WiTricity's wireless charging solution provides high energy transmission over a large air gap, allowing it to be used in sports cars, sedans, and SUVs all with the same solution. It can be used in a variety of settings, including home, fleet, commercial, and public transit.
In February 2022, WiTricity, one of the industry leaders and pioneers in wireless charging for electric vehicles (EVs), announced that it will begin offering an aftermarket wireless charging upgrade package for owners of select EV models in 2022, with a restricted beta program starting in 2022. WiTricity HaloTM Charging, the solution, provides a complete, end-to-end, and hassle-free charging experience: simply park and charge.
In May 2021, WiTricity, a company that is wirelessly charging the future of mobility, has established an office and a product development lab in Auckland, New Zealand.
Powermat Technologies, one of the prominent leaders in advanced wireless power solutions, unveiled a full-featured wireless charging solution for fleets of various types of service robots and also includes photovoltaic-powered robots which are used in commercial cleaning, delivery, warehouse operations, and medical operations, in January 2022.Thus, for Autonomous Mobile Robots (AMRs) and Commercial Robotics, introduces a 300W Wireless Charging Platform with Integrated Beacon Docking Technology.
Some of the prominent players in the wireless charging market include Energizer, Ossia Inc., SAMSUNG, WiTricity Corporation, PLUGLESS POWER INC., Powermat, Qualcomm Technologies, Inc., Texas Instruments Incorporated, Energous Corporation, and Renesas Electronics Corporation.
The Wireless Charging Market report offers a comprehensive market segmentation analysis along with an estimation for the forecast period 2023–2030.
Segments Covered in the Report
By Technology

Inductive
RF
Resonant
Others

By Application

Aerospace & Defense
Automotive
Consumer Electronics
Healthcare
Industrial
Region Covered in the Report
North America
Europe

Germany
U.K.
France
Italy
Spain
Russia
Rest of Europe

Asia-Pacific (APAC)

China
Japan
India
South Korea
Rest of Asia-Pacific

Rest of the World (RoW)

Brazil
Saudi Arabia
South Africa
U.A.E.
Other Countries