Industry Overview
The Global Fire Control System (FCS) Market size is expected to reach USD 10.5 billion by 2030 from USD 8.9 billion in 2021, registering a CAGR of 6% during the forecast period. The complete armament system, which consists of protocols, supplies, and personnel, is controlled by the fire control system. The ranged weapon system is supported by the director, radar, and a gun data computer, that works together and helps the system to track, target, and hit its target. Integrating a variety of sensors enhances performance with improved accuracy and precision while lowering the requirement for human interaction. The military and defense industries can use fire control systems for a variety of purposes. The global fire control system market is growing significantly owing to the surge in market demand for accurate military weapons, rising remotely operated weapon stations, and increased expenditure on defense, thereby showing a noticeable market growth in the fire control system industry.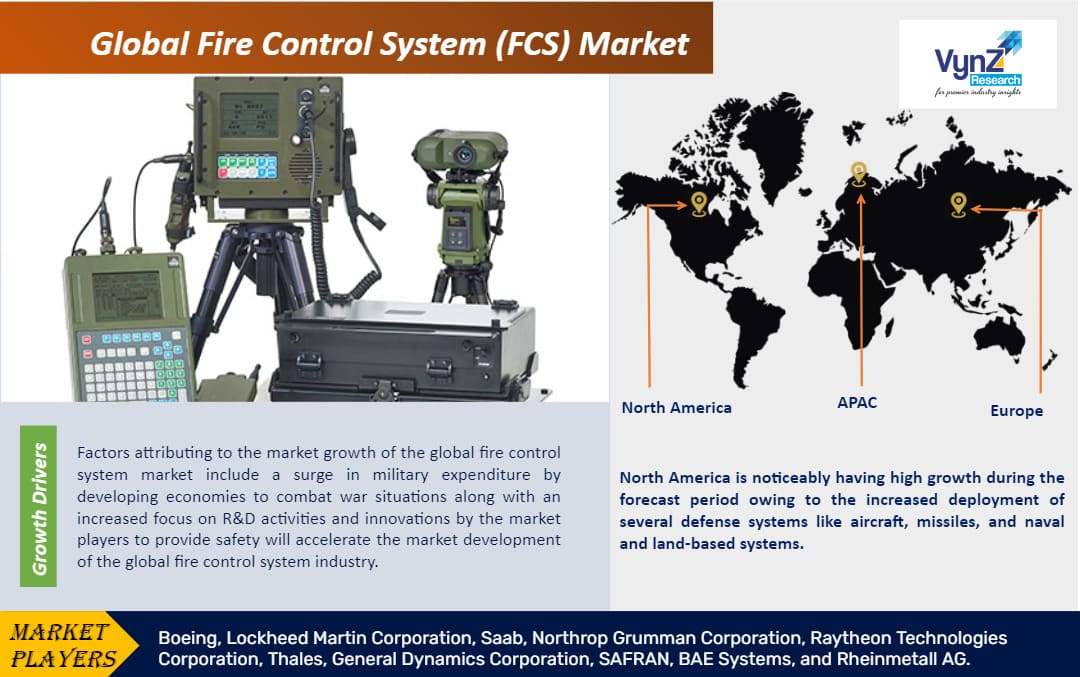 Market Segmentation
Insight by Platform
Based on the platform, the global fire control system market is segregated into land, airborne, and naval. The airborne category is anticipated to notice a high CAGR during the forecast period. The helicopter/chopper and all other combat aircraft are equipped with fire control systems. Airborne platforms have also been developed to support multi-mission warfare machines that can carry out a variety of operations. These platforms can be utilized for a variety of tasks, including air defense, close air support, bombing, command and control, air dominance, and reconnaissance.
Insight by Weapon Class
Based on weapon class, the global fire control system market is categorized into automatic guns and launchers. Launchers are expected to contribute the largest share in the fire control system market as they are extensively deployed in multi-barrel rockets, missiles, mortar, automatic grenades, and torpedo and offers long-range firepower to the military, thereby aiding in destroying enemy targets. The rising demand for land, naval, and airborne platforms for surface-to-air warfare to combat battle tanks and other armored vehicles will propel the market share of launchers for the fire control system industry.
Insight by Range
Based on the range the global fire control system market is classified into short range (0-9km), medium range (9-80 km), and long-range (above 80 km). Medium-range is expected to have a high CAGR during the forecast period as it is affordable and is widely used in war zones to aim at targets with high precision.
Insight by System
Based on the system, the global fire control system market is divided into Ballistic Computer and Display & Interface Units, Target Acquisition & Guidance Systems, Navigation Systems, Power Systems, Auxiliary Systems, Stabilization Systems, and Others. Target Acquisition & Guidance Systems is subdivided into sonar, fire control radar, gun director, rangefinder, and electro-optic and infrared. Target acquisition and guidance systems are predicted to have the largest share in the fire control system market owing to the increased expenditure on military and defense activities by developing economies as it plays an important role to detect and guide weapons. Moreover, it aids airborne, land, and naval platforms.
Fire Control System (FCS) Market Report Coverage
| | |
| --- | --- |
| Report Metric | Details |
| Historical Period | 2018–2021 |
| Base Year Considered | 2021 |
| Forecast Period | 2022 - 2030 |
| Market Size in 2021 | $8.9 Billion |
| Revenue Forecast in 2030 | $10.5 Billion |
| Growth Rate | CAGR 6% |
| Segments Covered in the Report | By Platform, By Weapon Class, By Range, By System |
| Report Scope | Market Trends, Drivers, and Restraints; Revenue Estimation and Forecast; Segmentation Analysis; Impact of COVID-19; Companies' Strategic Developments; Market Share Analysis of Key Players; Company Profiling |
| Regions Covered in the Report | North America, Europe, Asia-Pacific, Middle East, and the Rest of the World |
Industry Dynamics
Growth Drivers
Factors attributing to the market growth of the global fire control system market include a surge in military expenditure by developing economies to combat war situations along with an increased focus on R&D activities and innovations by the market players to provide safety will accelerate the market development of the global fire control system industry. The rising demand for automated fire control systems on the battlefield and continuous development to consolidate fire control systems will drive the market growth for the industry. Furthermore, there is an increased demand for precision weapons like KM-8 Gran & Kitolov-2M equipped with fire control systems owing to rising terrorism, mounting cross-border conflicts, increased investment in modernizing defense programs, and increased expenditure on the military, thereby fuelling the market growth for fire control system industry.
Challenges
For research and development, the defense industry needs consistent funding. It takes a lot of money and time to design, develop, and produce armaments, missiles, tanks, fighter aircraft, fighter helicopters, and other capital-intensive equipment. Additionally, it takes a lot of research and development to integrate fire control systems with these platforms. In addition, developing nations like India, Indonesia, and others depend on developed countries for modern technologies and military hardware. Therefore, the market for fire control systems faces a threat from expensive research and development activities.
Opportunities
The global fire control system market presents market participants with a wide range of prospects because of the following factors:
Increased demand for Remote controlled Weapon Stations (RCWS)
Rising focus by the government to localize the manufacturing of military aircraft and improve indigenous platform development abilities.
Geographic Overview
North America is noticeably having high growth during the forecast period owing to the increased deployment of several defense systems like aircraft, missiles, and naval and land-based systems. Moreover, the mounting emphasis on deploying precision-guided weapons increased investment in R&D, and modernization programs in the defense sector will proliferate the growth of the global fire control system market in the region.
Competitive Insight
The industry players in the global fire control system market are highly competitive and due to strict safety and regulatory policies in the defense sector, the entry of new players is restricted. Moreover, owing to the complexity of weapons, there is a need for high technological expertise, careful identification, and continuous monitoring of risks to be assessed by the manufacturing company.
Boeing highlights the significance of the designing and certification of an aircraft's fire protection systems.  Extensive fire protection features, such as detection and extinguishing systems, are built into the engines and APUs. Boeing tests several components of the engine and APU fire-protection systems on airplanes both on the ground and in the air. Testing includes:
•           Fire Detection Systems
•           Fire-extinguishing-agent concentration.
•           Fluid drainage during ground and in-flight
•           Verification of the temperature margin for fire detectors
•           Laboratory qualification for all system components
One of Lockheed Martin's four business divisions is Missiles and Fire Control (MFC). For the US military and its allies, MFC is a prominent designer, developer, and producer of precision engagement aerospace and defense systems. In addition to developing and manufacturing electro-optic and smart munitions systems, Lockheed Martin Missiles and Fire Control (MFC), the world's leading supplier of offensive and defensive weapons systems, is also a pioneer in the fields of high-performance missiles, missile defense, sophisticated sensors, threat detection, and rocket technology, providing these capabilities to armed forces all over the world.
Some of the major industry players in the global fire control system industry include Boeing, Lockheed Martin Corporation, Saab, Northrop Grumman Corporation, Raytheon Technologies Corporation, Thales, General Dynamics Corporation, SAFRAN, BAE Systems, and Rheinmetall AG.
Recent Development by Key Players
The AN/TPS-80 Ground/Air Task Oriented Radar (G/ATOR) multifunction sensor from Northrop Grumman Corporation successfully identified and tracked numerous cruise missile threats simultaneously during a recent live-fire test at White Sands Missile Range, New Mexico, in August 2022. Following the launch, G/ATOR successfully tracked every target and transmitted pertinent information in real-time to intercept several cruise missile targets from various angles.
In May 2022, Raytheon technologies Corporation are continuously building next-generation anti-ship and land attack missile with imaging infrared seeker and fire control for U.S. Navy frigate. Raytheon is entering into a partnership with Kongsberg Gruppen, Norway.
The Fire Control System (FCS) Market report offers a comprehensive market segmentation analysis along with an estimation for the forecast period 2022–2030.
Segments Covered in the Report
By Platform
By Weapon Class

Automatic Guns
Launchers Guns

Multi-Barrel Rockets
Missiles
Mortar
Automatic Grenades
Torpedo

By Range

Short Range (0-9km)
Medium Range (9-80 km)
Long-Range (above 80 km)

By System 

Ballistic Computer
Display & Interface Units
Target Acquisition & Guidance Systems
Navigation Systems
Power Systems
Auxiliary Systems
Stabilization Systems
Others
Region Covered in the Report
North America
Europe

Germany
U.K.
France
Italy
Spain
Russia
Rest of Europe

Asia-Pacific (APAC)

China
Japan
India
South Korea
Rest of Asia-Pacific

Rest of the World (RoW)

Brazil
Saudi Arabia
South Africa
U.A.E.
Other Countries