Industry Overview
The global smart weapon market is anticipated to grow from USD 14.55 billion in 2021 to USD 25.6 billion by 2030, registering a CAGR of 6.75% during the forecast period. Smart weapons, also known as precision-guided weapons, are computer-assisted ammunitions equipped with infrared, laser, radio, GPS, and satellite-guided systems, offering incredibly high levels of precision and accuracy. The goal of smart weapons is to hit the target accurately while minimizing collateral damage and fatality. Because smart weapons are controlled and aided by external operating systems that are located in a different geographical area, they have altered how war engagements are conducted. Smart weapons have safety features that include RFID (Radiofrequency Identification Device) chips, fingerprint identification, biometric sensors, mechanical locks, and magnetic kits. Different types of smart weapons are available and being developed as a result of breakthroughs in weapon manufacturing technology. The military budget is increasing in developing nations like India and China as they upgrade their equipment and deploy smart weapons.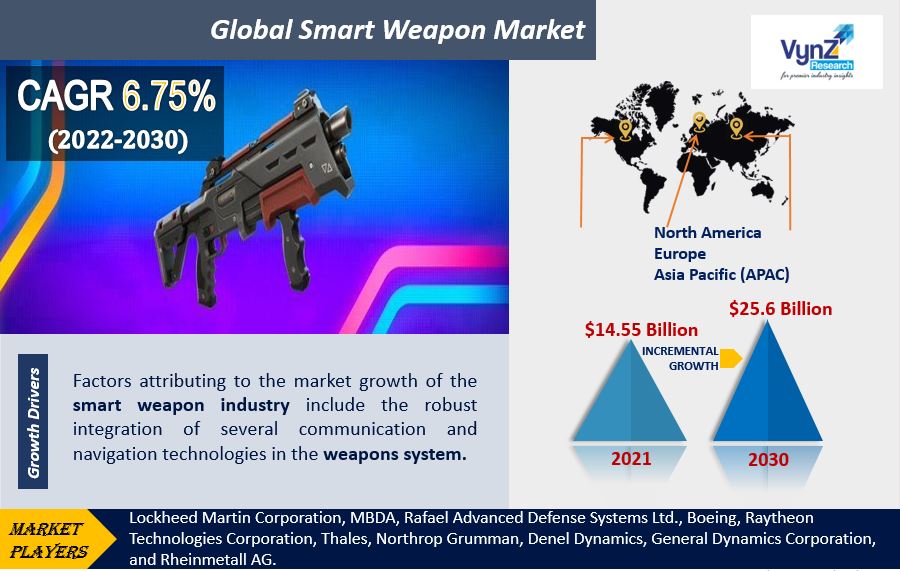 Market Segmentation
Insight by Platform
Based on Platform, the global smart weapon market is categorized into Air, Land, and Naval. The land segment is expected to be the fastest-growing category as a result of increased defense expenditure, robust expansion of military forces, and the surge in the need to procure smart weapons by land-based forces, thereby propelling the segment's growth. 
Insight by Weapon Type
Based on Weapon Type, the global smart weapon market is segmented into Missiles, Munitions, Guided Rockets, Guided Projectiles, Guided Firearms, Directed Energy Weapons, and Others. Missiles is subdivided into Anti-Tank Missiles & Standoff Missiles, Air-to-Air & Air-to-Surface Missiles, and Anti-Ship & Anti-Submarine Missiles. Munitions are subdivided into Guided Bombs and Target Pods. Guided Projectiles are subdivided into Artillery Shells and Mortar Rounds. Guided Rockets are subdivided into Anti-Tank & Tactical Rockets, Air-to-Air & Air-to-Surface, and Anti-Submarine. Guided Firearms are subdivided into Smart Guns, Small Smart Weapons, and Shoulder Fired Weapons. Missiles dominate the market and are anticipated to grow significantly during the forecast period owing to the rising demand for advanced guided missiles from the defense forces.
Insight by Technology
Based on Technology, the global smart weapon market is segregated into Infrared, Laser, Global Positioning System (GPS), Radar, and Others. Infrared is subdivided into IIR Homing and IR Homing. Radar is subdivided into Active Homing and Passive Homing. The laser technology is anticipated to witness significant growth during the forecast period owing to its enhanced accuracy, reliability, and improved operational efficiency. Due to the increasing need for GPS-guided smart weapons that can operate effectively even in poor weather situations, the satellite guidance segment is expected to develop substantially during the forecast period.
Smart Weapon Market Report Coverage
| | |
| --- | --- |
| Report Metric | Details |
| Historical Period | 2018–2021 |
| Base Year Considered | 2022 |
| Forecast Period | 2022 - 2030 |
| Market Size in 2021 | $14.55 Billion |
| Revenue Forecast in 2030 | $25.6 Billion |
| Growth Rate | CAGR 6.75% |
| Segments Covered in the Report | By Platform, By Weapon Type, and By Technology |
| Report Scope | Market Trends, Drivers, and Restraints; Revenue Estimation and Forecast; Segmentation Analysis; Impact of COVID-19; Companies' Strategic Developments; Market Share Analysis of Key Players; Company Profiling |
| Regions Covered in the Report | North America, Europe, Asia-Pacific, Middle East, and Rest of the World |
Industry Dynamics
Growth Drivers
Factors attributing to the market growth of the smart weapon industry include the robust integration of several communication and navigation technologies in the weapons system, rising market demand for developed precision strike weapons, rising terrorist activities, unstable security of countries, and rising demand for remote weapon stations. The global smart weapon industry has seen increased market demand as a result of rising maintenance costs and ageing military equipment. Smart weapons' excellent precision and fire-and-forget capabilities make them suitable for both surgical strikes and counterinsurgency operations in populated areas. A growing number of target acquisition, navigation, and attack tasks are being performed by smart weapons instead of human operators as a result of major breakthroughs in the algorithm, processor, and sensor technology.
Challenges
There is an increased interference from government regulatory bodies that may pose challenges for the market growth of the smart weapon industry. Moreover, lack of mature technology, arms transfer regulations imposed on import and export of smart weapons may stymie market expansion.
Opportunities
Industry participants predict lucrative growth opportunities in the smart weapon market as a result of:
Increasing Defense Budget.
Rising expenditure to upgrade weapons technology.
Incorporation of biometric technology in the weapons like palm print scanners or voice recognition.
Geographic Overview
North America
Europe
Asia Pacific (APAC)
Rest of the World (RoW)
North America dominates the smart weapon industry owing to increased initiatives by the US government to develop and deploy smart munition, rising defence budget, and favourable regulatory framework, ad technological development by the key players in the region. Moreover, one of the main reasons supporting R&D initiatives for the smart weapon system in the U.S. is the growing significance of minimizing casualties from friendly fire. 
Competitive Insight
The market for smart weaponry is highly competitive. The design, development, testing, production, procurement, and operation of weapon systems will be governed by a number of government contracts. The state of the economy and government assistance have a direct impact on business expansion. These companies distinguish their smart weapon offerings based on their quality and penetration in target and emerging markets. Additionally, there have been a number of significant mergers and acquisitions in the sector recently, which have had a big impact on the dynamics of competition. Thus, it is anticipated that a number of agreements enabling collaborative weapon testing will have a positive effect on the industry.
Boeing, a prominent global aerospace leader, designs, manufactures, and services commercial aeroplanes, defence products, and space systems for customers in over 150 countries. Boeing continues to evolve so as to meet warfighter needs, along with investing in next-generation technologies to stay ahead of future threats, with the mission of delivering reliable, accurate, cost effective, and timely weapons to the warfighter globally. The Weapons portfolio's breadth and depth enable the Weapons business to operate as a high-tech, innovative business that delivers with speed and agility. Their products include Small Diameter Bomb (SDB), Joint Direct Attack Munition (JDAM), Laser Joint Direct Attack Munition (Laser JDAM), Harpoon Block II, Powered Joint Direct Attack Munition (PJDAM).
Northrop Grumman has been protecting US forces and allies for decades by designing, developing, and delivering weapons with increasing complexity and capabilities for expanded missions and domains. They are continuing to build on that legacy by developing weapons that consistently outperform the range, speed, precision, and firepower of fielded enemy weapon systems. The guided projectiles category covers the Precision Guidance Kit (PGK), which replaces conventional fuzes for artillery and mortar munitions, transforming them into GPS-enabled precision guided weapons.  The company is also working on the Hatchet precision strike weapon, a six-pound air-delivered glide weapon with a Lethality Enhanced Ordnance (LEO) warhead that can outperform weapons weighing several hundred pounds.  Northrop Grumman's AARGM-ER is a supersonic, air-launched tactical missile system that provides advanced range to legacy Advanced Anti Radiation Guided Missile systems for suppression and destruction of enemy air defense missions.
Recent Development by Key Players
In October 2022, Nexter and MBDA offers a NARWHAL (Naval Remote Weapon, Highly Accurate, Lightweight) turret configuration that includes two pods of AKERON MP missiles. This configuration allows for simple installation on any NARWHAL turret model, including those already in service. This kit, which was unveiled for the first time at Euronaval, consists of two AKERON MP missile pods, control electronics, and an operator terminal. The NARWHAL is a remotely operated 20mm naval turret that can be easily integrated into small patrol boats as well as frigates. Its 20M621 gun is effective at more than 2,000 metres and is equipped with cutting-edge optronics such as a day/night sight and a laser range finder.
Lockheed Martin Corporation LMT was awarded a modification contract to support the Aegis Weapon System ("AWS") baselines in September 2022. The contract was awarded by the Naval Sea Systems Command in Washington, D.C. The contract, worth $17.6 million, is expected to be completed by May 2023. The contract calls for AWS to provide ship integration and test support for AWS baselines via Advanced Capability Build (ACB)16. The majority of the transaction's work will be done in Moorestown, NJ.
Key Players Covered in the Report
Some of the major industry players operating in the global smart weapon market include Lockheed Martin Corporation, MBDA, Rafael Advanced Defense Systems Ltd., Boeing, Raytheon Technologies Corporation, Thales, Northrop Grumman, Denel Dynamics, General Dynamics Corporation, and Rheinmetall AG.