Industry Overview
During the projected period 2021-2027, the global antimicrobial additives market is expected to increase at a CAGR of 6.7 percent, from USD 3.8 billion in 2021 to USD 5.9 billion in 2027.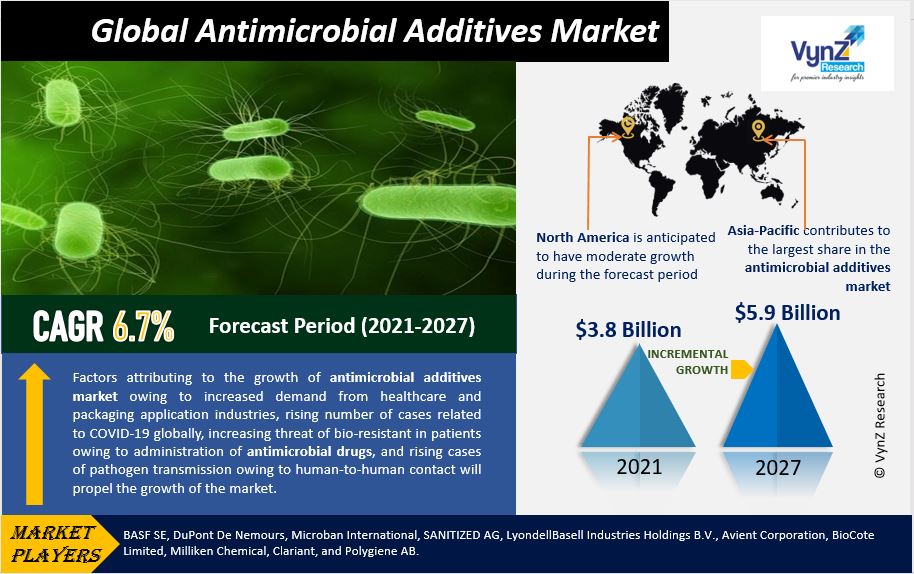 Antimicrobials are any product or material infused with antimicrobial agents and additives that prevent infection and fever-causing microorganisms including bacteria, fungi, algae, yeasts, mildew, and other parasites from growing. Microorganisms that thrive on untreated particles generate discoloration, foul odors, and polymer degradation. Antimicrobial chemicals prevent these germs from growing in the final product. Dimensional stability, heat, and chemical resistance are all improved by antimicrobial additives. The increased adoption of antimicrobial additives products in the aviation, construction, packaging, marine, and food & beverage industry along with increased awareness among consumers about health-related issues will accelerate the development of the antimicrobial additives market.
The COVID-19 crisis will lead to massive growth in the antimicrobial additives market owing to the increased adoption of technology to prevent infection and harmful toxins on surfaces. It can also be used for applications such as touch surfaces in public areas, medical equipment, and food contact. The increasing monitoring procedures to prevent the risk of coronavirus will lead to rising demand for antimicrobial additives.
Market Segmentation
Insight by Type
Based on type, the global antimicrobial additives market is bifurcated into inorganic antimicrobial additives and organic antimicrobial additives. The inorganic antimicrobial additives contribute to the largest share in the market during 2021-2027. The increased demand for inorganic additives in a variety of applications like textiles, paints, polymers, and coatings to prevent the spread of germs and bacteria will bolster the growth of the market. They also reduce the bioburden in areas where unchecked microbial growth may result in food poisoning or fatal infections. The increased consumption to destroy genomic and plasmid DNA of organisms will contribute to the growth of the market. Furthermore, it offers superior protection like copper salts are used in several preservatives and sterilized applications offering antimicrobial additives.
Insight by Application
Based on application, the global antimicrobial additives market is segregated into plastic, paints & coatings, pulp & paper, ceramics, and others. The plastic applications contribute to the largest share in the antimicrobial additives market as it used for counter degradation and discoloration in roofs, pipes, flooring, insulation, and vinyl slides. Plastic's increased vulnerability to microbial growth, as well as its extensive utilization in the production of food containers, soap dispensers, breathing devices, and surgical goods, has fuelled the demand for antimicrobial additives. Market growth will be aided by increased penetration of sports equipment, electronic parts, and automobile interiors.
Insight by End Use
Based on end-use, the global antimicrobial additives are classified into healthcare industry, packaging industry, food & beverage industry, building & construction industry, automotive industry, textile industry, consumer goods industry, and others. Among end-use, the healthcare industry contributes to the largest share in the antimicrobial additives market due to the rising consumer awareness about health-related issues and life-threatening diseases like COVID-19 virus, H1N1, and nosocomial infections. The rising cases of COVID-19 in countries such as the US, India, and the UK will lead to rising demand for hospital beds, the need to establish new COVID centers and medical equipment, thus driving the demand for antimicrobial additives in the healthcare industry.
The food & beverage industry is projected to have considerable growth owing to continuous adoption of additives in flooring, shelving, ice-making machines, food processing equipment, water coolers, storage containers, and water hydration systems, thereby bolstering the growth of the antimicrobial additives market.
Industry Dynamics
Industry Trends
The increased technological development in the chemical industry, increased demand for better-performing products in the healthcare sector, increasing manufacturing of medical devices and equipment involved in the use of antimicrobial additives, initiatives by the government to fund the operations of the medical manufacturing industry, and the need for seamless and stain-resistant packaging of goods are the key trends in the antimicrobial additives market.
Growth Drivers
Factors attributing to the growth of antimicrobial additives market owing to increased demand from healthcare and packaging application industries, rising number of cases related to COVID-19 globally, increasing threat of bio-resistant in patients owing to administration of antimicrobial drugs, and rising cases of pathogen transmission owing to human-to-human contact will propel the growth of the market. Antimicrobial additives are adopted by automotive manufacturers like Ford Motors to manufacture cars and are also used in the textile industry like used by HeiQ. Moreover, the increasing geriatric population, increased demand from emerging markets, growing usage of silver-based products as antimicrobial additives will further propel the growth in the market. The increasing number of nosocomial infections and life-threatening diseases in current times has led to increased awareness among consumers about their health.
Challenges
The fluctuating raw material prices may hinder the growth of the market and producers and manufacturers will produce according to the demand. Also, stringent environmental regulations may restrain the growth of the market.  The increased adoption of antimicrobials may pose a risk to the environment and animals, such as antimicrobials released into aquatic settings where they can bioaccumulate in marine food webs, which will pose challenges to the Antimicrobial Additives Market over the projected period.
Opportunities
The untapped opportunities for the adoption of antimicrobial additives in the agriculture and cosmetic industry and emerging markets will propel the growth of the antimicrobial additives market. Furthermore, the increasing R&D activities, technological development, and modernization in the production techniques will offer promising opportunities for growth in the global antimicrobial additives market during the forecast period 2021-2027.
Geographic Overview
Asia-Pacific contributes to the largest share in the antimicrobial additives market owing to strict industrial standardizations related to increased adoption in end-use industries in developing countries like China, India, and South Korea. Furthermore, rising healthcare regulations in hospitals and medical facilities, increased demand ad policies such as emission control and use of environmentally friendly products and rising population have created promising opportunities for the antimicrobial additives market.
North America is anticipated to have moderate growth during the forecast period as it has well-developed healthcare infrastructure and reimbursement coverage plans that can cater to increased demand for developed healthcare services, thus propelling growth in the region. Furthermore, the rising population and increasing number of car accidents will increase the demand for surgeries, robust packaging industry in Canada, thus driving the demand for the antimicrobial additives market.
Competitive Insight
The industry players in the antimicrobial additives market are making innovative product launches that can be used in masks, protective apparel, etc. The segment's growth would be aided by market participants' increasing attention on incorporating antimicrobial additives to reduce contamination problems in healthcare. Also, the adoption of inorganic strategies like partnerships, M&A along with capacity expansion will allow the industry players to sustain their position in the competitive market.
Microban International, Ltd. is a well-known manufacturer of antimicrobial additives and odor control products. Their long-lasting antimicrobial technologies prevent harmful bacteria growth on objects and surfaces while maintaining their aesthetics and functionality. Microban and AEGIS odor control products are also available for textiles, extending freshness and hygiene. Antimicrobial additives from Microban are custom-formulated to meet the needs of specific applications and criteria. Silver, zinc, antifungal, and odor control technologies are available.
SANITIZED AG is the world's leading manufacturer of textile and plastic antimicrobial hygiene functions and material protection. The Sanitized® hygiene feature prevents fungi and algae from growing on plastics, surfaces, and mattresses lower dust mites and odors, and protects polymers and paints for a long time. Textile manufacturers all over the world value Sanitized® T 99-19's antimicrobial protection. Independent labs in France have now validated the product's nearly 100 percent efficacy against the SARS-CoV-2 virus.
In January 2022, Polygiene, a Swedish antimicrobial manufacturer, has purchased SteriTouch from Radical Materials Limited, a privately held English firm, through its indirectly wholly-owned subsidiary Addmaster in the United Kingdom. Antimicrobial additives for plastics, coatings, and paints will be greatly expanded as a result of the acquisition.
In May 2021, Avient has expanded its GLS™ TPE line with the inclusion of three patented thermoplastic elastomer (TPE) formulations with antibacterial additives. These additives protect molded plastic components by preventing bacterial development (99.9% or more) and resisting fungal and mold growth, according to JIS Z2801 and ASTM G21-15 standards. These microorganisms can alter the visual and mechanical properties of a final plastic product, in addition to producing odor problems.
Some of the key players operating in the antimicrobial additives market include BASF SE, DuPont De Nemours, Microban International, SANITIZED AG, LyondellBasell Industries Holdings B.V., Avient Corporation, BioCote Limited, Milliken Chemical, Clariant, and Polygiene AB.

Region Covered in the Report
•    North America
- U.S.
- Canada
- Mexico
•    Europe
- Germany
- U.K.
- France
- Italy
- Spain
- Russia
- Rest of Europe
•    Asia-Pacific (APAC)
- China
- Japan
- India
- South Korea
- Rest of Asia-Pacific
•    Rest of the World (RoW)
- Brazil
- Saudi Arabia
- South Africa
- U.A.E.
- Other Countries