Industry Overview
Bioplastics are a kind of plastic that is made from biological sources that are renewable, such as plants, algae, or microbes. In contrast to conventional plastics derived from petroleum, bioplastics are made of natural polymers such as sugarcane, cellulose, and starch. Biodegradable bioplastics decompose gradually into natural chemicals, while non-biodegradable bioplastics are made for longer-term use. Bioplastics provide a less harmful substitute to conventional plastics with a smaller environmental impact and less dependency on fossil fuels. There are still issues, though, such as managing the effects of production and the requirement for appropriate disposal. In general, bioplastics are a potential first step toward the production and use of plastics in a more sustainable and environmentally benign manner.
Global bioplastics market was worth USD 13.0 billion in 2022 and is expected reach USD 57.0 billion by 2030 with a CAGR of 21.13% during the forecast period, i.e., 2023-2030. The growing demand for bioplastics is driven by the escalating environmental concerns, stringent regulations, increasing demand for sustainable plastic alternatives, advancements in production technology, and a growing focus on sustainable development.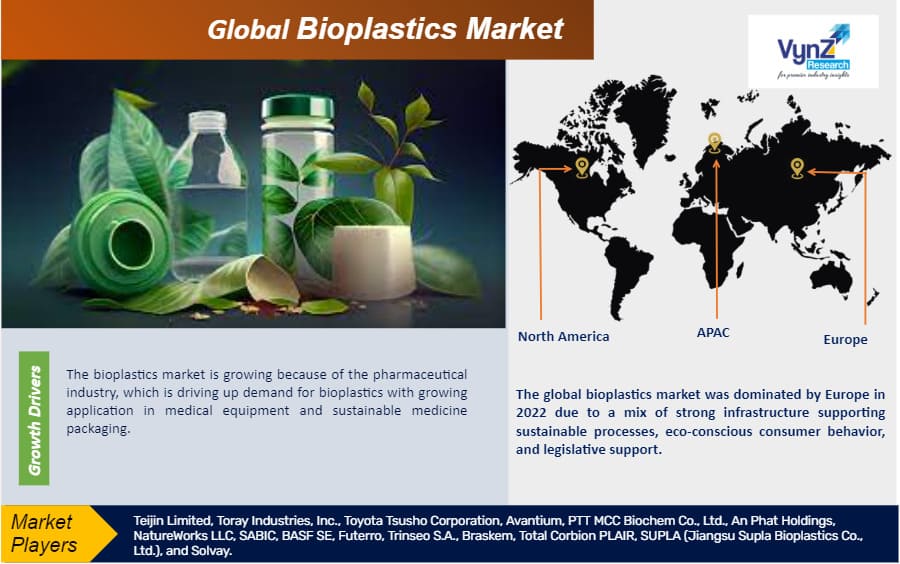 Geographically, the market is expanding rapidly in North America, Europe, and the Asia Pacific, as a result of the presence of large companies, huge investment in the R&D, and high awareness among end-users; however, the market confronts constraints such as high production costs, scalability issues, production efficiency improvements needed, lack of established supply chains, and competition with conventional plastics. Overall, the bioplastics market offers potential prospects for market participants to develop and fulfill the growing needs of wide range of industries including packaging, food and beverages, healthcare/pharmaceutical, and other industries.
Market Segmentation
Insight by Type
Based on the bioplastics type, the global bioplastics market is segmented into degradable and non-degradable. Degradable bioplastics like PLA (polylactic acid) dominated the market in 2022 due to their environmentally friendly nature. Their natural breakdown into innocuous molecules lessens their impact on the environment. One good example is PLA, which is made from sugarcane or maize starch. Furthermore, the rise of sustainable choices is driven by consumer demand. Degradable bioplastics are the go-to option in the bioplastics market because they support global efforts towards a greener future and are in line with stricter regulations and an increased emphasis on environmental consciousness.
Insight by Product Type
Based on product type, the global bioplastics market is segmented into Bio-PET, Bio-PE, PLA and PLA Blends, Biodegradable, Polyester, Starch Blends, Bio-PA, PHA, and other applications. PLA and PLA blends dominated the market in 2022 due its sustainable supply and adaptability. It is less dependent on fossil fuels because it is made from renewable materials like sugarcane or maize starch. PLA is widely used in textiles, medical implants, and packaging. Companies such as NatureWorks LLC run state-of-the-art manufacturing facilities, providing evidence of its broad use. PLA and PLA blends' environmentally benign qualities help it meet customer expectations for more environmentally friendly options, which has strengthened its market dominance in the bioplastics market.
Insight by End-Use Industry
Based on end-use industry, the global bioplastics market is segmented into automotive, food and beverages, packaging, pharmaceuticals, textile, construction, and other end-use industry. Packing industry dominated the global bioplastics market in 2022 owing to its pressing need for sustainable packing materials and good substitutes for conventional plastics with bioplastics like PLA (polylactic acid), which are sold by businesses like Corbion, emerging as good alternatives. Because they come from plant sources, they use fewer fossil fuels and their flexibility is seen by their use in food packaging, cutlery, and disposable products. The packaging industry prioritizes bioplastics in response to growing consumer eco-consciousness, which helps it maintain its dominance in the global  bioplastics market.
Bioplastics Market Report Coverage
| | |
| --- | --- |
| Report Metric | Details |
| Historical Period | 2018–2022 |
| Base Year Considered | 2022 |
| Forecast Period | 2023 - 2030 |
| Market Size in 2022 | $13.0 Billion |
| Revenue Forecast in 2030 | $57.0 Billion |
| Growth Rate | CAGR 21.13% |
| Segments Covered in the Report | By Type, By Product Type, By End-Use Industry, and By Region |
| Report Scope | Market Trends, Drivers, and Restraints; Revenue Estimation and Forecast; Segmentation Analysis; Impact of COVID-19; Companies' Strategic Developments; Market Share Analysis of Key Players; Company Profiling |
| Regions Covered in the Report | North America, Europe, Asia-Pacific, Middle East, and Rest of the World |
Industry Dynamics
Growth Drivers
Growing demand from pharmaceutical industry
The bioplastics market is growing because of the pharmaceutical industry, which is driving up demand for bioplastics with growing application in medical equipment and sustainable medicine packaging. One convincing way to lessen the impact of single-use plastics on the environment is to employ bioplastics. For example, bio-based polymers such as PLA (polylactic acid) are commonly used in medicine packaging as a compostable and biodegradable substitute for conventional plastic blister packs. Furthermore, biodegradable sutures and controlled-release medication delivery devices employ biodegradable polymers like PCL (polycaprolactone).
Furthermore, the pharmaceutical industry must adhere to strict regulations, which promotes the use of bioplastics that fulfill sustainability and performance standards. Companies such as Evonik, which offers medical implants based on PEEK (Vestakeep), show how bio-based materials may be used in vital medical applications. A favorable trend towards more sustainable healthcare solutions is indicated by the bioplastics's recent spike in demand, which coincides with the pharmaceutical sector's growing emphasis on ecologically responsible procedures, and as both businesses collaborate to lessen their environmental impact, it is expected that this trend will continue.
Increasing Environmental Consciousness
The need for sustainable alternatives to conventional plastics and growing environmental consciousness are two key factors propelling the bioplastics industry's expansion. Governments, businesses, and consumers alike are becoming more aware of the harm that traditional plastics cause to the environment, including pollution and greenhouse gas emissions during production. An environmentally benign alternative is provided by bioplastics, which are made from renewable materials such as plants, algae, or microorganisms.
Companies such as Novamont, for example, have created Mater-Bi, a biodegradable bioplastic derived from maize starch. It is used in agriculture, packaging, and disposable goods. In addition, Braskem uses sugarcane to make Green Polyethylene, a biobased plastic that has a smaller carbon footprint than its petroleum-based equivalent. This is in line with the worldwide movement toward sustainable sourcing and lower carbon emissions. The need for bioplastics is additionally fueled by regulatory measures that encourage environmentally sustainable products. Government regulations aimed at reducing plastic waste are pushing sectors to use bioplastics more and more, which is fueling the sector's explosive expansion.
Challenge
End-of-Life Management of Bioplastics
One significant challenge for the bioplastics industry is proper disposal and end-of-life management. Biodegradable plastics require specific conditions to break down, often lacking in conventional waste systems. For example, compostable PLA packaging needs industrial composting facilities. Without proper infrastructure, these materials may not degrade as intended, potentially leading to environmental issues and hindering the industry's progress towards sustainability.
Geographic Overview
North America
Europe
Asia Pacific (APAC)
Middle East and Africa (MEA)
Latin America
The global bioplastics market is segmented into North America, Europe, the Asia-Pacific, Latin America, and the Middle East and Africa region. The global bioplastics market was dominated by Europe in 2022 due to a mix of strong infrastructure supporting sustainable processes, eco-conscious consumer behavior, and legislative support. The strict environmental regulations of the European Union encourage the use of biodegradable and biobased materials. Presence of several bioplastic manufacturers in Europe further supports the dominant share of the region. For instance, Novamont, in Italy, makes bioplastics from plant starches called Mater-Bi. Furthermore, compared to many other places, consumer knowledge and demand for eco-friendly alternatives are stronger in Europe. The bioplastics sector is further propelled by notable initiatives such as the European Green Deal and circular economy policies. Together, these elements place Europe at the forefront of bioplastics innovation and provide a global benchmark for the manufacture of sustainable materials.
Competitive Insight
NatureWorks is a prominent player in the global bioplastics market and is known for their cutting-edge biopolymer, Ingeo, a sustainable substitute for conventional plastics derived from plant sugars. Ingeo is used in consumer goods, packaging, and textiles and in Blair, Nebraska, the company has a cutting-edge production plant that demonstrates its dedication to developing bioplastic technology. Furthermore, NatureWorks has established strategic alliances with numerous businesses and associations, enhancing its impact in the sustainable materials field. With a focus on environmentally responsible solutions, NatureWorks is a major force behind the shift to more sustainable plastic substitutes.
Braskem is a major player in the global bioplastics market due to its Green Polyethylene, which is made from sugarcane ethanol. Although it has a much lower carbon footprint than conventional plastic, this bio-based polyethylene is chemically similar to it. Braskem has production facilities in Europe, the US, and Brazil, demonstrating their dedication to sustainable materials and worldwide reach. The company has forged strategic alliances with players in several sectors to encourage the use of renewable plastics and is a prominent player in the advancement of bioplastics, emphasizing environmental responsibility and creative solutions.
Recent Development by Key Players
In October 2023, Versalis – Italian energy firm Eni's chemical business – acquired the remaining 64% of Novamont's shares previously held by Mater-Bi for an undisclosed sum. Versalis already held 36% shares of Novamont and the acquisition will allow Versalis to drive its strategy towards chemistry from renewables through the integration of the two portfolios.
In August 2023, Riman Korea announced that it is working with CJ Biomaterials, Inc., a primary producer of polyhydroxyalkanoate (PHA) biopolymers and a division of South Korea-based CJ CheilJedang, to blend its patented PHA technology with polylactic acid (PLA) to create an environmentally friendly packaging for Riman's premium line of IncellDerm products.
Key Players Covered in the Report
Teijin Limited, Toray Industries, Inc., Toyota Tsusho Corporation, Avantium, PTT MCC Biochem Co., Ltd., An Phat Holdings, NatureWorks LLC, SABIC, BASF SE, Futerro, Trinseo S.A., Braskem, Total Corbion PLAIR, SUPLA (Jiangsu Supla Bioplastics Co., Ltd.), and Solvay.
The bioplastics market report offers a comprehensive market segmentation analysis along with an estimation for the forecast period 2023–2030.
Segments Covered in the Report
Degradable
Non-degradable
Bio-PET
Bio-PE
PLA and PLA Blends
Polyester
Starch Blends
Bio-P
PHA
Others
Automotive
Food and beverages
Packaging
Pharmaceuticals
Textile
Construction
Other end-use industry
Region Covered in the Report
North America
Europe
Germany
U.K.
France
Italy
Spain
Russia
Rest of Europe
Asia-Pacific (APAC)
China
Japan
India
South Korea
Rest of Asia-Pacific
Middle East and Africa (MEA)
Saudi Arabia
U.A.E
South Africa
Rest of MEA
Latin America
Argentina
Brazil
Chile
Rest of Latin America
Primary Research Interviews Breakdown