Industry Overview
Green methanol, sometimes referred to as bio- or renewable-methanol, is an environmentally friendly substitute for conventional methanol made from fossil fuels. It is made utilizing cutting-edge technologies like gasification, fermentation, or electrolysis from renewable resources like biomass, carbon dioxide, or industrial waste gases. When burned, green methanol produces noticeably fewer greenhouse emissions than its conventional equivalent, which helps to lessen carbon footprint. Because of this, it is an essential part of the shift towards a cleaner and more ecologically friendly energy landscape. Green methanol presents a promising solution for decarbonizing several sectors of the economy because it may be used as a clean-burning fuel for cars, an energy storage medium, and a feedstock for chemicals and materials.
Global green methanol market was worth USD 0.25 billion in 2022 and is expected reach USD 3.10 billion by 2030 with a CAGR of 43.29% during the forecast period, i.e., 2023-2030. The growing demand for green methanol is driven by the escalating environmental concerns, stringent emissions regulations, increasing demand for sustainable fuels, advancements in production technology, and a growing focus on renewable energy sources in the global energy landscape.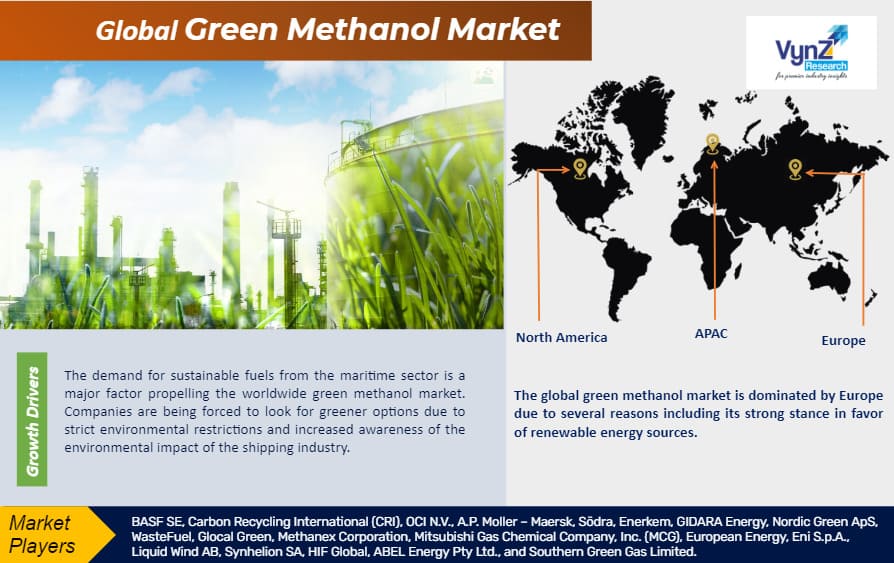 Geographically, the market is expanding rapidly in North America, Europe, and the Asia Pacific, as a result of the presence of large companies, huge investment in the R&D, and high awareness among end-users; however, the market confronts constraints such as high production costs, scalability issues, energy efficiency improvements needed, lack of established supply chains, competition with conventional methanol, and policy uncertainties. Overall, the green methanol market offers potential prospects for market participants to develop and fulfill the growing needs of wide range of industries including packaging, food and beverages, healthcare/pharmaceutical, and other industries.
Market Segmentation
Insight by Methanol Type
Based on the methanol type, the global green methanol market is segmented into bio methanol and e-methanol (renewable methanol). Bio-methanol dominated the market in 2022 due to its low environmental effect and renewable nature. Bio-methanol is made from organic feedstocks such as biomass, agricultural wastes, and organic waste. When compared to conventional ethanol, bio-methanol produces substantially fewer carbon emissions, which is consistent with international efforts to mitigate climate change. Furthermore, the presence of several biomass sources such as bagasse and bio waste, guarantees a consistent and plentiful supply, diminishing reliance on limited fossil fuel supplies. This, along with developing production technology, has contributed to bio-methanol's overwhelming dominance in the global green methanol market.
Insight by Application
Based on application, the global green methanol market is segmented into fuel, chemical feedstock, and other applications. Fuel application segment dominated the market in 2022 due its adaptability and ability to displace conventional fuels. Companies such as Ørsted and INEOS have collaborated to establish extensive green methanol production plants, indicating a deliberate attempt to increase its fuel consumption. The use of green methanol in marine transportation has also been highlighted by Stena Line, a well-known ferry operator, who has started projects to incorporate green methanol into their ships. These partnerships and business endeavors support the dominant share of fuel segment in the global green methanol market.
Insight by End-Use Industry
Based on end-use industry, the global green methanol market is segmented into transportation/mobility, chemical industry, power generation, and other end-use industry. Transportation/mobility industry dominated the global green methanol market in 2022 owing to its pressing need for greener fuels. Green methanol provides a practical substitute for automobiles, especially in industries like heavy-duty transportation where electrification is difficult. One significant step toward decarbonizing maritime transportation is the announcements made by several prominent players in the worldwide ocean shipping industry such as Maersk, Evergreen, Cosco Shipping and others, about their intention to use green methanol-powered vessels. To create green methanol, companies like Carbon Clean Solutions are also developing cutting-edge carbon capture technology, highlighting the potential of this product to lower emissions from a variety of transportation sources. The aforementioned industry activities and strategic alliances support the dominant share of transportation/mobility industry in the global green methanol market.
Green Methanol Market Report Coverage
| | |
| --- | --- |
| Report Metric | Details |
| Historical Period | 2018–2022 |
| Base Year Considered | 2022 |
| Forecast Period | 2023 - 2030 |
| Market Size in 2022 | $0.25 Billion |
| Revenue Forecast in 2030 | $3.10 Billion |
| Growth Rate | CAGR 43.29% |
| Segments Covered in the Report | By Methanol Type, By Application, and By End-Use Industry |
| Report Scope | Market Trends, Drivers, and Restraints; Revenue Estimation and Forecast; Segmentation Analysis; Impact of COVID-19; Companies' Strategic Developments; Market Share Analysis of Key Players; Company Profiling |
| Regions Covered in the Report | North America, Europe, Asia-Pacific, Middle East, and Rest of the World |
Industry Dynamics
Growth Drivers
Push for sustainable fuels in maritime industry
The demand for sustainable fuels from the maritime sector is a major factor propelling the worldwide green methanol market. Companies are being forced to look for greener options due to strict environmental restrictions and increased awareness of the environmental impact of the shipping industry. The world's largest shipping company, Maersk, has announced the ground-breaking promise to run carbon-neutral ships by 2050. In order to accelerate the use of green methanol as a marine fuel, they have teamed up with well-known companies like MAN Energy Solutions and Samsung Heavy Industries to build methanol-powered ships.
In addition, firms such as Proman and Helm AG have made investments in green methanol manufacturing plants, guaranteeing a steady supply for the marine industry. These programs are a part of a larger trend in the business toward environmentally friendly methods. Furthermore, the potential of green methanol to drastically reduce carbon footprints is in line with the International Maritime Organization's (IMO) commitment to reduce greenhouse gas emissions from international commerce. The expansion of the worldwide green methanol market in the maritime industry is highly supported by the convergence of regulatory pressure, industry collaboration, and investment in production infrastructure.
Push towards sustainability and carbon neutrality
The growing emphasis on carbon neutrality and decarbonization initiatives across a range of industries is one major growth driver for the green methanol industry. In order to tackle climate change, businesses and governments everywhere are realizing how urgently they need to switch to more sustainable energy sources. Due to this, there is a growing market for low-carbon and renewable fuel substitutes for traditional fuels, with green methanol emerging as a leading player. For example, to lessen the carbon footprint of transportation, INEOS and Audi have partnered to produce advanced biofuels, such as green methanol. This dedication is demonstrated by Audi's "e-diesel" project, which uses green methanol in its manufacturing process.
Furthermore, capital expenditures for facilities devoted to the manufacturing of green methanol are increasing. Green methanol is becoming more widely available as a result of facilities like the Carbon Recycling International (CRI) facility in Iceland and the BioMCN plant in the Netherlands expanding their production capacities. Together, these alliances, end-user firms' activities, and the development of the production infrastructure support the strong growth for the global green methanol market.
Challenge
High Initial Investment Requirement
The green methanol market is severely hampered by the high initial investment need as it costs a lot of money up front to set up facilities for making green methanol from renewable sources. This is mostly because operations such as electrolysis and biomass gasification require complex infrastructure and technology. Furthermore, the price green methanol is at least 54% higher than other fossil fuels. The more expensive price is a result of the energy- and complexity-intensive characteristics of green methanol production processes, which highlights the initial financial challenges the companies are facing.
Geographic Overview
North America
Europe
Asia Pacific (APAC)
Middle East and Africa (MEA)
Latin America
The global green methanol market is segmented into North America, Europe, the Asia-Pacific, Latin America, and the Middle East and Africa region. The global green methanol market is dominated by Europe due to several reasons including its strong stance in favor of renewable energy sources. Green methanol is becoming more and more popular as a result of the European Union's aggressive goals to cut greenhouse gas emissions. Prominent endeavors comprise collaborations between corporations such as Carbon Clean Solutions and LafargeHolcim for carbon capture and utilization projects, which typify the area's dedication to environmentally friendly methanol technology. Furthermore, well-known production facilities like Carbon Recycling International (CRI) in Iceland and BioMCN in the Netherlands highlight Europe's leadership in the manufacture of green methanol. With these coordinated initiatives from governments and industry players, Europe is positioned to lead the world's green methanol market.
Competitive Insight
Carbon Recycling International (CRI) was one of the earlier players in the global green methanol market and is a major player in the global green methanol market with production facilities in Iceland. The company is at the forefront of carbon utilization technology with their creative method of trapping CO2 emissions and turning them into methanol. Their stance is further strengthened by their strategic alliances with companies like Carbon Clean Solutions and participation in programs like the FLAGSHIPS project. CRI's ambitions to increase production capacity show that they are confident in the growing market for green methanol. All things considered, CRI's investments, alliances, and technology position them as a major player in the global shift to sustainable energy solutions.
Maersk, a major player in the international shipping sector, is making great progress in adopting sustainable practices. The company founded C2X with the aim of producing green methanol in order to tackle the issue of its scarcity. This is consistent with Maersk's aim to decarbonize shipping, an essential area of international trade and the company is demonstrating its leadership in the industry's use of environmentally friendly fuels with its order for six dual-fuel container boats that can use green methanol, in 2021. Having more than 100 vessels equipped with methanol available for order worldwide, Maersk is leading the way in the use of sustainable fuels. Their emphasis on adaptable ship design and implementation is a calculated step toward reaching net-zero emissions by 2040, demonstrating their critical role in promoting green methanol in the marine sector.
Recent Development by Key Players
In October 2023, KBR launched an advanced green methanol technology, PureM, augmenting its leading portfolio of clean ammonia and hydrogen technologies. PureM provides a cleaner pathway for downstream production of fuels or high-value chemicals by utilizing bio or captured carbon-dioxide and green hydrogen as primary feed components.
In September 2023, A.P. Moller Maersk and Equinor signed an agreement for the supply of green methanol for Maersk's landmark, new methanol-enabled feeder vessel during its initial months of operation from September 2023 and into the first half of 2024. The agreement ensures green methanol supply for the ship from its entry into operations on a loop from Northern Europe into the Baltic Sea with green methanol bunkered in Rotterdam.
Key Players Covered in the Report
BASF SE, Carbon Recycling International (CRI), OCI N.V., A.P. Moller – Maersk, Södra, Enerkem, GIDARA Energy, Nordic Green ApS, WasteFuel, Glocal Green, Methanex Corporation, Mitsubishi Gas Chemical Company, Inc. (MCG), European Energy, Eni S.p.A., Liquid Wind AB, Synhelion SA, HIF Global, ABEL Energy Pty Ltd., and Southern Green Gas Limited.
The green methanol market report offers a comprehensive market segmentation analysis along with an estimation for the forecast period 2023–2030.
Segments Covered in the Report
By Methanol Type

Bio methanol
E-methanol (Renewable Methanol)

By Application

Fuel
Chemical feedstock
Other applications

By End-Use Industry

Transportation/Mobility
Chemical industry
Power generation
Other end-use industry
Region Covered in the Report
North America
Europe

Germany
U.K.
France
Italy
Spain
Russia
Rest of Europe
Asia-Pacific (APAC)

China
Japan
India
South Korea
Rest of Asia-Pacific

Middle East and Africa (MEA)

Saudi Arabia
U.A.E
South Africa
Rest of MEA
Latin America

Argentina
Brazil
Chile
Rest of Latin America