Industry Overview
The global cement and concrete additives market was valued at USD 21,629.3 million in 2022, growing at a CAGR of 8.03%.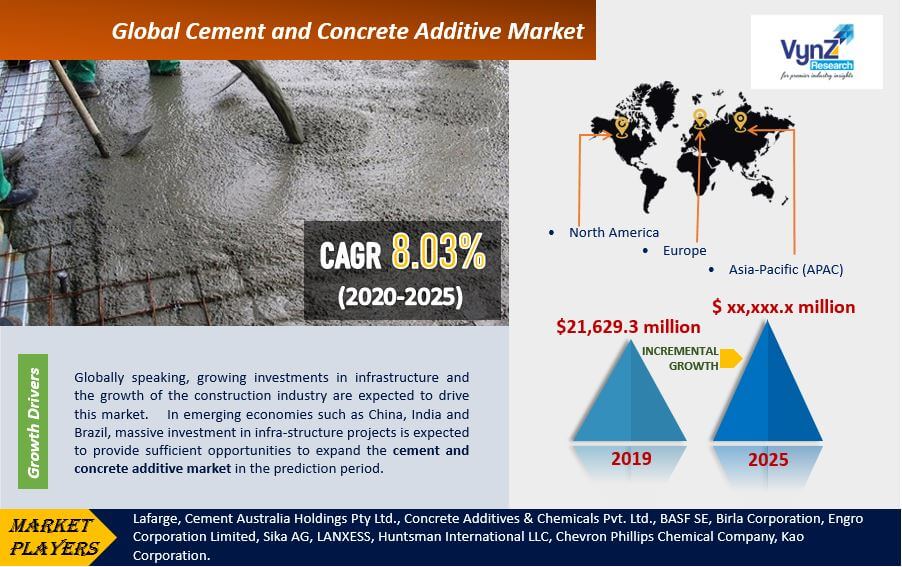 Cement and concrete additives have been added to cement and concrete in several cases to enhance their properties. The improved characteristics of cement and concrete additives may include their toughness, integrity after hardening, and reaction to water and air. Cement and concrete additives have a basic aim of improving the functionality of cement and concrete, thereby improving the longevity and stability of each building.
The additives are applied to a mixture of water-cement to improve concrete longevity, control and harden the concrete, and to correct the overall concrete behavior. Powdered or liquid additives may be available. Two additives, chemical and mineral additives, are available. Their use depends on the contractor's wish.
Cement and Concrete Additive Market Analysis
In the global cement and concrete additive industry, prominent developments in the market include population shifting from rural and urban areas, building activity growth, and growing research expenditure on developing improved construction chemicals. Expansion of building projects such as roads, bridges, and constructions in urban areas is anticipated to attract demand for cement and concrete additives. In addition, the increasing complexity of exterior and interior design can concentrate on research and development of new additives and building chemicals.
It is also expected that the cement and concrete additives market will be driven by increasing demand for smart materials in construction projects and initiatives from many governments to improve the intelligence and protection of their building industries.
The rising demand for high-performance building materials is likely to play an important role in the global market of cement and concrete additives. The industry has rapidly taken advantage of technological advances to boost its efficiency and the demand for building materials has increased. The global market for cement and cement additives over the forecasts would likely be driven by higher demand for high-performance building projects, including in advanced buildings and creative buildings.
Drivers
Globally speaking, growing investments in infrastructure and the growth of the construction industry are expected to drive this market.    In emerging economies such as China, India and Brazil, massive investment in infrastructure projects is expected to provide sufficient opportunities to expand the cement and concrete additive market in the prediction period.
Restraints
The introduction of stringent regulations by various governments limited the use of toxic chemicals in construction chemicals and the development of the cement additive industry is anticipated to be hindered by strict conformity requirements.
Market Segmentation
Based on Additive Type
- Chemical
- Mineral
- Fiber
The market is classified into chemicals, minerals, and fiber based on the additive form. The mineral additives are rice, husk ash, silica, and fly ash. Plasticizers, impermeable admixtures, and colorants are used in chemical additives. In addition, fiber additives are stainless steel and synthetic fiber. Chemical additives historically have produced a large market share. This is illustrated by the application in large quantities of self-consolidating concrete of chemical additives, including water reduction devices and high-quality plasticizers, thus creating a substantial amount of demand for such additives.
Based on Application
- Residential
- Non-Residential
- Others
The sector is categorized on the basis of residential, non-residential, and other uses. The other groups include applications for rivers, parks, bridges, and roads for these additives. The residential group will lead the demand during the forecast period based on the application. This is due to the need for concrete and cement additives for household construction and in internal installations such as ceilings and façades.
Based on Region
- North America
- Europe
- Asia Pacific
- Middle East
North America, Europe, Asia-Pacific, Latin America and the Middle East, Africa (MEA) this is the division according to the region. Asia-Pacific has a large global market share. Other big cement additives that consume regions are North America and Europe. Asia-Pacific is a pioneer in the consumption of cement additives due to its ever-growing population and construction industry. In the past years, the demand for cement additives has been strong in Asia-Pacific and the trend is expected in the near future to continue due to their high demand from countries such as China, Japan, and India.
In addition, many major market players continuously concentrate on gaining market share and enhancing regional profitability.
Competitive Landscape and Key Players of the Market
Some of the world's leading players in cement and concrete additives are:
- Lafarge, Cement Australia Holdings Pty Ltd.
- Concrete Additives & Chemicals Pvt. Ltd.
- BASF SE
- Birla Corporation
- Engro Corporation Limited
- Sika AG
- LANXESS
- Huntsman International LLC
- Chevron Phillips Chemical Company
- Kao Corporation
Recent investigations and investments in the market for cement and concrete additives have centered on the rising use of 3-D printing in construction. In addition, cement manufacturing companies integrate their activities along the supply chain into additive processing. Birla Corporation, for example, was revealed in October 2018 as a leading cement manufacturer to sell concrete and cement additives in India.
It offers both historic and predicted market dimensions information for many nations, including the United States, Canada, France, Germany, the United Kingdom, Italy, Spain, Japan, China, India, Brazil, Saudi Arabia, and South Africa.
News Update on the Cement and Concrete Additive Market
The demand for cement for houses and infrastructure is increasing as cities around the world are expanding. There is, however, a concern because cement emits large quantities of carbon dioxide – up to 8% of the total worldwide. Now the chief of one cement firm in India has managed to cut the carbon emissions to 40% below the global average.
Beton is the most frequently used substance created by mankind. Water is just the second most used resource in the world. However, while cement - the main component of concrete - has shaped most of our built environment, the carbon footprint is also enormous. According to the Chatham House think tank, cement constitutes about 8 percent of the world's emissions of carbon dioxide (CO2). It would be the third largest emitter in the world, behind China and the US, if the cement industry was a nation. It contributes more CO2 than air fuel (2.5%) and is not far behind worldwide agriculture (12 percent).
At tremendous costs to biodiversity and climate, the world's coasts transform into concrete. However, emerging technology will provide a way to protect coasts and encourage biodiversity. The 55-kilometer Hong Kong-Zhuhai-Macau bridge which opened in October 2018 at $20 trillion (£15.9 billion) is one of the most impressive feats of modern engineering and has certainly its benefits. it crosses the world's longest sea bridge. But amazing as it is, like so many others, this mammoth building project has come at a price.
Approximately 60% of China's coastline is concrete. More than 14,000 miles from the US coastline are also paved in concrete.
Every year, we harvest billions of tons of sand and gravel for concrete use in the construction industry and the effect is becoming greater as beaches and riverbeds are removed, warn campaigners. The construction sector has contributed significantly to greenhouse gases, with concrete manufacturing alone accounting for 7% of global CO2 emissions, alongside the environmental damage.
Primary Research
VynZ Research conducts extensive primary research to understand the market dynamics, validate market data, and have key opinions from industry experts. The key profiles approached within the industry include, CEO, CFO, CTO, President, Vice President, Product Managers, Regional Heads, and Others. Also, end user surveys comprising of consumers are also conducted to understand consumer behavior.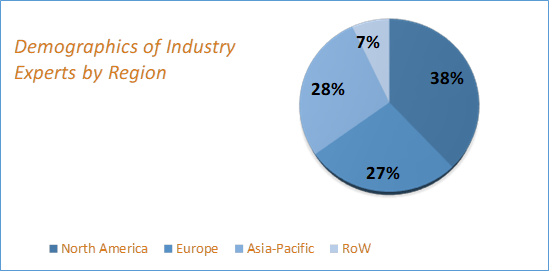 Source: VynZ Research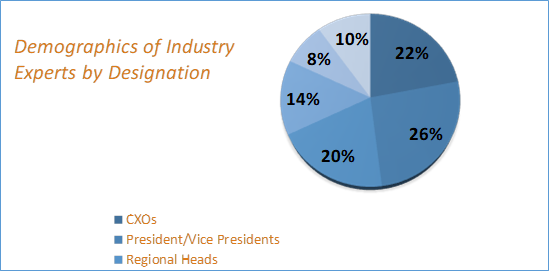 Source: VynZ Research