Industry Overview
During the projected period 2023-2030, the global cold plasma market is expected to increase from USD 1.5 billion in 2021 to USD 3.6 billion in 2030, with a CAGR of 15.2%. Cold plasma (also defined as nonthermal plasma) is a reactive gas in the air that contains varying amounts of ions, electrons, and neutral particles. This enables it to produce ozone from oxygen molecules via electrical discharges in atmospheric gases. It also has a lot of free radicals and ions that can be used to sterilize things. Cold plasma technology has huge potential to grow in an extensive range of industries, such as plastics and polymers, textiles, electronics, food, agriculture, medicine, etc.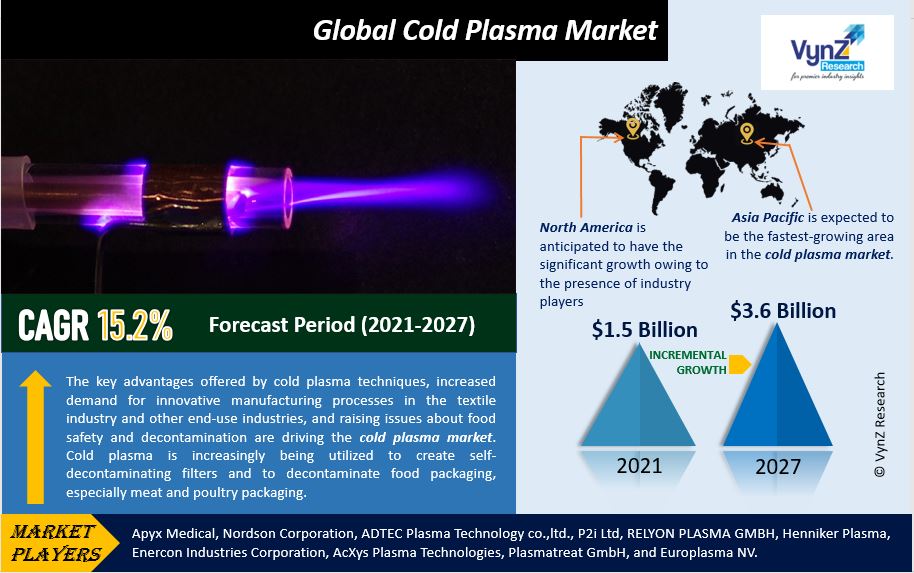 Moreover, it has various distinct advantages such as low water and energy consumption, little fiber damage, low chemical consumption, reduced flammability, improved wettability, less cost, and an environmentally friendly nature. The benefits of cold plasma are expected to lead to higher utilization during the projection period, considering the prevailing regulatory framework, which places a greater emphasis on sustainable approaches.
Cold plasma can prevent infectious diseases and nosocomial infections by destroying very stable multi-resistant bacteria. During the COVID-19 outbreak, protective gear and sterile textiles are in short supply. Cold plasma or ozone-generating plasma can be used to extend the life of clothing. It can also be used to minimize microorganisms in the hydrophilization process for gloves, PPE kits, and masks in the textile industry. Plasmatreat, one of the cold plasma industry leaders, has created a prototype cleaning station that provides disinfection treatments for protective clothing.
Market Segmentation
Insight by Regime Type
Based on regime type, the global cold plasma market is bifurcated into low pressure and atmospheric pressure. The low-pressure cold plasma is anticipated to contribute to the largest share during the forecast period owing to its increased adoption in bactericidal activity and minimal surface ablation and is used in manufacturing of semiconductors. Atmospheric cold plasma is anticipated to have a high CAGR during the forecast period owing to the benefits offered by it like convenience in handling samples and scalability for in-line processing and integration into existing production lines. Moreover, its increased adoption in various industry verticals like medical, food, textile, and packaging industry will fuel the growth of the cold plasma market.
Insight by Application
Based on application, the cold plasma market is segregated into coating, cleaning & activation, finishing, wound healing, adhesion, sterilization and disinfection, and others. The increased demand for sterilization and disinfection application is anticipated to have a high CAGR during the forecast period. The adhesion category is anticipated to have a highest growth during the projected period owing to its increased application in diverse end-user verticals like automotive, aerospace, electronics & semiconductors, etc.
The cleaning and activation segment contributes to the largest share during the forecast period owing to increased dissemination in electrical & electronic and polymer & plastics industries.
Insight by Industry Vertical
Based on industry vertical, the global cold plasma market is divided into automotive industry, aerospace, textile industry, polymer & plastic industry, electronics and semiconductor industry, food & agriculture industry and medical industry. Textile industry is further divided into finishing, dyeing/printing, sterilization and others. Polymer & plastic industry is further divided into surface treatment, printing, adhesion, and others. Electronics & semiconductors industry is further divided into coating, etching and thin film deposition. Food & agriculture industry is further divided into packaging decontamination, food surface decontamination, wastewater treatment and seed germination. Medical industry is further divided into wound healing, cancer treatment, dentistry, blood coagulation and others.
The polymer & plastic industry dominates the cold plasma market owing to the increased adoption of surface treatment, enhanced durability of plastic components, cost-effective and environmental-friendly cold plasma techniques as compared to traditional treatments for surface cleaning.  The cold plasma is extensively used in polymer and plastic industry as it needs uniform, pore-free thin films owing to its excellent physical, electrical, mechanical, and chemical properties.
The food & agriculture industry contributes to be the fastest growing segment owing to the increased adoption in the in-package decontamination of fresh foods. The cold plasma techniques increase the shelf-life extension in the fresh food industry.  With successful experiments of cold plasma-mediated contaminant management, the use of cold plasma in agriculture is likely to spike in the near future. Furthermore, research has shown that employing cold plasma, it is feasible to degrade pesticide chemical residues and offers less hazardous and safer structures. It's also a great substitute for traditional fertilisers and pesticides.
Industry Dynamics
Growth Drivers
The key advantages offered by cold plasma techniques, increased demand for innovative manufacturing processes in the textile industry and other end-use industries, and raising issues about food safety and decontamination are driving the cold plasma market. Cold plasma is increasingly being utilized to create self-decontaminating filters and to decontaminate food packaging, especially meat and poultry packaging. This has fuelled the market's expansion. Furthermore, the ongoing innovations in cold plasma technology, increased demand for eco-friendly products, increased adoption of cold plasma in the food packaging industry, mounting demand for frozen foods, and strict safety standards in diverse industries including food safety will accelerate the growth of cold plasma market.
Challenges
The significant financial expenditure required to develop low-cost plasma technologies, as well as their limited commercialization, are anticipated to stifle market growth to some extent. However, the growing use of cold plasma in various end-use sectors such as food, agriculture, and polymers and plastics segments in emerging countries is propelling the market forward.
Opportunities
Cold plasma's application in preventing infection and extending the life of personal protective equipment (PPE) will present further growth opportunities for the cold plasma market during the forecast period. It was also discovered that cold plasma was recently employed in Germany in limited early trials as palliative therapy for patients with head and neck cancer. As a result, the increasing use of cold plasma in wound healing, cancer treatment, and infectious illness treatment is boosting the market's growth.
Geographic Overview
North America is anticipated to have the significant growth owing to the presence of industry players, rising adoption of technologically developed products in medical and industrial applications, and increased number of FDA approvals will propel the growth in the region.
Due to the ongoing movement of electronic manufacturing to APAC countries, rising demand for decontaminated frozen food, expanding textile manufacturing facilities, and increased polymer production, Asia Pacific is expected to be the fastest-growing area in the cold plasma market.  Moreover, the rising demand for cold plasma technology. China, India, Japan, and South Korea will accelerate the growth of the cold plasma market in the region.
Competitive Insight
Cold plasma manufacturers have used the strategy of market penetration in unexplored markets combined with the market expansion of established bases to sustain themselves in the cold plasma market. To improve their operational efficiency, major companies in the Cold Plasma Market are focusing on acquisitions, partnerships, collaborations, and expansions.
Europlasma is one of the leading innovators in low-pressure plasma-based nano-coating solutions, for which it develops patented processes, designs and constructs turnkey vacuum plasma treatment equipment, and provides process chemicals. Europlasma also has a series of unique roll-to-roll coaters for flexible circuits, membranes, textiles, and nonwovens. Europlasma has a machine to suit customized needs, from extremely small rolls of specialty materials to huge rolls of fabric (widths up to 2500 mm). The company offers a variety of chemistries, including halogen-free chemistries (such as our PlasmaGuard solution for wearables and electronics) and bespoke design solutions. Wearables and electronics, nonwovens and filtration, and medical products are among their main application areas.
Relyon plasma GmbH offers a wide range of products for plasma treatment for industrial and medical applications and develops customized, highly efficient process solutions for surface cleaning, surface activation, precision cleaning and germ reduction. 
Henniker Plasma is one of the major manufacturer of plasma treatment equipment for cleaning, surface activation, adhesion improvement, and functional nano-scale coating. Their revolutionary plasma treatment equipment is employed in biomedical research, life sciences, energy storage, filtration, and many other areas of materials science in general. Hennikar plasma signed a partnership with Irida (Spain) so as to establish its foothold in Spain.
In October 2021, Reyon Plasma GMBH, a subsidiary of TDK Electronics AG has launched a novel product i.e. a innovative plasma system piezobrush PZ3-i. This compact integration solution, based on PDD® technology, is appropriate for a extensive range of surface applications. By increasing the surface energy and enabling a sustained adhesion process, cold pressure plasma is utilised to optimally prepare hydrophobic surfaces for bonding.
Some of the leading players in the global cold plasma market include Apyx Medical, Nordson Corporation, ADTEC Plasma Technology co.,ltd., P2i Ltd, RELYON PLASMA GMBH, Henniker Plasma, Enercon Industries Corporation, AcXys Plasma Technologies, Plasmatreat GmbH, and Europlasma NV.

Source: VynZ Research