Industry Overview
Graphene nanocomposites are advanced materials combining graphene, a single layer of carbon atoms arranged in a hexagonal lattice, with other substances. This fusion imparts remarkable properties to the composite. Graphene's exceptional strength, electrical conductivity, and high surface area synergize with the unique characteristics of the added material, which leads to enhanced mechanical, electrical, and thermal performance, opening avenues in various industries. For instance, in aerospace, these composites create lighter, stronger components and in electronics, they enable faster and more efficient devices. Moreover, graphene nanocomposites hold promise in energy storage, biomedicine, and environmental applications, illustrating their potential to revolutionize diverse fields of technology and industry. 
Global graphene nanocomposites market was worth USD 340.00 million in 2022 and is expected reach USD 3,050.00 million by 2030 with a CAGR of 36.70% during the forecast period, i.e., 2023-2030. Graphene nanocomposite demand is rising due to rising demand for lightweight and high-strength materials in industries like aerospace and automotive. Additionally, graphene's superior conductivity and potential applications in electronics and energy storage contribute to market expansion.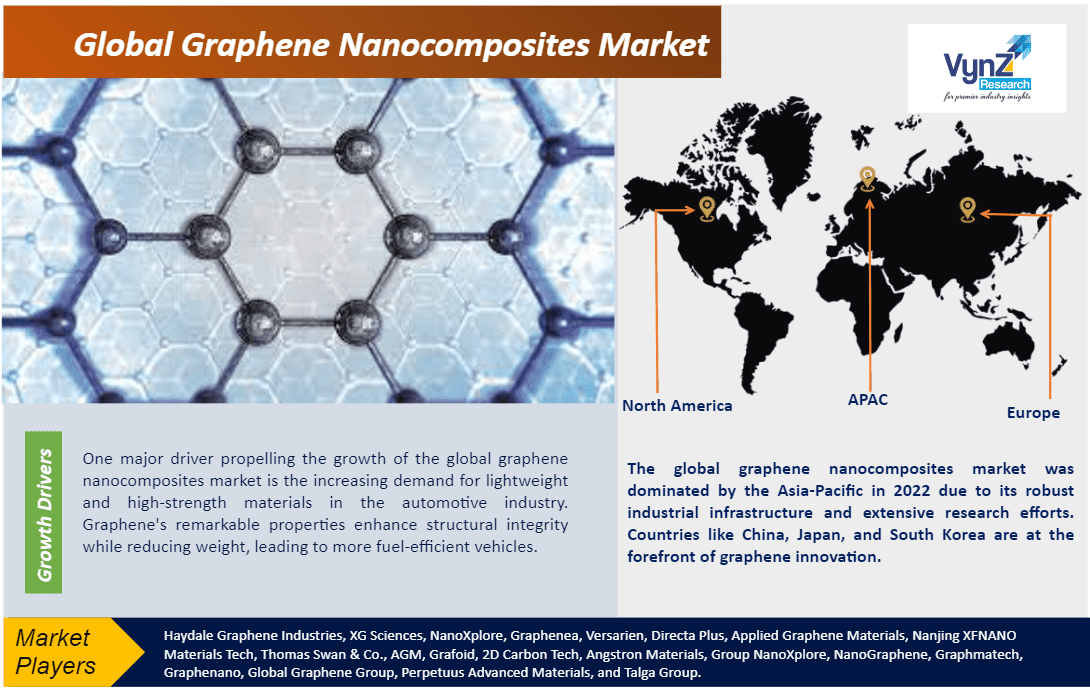 Geographically, the graphene nanocomposites market is expanding rapidly in North America, Europe and the Asia Pacific, as a result of the robust research and development initiatives, strong industrial demand for advanced materials, and a focus on technological innovation and sustainability across these regions; however, the market confronts constraints such as high production costs, scalability issues, and regulatory complexities. Additionally, ensuring consistent quality, overcoming material integration challenges. Overall, the global graphene nanocomposites market offers potential prospects for market participants to develop and fulfill the growing needs of wide range of industries including transportation, energy storage, consumer electronics, and other industries.
Market Segmentation
Insight by Type
Based on the type, the global graphene nanocomposites market is segmented into graphene oxide and graphene nano platelets, graphene polymer, and others. In 2022, graphene nano platelets (GNP) dominated the global graphene nanocomposites market due to their exceptional properties such as high aspect ratios, enhanced mechanical strength and electrical conductivity. For instance, in aerospace, GNPs are integrated into composites, like epoxy resin, to create lightweight yet robust materials. SpaceX's Starship project incorporates GNPs for structural reinforcement, exemplifying their pivotal role. In electronics, GNPs improve the performance of conductive inks, enabling flexible and efficient printed circuits. Moreover, in automotive applications, they enhance material strength, contributing to lighter and more fuel-efficient vehicles and all these factors contribute to their dominant share in the global graphene nanocomposites market.
Insight by End-use Industry
Based on the end-use industry, the global graphene nanocomposites market is segmented into electronics, aerospace & defense, automotive, energy, and other end-use industries. In 2022, aerospace and defense industry dominated the global graphene nanocomposites market due to its demand for high-performance materials. Graphene's exceptional strength-to-weight ratio makes it crucial for aircraft and spacecraft construction. For instance, Boeing's partnership with South Korean firm, Kolon Industries, involves utilizing graphene-enhanced composites in the production of components like fuselage and wings. This improves structural integrity while reducing overall weight. Additionally, in defense applications, graphene nanocomposites enhance armor, offering superior protection against ballistic threats. The development of advanced body armor by companies like Haydale Technologies demonstrates graphene's pivotal role in fortifying defense equipment. These examples underscore how the aerospace and defense industry drives innovation and adoption of graphene nanocomposites.
Graphene Nanocomposites Market Report Coverage
| | |
| --- | --- |
| Report Metric | Details |
| Historical Period | 2018–2022 |
| Base Year Considered | 2023 |
| Forecast Period | 2023 - 2030 |
| Market Size in 2022 | $340.00 million |
| Revenue Forecast in 2030 | $3,050.00 million |
| Growth Rate | CAGR 36.70% |
| Segments Covered in the Report | By Type and By End-use Industry |
| Report Scope | Market Trends, Drivers, and Restraints; Revenue Estimation and Forecast; Segmentation Analysis; Impact of COVID-19; Companies' Strategic Developments; Market Share Analysis of Key Players; Company Profiling |
| Regions Covered in the Report | North America, Europe, Asia-Pacific, Middle East, and Rest of the World |
Industry Dynamics
Growth Drivers
Rising demand from automotive industry
One major driver propelling the growth of the global graphene nanocomposites market is the increasing demand for lightweight and high-strength materials in the automotive industry. Graphene's remarkable properties enhance structural integrity while reducing weight, leading to more fuel-efficient vehicles. For instance, Ford's collaboration with Eagle Industries incorporates graphene into foam compounds for noise reduction and weight reduction in vehicles, demonstrating its potential in automotive applications. Moreover, graphene-based composites improve the performance of lithium-ion batteries, further contributing to the shift towards electric vehicles. This illustrates how graphene nanocomposites are pivotal in advancing automotive technologies to meet evolving industry demands.
Advancements in the battery technology
The surge in demand for advanced electronics with superior conductivity and flexibility is another major driver for the global graphene nanocomposites market. Graphene's exceptional electrical properties make it a key component in applications like flexible displays and sensors. For instance, Samsung's development of a graphene-based touch sensor for electronic devices showcases its potential to revolutionize touch-sensitive technology. Additionally, in the field of medical devices, graphene nanocomposites are being employed for applications like biosensors, enabling faster and more accurate diagnostics. These examples highlight how graphene's conductive prowess fuels innovation in the electronics sector, propelling the growth of the global graphene nanocomposites market.
Challenge
Scalability and cost-effectiveness issues
A major challenge facing the global graphene nanocomposites market is the issue of scalability and cost-effectiveness in production. While graphene offers extraordinary properties, large-scale manufacturing processes remain complex and expensive. Ensuring consistent quality and quantity at an affordable price point is a significant hurdle. This challenge hinders widespread adoption across industries, particularly in high-volume sectors like automotive and construction. Overcoming these scalability issues through technological advancements and process optimization is crucial for unlocking the full potential of graphene nanocomposites and enabling their broader integration into various applications on a global scale.
Geographic Overview
The global graphene nanocomposites market is segmented into North America, Europe, the Asia-Pacific, Latin America, and the Middle East and Africa region. The global graphene nanocomposites market was dominated by the Asia-Pacific in 2022 due to its robust industrial infrastructure and extensive research efforts. Countries like China, Japan, and South Korea are at the forefront of graphene innovation. For instance, China's substantial investments in graphene research and production facilities have propelled its market dominance. Additionally, collaborations between Asian companies and global tech giants, such as Samsung and LG, have led to the development of cutting-edge electronic devices utilizing graphene-enhanced materials. This dynamic ecosystem of research, development, and industry partnerships positions APAC as a key player, driving the growth of the global graphene nanocomposites market.
Competitive Insight
Haydale Graphene Industries is a prominent player in the global graphene nanocomposites market and is known for its expertise in producing advanced graphene-enhanced materials. With a strong focus on research and development, the company offers a diverse range of solutions across industries. For instance, Haydale has partnered with global aerospace leaders to develop lightweight, high-strength components and their graphene-enhanced composite materials are utilized in projects like the SpaceX Starship, demonstrating their pivotal role in aerospace advancements. Haydale's commitment to innovation and strategic partnerships positions it as a key influencer in the graphene nanocomposites market.
XG Sciences is a leading supplier of graphene nanoplatelets and graphene-based products, holding a significant position in the global graphene nanocomposites market. The company's expertise lies in providing high-quality graphene materials for various applications and one notable area of impact is in energy storage. XG Sciences' graphene-enhanced lithium-ion batteries demonstrate superior performance, with increased energy density and faster charging times. This advancement addresses critical challenges in the automotive and electronics sectors, positioning XG Sciences as a key player driving innovation and adoption of graphene nanocomposites in these industries.
Recent Development by Key Players
In June 2022, Gerdau Graphene, the nanotechnology company pioneering advanced graphene-enhanced materials for industrial applications, created next-generation graphene-enhanced plastics at a Brazilian government-funded advanced materials center in São Paulo, Brazil. The new graphene-enhanced polymeric resin masterbatches formulas for polyethylene (PP) and polypropylene (PE) were created in partnership with Brazil's EMBRAPII SENAI/SP Advanced Materials Unit, and are being piloted in a series of industrial applications within Gerdau's factories
In May 2022, Avanzare purchased a second plant to manufacture graphene-enabled products, composites and nanointermediates. The acquisition has made the company urope's biggest graphene producer, levelling with international competitors.
Key Players Covered in the Report
Haydale Graphene Industries, XG Sciences, NanoXplore, Graphenea, Versarien, Directa Plus, Applied Graphene Materials, Nanjing XFNANO Materials Tech, Thomas Swan & Co., AGM, Grafoid, 2D Carbon Tech, Angstron Materials, Group NanoXplore, NanoGraphene, Graphmatech, Graphenano, Global Graphene Group, Perpetuus Advanced Materials, and Talga Group.
The graphene nanocomposities market report offers a comprehensive market segmentation analysis along with an estimation for the forecast period 2023–2030.
Segments Covered in the Report
Electronics

Aerospace & Defense

Energy

Automotive

Others
Region Covered in the Report
Germany

U.K.

France

Italy

Spain

Russia

Rest of Europe
China

Japan

Vietnam

India

South Korea

Rest of Asia-Pacific
UAE

Saudi Arabia

South Africa

Rest of MEA
Argentina

Brazil

Chile

Rest of LATAM
Primary Research Interviews Breakdown