Industry Overview
Green ammonia is an environment-friendly version of ammonia and is made using renewable energy sources. In contrast to traditional processes that depend on fossil fuels, green ammonia is produced by electrolyzing water to combine nitrogen from the atmosphere with hydrogen. Because it does away with damaging greenhouse gas emissions, this is an environmentally beneficial substitute for a number of sectors, including transportation and agriculture. Green ammonia has the potential to be a clean energy carrier that makes renewable energy storage and transit easier. It may also be used in the manufacturing of fertilizer, which would help create a future that is lower carbon and more sustainable.
The global green ammonia market was worth USD 0.38 billion in 2022 and is expected to reach USD 16.5 billion by 2030 with a CAGR of 72.76% during the forecast period, i.e., 2023-2030. The growing demand for green ammonia is driven by renewable energy adoption, stringent climate goals, supportive policies and incentives, technological advancements, increased industry interest, growing R&D investments, international collaborations, expanding infrastructure, and the versatility of green ammonia as a low-carbon solution.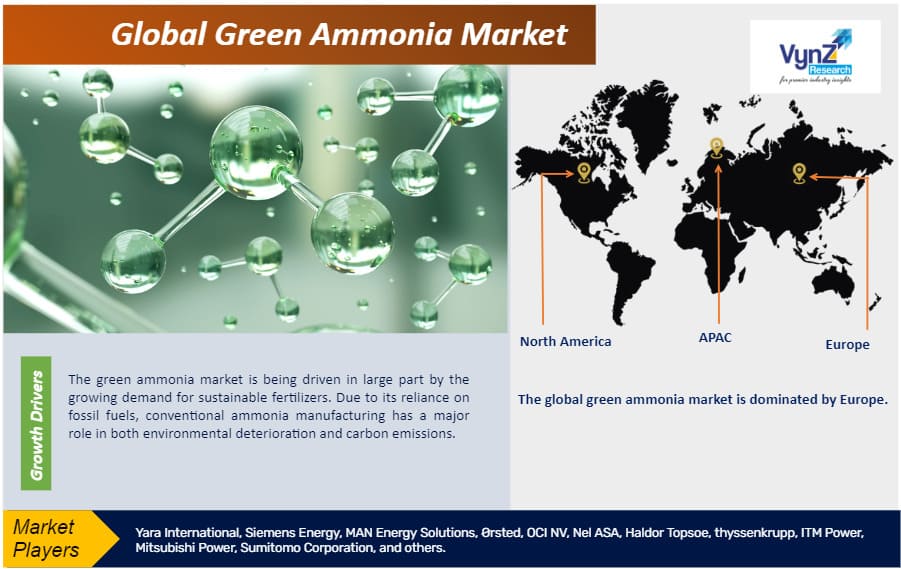 Geographically, the market is expanding rapidly in North America, Europe, and the Asia Pacific, as a result of the presence of large companies, huge investment in the R&D, and high awareness among end-users; however, the market confronts constraints such as high production costs, scalability issues, energy efficiency improvements needed, lack of established supply chains, competition with conventional ammonia, and policy uncertainties. Overall, the green ammonia market offers potential prospects for market participants to develop and fulfill the growing needs of wide range of industries including packaging, food and beverages, healthcare/pharmaceutical, and other industries.
Market Segmentation
Insight by Technology
Based on the technology, the global green ammonia market is segmented into alkaline electrolysis, proton exchange membrane (PEM) electrolysis, solid oxide electrolysis, and anion exchange membrane electrolysis. Alkaline electrolysis dominated the market in 2022 due to its affordability, scalability, and efficiency. Alkaline electrolyzers are the go-to option for large-scale green hydrogen production because of their proven track record and maturity in the market. The Fertiberia plant in Spain is one of the notable green ammonia plants that runs on alkaline electrolyzers by using wind energy to produce green hydrogen for fertilizer manufacturing. Furthermore, an alkaline electrolyzer is used in the Australian Yara Pilbara plant to transform solar energy into green hydrogen for ammonia production. These illustrations demonstrate the dependability and efficiency of alkaline electrolyzers in promoting the industrial production of green ammonia.
Insight by End-use Industry
Based on end-use industry, the global green ammonia market is segmented into transportation, fertilizer, power generation, and other end-use industry. Fertilizer industry dominated the global green ammonia market in 2022 owing to growing demand from fertilizer producers in order to satisfy consumer demand for environmentally friendly fertilizers. To lessen their carbon footprint, companies like Yara International, OCI NV, and EuroChem, are investing in green ammonia. The key advantage of the switch to green ammonia is that it will help with fertilizer production, which is in line with worldwide efforts to reduce climate change through sustainable agriculture.
Green Ammonia Market Report Coverage
| | |
| --- | --- |
| Report Metric | Details |
| Historical Period | 2018–2022 |
| Base Year Considered | 2022 |
| Forecast Period | 2023 – 2030 |
| Market Size in 2022 | $0.36 Billion |
| Revenue Forecast in 2030 | $16.5 Billion |
| Growth Rate | CAGR 72.76% |
| Segments Covered in the Report | By Technology, By End-Use Industry, and By Region |
| Report Scope | Market Trends, Drivers, and Restraints; Revenue Estimation and Forecast; Segmentation Analysis; Impact of COVID-19; Companies' Strategic Developments; Market Share Analysis of Key Players; Company Profiling |
| Regions Covered in the Report | North America, Europe, Asia-Pacific, Middle East, and Rest of the World |
Industry Dynamics
Growth Drivers
Growing demand for sustainable fertilizers
The green ammonia market is being driven in large part by the growing demand for sustainable fertilizers. Due to its reliance on fossil fuels, conventional ammonia manufacturing has a major role in both environmental deterioration and carbon emissions. In response, businesses are investing in green ammonia technologies to address the growing demand for environmentally friendly fertilizers. For instance, Yara International, a global leader in fertilizer production, has a green ammonia pilot plant in Norway, which uses renewable energy to synthesize ammonia.
In a similar vein, programs such as the 'Farm to Fork' Strategy and the 'European Green Deal' promote sustainable agriculture and encourage the use of green fertilizers. Furthermore, collaborations between energy businesses and agricultural players, like Ørsted's in Denmark with Biofos, demonstrate the possibility of combining green ammonia production with renewable energy sources for sustainable farming practices. The need for sustainable fertilizers is expected to drive the green ammonia market further as farmer start preferring eco-friendly fertilizers more and more.
Demand for green biofuels
The green ammonia market is growing quickly due to the increase in demand for biofuels. Hydrogen can be efficiently transported by green ammonia and utilized to produce alternative biofuels and sustainable aviation fuels (SAFs). For this reason, companies such as Haldor Topsoe and Copenhagen Infrastructure Partners (CIP) are actively engaged in initiatives to create green ammonia. For instance, Haldor Topsoe and CIP are working together on the Helios project, which aims to reduce emissions in the aviation industry by converting green ammonia into SAFs.
Additionally, programs such as the Renewable Energy Directive II (RED II) of the European Union are also encouraging the use of advanced biofuels, which can profit from the usage of green ammonia as a hydrogen source. Moreover, collaborations between energy and transportation firms, like Siemens Energy's and Siemens Mobility's for green hydrogen-based mobility solutions, show how green ammonia and biofuels could work well together and the global green ammonia market will continue to expand due to the need for biofuels as people look for greener options for transportation.
Challenge
High Initial Investment Requirement
The high initial production cost of green ammonia in comparison to traditional, fossil fuel-based ammonia is one of the main obstacles to the growth of green ammonia market. Although green ammonia has a lot of environmental advantages, its wider adoption may be hindered by the capital-intensive nature of modern electrolysis technology and renewable energy infrastructure. Reaching financial equivalence with traditional ammonia manufacturing is still a crucial step and in order to lower production costs and raise the economic viability of green ammonia, ongoing research and development initiatives as well as economies of scale are essential. To overcome this obstacle and hasten the shift to a more sustainable ammonia sector, effective legislative support and financial incentives will also be essential.
Geographic Overview
North America
Europe
Asia Pacific (APAC)
Middle East and Africa (MEA)
Latin America
The global green ammonia market is segmented into North America, Europe, the Asia-Pacific, Latin America, and the Middle East and Africa region. The global green ammonia market is dominated by Europe due to several reasons including a strong commitment to renewable energy adoption and sustainable practices, driven by ambitious climate goals set by countries like Germany, France, the Netherlands, and Norway. Furthermore, a conducive atmosphere for the production of green ammonia is created by an abundance of renewable resources, such as solar and wind power. The region is leading the green ammonia market because nations like the Netherland, Germany, and Norway are very interested in using green ammonia for energy storage and transmission. Ultimately, Europe's leading position in the global green ammonia market is further cemented by strategic alliances and investments in green technologies.
Competitive Insight
Siemens Energy, a global leader in energy technology, holds a prominent position in the green hydrogen market as the company is at the forefront of developing electrolysis technologies crucial for green hydrogen production. Siemens Energy has been involved in notable projects, including the Haru Oni pilot plant in Chile, which aims to produce green hydrogen using wind energy. Additionally, they have partnered with companies such as Siemens Gamesa and Siemens Mobility to advance integrated solutions for sustainable energy production and transportation. With their expertise in power generation and commitment to decarbonization, Siemens Energy plays a pivotal role in driving the transition towards green hydrogen as a key renewable energy source.
Leading the way in the green hydrogen industry, ITM Power is an expert in electrolysis technology. Their reputation has grown as a major supplier of hydrogen electrolyzers, which are essential for the production of green hydrogen. ITM Power has started a number of noteworthy projects, such as the UK's Gigastack project, which aims to supply inexpensive, large-scale green hydrogen. Additionally, they have established strategic alliances with businesses such as ScottishPower and Ørsted in order to combine electrolysis with renewable energy sources for the generation of green hydrogen on a big scale. By prioritizing innovation and environmentally friendly solutions, ITM Power is making a substantial contribution to the progress of green hydrogen as a feasible, emission-free energy source.
Recent Development by Key Players
In October 2023, Aker Horizons and Statkraft, Europe's largest producer of renewable energy, announced partnership to develop large-scale green ammonia project in Narvik, Norway. The plant will be one of the first large-scale plants for green ammonia in Europe, with an expected production of 1,000 – 1,500 tonnes per day. The project aims to start production in 2028 with final investment planned for 2025.
In October 2023, KBR announced that its K-GreeN technology has been selected by Madoqua Power2X (Madoqua), a joint venture of Madoqua Renewables, Power2X and Copenhagen Infrastructure Partners, for Madoqua's green ammonia project at Sines Industrial Zone in Portugal. As part of the agreement, KBR will provide technology license, proprietary engineering design and equipment, and catalyst solutions to Madoqua for its green ammonia projects, including 1200 tonnes per day in Phase 1 and 1500 tonnes per day in Phase 2.
Key Players Covered in the Report
Yara International, Siemens Energy, MAN Energy Solutions, Ørsted, OCI NV, Nel ASA, Haldor Topsoe, thyssenkrupp, ITM Power, Mitsubishi Power, Sumitomo Corporation, and others.
The green ammonia market report offers a comprehensive market segmentation analysis along with an estimation for the forecast period 2023–2030.
Segments Covered in the Report
By Technology

Alkaline electrolysis
Proton Exchange membrane (PEM) electrolysis
Solid oxide electrolysis
Anion exchange membrane electrolysis

By End-Use Industry

Transportation
Fertilizer
Power generation
Other end-use industry
Region Covered in the Report
North America
Europe

Germany
U.K.
France
Italy
Spain
Russia
Rest of Europe

Asia-Pacific (APAC)

China
Japan
India
South Korea
Rest of Asia-Pacific

Middle East and Africa (MEA)

Saudi Arabia
U.A.E
South Africa
Rest of MEA

Latin America

Argentina
Brazil
Chile
Rest of Latin America
Primary Research Interviews Breakdown