Industry Overview
The global net-zero energy buildings (NZEBs) market is projected to reach USD 79.23 billion by 2030, growing at a CAGR of 15.1% during the forecast period.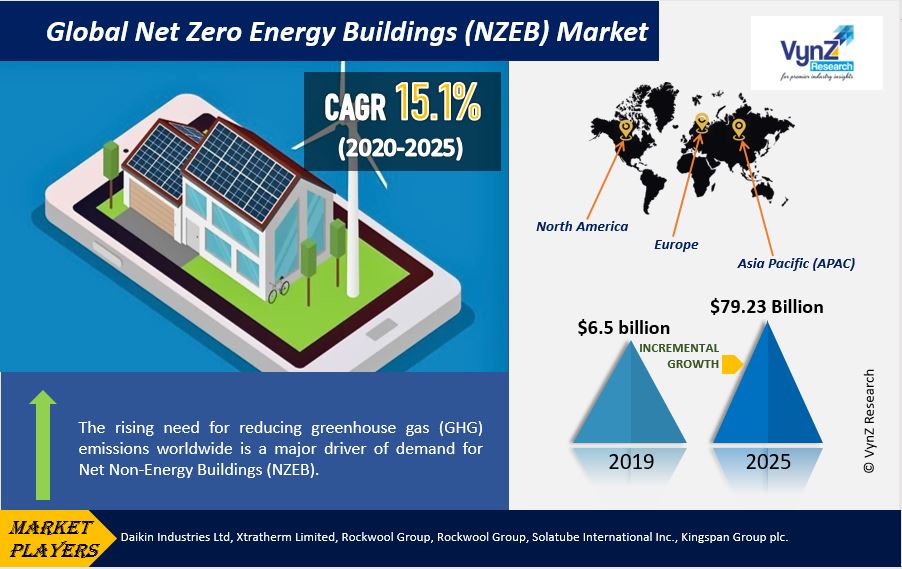 The buildings verified by ZNE are those that over the course of time meet the net energy consumption through local renewable energy technologies. Instead of electricity, natural gas, and steam, the energy is derived from renewables on site. Although ZNE emerging buildings have stated objectives for almost nil energy, the aims as identified by the ZNE-validated buildings are still to be achieved. Such emerging buildings are typically being designed or planned in less than one year's service.
The demand and acceptance of NZEBs are expected to be significantly propelled by technological innovation coupled with stringent policies and programs. ZNE projects target buildings like colleges, institutional buildings, offices, and public buildings around the world.
Net-Zero Energy Buildings Market Analysis
The rising need for reducing greenhouse gas (GHG) emissions worldwide is a major driver of demand for Net Non-Energy Buildings (NZEB). As the world is rapidly industrialized and urbanized, energy demand has dramatically increased and, in turn, the GHG emissions have been increased because of the large-scale consumption of fossil fuels to produce power. The Construction Industry reported use of 35.0% of the world's energy and produced almost 40 percent of total carbon dioxide emissions worldwide, according to a World Green Building Council report.
Due to clear goals and regulations developed by organizations aimed at achieving sustainability and reducing carbon emissions, the market is expected to gain momentum during the forecast period. The United States consists of ZNE buildings that have been more verified and emerging than other nations. Projects to turn the city into almost zero energy buildings and green buildings are being undertaken. Regional regulations, councils, bodies, organizations, government departments, designers, builders & contractors, fabricators, and suppliers of materials and equipment work with regional architects to encourage appropriate buildings with self-energy.
The vast number of successfully implemented initiatives using new technology and design techniques have sensitized the public on the degree to which net zero energy targets are practical and achievable. The market is moving, with strong growth forecasted, and profitability for equipment manufacturers, material suppliers, and service providers is generated. In the building structure, the HVAC systems are one of the most critical and energy-consuming elements.
Market Segmentation
Based on Construction
- Residential
- Commercial
The largest share for commercial buildings (98.4%) was kept on the net-zero-energy buildings market in 2018 and a CAGR of 15.6% is predicted in the forecast period. Commercial buildings have more floor space, thereby increasing the building's construction value. Governments across countries are adopting policies to move towards the construction of NZEBs, with the goal of reducing energy production through fossil fuels.
Based on Equipment
- Insulating Panels
- Lightning Systems
- HVAC Systems
- Solar PV Panels
The dominant share in Net Zero-Energy Buildings was 57.1 percent in the PV category of solar panels and $511.9 million were generated in 2018. Commercial floor spaces need considerable energy to power all appliances in a house, because of the high demand for solar PV panels. The market category has tremendous growth potential in the coming years, with its expected future development plans and the high level of adoption and value of solar units in NZEBs.
Geographical Analysis
North America
Europe

- Germany
- U.K
- Italy
- Austria
- France
- Norway
- Romania

Asia-Pacific
In terms of geographical position, North America had the largest share in the net zero energy buildings market over the historic era. This is primarily due to the goals of cutting emissions of GHGs and reducing the region's energy consumption. In addition, the United States and Canada engaged in a variety of projects to achieve renewable energy use. Europe was the second largest and over 95 percent of the combined North American and European market.
Competitive Landscape and Key Players in the Market
Market players have taken numerous strategic steps to achieve a greater share of the global nullification market. For example, in April 2019, Kingspan Group panels KingSeam, KingRib 3, and KingRib 5 were launched on the market. These roofing panels are ideal for NZEB, as they are energized, economical to use, and free-of-place foam (PIR), with an R-value of 12 for a 1.5-inch panel up to an R-value of 49 for an axis of 6.". These panels are suitable for NZEBs and are suitable for NZEBs.
- Daikin Industries Ltd
- Xtratherm Limited
- Rockwool Group
- Solatube International Inc.
- Kingspan Group plc
The movement of the NEZB has impacted critical mass. The movement of the NEZB after decades of being a marginal target and being highlighted in the media as maverick, net zero housing has become a major characteristic of energy conservation, replacing it as an ultimate objective. But it is becoming more than mainstream quickly: it is the manner in which all homes are planned and built in the near future.
News Update on Global Net Zero Energy Buildings
Direct CO2 construction should halve by 2030 if a net carbon-zero building inventory is to be effective by 2050. All actors across the building value chain need a factor of five to increase their decarbonization initiatives and their effects.
In both residential and industrial structures, Oakland enters the league with several US cities banning natural gas or propane. The reduction in the risk of explosions, improved indoor air quality, and streamlined building systems and maintenance according to officials.
Telangana State Renewable Energy Development Corp. (TSREDCO) is preparing the establishment of a net-zero-energy building for MNRE and the state-designated BEE agency.
In order to help pay fire alarm systems to heavy-duty buildings with hazardous coverage, the Government has launched a new £30 million fund. The money eliminates the need for 24-hour "Wake Watch" fire patrols. Hundreds of buildings in the UK still have 24-hour safety patrols three years after the fire of the Grenfell Tower.
The GlobalABC annual report points out that, in spite of the impact of COVID-19, the construction industry is far from being in the process of decarbonization. However, by 2050, net zero can be reached with bold measures, strategies, and investments using current technologies. The achievement of net null for buildings will bring various benefits, including economic growth.
Ibrahim Mohamed Solih, President of the Maldives, claimed at the UN Summit that Maldives, by 2030 with international assistance, could achieve a net zero carbon emission. Maldives has begun to implement eco-friendly and sustainable initiatives in most of its resorts, with most of its economies being dependent on the tourism sector.
According to the Green Building Survey, Columbia district has more green buildings per capita than other major U.S. cities. D.C.'s strategy has made it a pioneer in the design and rehabilitation of highly productive buildings.
Primary Research
VynZ Research conducts extensive primary research to understand the market dynamics, validate market data, and have key opinions from the industry experts. The key profiles approached within the industry include, CEO, CFO, CTO, President, Vice President, Product Managers, Regional Heads, and Others. Also, end user surveys comprising of consumers are also conducted to understand consumer behavior.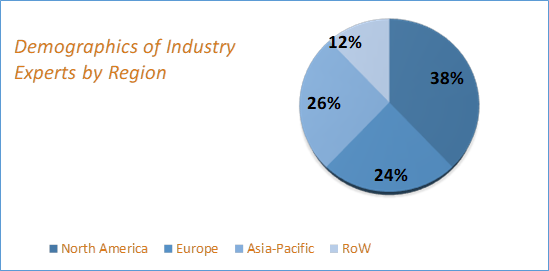 Source: VynZ Research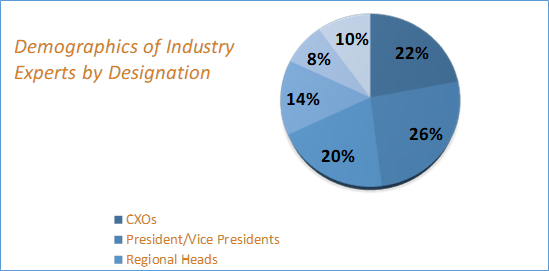 Source: VynZ Research