Industry Overview
From USD 85.5 billion in 2022, the global smart home market size is projected to reach USD 142.2 billion by 2030, registering a CAGR of 12.5% during the forecast period.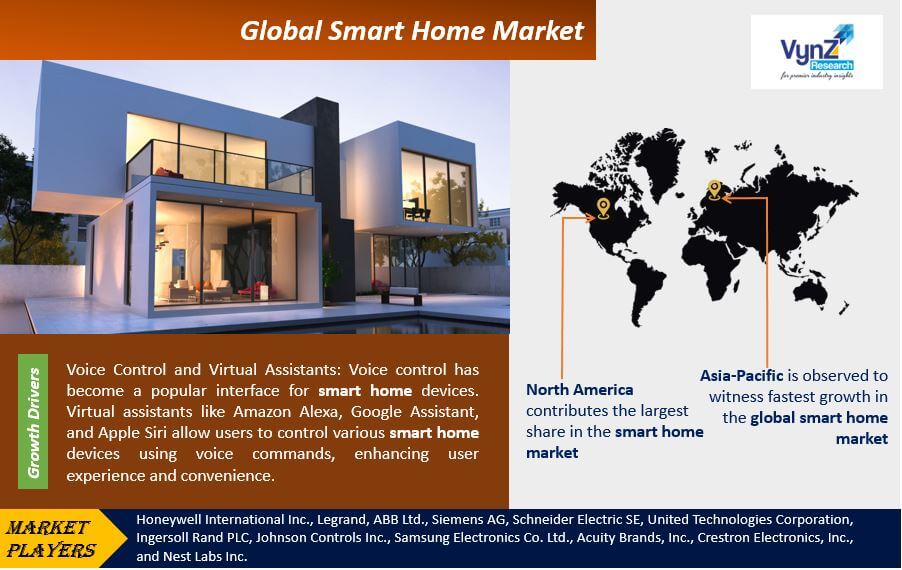 Smart Home is the network-integrated technology and services for a better standard of living and assists the user in reducing workload.  Smart Homes provide consumers with convenient living, energy management features, security, and accessibility for people with physical disabilities. Smart homes have internet-connected gadgets that allow them to regulate, automate, and optimize services such as temperature, lighting, security, and entertainment. A computer, phone, tablet, or independent system can operate, monitor, and access these devices remotely. Manufacturers are encouraged to promote automation in the household sector through the use of the Internet of Things in smart homes. Almost every other normal household can now buy and use smart home technologies. The smart home sector is growing worldwide and attracting buyers from all around the world.
The COVID-19 outbreak has hampered the growth of the global smart home market owing to disruption in the supply chain, and temporary shutdown of production units. The smart home industry is likely to grow slowly in the short term due to limited adoption of smart home technologies and the ongoing trade war with China. Smart home system installations have decreased, according to market participants. Purchasers are reluctant to install smart home solutions because they require skilled professional for on-site installation and programming, and nowadays consumers want to avoid outside contact. Thus, industry players have seen a drop in the revenue. However, in the long run, owing to the increased demand for space at home to work, study, and entertainment, there is a surge in a number of IoT gadgets, resulting in creating growth opportunities for the smart home solution and home furnishings.  
Market Segmentation
Insight by Software & Services
•    Behavoiral 
•    Proactive
The behavioral segment contributes to the largest share as end-users receive direct feedback from behavioral solutions, which include basic information on real-time energy consumption as well as statistical data on energy usage. Behavioral software and services are gradually becoming prominent in smart homes because they may increase overall energy efficiency and reduce energy expenditures by analyzing behavioral data. Behavioral software and services have widespread adoption and low cost owing to its ability to learn user behaviour and, as a result, provide smarter control of appliances, resulting in a rise in demand.
Insight by Product
•    Lighting Control System
•    Entertainment and Other Controls
•    Smart Home Appliances
•    Smart Speaker
•    Smart Furniture
•    Security & Access Control
The entertainment and other controls category accounted for largest share owing to the convenience offered by these controls to manage and control entertainment systems within a house and rising disposable income worldwide. Wireless communication technological breakthroughs is an important factor driving the home theatre system control business, and hence the smart home market for entertainment control. The rising demand for smart meters and smoke detectors, as well as the growing prominence of smart plugs, smart hubs, and smart locks, are driving the market expansion of the other controls segment.
Smart home appliances contribute to the fastest growth in the smart home market owing to the ease in availability of wireless solutions that have enabled smart appliances to link wirelessly with smartphones and tablets through the Internet or Bluetooth. Smart home appliances include smart washers, smart dryers, smart water heaters, and smart vacuum cleaners
Insight by Technology
•    Bluetooth
•    Wi-Fi
•    RFID
•    GSM/GPRS
•    Others
Of all, the Wi-Fi category is estimated to contribute the largest share in the smart home market owing to convenience and speed for fata communication along with easy accessibility from any devices, cost-effective, and easy to integrate, thus spearheading the market growth.
Insight by Sales Channel
•    Direct 
•    Indirect
The indirect sales channel category is likely to take the lead in the smart home industry amidst COVID-19 outbreak. Smart home devices are sold in both online and offline ways through indirect sales channels. Offline sales channels include third-party cellular network operators, distributors, retailers, and value-added resellers. E-commerce solutions are used for online sales channels. People have begun to use online mode more often as a result of lockdowns in many places throughout the world.
During the pandemic, the demand for online outlets has skyrocketed. Companies provide product setup and installation services, allowing customers to buy things online with confidence. Furthermore, third-party delivery companies have begun to take extra steps in order to encourage customers to buy without fear of becoming infected, thus driving the growth of the market.
Smart Home Market Report Coverage
| | |
| --- | --- |
| Report Metric | Details |
| Historical Period | 2018–2022 |
| Base Year Considered | 2022 |
| Forecast Period | 2023-2030 |
| Market Size in 2022 | $85.5 Billion |
| Revenue Forecast in 2030 | $142.2 Billion |
| Growth Rate | CAGR 12.5% |
| Segments Covered in the Report | By Software & Services, By Product, By Technology, and By Sales Channel |
| Report Scope | Market Trends, Drivers, and Restraints; Revenue Estimation and Forecast; Segmentation Analysis; Impact of COVID-19; Companies' Strategic Developments; Market Share Analysis of Key Players; Company Profiling |
| Regions Covered in the Report | North America, Europe, Asia-Pacific, Middle East, and Rest of the World |
Industry Dynamics
Industry Trends
Growth of voice assistant technology for high-end automated households, advent of air quality sensor devices that monitor volatile organic compounds (VOCs), and increased usage of video-enabled drones are all emerging trends that have a direct impact on the smart home industry's dynamics.
Increasing Adoption: The adoption of smart home technology has been steadily increasing as more consumers recognize the benefits of interconnected devices and the convenience they offer. The proliferation of smartphones and the growing popularity of voice assistants like Amazon Alexa and Google Assistant have contributed to this adoption.
Connectivity and Interoperability: Interconnectivity and interoperability are crucial factors for the success of smart home systems. Standardization efforts, such as the Zigbee and Z-Wave protocols, help ensure that devices from different manufacturers can work together seamlessly. Additionally, wireless technologies like Wi-Fi, Bluetooth, and NFC enable easy connectivity between devices.
Growth Drivers
Voice Control and Virtual Assistants: Voice control has become a popular interface for smart home devices. Virtual assistants like Amazon Alexa, Google Assistant, and Apple Siri allow users to control various smart home devices using voice commands, enhancing user experience and convenience.
Home Security and Monitoring: Smart home security systems have gained significant traction. These systems typically include smart locks, video doorbells, security cameras, and motion sensors, providing homeowners with remote monitoring and control over their home security.
Energy Management and Efficiency: Smart home technology offers opportunities for energy management and conservation. Users can control lighting, heating, cooling, and appliances remotely, optimizing energy usage and reducing utility bills. Additionally, smart meters and energy monitoring systems provide real-time energy consumption data to help users make informed decisions.
Integration with IoT and AI: Smart home devices are increasingly being integrated with the Internet of Things (IoT) and artificial intelligence (AI). This enables devices to learn user preferences and adapt to their needs over time. AI algorithms can analyze data collected by smart devices to provide personalized recommendations and automate routine tasks.
Privacy and Data Security: As smart home devices collect and transmit personal data, privacy and data security are major concerns. Manufacturers and service providers are focusing on implementing robust security measures to protect user information and prevent unauthorized access.
Challenges
Key factors impeding the growth of the global smart home market is the concern related to breach of security and privacy and the huge cost involved in the setting of smart homes.
Common hacking tools may be susceptible to smart home devices. Because personal information, physical safety, medical care, and houses are all stored virtually on the cloud, the risk of hackers misusing this information is significant.   Consumers' personal information must be kept secure and secret, which is a difficulty for the smart home business. It is important to maintain the secrecy of the information saved when remotely controlling security services. This is restraining the market expansion of the smart home industry.
Opportunities
Lighting controllers with built-in data communication are integrated, thus offering significant opportunities in the smart home market
Dimmers, timers, occupancy sensors, daylight sensors, and relays are among the devices available in the lighting control market that can be integrated with home automation systems via wired and wireless technologies. Also, to enable automated operations, lighting controllers must be externally integrated with communication protocols. This is projected to result in a significant increase in demand for such solutions, providing potential for smart home market participants. Incorporating IoT and connectivity into lighting systems ushers in a new era with a slew of new opportunities and value propositions.
Furthermore, the increased emphasis to offer energy-efficient solutions, a surge in investment for smart home security devices, and rising penetration of IoT, z-wave, Wi-Fi, Bluetooth technology will also create ample market opportunities for the market development of the global smart home market.
Geographic Overview
North America contributes the largest share in the smart home market due to the increased manufacturing capacity, rising demand for reliable home energy management, improved home security levels, and integration of smart devices will proliferate the market growth for smart homes in the region Furthermore, increased business expansion opportunities and consumer awareness about smart homes will propel the growth in the region.
Global Smart Home Market, By Region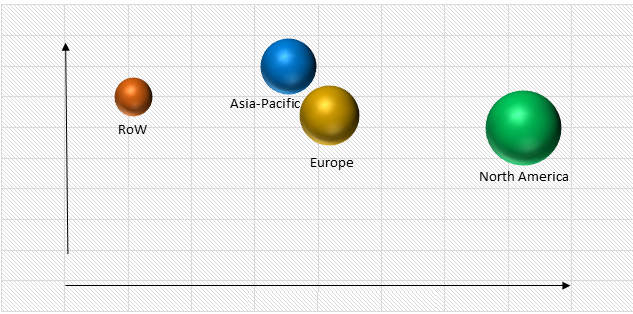 Asia-Pacific is observed to witness fastest growth in the global smart home market during the forecast period. Consumer electronics, internet infrastructure, economic growth, and increased disposable income are all experiencing a significant increase in the Asia Pacific region.  Several infrastructure projects, such as India's smart city, are luring smart home players with several growth potential. Smart technologies, particularly smart speakers and smart lighting systems, are increasingly appealing to young consumers. This is helping the smart home market in Asia Pacific to flourish. Furthermore, governments' encouragement of energy-efficient devices through incentives and subsidies is aiding the growth of the APAC smart home market.
Competitive Insight
The industry players are investing in novel product designs, expanding their customer base globally, and leveraging strategic collaborations to enhance their market share and profitability. Thus, the smart home market is moderately fragmented where industry players are leveraging market growth by offering automated products like MES and DCS. The major firms are developing connected devices and providing users with M2 smart solutions and services. This device improves customer service and accessibility while also contributing to market expansion.
Siemens AG is a German manufacturer of industrial equipment. It  is a well-known provider of industrial, manufacturing, and home automation systems. Building automation systems, like networks using specific lustre terminals or wireless controls for lights, window blinds, heaters, and power outlets, are among Siemens' smart home solutions. Desigo, Synco, GAMMA, and Apogee are some of the automation solutions offered by Siemens Smart Home systems. Siemens' home automation system includes alarm monitoring, household appliances, HVAC, security system and gadgets,  customized information delivery, home media content, healthcare and wellness or physical fitness, education, and energy consumption management.
Honeywell Home Automation is a cutting-edge home automation system that controls all of the primary aspects that affect comfort, security, and energy consumption, such as heating, lighting, curtains and blinds, security systems, and power outlets.
Resideo provides top-of-the-line home automation products, such as smart thermostats, security cameras, and more, to help put up the greatest smart home system possible.
Recent Development by Key Players
In January 2022, Schneider Electric, the global leader in digital transformation, energy management, and automation, and the world's most sustainable corporation in 2021, according to Corporate Knights, unveiled the latest Smart and Sustainable Homes innovations at CES 2022 as part of its commitment to meet the growing demand for resilient and sustainable home energy solutions. The first sockets and switches constructed from ocean materials in the industry, as well as innovative upgrades to the award-winning Wiser Energy Center, are among the recently revealed inventions.
In January 2022, Samsung Electronics has joined membership in the Home Connectivity Alliance (HCA), which brings together top smart home manufacturers to promote interoperability and safety.  Along with The Electrolux Group, Haier, GE Appliances, and Trane Technologies, Samsung Electronics is a founding member of the HCA. The alliance brings together key connected device manufacturers to improve smart appliance compatibility across brands.  Samsung will collaborate with other alliance members to develop shared standards for cloud-to-cloud interoperability that take data security and customer safety into account.
Key Players Covered in the Report
The major industry players operating in the smart home industry include Honeywell International Inc., Legrand, ABB Ltd., Siemens AG, Schneider Electric SE, United Technologies Corporation, Ingersoll Rand PLC, Johnson Controls Inc., Samsung Electronics Co. Ltd., Acuity Brands, Inc., Crestron Electronics, Inc., and Nest Labs Inc.
The Smart Home Market research includes a comprehensive market segmentation analysis as well as projections for the analysis period 2023-2030.
Segments Covered in the Report
By Software & Services
By Product 

Lighting Control System

Timers
Sensors
Dimmers
Others

Entertainment and Other Controls

Home Theater System Control
Multimedia Control
Others

Smart Home Healthcare
Smart Home Appliance

Smart Kitchen Appliance
Smart Refrigerator
Smart Dishwasher
Smart Washing Machine

HVAC Control
Smart Speaker
Smart Furniture
Security & Access Control

Fingerprint Recognition
Facial Recognition
Audio-Video Surveillance
Others
By Technology 
Bluetooth
Wi-Fi
GSM/GPRS
RFID
Others
By Sales Channel 
Region Covered in the Report
North America
Europe

Germany
U.K.
France
Italy
Spain
Russia
Rest of Europe

Asia-Pacific (APAC)

China
Japan
India
South Korea
Rest of Asia-Pacific

Rest of the World (RoW)

Brazil
Saudi Arabia
South Africa
U.A.E.
Other Countries

To explore more about this report - Request a free sample copy