Industry Overview
The global polyurethane foams market is anticipated to grow at a 7.6% CAGR, from USD 42.4 billion in 2021 to USD 62.5 billion by 2030 during the forecast period 2023-2030.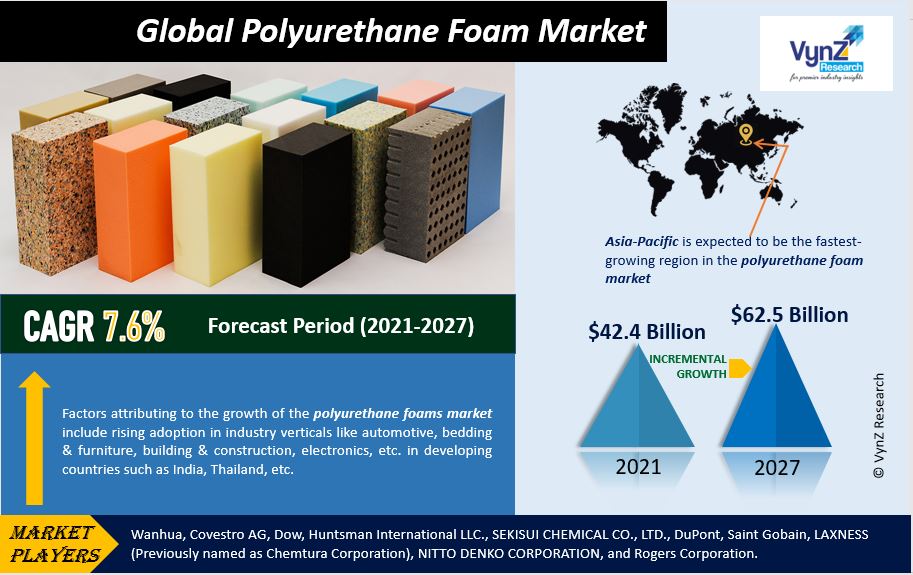 Polyurethane foam (PU foam or PUR foam) is a porous, cellularly organized synthetic substance created by combining diisocyanates and polyols and provides insulation and protection to material against corrosion, temperature, moisture, and abrasion.  It features a blend of solid and gas phases in its structure. The solid phase is made of polyurethane elastomer, while the gas phase is made of air and is formed by blowing agents. The consumption of energy in buildings can be decreased by adopting polyurethane foams.  It is widely used in packaging applications, stuffing in bedding and furniture, automotive, and construction.
The COVID-19 outbreak has led to a negative impact on the value chain of polyurethane foams owing to a decrease in demand for MDI, production plants of polyurethane foams in Europe were closed or are operating with limited capacity, contraction in the construction and automotive industry, shortage of TDI due to cancellation of various orders. These all factors have hampered the growth of the polyurethane foams market during the COVID-19 pandemic.
Market Segmentation
Insight by Product Type
Based on product type, the global polyurethane foam market is categorized into rigid foams, spray foams, and flexible foams. Spray foam is anticipated to have a high CAGR during the forecast period owing to its increasing application in heat and acoustic insulation, floating, and roofing applications. Moreover, spray foams are utilized for both open-cell and closed-cell foam insulations in the building and construction sector and are primarily used for heat and sound insulation.
Insight by Density Composition
The global polyurethane foam market is divided into three categories based on density composition: high-density polyurethane foams, medium-density polyurethane foams, and low-density polyurethane foams. Low-density polyurethane foam is the fastest-growing segment owing to its use in various industries like electronics, automotive, furniture, bedding, footwear, etc. as it has high versatility. Because of its density, firmness, durability, and quality, this foam is often used in furniture and footwear. It's also used in footwear to give a stable and comfy base. It provides support for bending and stretching the foot in accordance with the natural motion of the foot.
Insight by End-User
Based on end-users, the global polyurethane foam market is segregated into automotive, packaging, furniture & furnishings, electrical & electronics, building & construction, footwear, and others. Building & Construction is anticipated to have a large consumer base for the polyurethane foam market as it is used in various household, commercial, and industrial applications. Polyurethane has an exceptional strength-to-weight ratio, insulation properties, durability, and versatility properties. As the number of building standards that support energy-efficient structures grows, housebuilders and consumers are increasingly switching toward construction options that provide long-term performance and energy savings, resulting in the development of the global polyurethane foam market.
Industry Dynamics
Industry Trends
The rapid industrialization and adaptable and distinctive properties of polyurethane foams, development of public infrastructure economic growth in countries like China, Japan, and India, and technological development are the key trends in the polyurethane foam market.
Growth Drivers
Factors attributing to the growth of the polyurethane foams market include rising adoption in industry verticals like automotive, bedding & furniture, building & construction, electronics, etc. in developing countries such as India, Thailand, etc. The rising adoption of polyurethane foams in building insulation for conserving energy and versatility along with the unique physical properties of polyurethane foams will drive the growth of the polyurethane market. The increased adoption of the automotive industry to manufacture lightweight automobile components like dashboards, airbags, and armrests will improve the fuel efficiency of the vehicle and will drive growth further in the polyurethane market. For consistent temperature control and lower noise levels, polyurethane foam is utilized as an insulation material in walls, roofs, doors, and windows. Controlling air infiltration, heat flow, and water resistance is also easier with it. It improves the building's stiffness, durability, and strength while lowering carbon emissions. Because it is inexpensive, resilient, adaptable, and lightweight, polyurethane foam is in high demand in the sports and leisure business. It acts as a cushion and absorbs shock impact in motorcycle and cycling helmets.
Challenges
Owing to strict environmental regulations made by the US Environmental Protection Agency (EPA) for new and existing plant sites in the manufacturing of polyurethane foams will pose challenges to the growth of the market. Furthermore, competition from fiberglass and polystyrene foam and increased production cost owing to the high cost of feedstock materials like toluene diisocyanate, methyl di-p-phenylene, and polymeric isocyanate, which are used for manufacturing polyurethane foams may hamper the growth of the market.
Opportunities
The rising demand for bio-based polyurethane and bio-based polyols such as soy-based polyols will offer sustainability and cost-effectiveness along with emerging new markets, thus acting as an opportunity for the growth of the market.
Geographic Overview
Asia-Pacific is expected to be the fastest-growing region in the polyurethane foam market owing to the rising demand from diverse industry verticals and increased global footprint from the industry players that will fuel the growth of the polyurethane foam market in the region. The primary contributors to the region's strong demand for polyurethane foams are China, India, Japan, and South Korea. Innovation, price deflation, and rising disposable incomes, particularly in emerging Asian countries, have led to increased demand for consumer electronic devices, resulting in the development of the Polyurethane foam market in this region.
Competitive Insight
The polyurethane industry is highly concentrated, with fierce competition among the leading competitors to gain a larger portion of the global market. The market players are entering into partnerships, collaborations & agreements, M&As, product launches, and product expansions to sustain in the competitive polyurethane market and increase their presence globally.
On a global scale, BASF is a prominent supplier of polyurethane systems and specialties. BASF is the trusted partner of clients in a variety of industries due to its global network of polyurethane systems houses and comprehensive product and service offerings. Polyurethane (PU) Systems, Thermoplastic Polyurethanes (TPU), Polyols Production for PU Systems, and other polyurethane products are among BASF's specialties.
The Dow Chemical Corporation is a multinational scientific and technology company that develops and manufactures a wide range of chemicals, polymers, and agricultural products and services for customers globally. Isocyanates, polyols, polyurethane additives, surfactants, and polyurethane systems are all available in an unrivaled range of quality. Fast curing, exceptional flexibility, superior bond strength, and more are all possible with these plastic materials. Superior products are created using Dow polyurethane systems. With products like ENERLYTETM Polyurethane Elastomer, SPECFLEXTM Polyurethane Systems, DIAMONDLOCKTM Polyurethane Adhesives, VORASTARTM Polyurethane Systems, DELTA THERMTM Polyurethane Foam, and others, their polyurethane systems can help meet the changing needs in the consumer comfort, industrial, and energy efficiency markets.
Dow launched a revolutionary polyurethane solution in June 2021 that replaces virgin fossil-fuel-based feedstock with a circular feedstock generated from a waste product of the mobility sector. In conjunction with major automotive suppliers Adient and Autoneum, the new SPECFLEXTM C and VORANOLTM C product lines will first be supplied to the mobility industry.
With the launch of the HFC-free Froth-PakTM Spray Foam in May 2021, DuPont announced a new benchmark for two-component polyurethane foams in support of its objective to reduce greenhouse gas (GHG) emissions while delivering sustainable innovation.
Some of the key players operating in the polyurethane foam market: are Wanhua, Covestro AG, Dow, Huntsman International LLC., SEKISUI CHEMICAL CO., LTD., DuPont, Saint Gobain, LAXNESS (Previously named as Chemtura Corporation), NITTO DENKO CORPORATION, and Rogers Corporation.

Region Covered in the Report
•    North America
- U.S.
- Canada
- Mexico
•    Europe
- Germany
- U.K.
- France
- Italy
- Spain
- Russia
- Rest of Europe
•    Asia-Pacific (APAC)
- China
- Japan
- India
- South Korea
- Rest of Asia-Pacific
•    Rest of the World (RoW)
- Brazil
- Saudi Arabia
- South Africa
- U.A.E.
- Other Countries