Industry Overview
In 2022, the global scrap metal recycling market was priced at USD 989.8 billion, with a compound annual growth rate (CAGR) of 4.9 per cent expected from 2023 to 2030. The key factor driving the market growth is the increasing demand for metals, which is coupled with a growing focus on natural resource conservation and greenhouse gas emissions.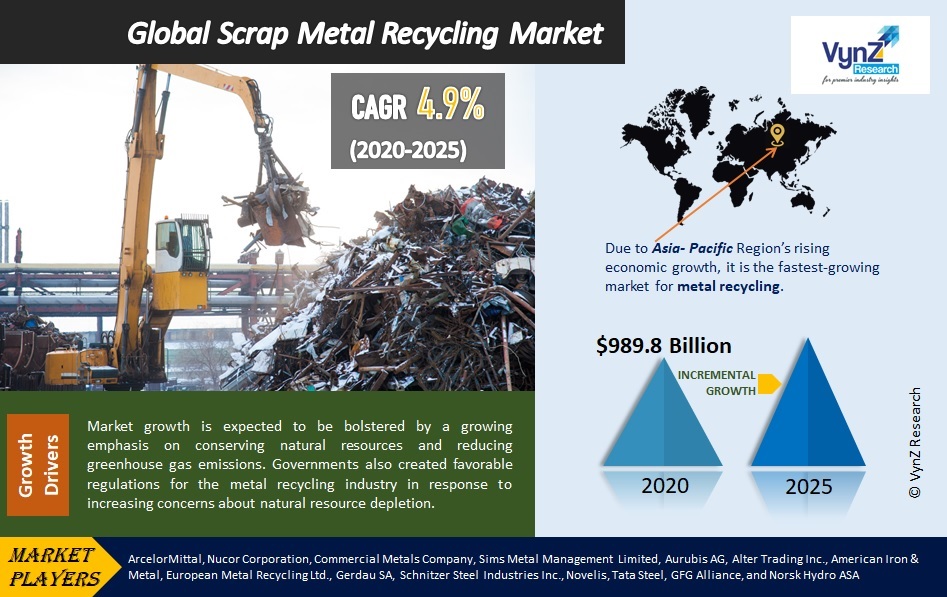 Metal recycling helps producers to acquire raw materials for finished goods production without damaging their properties. Furthermore, it is less costly than primary metal processing. Also, the environmental imperative plays an important role in propelling industry development.
Increasing concerns about the rapid depletion of natural resources have prompted policymakers in a number of countries to implement favourable regulations for the metal recycling industry, which is propelling the metal recycling market even further.
Segmentation
Product Outlook 
•    Iron
•    Aluminum
•    Copper
•    Others
The ferrous segment is expected to develop at a faster pace than the rest of the market during the forecast period. Scrap iron and steel are among the most commonly recycled ferrous metals on the planet. This scrap comes from goods that have reached the end of their useful lives as well as scrap produced during manufacturing processes. The use of scrap in steel processing has become a common practice in the industry. According to the Bureau of International Recycling, scrap steel accounts for 40% of the global steel supply.
Application Outlook 
•    Building and Construction
•    Automotive
•    Consumer Goods
•    Industrial Goods
The metal recycling market's fastest-growing segment in the building and construction industry. The use of recycled metals in the building and construction sector has been promoted by the need to reduce the environmental effects of mining metals. The majority of recycled metals used in this industry come from demolition waste, which is one of the most common sources of metal waste, especially in the United States.
Regional Outlook
•    North America
•    Europe
•   Asia Pacific
•    Central & South America
•    Middle East & Africa
Due to Asia- Pacific Region's rising economic growth, it is the fastest-growing market for metal recycling. The rapidly growing consumer markets of China, India, and other Asia Pacific countries having a total population of more than four billion people, according to the Population Reference Bureau (as of 2018) indicate a bright future for the metal recycling market.
Trends
The demand for metal recycling is motivated by a high rate of obsolescence, increased energy savings with lower greenhouse gas emissions, accelerating industrialization and urbanisation in developed countries, and increased customer awareness. Over the next two decades, the increase in population worldwide is projected to be a significant driver for global consumer durables consumption and the building and construction industry, resulting in the growth of the metal recycling market. Increased household incomes and the increasing middle-class population are two other factors that will support this sector.
Market Drivers
Market growth is expected to be bolstered by a growing emphasis on conserving natural resources and reducing greenhouse gas emissions. Governments also created favourable regulations for the metal recycling industry in response to increasing concerns about natural resource depletion.
Metal recycling industry developments that have prospered in various industries such as machinery manufacturing, shipbuilding, packaging, consumer goods, construction, automotive, and others that have notable use of metals in different applications are contributing to the metal recycling market share. Metal recycling aids businesses in conserving electricity and lowering their carbon footprint. A tonne of recycled steel saves 1,131 kilogrammes of iron ore, 633 kilogrammes of coal, and 54 kilogrammes of limestone, reducing the amount of energy needed to mine these products. Recycling one pound of steel results in 70% energy savings, while recycling aluminium results in 95% energy savings.
Opportunity
Metal recovery from slag residue is one of the metal recycling market's opportunities. Steelmakers value slag as a valuable resource. In their slag and metal–slag mix, most ferrous metal and stainless-steel plants lose a significant amount of metal. Metal content can range from 3% to 15% depending on the smelting process and the age of the slag dump.
Metal is also used widely in the automotive industry. Steel is used to produce engine parts and a range of other car parts, such as hoods, mufflers, simple vehicle frames for doors, and fuel tanks. According to the World Steel Association, iron and steel account for about 70% of an automobile's weight. This is a lucrative opportunity for the scrap metal industry to develop.
Challenges
The major challenges are the growing complexity of goods, which makes recycling and supply chain management difficult. The numerous parties involved in the metal recycling supply chains, such as municipalities and private companies, are continually under pressure to reduce the costs incurred in this process. Companies are now facing significant challenges in lowering these prices, simplifying the supply chain process, and increasing performance.
COVID-19 Impact on the Scrap Metal Recycling Market
Metal scrap was being stifled by restricted movement through cities, forcing scrap dealers to shut down their operations in the face of the COVID-19 pandemic. Such actions reduced activity in the scrap metal shredder industry, reducing revenue growth. Further, the pandemic in 2020 caused a supply chain disruption, which resulted in a significant decline in metal production and hence there was a large contraction in demand owing to the slowdown of prominent end-use industries, such as construction and automotive. However, as manufacturing activities are permitted to proceed, a sharp turnaround is expected in 2021.
Key Players
•    ArcelorMittal
•    Nucor Corporation
•    Commercial Metals Company
•    Sims Metal Management Limited  
•    Aurubis AG 
•    Alter Trading Inc.
•    American Iron & Metal
•    European Metal Recycling Ltd.
•    Gerdau SA
•    Schnitzer Steel Industries Inc.
•    Novelis
•    Tata Steel
•    GFG Alliance
•    Norsk Hydro ASA
Recent Developments
•    ArcelorMittal invested in a new sustainability programme in Europe in November 2019, with the goal of achieving Responsible Steel site certification for all of its ArcelorMittal Europe - Flat Products locations.
•    In May 2019, Nucor Corporation announced a capital investment at its bar mill in Darlington, South Carolina, that will add vacuum degassing to its engineered bar capabilities. With this capability, the mill will be able to manufacture engineered bar products that meet some of the industry's most rigorous quality requirements
•    Aurubis AG purchased the Belgian-Spanish Metallo Group in May 2019 in order to continue implementing its multi-metal and recycling strategy. The acquisition strengthens the company's multi-metal portfolio, especially in the main metals copper, nickel, tin, zinc, and lead, thanks to its attractive growth potential.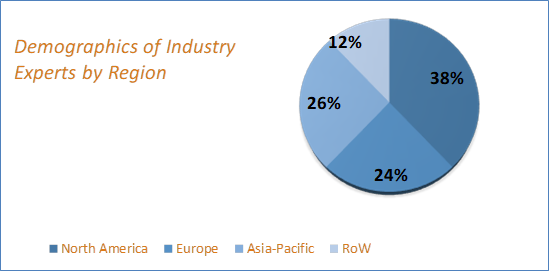 Source: VynZ Research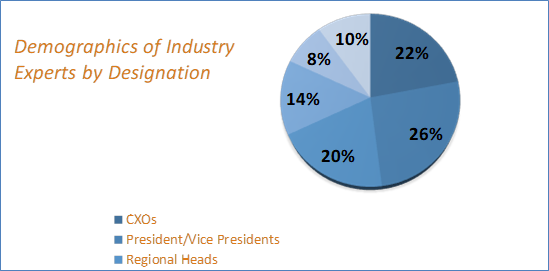 Source: VynZ Research