Industry Overview
The global silane market was valued at USD 1,869.6 million in 2023 and is expected to grow at a CAGR of 4.8% during the forecast period. Silanes originated from a silicon-based compound that comprises approximately four inorganic or organic substituent clusters, which are attached to an essential silicon atom. The product offers several advantages to its users such as exceptional water repellence, UV stability, long-term durability, high dilution capability and stability, and neutral appearance. Silanes are rapidly being utilized as a promoter of adhesion that helps in improving temperature, chemical resistance, and moisture.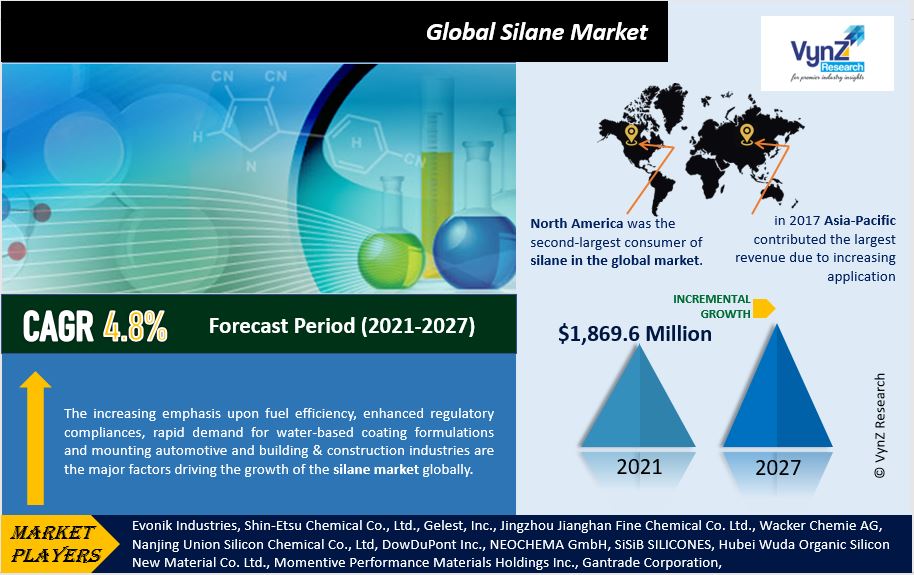 Market Segmentation
Insight by Application
On the basis of application, the silane market is segmented into rubber & plastics, adhesives & sealants, fiber treatment, paint & coatings, and others. Among all the applications, paints and coatings were the largest application area in the global silane market in 2018 due to their widespread use in various industries such as automobiles, buildings, electronics, and machinery.
Insight by Type
Based on type, the silane market is segmented into two types' mono/chloro silanes and functional silanes. The functional silanes are further sub-segmented into sulfur silanes, vinyl silanes, amino silanes, epoxy silanes, alkyl silanes, and methacrylate silanes. The Mono/Chloro silane segment is estimated to witness the highest CAGR during the forecast period. These silanes are expansively being used in integrated circuits, electrical & electronics, flat panel displays, and photovoltaic. Mono/Chloro silane is rapidly being used as a defensive representative for intermediates in the process of synthesis of silanes & siloxanes along with pharmaceutical syntheses. Moreover, the increasing flat panel displays industries, electronics & electrical industries, and expanding emphasis on solar sources as renewable energy in emerging economies are further expected to drive the growth of this segment in the near future.
Industry Dynamics
Growth Drivers
The increasing emphasis on fuel efficiency, enhanced regulatory compliances, rapid demand for water-based coating formulations, and mounting automotive and building & construction industries are the major factors driving the growth of the silane market globally. It has been observed that the product is extensively been used in automotive rubber in order to advance its properties, for instance, rolling resistance, abrasion resistance, compression, and compound modulus.
Moreover, in the recent past, it has been observed that the extensive growth in the building & construction industry has further resulted in a rapid increase in demand for the products pertaining to paints & coatings applications. Furthermore, the demand for this product is strengthening due to increasing expenditure on developmental activities in BRIC countries. According to a recent report, it has been studied that the growing environmental responsiveness in developed economies such as North America and Europe has stimulated the use of water-based coatings due to certain benefits observed from the product as it is toxic-free. Additionally, emerging economies are expected to observe rapid demand for waterborne coatings due to harmful environmental effects observed on solvent-based coatings. Moreover, due to enhanced performance efficiencies, the market is expected to witness accelerating demand for silane-based waterborne coatings during the forecast period.
Challenges
It has been observed from a recent report by the National Fire Protection Association (NFPA), that the silane product is a hazardous chemical and there are several safety reforms established that are required to be adhered to in order to use this product. Moreover, the increasing demand for environment-friendly resources is expected to further hinder the growth of the global silane market during the forecast period.
Industry Ecosystem
Globally industry players are leveraging market growth through research & development that is used in developing innovative applications for the product. The increasing technological upgradation and upsurge have contributed towards its increasing usage in the semiconductors and healthcare industry. Several manufacturers are concentrating on the fabrication of monosilane from silicon tetrachloride.
Geographic Overview
Geographically, in 2017 Asia-Pacific contributed the largest revenue due to the increasing application of silane in construction and automotive industries in the region. Moreover, rapid economic growth in developing economies such as India, China, and Southeast Asian countries has considerably strengthened the product demand in several industries. The extensive demand in various sectors such as plastics, rubbers, and paints & coatings are further expected to drive the growth of silane in the near future.
Moreover, North America was the second-largest consumer of silane in the global market. Furthermore, the increasing customer inclination toward waterborne coatings has driven the demand for the product in several countries such as the U.S. and Canada. It has been observed that the demand for fuel-efficient cars in this region is further bolstering the demand for silane-based tires in the automotive sector.
Competitive Insight
The key industry players are adopting integrated operations across manufacturing components and raw materials of the value chain, due to their increasing interference in the manufacturing of silicone. Key players operating in the global silane market are Evonik Industries, Shin-Etsu Chemical Co., Ltd., Gelest, Inc., Jingzhou Jianghan Fine Chemical Co. Ltd., Wacker Chemie AG, Nanjing Union Silicon Chemical Co., Ltd, DowDuPont Inc., NEOCHEMA GmbH, SiSiB SILICONES, Hubei Wuda Organic Silicon New Material Co. Ltd., Momentive Performance Materials Holdings Inc., Gantrade Corporation, Qufu Chenguang Chemical Co. Ltd., and Tokyo Chemical Industry Co., Ltd.
PRIMARY RESEARCH INTERVIEWS – BREAKDOWN