Industry Overview
The global Soil Testing Equipment Market is expected to reach around USD 3.3 billion in the year 2022 and is expected to account for a value of USD 6.2 billion by 2030, with a 10.8% CAGR from 2022. Some of the key drivers factoring into this growth in this market are the need for better farm management methods, industrialization, agricultural intensification, and the need for quicker and more accurate test results.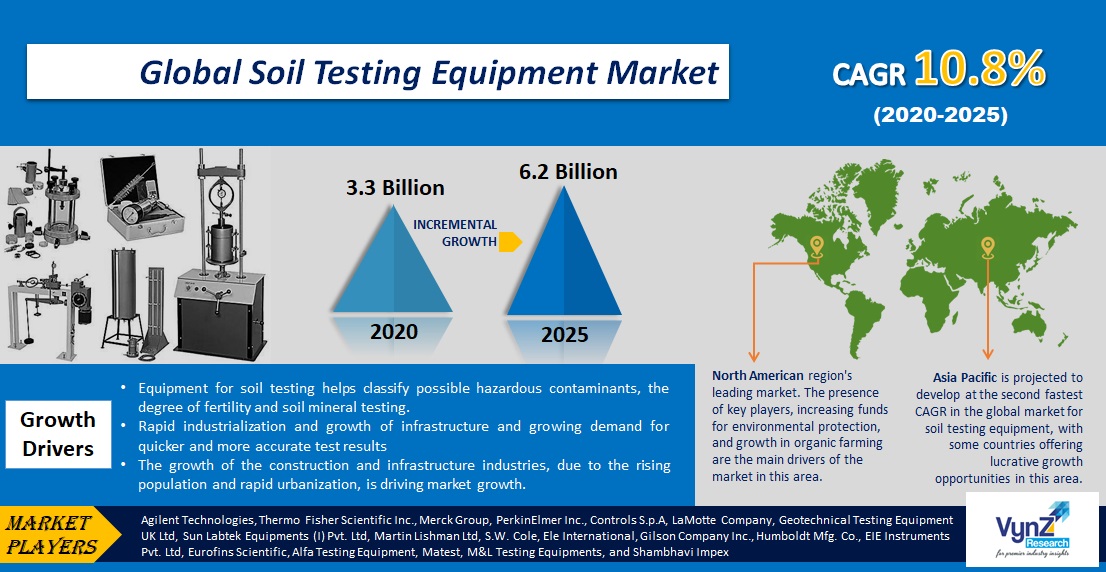 The rapid implementation of precision farming maximizes crop yield and profitability and tests the fertility of the soil, leachability, and nutrient movement, helping to improve soil formulation and quality. This has also allowed farmers or growers to segregate fields into zones, developing a site-specific strategy to optimize yields and minimize input costs. Thus, these variables have contributed to the development of the global market for soil testing equipment.
Demand for soil testing equipment decreased in 2020 due to the government's lockdown and low demand from the construction and agricultural industries. The COVID-19 pandemic has shut down the production of different soil test equipment items, mainly due to prolonged lockdowns in major global countries. This has greatly slowed the development of the demand for soil testing equipment over the last few months and is expected to continue throughout 2020. In the first quarter of 2020, COVID-19 has already impacted equipment and machinery sales and is expected to have a negative effect on business development during the year.
Huge manufacturing countries such as the U.S., Germany, Italy, the United Kingdom, and China, which are badly affected by the spread of coronavirus, have previously seen substantial demand for equipment and machinery, thereby stopping demand for equipment and machinery.
Currently, the future effect of the lockdown is vague and the financial recovery of firms is completely dependent on their cash reserves. Only for a few months would equipment and machinery companies afford a complete lockdown, during which the players will have to change their investment plans. Manufacturers of equipment and machinery must concentrate on protecting their staff, facilities, and supply chains to respond to urgent emergencies and find new ways to operate after cases of COVID-19 infection begin to decrease.
MARKET SEGMENTATION
Soil Testing Equipment is used to find critical knowledge by identifying the soil and rock characteristics needed by various vertical industries, such as the construction industry, the agricultural sector, and others. The system helps to assess fertility levels, identify potentially hazardous substances, identify nutrient deficiencies, and identify trace minerals. Geotechnical and civil engineers use soil testing equipment to provide information that helps to make decisions on the selection of base structures, pavement materials, and design specifications for bridges, buildings, highways, dams, and other infrastructure.
1. Based on Type of Test: The Residual segment to capture the largest share of the soil testing equipment market for the forecast period.
As per the type of test, the market for soil testing equipment is segmented into the following:
A. Physical
a. Shear strength equipment
b. Leachability equipment
c. Plasticity equipment
d. Permeability equipment
B. Residual
C. Chemical
a. pH meters
b. Salinity testing equipment
c. Test kits & reagents
Rapid urbanization is pushing the demand for physical testing in China and India. The increasing awareness among consumers of the presence of chemical residues in fresh fruits and vegetables, such as pesticides and fertilizers, has driven the market.
2. Based on End User: The construction segment is estimated to be the fastest-growing in the market for soil testing equipment market among all the segments during the forecast period.
As per the End-user, the market for soil testing equipment is segmented into the following–
a. Agriculture
b. Construction
c. Others
In countries such as India, the construction industry has received significant foreign direct investment (FDI) for infrastructure improvements in light of rapid industrialization. In addition, because of the booming residential and commercial industries, China is one of the world's most important players in the construction industry.
3. Based on Degree of Automation:  Among all segments of the Soil testing equipment Market, the --------- Segment is estimated to be the fastest-growing for the forecasted period.
As per the Degree of Automation, the market for soil testing equipment is segmented into -
a. Manual
b. Semi-automatic
c. Automatic
4. Based on Site: The ---- segment is expected to be the fastest-growing segment of the soil testing equipment market for the forecast period.
The demand for soil testing equipment market as per Site, is segmented into-
DRIVERS
• Equipment for soil testing helps classify possible hazardous contaminants, the degree of fertility, and soil mineral testing.
• Rapid industrialization and growth of infrastructure and growing demand for quicker and more accurate test results
• The growth of the construction and infrastructure industries, due to the rising population and rapid urbanization, is driving market growth.
OPPORTUNITIES
• Favourable government precision farming initiatives and growing R&D activities
• To increase the market for the production of advanced and creative soil testing equipment, strict government regulations and specifications for construction materials are expected.
CHALLENGES
• High equipment costs and a slower speed of embracing new technologies
• The scarcity of trained and professional soil testing equipment operators
GEOGRAPHICAL ANALYSIS
Based on Geography, the Soil testing equipment market is segmented into-
• North America – US, Canada
• Europe – Germany, UK, France, Italy, Spain, Rest of Europe
• Asia Pacific (APAC) – India, Japan, China, Rest of APAC
• Rest of the World – Middle East & Africa.
Significant growth is to be witnessed by the Asia Pacific & North America segments from the year 2022 to 2030.
From 2022 to 2030, North America, followed by Asia Pacific, is expected to rise at high rates. The US is the North American region's leading market. The presence of key players, increasing funds for environmental protection, and growth in organic farming are the main drivers of the market in this area. While, Asia Pacific is projected to develop at the second fastest CAGR in the global market for soil testing equipment, with some countries offering lucrative growth opportunities in this area. In China, agricultural professionals are seeking modern farming methods for the sustainable production of agricultural yields. In the on-farm management research programs, Chinese scientists from fields such as agronomy, agro-engineering, information technology, and geography were involved. The Chinese government has made considerable efforts to encourage research into precision farming and has sponsored many projects. The growth of the global soil testing equipment industry is anticipated to be powered by these factors.
COMPETATIVE ANALYSIS
The manufacturing companies broadly use new product developments & acquisitions as one of their main strategies for the soil testing equipment market.
Key players in the global Soil Testing Equipment market include:
• Agilent Technologies (US)
• Thermo Fisher Scientific Inc. (US)
• Merck Group (Germany), PerkinElmer Inc. (US)
• Controls S.p.A (Italy)
• LaMotte Company (US)
• Geotechnical Testing Equipment UK Ltd (UK)
• Sun Labtek Equipments (I) Pvt. Ltd (India)
• Martin Lishman Ltd (UK)
• S.W. Cole (UK)
• Ele International (UK)
• Gilson Company Inc. (US)
• Humboldt Mfg. Co. (US)
• EIE Instruments Pvt. Ltd (India)
• Eurofins Scientific (Luxemburg)
• Alfa Testing Equipment (US)
• Matest (Italy)
• M&L Testing Equipment (Canada)
• Shambhavi Impex (India)
LATEST NEWS
September 2019 - A new version of the software used for soil testing has been released by Ele International (UK), compliant with BS, ASTM and AASHTO requirements. This program is especially intended for geotechnical laboratories. The soil tests, such as permeability, triaxial, consolidation, residual, and California Bearing Ratio, would increase consistency and productivity.
August 2018 - The acquisition of Young In Scientific Co. was announced by Agilent (US). Ltd (South Korea), which aims to improve Agilent's environmental analytical capabilities and to expand its direct presence within the South Korean industry.
Primary Research
VynZ Research conducts extensive primary research to understand the market dynamics, validate market data, and have key opinions from industry experts. The key profiles approached within the industry include, CEO, CFO, CTO, President, Vice President, Product Managers, Regional Heads, and Others. Also, end user surveys comprising of consumers are also conducted to understand consumer behavior.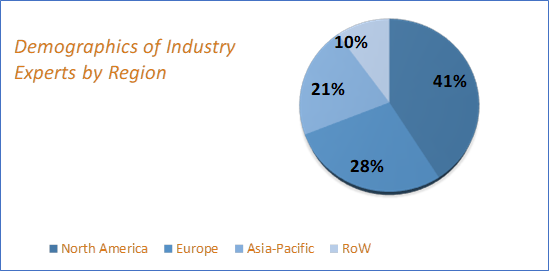 Source: VynZ Research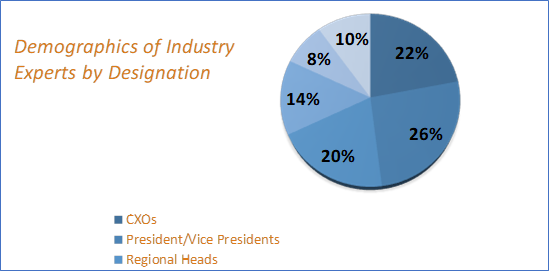 Source: VynZ Research