Industry Overview
Dyes are the coloring material that is used to color commodities. The textile industry used different chemicals and dyes during the textile production. Textile dyes are used in textile industry, which is the process of adding colors to the textile products which includes wool, silk yarns, fabrics, and others. These dyes are applied to textile by dyeing using dye solutions and by printing using dye pastes. The dye use depends upon the type of material along with some specific requirements which has to be met. There are various factors which need to be considered during the selection of dye such as fastness to light, process cost, reaction to washing and rubbing, and others.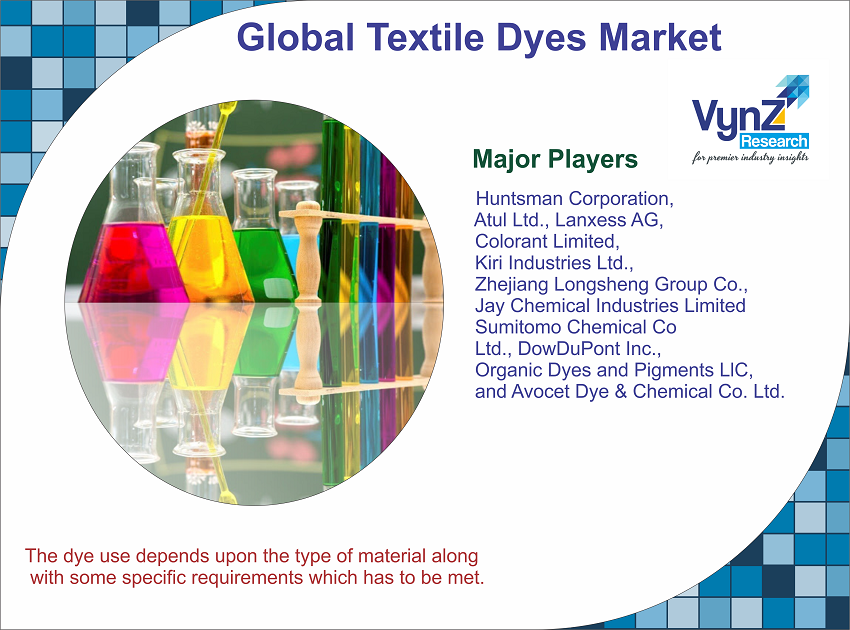 Market Segmentation
Insight by Type
On the basis of type, the textile dyes market is segmented into direct dyes, acid dyes, basic dyes, fiber-reactive dyes, vat dyes, mordant dyes, solvent dyes, disperse dyes, and others. Of all these, during the forecast period, the disperse dyes are projected to hold the largest share in the market, as they are able to retain better substantivity for hydrophobic fibers such as nylon, polyester, and acetate, as compared to other dyes. Additionally, this is the most important class of dye which is used in dyeing polyester fibers and also provides good build-up and fastness properties.
Insight by Fiber
Based on fiber, the textile dyes market is classified wool, nylon, cotton, viscose, polyester, acrylic, and others. Among all fibers, the cotton fiber category is anticipated to hold the largest share in the overall market, as this fiber can retain many dyes, washable, and iron-able.
Insight by Application
Based on application, the textile dyes market is segmented into yarn dyeing, garment dyeing, and others. Garment dyeing is the larger application category in the textile dye market, as yarn dyeing is more expensive and also takes longer as compared to garment dyeing. Also, garment dyeing is better due to the ability to achieve uniform color, less complex process, uniform color, and others. Also, large batch of garments can be dyed at the same time, which also makes it cheaper as compared to yarn dyeing.
Industry Dynamics
Growth Drivers
Expanding textile industry in Asia-Pacific, and low manufacturing cost are the major drivers identified in the textile dyes market. The textile industry is registering a good growth in the Asia-Pacific region, owing to the expanding textile industry due to cheap labor, availability of raw materials, and others. Along with that, a shift in perception of consumers regarding affordable and comfortable clothing is driving the demand of fabrics, resulting in the growth of dyes market.
Increasing disposable income, changing consumption pattern, increasing population, and increasing demand of clothing are among the various factors driving the textile industry growth in the region, which in turn is contributing in the textile dyes market growth.
Challenges
Environment impact of dyes and stringent government regulations are the major challenges identified in the textile dyes market, which can potentially hinder the market growth in the coming years. There are various environmental impacts of these dyes, and the government of various countries has imposed various regulations related to residue in water-streams, air pollution, and others. For instance, the government of India has banned certain azo dyes, as they are suspected to be carcinogenic and the presence of harmful chemicals including formaldehyde and certain metals. Hence, these stringent regulations laid by authorities, particularly by North American and European countries are expected to hinder the textile dyes market growth.
Industry Ecosystem
Textile sector is among the major consumer of dyestuff; however it is one of the most unorganized and fragmented market, which makes it difficult for players to compete and retain their share in the market.
Geographic Overview
Asia-Pacific is anticipated to achieve the highest growth in the textile dyes market during the forecast period. This can be attributed to various factors such as low labor cost, east availability of raw material, less stringent rules and regulations, growing population, and others. Along with that, the growing and strengthening economies of China and India are also adding to the market growth, as both the countries are attracting significant investment from international players, resulting in the region's textile dyes market growth.
Competitive Insight
Huntsman Corporation, Atul Ltd., Lanxess AG, Colorant Limited, Kiri Industries Ltd., Zhejiang Longsheng Group Co., Jay Chemical Industries Limited, Sumitomo Chemical Co., Ltd., DowDuPont Inc., Organic Dyes and Pigments LlC, and Avocet Dye & Chemical Co. Ltd. are some of the major players operating in the textile dyes market.