Industry Overview
The global femtech market was valued at $1.5 million in 2022 and is expected to be valued at $4.5 billion, by the end of 2030, expecting a CAGR of 11.50% during the forecast period. Femtech also known as female technology is an emerging term that is given to products, software, and technologies that cater to the need for women's health. Factors driving the growth of the global femtech market are the rise in demand for digital technology in healthcare service, increase in awareness among women about personal health and hygiene, increase in infectious diseases among the female population, and investments made by the government and various organizations. These factors will influence the demand for the global femtech market. Even though the femtech market has huge potential, still it is underfunded and accounts for only 1.4% of the total capital flowing into the healthcare industry.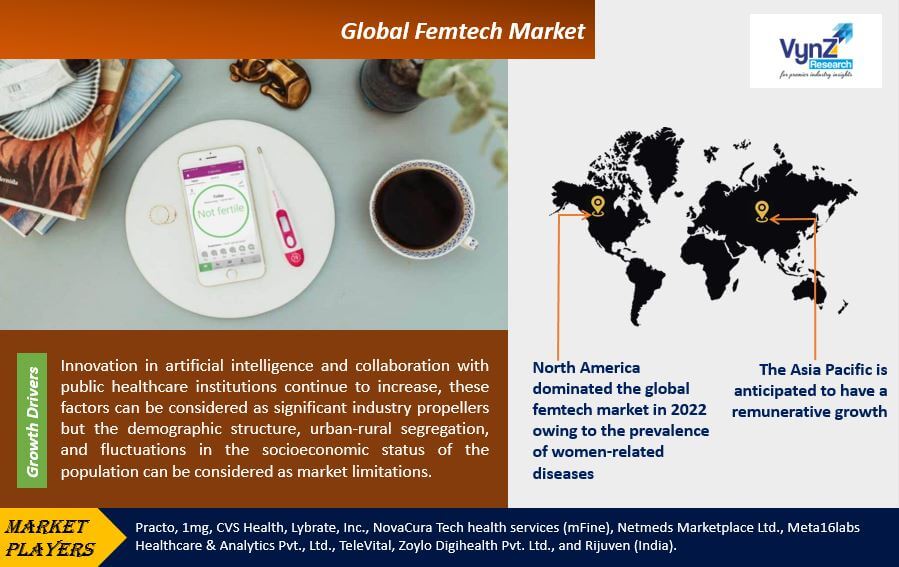 Furthermore, a large number of medical venture capitalists have not yet invested in this field. The amount of investment the femtech industry receives is increasing, but considering the market potential, the speed is surprisingly slow.
The COVID-19 pandemic has driven the awareness of women's health needs. The side effects of the epidemic, such as staying at home induced by lockdowns, have a disproportionate impact on women as they have to do household work, increase in anxiety and depression, etc leading to a sharp increase in women's psychological problems. The pandemic has also adversely affected women's health, as there is an increase in the incidence of planned and unplanned pregnancies and stillbirths. Nevertheless, new disruptive technologies such as artificial intelligence, machine learning, digital health solutions were promoted during the pandemic.
Market Segmentation
Insight by Type
On the basis of type, the global femtech market is segmented into devices, software, and services. The software segment is anticipated to have the largest share in the market, owing to the advancement of smartphone-based software solutions to track women's health issues.is expected to occupy the largest share of the market. The development of smartphone-based software solutions to track women's health problems is expected to generate high demand in the market. In addition, the company focuses on innovative applications and technologies to improve women's health. Moreover, companies are focusing on innovative applications and technologies to improve women's health. The service segment is projected to have a high CAGR due to the emergence of a large number of start-ups that provide fertility management, support-related services, egg freezing, and retrieval services. Some of these companies include Kindbody, Modern Fertility, and Prelude Fertility, Inc.
Insight by Application
On the basis of application, the global femtech market is divided into reproductive health, pregnancy & nursing care, pelvic & uterine healthcare, and general healthcare & wellness. Pregnancy and nursing care is the leading contributor in the femtech due to the increasing demand for advanced devices and consumables such as smart breast pumps. Reproductive health accounts for the largest share because of the large number of apps for period tracking and the menstrual cycle such as Clue, Flo, Ovia, etc.
Insight by End-User
On the basis of end-user, the global femtech market is divided into individuals, hospitals and research institutes, fertility clinics, surgical centers, and diagnostic centers. The hospital segment is expected to have the highest market share due to the accessibility of emergency facilities, well-established medical infrastructure, advanced technology, and the availability of trained medical professionals.
Global Femtech Market Report Coverage
| | |
| --- | --- |
| Report Metric | Details |
| Historical Period | 2018–2020 |
| Base Year Considered | 2022 |
| Forecast Period | 2023 - 2030 |
| Market Size in 2022 | $1.5 Billion |
| Revenue Forecast in 2030 | $4.5 Billion |
| Growth Rate | CAGR 11.50% |
| Segments Covered in the Report | By Type, By Application, and By End-User |
| Report Scope | Market Trends, Drivers, and Restraints; Revenue Estimation and Forecast; Segmentation Analysis; Impact of COVID-19; Companies' Strategic Developments; Market Share Analysis of Key Players; Company Profiling |
| Regions Covered in the Report | North America, Europe, Asia-Pacific, Middle East, and Rest of the World |
Industry Dynamics
Industry Trends
Innovation in artificial intelligence and collaboration with public healthcare institutions continue to increase, these factors can be considered significant industry propellers but the demographic structure, urban-rural segregation, and fluctuations in the socioeconomic status of the population can be considered as market limitations. Additionally, stigma related to women's health, especially those related to sexual health, birth control, menstruation, and fertility, can limit the growth of the femtech technology market. Despite all the stigma associated with women's health issues, increased funding for personalized health and consumer healthcare technology is expected to create many opportunities for the global fem technology market.
Growth Drivers
The production of wearable tools for monitoring and controlling women's health is expected to boost their usage over the forecast period. The rise in the prevalence of chronic and infectious diseases in females can increase the demand for better diagnosis and treatment solutions, which will drive the femtech market development. Improvisations in wellness items such as tampons, breast pumps, and pelvic floor fitness systems for women will be helpful for the growth of the femtech industry.
Menstrual health management: Menstruation-related issues such as irregular cycles, menstrual pain, and fertility tracking have gained significant attention. Femtech companies are developing products and services to help women better understand their menstrual cycles, predict ovulation, and manage related symptoms. These solutions provide insights and support for family planning, pregnancy achievement, and reproductive health.
Pregnancy and postnatal care: Femtech offers a range of solutions to support women during pregnancy, childbirth, and postnatal care. These include pregnancy tracking apps, smart wearables for fetal monitoring, breastfeeding assistance, pelvic floor strengthening devices, and postpartum mental health support. The increasing emphasis on maternal and child healthcare has fueled the demand for such products and services.
Challenges
Lack of awareness among women regarding femtech products and applications, particularly in rural areas, unequal distribution of women as compared to men in the investment world, lack of understanding from investors on women's health issues, and societal taboos are factors that hamper the growth of the femtech industry.
While Femtech has seen significant growth, there is a need for more scientific research and evidence to validate the efficacy and safety of various Femtech solutions. The lack of rigorous clinical trials and peer-reviewed studies may impact the adoption of Femtech by healthcare providers and limit reimbursement options from insurance companies.
Opportunities
Increasing investment in femtech will provide many opportunities to the industry participants, accelerating the market expansion, and product development for maternal, pre-and neo-natal care. Moreover, the rising penetration of women in venture-backed technology, the increase in awareness and acceptance of women's health issues, and the rise in the prevalence of chronic diseases among women in some countries in Asia and Africa are some of the opportunities in the global femtech market.
Geographic Overview
North America dominated the global femtech market in 2022 owing to the prevalence of women-related diseases which aims at increasing women's quality of life and promoting women's well-being and safety. The Asia Pacific is anticipated to have remunerative growth because of the large patient pool in populated countries such as India and China which are prone to infectious diseases. In addition, the growing IT industry in the Asia-Pacific region will further support the development of the femtech industry.
Competitive Insight
Major players operating in developed countries are investing heavily in products that support software. Major players operating in developed countries are investing heavily in products that support software. The femtech market is quite integrated, with a few small and medium-sized manufacturers occupying a significant share of the global market. Manufacturers participating in the femtech market are removed from quarantine along the value chain. The leading companies in the market are well-equipped, have large-scale manufacturing facilities, and are also engaged in various R&D activities.
In January 2021, Ovia Health, a virtual family health platform, partnered with hospitality and entertainment company MGM Resorts International to provide employee benefits specifically designed for high-risk pregnancies. This benefit provides free WiFi-enabled blood pressure cuffs or hypertension plans for pregnant employees participating in Ovia Health pre-eclampsia and entering their details in the Ovia Pregnancy app. The app will then alert employees to any relevant data trends.
Some of the key players operating in the global femtech market: Alyk, Inc., Aytu BioPharma, Inc., BioWink GmbH, Sustain Natural, Bloomlife, Glow, Inc., NaturalCycles Nordic AB, Ovia Health, Flo Health, Inc., HeraMed Ltd.
The Chatbots in Healthcare Market report offers a comprehensive market segmentation analysis along with an estimation for the forecast period 2023–2030.
Segments Covered in the Report
By Type

Devices
Software
Services

By Application

Reproductive Health
Pregnancy & Nursing Care
Pelvic & Uterine Healthcare
General Healthcare & Wellness

By End-User

Individuals
Hospitals and Research Institutes
Fertility Clinics
Surgical Centers
Diagnostic Centers
Region Covered in the Report
North America
Europe

Germany
U.K.
France
Italy
Spain
Russia
Rest of Europe

Asia-Pacific (APAC)

China
Japan
India
South Korea
Rest of Asia-Pacific

Rest of the World (RoW)

Brazil
Saudi Arabia
South Africa
U.A.E.
Other Countries

Source: VynZ Research