Industry Overview
From $0.87 billion in 2022, the global breast augmentation market size is expected to cross $1.9 billion by 2030, with a CAGR of 12.6 percent during the forecast period. Market growth is driven primarily by the growing number of surgeries for breast augmentation and the increasing awareness of cosmetic surgery. The global breast augmentation market refers to the market for surgical procedures and related products used to enhance the size and shape of breasts. Breast augmentation, also known as augmentation mammoplasty, is a cosmetic surgical procedure that involves the placement of implants or fat transfer to increase the volume and improve the appearance of breasts.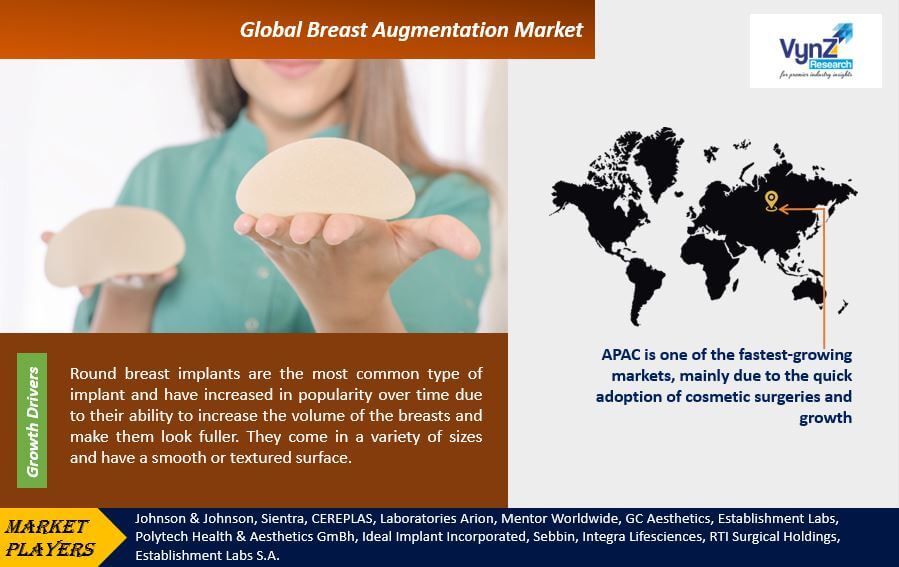 The demand for cosmetic surgery and aesthetic implants is growing at a substantial pace as a result of the importance given to physical appearance. Cosmetic procedures are seeing a massive increase around the world. breast augmentation is the most common aesthetic surgery. It is also known as breast enlargement/mammoplasty. It is a surgical operation to raise the size of the breast, using an implant or fat transfer. According to the International society of aesthetic plastic surgery, the number of breast augmentation procedures increased by 6.4% during 2021-2022.
Segmentation
Based on Material
•    Silicone Breast Implant
•    Saine Breast Implant
The saline breast implant segment is expected to grow due to its cost-effectiveness. Saline implants are cheaper compared to silicon-based implants. International Society of Aesthetic Plastic Surgery said that 91% of implants were done via saine based implants which are anticipated to expand in the near future.
Based on Product
•    Breast Implants
•    Tissue Expanders
Based on product, the breast implants segment accounted for maximum share in the market due to the increasing number of breast augmentation surgeries and product launches with improved self-life
Based on Geographies
•    North America
•    Europe
•    Asia-Pacific (APAC)
In terms of geographies, APAC is one of the fastest-growing markets, mainly due to the quick adoption of cosmetic surgeries and growth in the number of surgeries especially in countries like China and India. Also, due to a high number of surgeries performed in Brazil, Latin America is estimated to serve as a lucrative segment. 
Trends
Globally, 1,862,506 breast augmentation procedures were performed in 2018, compared to 1,677,319 procedures in 2017, according to the International Society of Cosmetic Plastic Surgery. During 2017-2018, this represented a rise of 9.9%. In the US alone, 313,735 breast augmentation procedures were conducted in 2018 as opposed to 300,378 procedures in 2017, according to the American Society for Cosmetic Plastic Surgery (ASAPS). This will result in a rising market for products for breast augmentation. 
Technological Advancements: The market has witnessed advancements in surgical techniques and implant technologies, leading to improved safety, reduced complications, and enhanced outcomes. These advancements include the development of textured and anatomically shaped implants.
Regulatory Environment: The breast augmentation market is subject to regulatory oversight and requirements in different countries. Regulatory bodies, such as the U.S. Food and Drug Administration (FDA) and the European Medicines Agency (EMA), oversee the safety and efficacy of breast implants.
Market Drivers
According to the American Cancer Society, women were diagnosed with 252,710 new cases of invasive breast cancer in 2017. In addition, women were diagnosed with 63,410 cases of in situ breast carcinoma. Breast cancer claimed the lives of approximately 40,610 women and 460 men in 2017, and the number of cases is projected to rise in the coming years. As a result, the rise in breast cancer prevalence is a major contributor to the global breast implant market's revenue growth.
The launch of new products which aid in visualization experience was driving this market in 2019. J.C Aesthetics launched Digital Consulting Solution (DCS) that would provide visualization aid to the patients considering breast reconstruction or augmentation in Europe or Brazil. The development of more durable products is another factor contributing to the growth of this market. Recently POLYTECH Health& Aesthetics decided to start a Clinical study on SILK LINE, a silk coated breast implant in Europe. Approval of such products will create a more lucrative environment for the growth of this market. It's important to note that the market dynamics, trends, and statistics may have changed since my last update. For the most up-to-date and accurate information on the global breast augmentation market, I recommend consulting market research reports, industry publications, and contacting market research firms specializing in the cosmetic surgery sector.
Opportunity
Round breast implants are the most common type of implant and have increased in popularity over time due to their ability to increase the volume of the breasts and make them look fuller. They come in a variety of sizes and have a smooth or textured surface. They do not have the chance of implant rotation because of their symmetrical form. Smooth round breast implants may be inserted under or above the pectoral muscle of the chest, with the benefits of less noticeable or apparent rippling and possibly less deflation, making them a good choice for sub-glandular (above the muscle) placement.
For players in the breast augmentation industry, emerging countries such as China, Brazil, Mexico, and India offer major opportunities. Demand for breast augmentation in these countries is rising due to the rapid growth of medical tourism, the increasing population of adults (aged 20 and over), and the rise in disposable incomes. According to an ISAPS report, Brazil ranked second in terms of the number of breast augmentation procedures performed in 2018. In 2018, ~14.7% of the breast augmentation procedures were done in Brazil.
Challenges
One of the prominent reasons hindering the growth of this market is the risk of breast implant-associated Anaplastic Large Cell Lymphoma (BIA-ALCL). Rare in nature BIA-ALCL is a T Cell Lymphoma that usually develops around the tissue surrounding the implant many products are recalled from the market due to this factor. According to the FDA total of 573 cases of BIA-ALCL were reported in 2019 furthermore the incidence of implant ruptures and safety concerns of women has made government re-evaluate their manufacturer's products
COVID-19 Impact on the Breast Implant Market
COVID-19 has hit this industry very hard and there has been a very serious impact on the medical device industry. On one hand, there has been a surge in demand of PPE Kits, Ventilators while on the other hand there has been a serious downfall for medical devices such as implants, injectables, stents, equipment and others there has been a significant disruption in the supply chain as well leading to postponement or cancellation of elective surgeries.
Further rising number of coronavirus cases has burdened the healthcare professionals. This has also resulted in the relocation of resources such as ICU's, Hospital beds, ventilators and other medical instruments from all specialities and departments towards the treatment of COVID-19 patients and hence the governments around the world have decided to postpone all the elective and non-essential procedures. For Example, NHS postponed 2 Million procedures in the month of March last year to free up hospital beds.
Global Breast Augmentation Market Report Coverage
| | |
| --- | --- |
| Report Metric | Details |
| Historical Period | 2018–2022 |
| Base Year Considered | 2022 |
| Forecast Period | 2023 - 2030 |
| Market Size in 2022 | $0.87 billion |
| Revenue Forecast in 2030 | $1.9 billion |
| Growth Rate | CAGR 12.6% |
| Segments Covered in the Report | By Material and By Product |
| Report Scope | Market Trends, Drivers, and Restraints; Revenue Estimation and Forecast; Segmentation Analysis; Impact of COVID-19; Companies' Strategic Developments; Market Share Analysis of Key Players; Company Profiling |
| Regions Covered in the Report | North America, Europe, Asia-Pacific, Middle East, and Rest of the World |
Key Players
•    Johnson & Johnson (U.S.A)
•    Allergan (Ireland)
•    Sientra (U.S.A)
•    CEREPLAS (France)
•    Laboratories Arion (France)
•    Mentor Worldwide (U.S.A)
•    GC Aesthetics (Ireland)
•    Establishment Labs (Costa Rica)
•    Polytech Health & Aesthetics GmBh (Germany)
•    Ideal Implant Incorporated (U.S.A), 
•    Sebbin (France), 
•    Integra Lifesciences (U.S.A), 
•    RTI Surgical Holdings (U.S.A)
•    Establishment Labs S.A. (Costa Rica)
Recent Developments
•    Polytech Health & Aesthetics' textured breast implants were approved by the US Food and Drug Administration in 2019. (microtextured and polyurethane-coated implants)
•    J&J released the CPX4 breast tissue expander in 2018.
•    Polytech Health & Aesthetics and G&G Biotechnology combined in 2018.
The Breast Augmentation Market report offers a comprehensive market segmentation analysis along with an estimation for the forecast period 2023–2030.
Segments Covered in the Report
By Material 

Silicone Breast Implant
Saline Breast Implant

By Product

Breast Implants
Tissue Expanders
Region Covered in the Report
North America
Europe

Germany
U.K.
France
Italy
Spain
Russia
Rest of Europe

Asia-Pacific (APAC)

China
Japan
India
South Korea
Rest of Asia-Pacific

Rest of the World (RoW)

Brazil
Saudi Arabia
South Africa
U.A.E.
Other Countries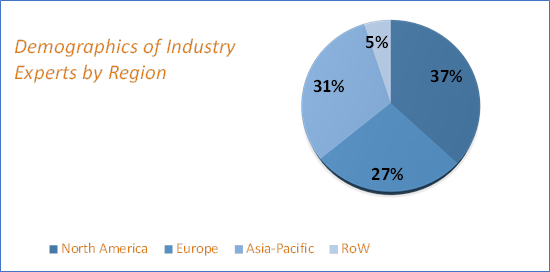 Source: VynZ Research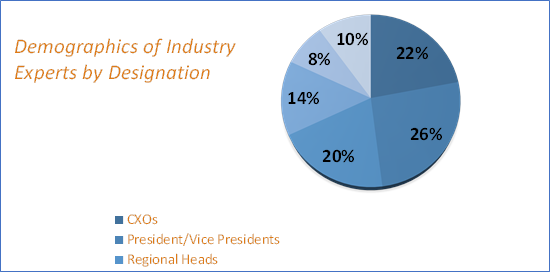 Source: VynZ Research