Industry Overview
The global smart medical devices market size is anticipated to grow from USD 32.4 billion in 2021 to USD 135.3 billion by 2030. It will register a CAGR of 16% during the forecast period. Smart medical devices are wireless electronic devices that collect and transmit real-time data to monitor patients' health. Some of the most common smart medical devices are insulin pumps, heart rate monitors, pulse oximeters, portable oxygen concentrators, and blood pressure monitors. These instruments are commonly used to monitor, analyze, and transmit pivotal patient data and are generally operated on a wireless network such as wi-fi, Bluetooth, and other technologies. Smart medical devices provide a high degree of mobility and the ability to remotely monitor patient status. They also help to reduce workload, save time, increase patient engagement and control, reduce errors, improve communication, and increase safety. Thus, smart medical devices are extensively deployed in clinics, home care, and hospitals. Nevertheless, smart sensors, communication technology, and algorithms combined with smart medical devices have fueled the industry's overall growth.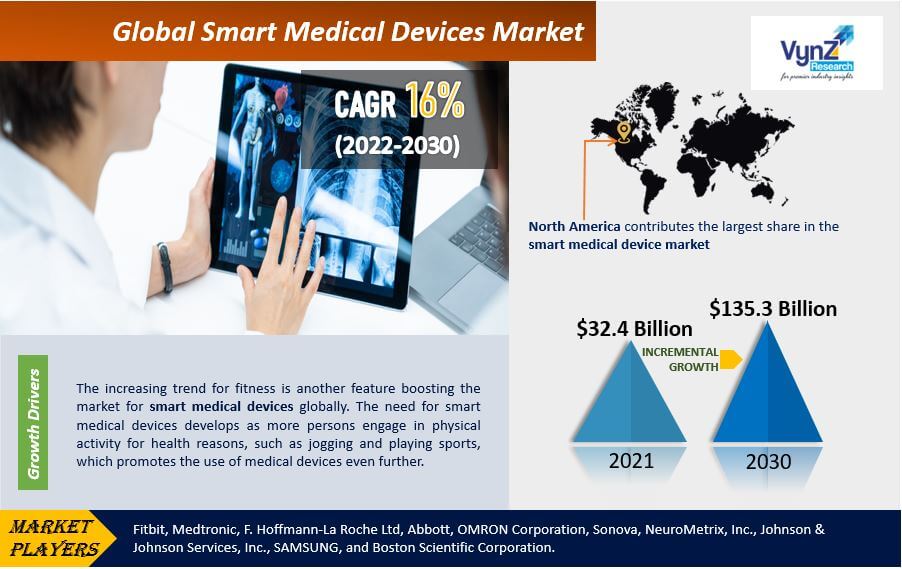 Market Segmentation
Insight by Product Type
Based on Product Type, the Global Smart Medical Devices Market is classified into Diagnostics and Monitoring Devices, Therapeutic Devices, and Injury Prevention and Rehabilitation Devices. The diagnostic and monitoring devices are further divided into Heart Rate Monitors, Blood Glucose Monitors, EEG/ECG Monitors, Pulse Oximeters, Cardiac Event Monitors, Blood Pressure Monitors, Breathalyzers, Medical Tricorders, Fetal Monitors, Blood Analyte Analyzers, and Others. The therapeutic devices are further divided into Portable Oxygen Concentrators & Ventilators, Neuro-Stimulators, Insulin Pumps, Hearing Aids, and Others. The injury Prevention and Rehabilitation Devices are further divided into Body Motion Devices, Fall Detection Devices, and Others. Diagnostic and monitoring devices contribute the highest share in the smart medical devices industry owing to the surge in prominence of fitness brands and rising market demand for portable monitoring devices.
The demand for various equipment, including pulse oximeters, oxygen concentrators, blood monitoring devices, and blood sugar monitoring devices, has increased substantially as a result of the COVID-19 pandemic, which has also had a significant impact on the market for smart medical devices. All of these tools helped COVID-19 patients receive effective medical care. Blood Pressure Monitor segment is growing significantly owing to a sedentary lifestyle and unhealthy diet.
Insight by Modality
Based on Modality, the Global Smart Medical Devices Market is bifurcated into Wearables and Non-Wearables. Wearable devices are anticipated to grow at a high CAGR during the forecast period owing to rising incidences of chronic diseases in developing economies, the rising geriatric population, and technological development, accelerating the need for advanced, faster, and easy-to-use devices.
Further, due to contactless-based healthcare diagnosis during the COVID-19 pandemic, smart medical devices, including sensors and nano-bio sensors, have substantially gained relevance. The body's vital signs, including heart rate, blood pressure, skin tone, body temperature, respiration rate, sleep duration, and body motion, can all be measured by wearable sensors.
Insight by End-User
Based on End-User, the Global Smart Medical Devices Market is segregated into Hospitals, Clinics, Home Care, Sports Club, and Others. Home-care Settings contribute the largest share in the global smart medical devices market. Home care settings are typically selected because they are practical, accessible, continuously monitor health, and yield quicker outcomes.
Insight by Distribution Channel
Based on Distribution Channel, the Global Smart Medical Devices Market is divided into Pharmacies, Online Channels, and Others. Due to the rise in online purchases made via smartphones, the increased flexibility, and the simple accessibility of various product categories, online channels are the segment with the fastest-growing market share.
Global Smart Medical Devices Market Report Coverage
| | |
| --- | --- |
| Report Metric | Details |
| Historical Period | 2018–2021 |
| Base Year Considered | 2022 |
| Forecast Period | 2022 - 2030 |
| Market Size in 2021 | $32.4 Billion |
| Revenue Forecast in 2030 | $135.3 Billion |
| Growth Rate | CAGR 16% |
| Segments Covered in the Report | By Product Type, By Modality, By End-User and By Distribution Channel |
| Report Scope | Market Trends, Drivers, and Restraints; Revenue Estimation and Forecast; Segmentation Analysis; Impact of COVID-19; Companies' Strategic Developments; Market Share Analysis of Key Players; Company Profiling |
| Regions Covered in the Report | North America, Europe, Asia-Pacific, Middle East, and Rest of the World |
Industry Dynamics
Growth Drivers
Factors attributing to the market growth of the global smart medical device market include surge in the development of the healthcare industry, rising incidences of chronic diseases like asthma, blood pressure, and diabetes, rising geriatric population, technological development like integration of IoT, AI, and machine-to-machine technology, rising unhealthy eating and lifestyle change, and initiatives by the government to spread awareness about disease prevention will proliferate market size of the global smart medical device industry. Furthermore, the extensive adoption of smart wearable medical devices as a result of rising public health consciousness is boosting market growth. Moreover, increased adoption of cloud-based and real-time data systems in the healthcare industry, providing real-time information about patients will drive market growth.
As a result of the COVID-19 Pandemic, increased product demand in home care settings for disease management, monitoring, providing feedback, and suggesting appropriate treatment is positively impacting the market growth.
The increasing trend for fitness is another feature boosting the market for smart medical devices globally. The need for smart medical devices develops as more persons engage in physical activity for health reasons, such as jogging and playing sports, which promotes the use of medical devices even further.
Challenges
The high cost of smart medical devices, privacy concerns, and lack of suitable infrastructure in low- and middle-income countries as they struggle to provide electricity in remote regions may restrain market expansion.
Opportunities
The rapidly evolving information and software technology will create market opportunities for growth in the smart medical devices industry.
Geographic Overview
North America
Europe
Asia Pacific (APAC)
Rest of the World (RoW)
North America contributes the largest share in the smart medical device market owing to increased investment in smart devices, rising adoption of smartphones, and mounting awareness towards health and fitness. Furthermore, the increased adoption of advanced technologies, the establishment of well-developed healthcare infrastructure, mounting prevalence of chronic diseases like diabetes, cardiovascular illness, and high triglyceride levels will further proliferate the growth in the region.
Competitive Insight
The market for smart medical devices is moderately competitive, and a few businesses control the majority of the industry. Due to the technical developments in the healthcare sector and the increased R&D spending of businesses, new players are entering the market. The global smart medical devices market's key players are expanding their market position through various strategies such as mergers and acquisitions and research collaborations with other companies to launch innovative products.
Medtronic is the world's leading provider of medical technology, services, and solutions. Smart medical devices that can improve people's health are made possible by artificial intelligence, miniaturization, and wireless connectivity. Researchers can create "virtual patients" and design computer simulations based on real patient data, thus enhancing computing power and artificial intelligence. Medical devices that can learn and adapt to a specific patient's needs assist providers in developing more tailored, individualized approaches to patient care.
OMRON Healthcare is a global leader in the field of clinically proven, innovative medical equipment for health monitoring and therapy, thus, dedicated to help people live more active and fulfilling lives with zero compromises. By analyzing health data and behavioral information, Omron hopes to enable personalized medical care based on individually optimized medical plans. To that end, Omron provides cutting-edge products and services in three categories: cardiovascular health, respiratory care, and pain management. Whether it's the world's first blood pressure monitoring device with fuzzy technology for easier and more accurate measurement or sensing technology to make more holistic health data available, OMRON has always prioritized people.
Recent Development by Key Players
In June 2022, OMRON VENTURES CO., LTD. is pleased to announce an investment in Visby Medical, Inc., a company that develops and sells the world's first disposable portable PCR testing devices.
In June 2022, The integration of the technologies on the CARESCAPE platform has received FDA clearance and CE mark approval, completing the system's full suite of Medtronic patient monitoring technologies. The combined solution also includes GE Healthcare FlexAcuity, which enables clinicians globally to select care options based on patient acuity needs, and assists them in their goal of detecting patient health deterioration as early as possible.
Key Players Covered in the Report
Some of the major players operating in the global smart medical devices industry include Fitbit, Medtronic, F. Hoffmann-La Roche Ltd, Abbott, OMRON Corporation, Sonova, NeuroMetrix, Inc., Johnson & Johnson Services, Inc., SAMSUNG, and Boston Scientific Corporation.
The Smart Medical Devices Market report offers a comprehensive market segmentation analysis along with an estimation for the forecast period 2022–2030.
Segments Covered in the Report
By Product Type

Diagnostics
Monitoring Devices
Therapeutic Devices
Injury Prevention
Rehabilitation Devices

By Modality
By End-User

Hospitals
Clinics
Home Care
Sports Club
Others

By Distribution Channel

Pharmacies
Online Channels
Others
Region Covered in the Report
North America
Europe

Germany
U.K.
France
Italy
Spain
Russia
Rest of Europe

Asia-Pacific (APAC)

China
Japan
India
South Korea
Rest of Asia-Pacific

Rest of the World (RoW)

Brazil
Saudi Arabia
South Africa
U.A.E.
Other Countries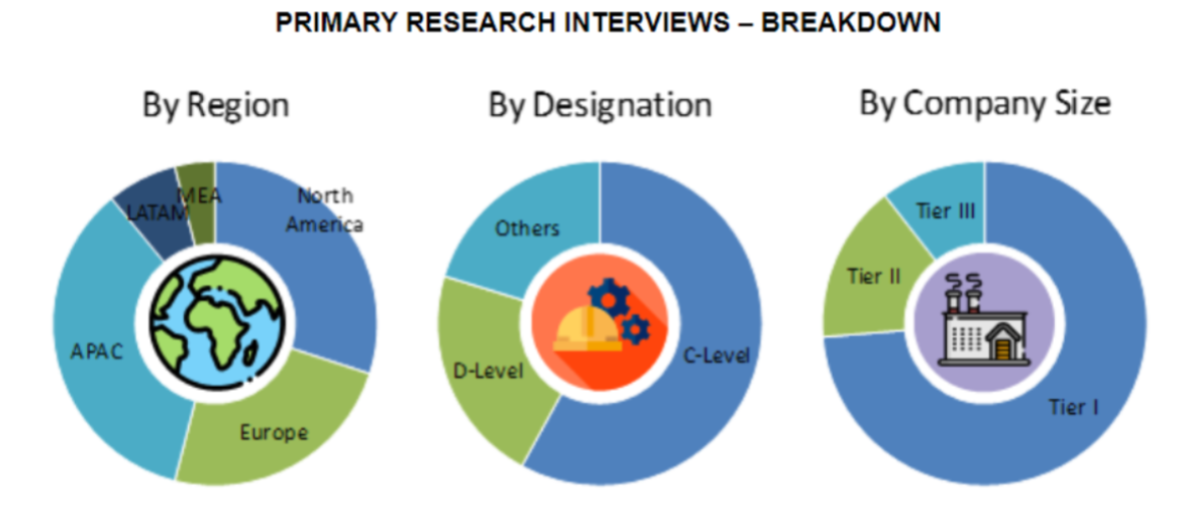 To explore more about this report - Request a free sample copy