Industry Overview
The global digital surgery technologies market was at $ 0.31 billion in 2022 & is expected to reach $5.1 billion by 2030, increasing at a CAGR of 32.1% during the forecast period 2023-2030. The increasing complexities in the clinic, rising surgeons' workload, and huge R&D investments are the main factors expanding the market growth. Surgical practises are changing, and the digital surgical paradigm is bringing about unprecedented changes in this area. Continuous advancements in surgical instruments have enabled the use of technically superior procedures that reduce patient recovery times, increase access, and include 3D visualisation.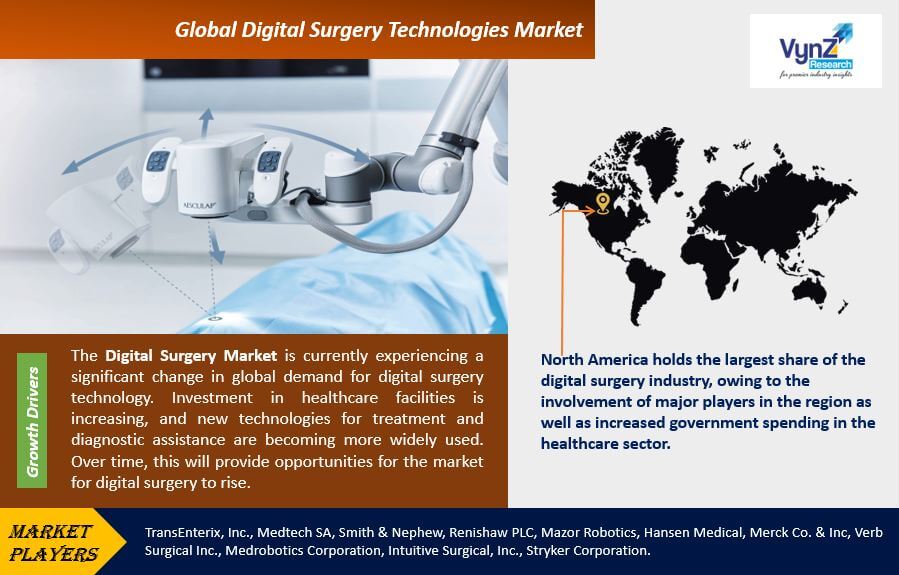 Market Segmentation
Based on Technology
•    AI and Big Data
•    IoT and Robotics
•    Augmented Reality and Virtual Reality
AI and Big Data are expected to lead the Digital Surgery Market. Over the forecast period, businesses will integrate AI systems designed for operating rooms in order to minimize risk and make surgery safer. To overcome these obstacles, AI is assisting surgical teams in addressing the challenging problems they face. Currently, more than 5 billion people around the world do not have access to safer surgical procedures.
Based on Product
•    Surgical Simulation
•    Surgical Navigation
•    Advanced Visualization Products
•    Surgical Data Science
•    Surgical Planning
Based on product, Surgical Data Science is expected to expand strongly over the forecast era, since it seeks to evaluate data in order to provide disease-related and specific assistance functions.
Based on Geographies
•    North America
•    Europe
•    Asia-Pacific (APAC)
•    Rest of World
In terms of geographies, North America holds the largest share of the digital surgery industry, owing to the involvement of major players in the region as well as increased government spending in the healthcare sector.
Trends
With increased expenditure constraints across global health systems and the introduction of value-based medicine in some markets, stakeholders in the public and private sectors see digital surgery as the next apex of surgery. Hospitals are replacing outdated surgical spaces with modern operating suites in order to help support outpatient surgery and minimally invasive procedures. Robotic surgical systems and imaging technology, such as surgical navigation systems, are expected to become more popular in the coming years. The Digital Surgery Market will be driven by the rising prevalence of chronic diseases among the population in the coming years.
Surgical Robotics: Robotic systems, such as the da Vinci Surgical System, enable surgeons to perform minimally invasive procedures with enhanced precision and dexterity. These systems use robotic arms controlled by surgeons to perform complex maneuvers with greater accuracy.
Augmented Reality (AR) and Virtual Reality (VR): AR and VR technologies are being used to provide surgeons with immersive visualization and simulation capabilities. They allow surgeons to visualize patient anatomy in 3D, overlay digital information onto the surgical field, and practice procedures in a virtual environment.
Image-Guided Surgery: Image-guided surgical systems use real-time imaging techniques, such as computed tomography (CT) or magnetic resonance imaging (MRI), to provide surgeons with precise guidance during procedures. This technology helps in accurate tumor localization, navigation, and target tracking.
Artificial Intelligence (AI): AI-powered algorithms are being developed to assist surgeons in decision-making, preoperative planning, and intraoperative guidance. Machine learning algorithms can analyze large amounts of medical data to provide personalized recommendations and improve surgical outcomes.
Data Analytics and Connectivity: Digital surgery technologies generate vast amounts of data during procedures. Advanced analytics tools and connectivity solutions enable the collection, integration, and analysis of this data, which can be used to improve surgical techniques, patient safety, and post-operative care.
Telemedicine and Remote Surgery: With the advent of high-speed internet connectivity and low-latency networks, remote surgery is becoming a reality. Surgeons can perform procedures on patients located in different geographic locations, leveraging robotic systems and real-time communication technologies.
Market Drivers
The Digital Surgery Market is currently experiencing a significant change in global demand for digital surgery technology. Investment in healthcare facilities is increasing, and new technologies for treatment and diagnostic assistance are becoming more widely used. Over time, this will provide opportunities for the market for digital surgery to rise. Furthermore, emerging players are developing AI-powered medical devices for surgical applications, and global tech giants such as Microsoft and Google are entering the healthcare field. Both of these main actors have contributed to a significant rise in sales for digital surgery technology.The digital surgery technologies market is highly competitive and is witnessing significant investments and collaborations from major healthcare companies and technology providers. The market is expected to continue growing as new innovations and applications emerge, leading to improved surgical outcomes, reduced complications, and enhanced patient care.
Opportunity
The digital surgery market offers good growth opportunities for remote care and telepresence. Secondly, the consolidation of large healthcare players and establishing synergies between them is estimated to benefit the global market in the forecast period. Investment in healthcare facilities is increasing, and new technologies for treatment and diagnostic assistance are becoming more widely used. Over time, this will provide opportunities for the market for digital surgery to rise.
Challenges
The main challenges faced by this market mainly consist of the huge cost of surgical equipment which actually leads to limitations in the procurement of the instruments. Apart from this, there are also risks that are associated with digital surgeries which include a lack of willingness of patients to be operated upon using this new technology. Other challenges include less budgetary allocation to this sector, additional training requirements, etc.
COVID-19 Impact on the Digital Surgery Market
During the pandemic, the budgets of hospitals for capital equipment were strained but they will continue to invest in digital surgery and robotics because the innovations provide patients with value. In the COVID-19 the increasing use of surgical robotics will perform minimally invasive procedures on patients while providing greater protection to the surgical team as compared to manual minimally invasive surgery. With 313 million people conducting surgery each year around the world, it's critical to take extra precautions to safeguard the surgical team and the patient. Minimally invasive procedures are difficult to conduct and pose a higher risk to the surgical team during COVID-19, so the use of digital surgery will increase during the pandemic.
Global Digital Surgery Technologies Market Report Coverage
| | |
| --- | --- |
| Report Metric | Details |
| Historical Period | 2018–2022 |
| Base Year Considered | 2022 |
| Forecast Period | 2023 - 2030 |
| Market Size in 2022 | $0.31 billion |
| Revenue Forecast in 2030 | $5.1 Billion |
| Growth Rate | CAGR 32.1% |
| Segments Covered in the Report | By Technology and By Product |
| Report Scope | Market Trends, Drivers, and Restraints; Revenue Estimation and Forecast; Segmentation Analysis; Impact of COVID-19; Companies' Strategic Developments; Market Share Analysis of Key Players; Company Profiling |
| Regions Covered in the Report | North America, Europe, Asia-Pacific, Middle East, and Rest of the World |
Key Players
•    TransEnterix, Inc.
•    Medtech SA 
•    Smith & Nephew 
•    Renishaw PLC 
•    Mazor Robotics 
•    Hansen Medical
•    Merck Co. & Inc 
•    Verb Surgical Inc.
•    Medrobotics Corporation
•    Intuitive Surgical, Inc. 
•    Stryker Corporation 
Recent News
•    In Dec 2020, a robot surgeon had separated a tumour that weighed 5kg from a woman's ovaries in the UAE. The complex surgery, organized at Al Qassimi Hospital for Women and Children in Sharjah, exploited the Da Vinci Robotic surgical system that achieves minimally invasive surgery with the advanced set of instruments and 3D high-definition understanding of the surgical area.
•    In Aug 2020 Harvard and Sony, produced surgical robots by making a new, origami-inspired miniature manipulator mainly for precision and proper and careful handling. The robotic systems used by surgeons in laparoscopic surgery can take up an entire room, their tools are bigger than the fragile tissues and the structures on which they operate.
•    In Nov 2020, Virtual Incision, launched the miniaturized in vivo robotic assistant (MIRA) platform to perform minimally invasive abdominal surgeries, such as colon resections. MIRA is small enough to be transported and it requires fewer incisions as compared to bigger and multifaceted surgical robots.
The Digital Surgery Technologies Market report offers a comprehensive market segmentation analysis along with an estimation for the forecast period 2023–2030.
Segments Covered in the Report
By Technology

AI and Big Data
IoT and Robotics
Augmented Reality and Virtual Reality

By Product

Surgical Simulation
Surgical Navigation
Advanced Visualization Products
Surgical Data Science
Surgical Planning
Region Covered in the Report
North America
Europe

Germany
U.K.
France
Italy
Spain
Russia
Rest of Europe

Asia-Pacific (APAC)

China
Japan
India
South Korea
Rest of Asia-Pacific

Rest of the World (RoW)

Brazil
Saudi Arabia
South Africa
U.A.E.
Other Countries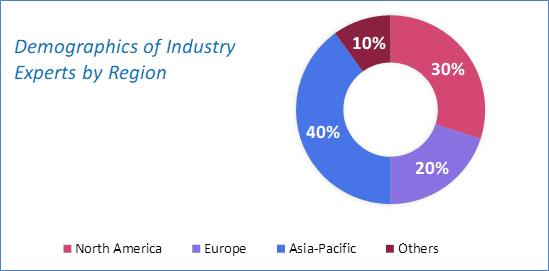 Source: VynZ Research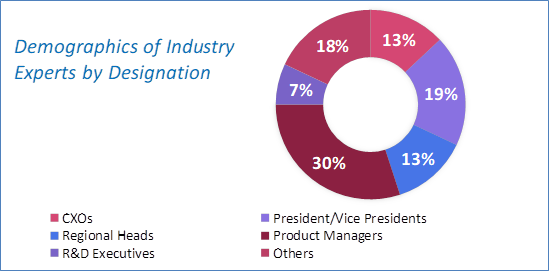 Source: VynZ Research