Industry Overview
Guidewires is a flexible wire inserted into the confined space as to guide instrument. It is mainly used in vascular intervention. The global guidewires market is growing at significant rate, due to escalating acceptance of minimally invasive surgery and increasing healthcare expenditure. The market has witnessed high demand for surgical guidewires over the last few years due to mounting regulatory directive executed for the prevention of healthcare related infection and escalating number of surgical treatment.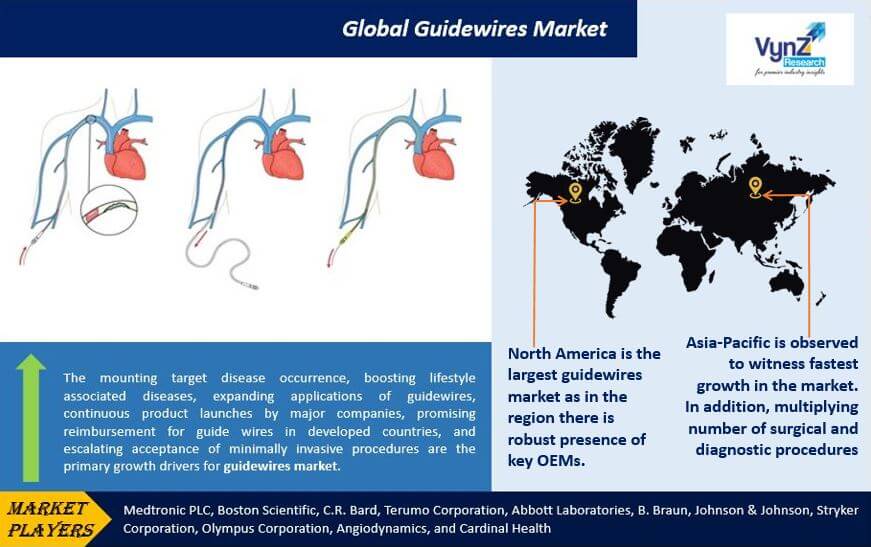 Market Segmentation
Insight by Material
There are three materials of guidewire, hybrid guidewire, nitinol guidewire and stainless steel guidewire. Nitinol guidewire hold the largest share in the market due to escalating acceptance of minimally invasive surgeries, expanding applications of nitinol guidewires, and the boosting number of medical procedures that utilize nitinol guidewires.
Insight by Type
There are two types of guidewire, surgical and diagnostic. Escalating number of surgical treatment for neurovascular, coronary and peripheral diseases, mounting convenience of reimbursements for vascular treatment procedures, and the increasing regulatory directive implemented across developed countries in order to inhibit healthcare associated infections are some of the factors responsible for the growth of the surgical segment. Of both the types, the surgical segment anticipated to account foremost share and is expected to grow at faster rate in the guidewires market.
Insight by Application
On the basis of application the market is subdivided into vascular, cardiology, neurology, urology, oncology, gastroenterology and otolaryngology. The cardiology category account the largest share of the market and is expected to grow at the fastest rate due to mounting geriatric population, escalating occurrence of cardiovascular diseases and escalating acceptance of guidewires among cardiologists due to procedural and technical assistances offered by nitinol materials.
Insight by End-User
On the basis of end-user the market is subdivided into research laboratories & academic institutes, hospitals, diagnostic centers, and surgical centers; and ambulatory care centers; Boosting accessibility of healthcare reimbursement for minimally invasive procedure, expanding technological developments in the field of image-guided medical procedures, and mounting occurrence of target diseases are the factors growing the demand of the hospitals, diagnostic centers and surgical centers. Among the all end-users, the hospitals, diagnostic centers and surgical centers are expected to grow at the fastest rate in the guidewires market.
Industry Dynamics
Industry Trends
Continuing healthcare alliance of healthcare providers in Europe and consolidation of distribution competences of major original equipment manufacturers (OEMs) are the trends in the guidewires market.
Growth Drivers
The mounting target disease occurrence, boosting lifestyle associated diseases, expanding applications of guidewires, continuous product launches by major companies, promising reimbursement for guide wires in developed countries, and escalating acceptance of minimally invasive procedures are the primary growth drivers for guidewires market. The demand for minimally invasive procedure is increasing in order to overcome the complications of conventional surgery such as fatigue, blood clots, infection, postoperative pain and muscle atrophy.
Increasing healthcare expenditure and mounting government initiatives to limit the problem of healthcare associated infection in developed countries are also facilitating the growth for the guidewires market.
Challenges
The huge expense of surgical guidewires, dearth of trained professionals to perform minimally invasive procedures and expenditure of excise duties are the major challenges for the growth of guidewires market.
Industry Ecosystem
Globally, the manufacturing companies are extensively involved in research and development of products in order to cater various medical procedures. Moreover, manufacturing companies have to abide strict regulatory requirements. However, rapid technological advancements have created immense opportunity for the manufacturers to leverage the market potential.
Geographic Overview
Geographically, North America is the largest guidewires market as in the region there is robust presence of key OEMs. In addition, the huge target patient population base those experiencing minimally invasive surgical procedures, mounting prevalence of lifestyle associated diseases, and escalating acceptance of more sophisticated wires are driving the growth of the North American guidewires market. Moreover, escalating geriatric population, mounting occurrence of cardiovascular diseases, and boosting reimbursement among developed countries are also up surging growth of the North American market.
Asia-Pacific is observed to witness fastest growth in the market. In addition, multiplying number of surgical and diagnostic procedures, boosting healthcare expenditure, escalating geriatric population, mounting prevalence of lifestyle associated diseases and modernization & expansion of healthcare infrastructure are also creating a positive impact on the guidewires industry growth in the region.
Competitive Insight
Key players in the guidewires market are catering the demand of these devices by investing on technologically advanced products in their product portfolio across the globe. In May 2018, Medtronic announced advanced SynergyTLIF workflow, an integrated fully navigated procedure with less surgical procedures for lumbar spine surgery. Moreover, in February 2017, Medtronic received FDA and CE clearance for DxTerity Diagnostic Angiography Catheter line and transradial-specific products such as TRAcelet compression device, DxTerity TRA, and InTRAkit access kit in its coronary product portfolio.   
Medtronic PLC, Boston Scientific, C.R. Bard, Terumo Corporation, Abbott Laboratories, B. Braun, Johnson & Johnson, Stryker Corporation, Olympus Corporation, Angiodynamics, and Cardinal Health are the key players offering guidewires.