Industry Overview
In scientific research, immunoassay is frequently used to track various proteins, hormones, and antibodies in order to analyze biological systems. In the workplace, they are used to monitor particular molecules utilized in the production of products as well as to detect toxins in food and water.
The size of the global immunoassay market, which was estimated at USD 28.1 billion in 2021, has been expanded and is anticipated to rise at a CAGR of 6.7% from 2022 to 2030. Growth will also be aided by the increase in the elderly population, who are more susceptible to infections and chronic diseases. The widespread use of immunoassay techniques in illness diagnostics is a result of a rise in the incidence of chronic ailments such cancer, infections, cardiovascular diseases, autoimmune diseases, diabetes mellitus, and nephrological diseases. Due to the rising use of immunoassay tests and the prevalence of chronic and infectious diseases, the market has seen a high demand for kits and reagents in recent years.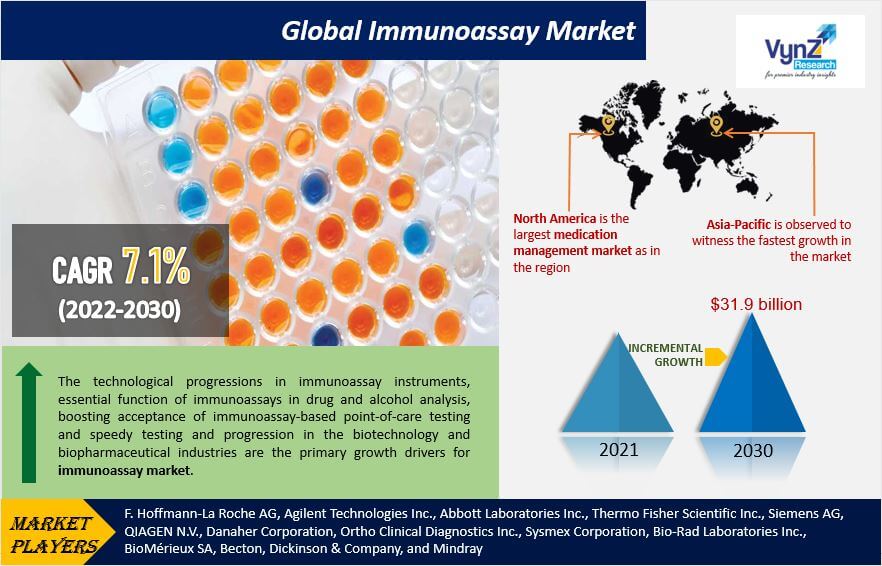 Market Segmentation
Insight by the Product and Services
The Immunoassay market is split into analyzers, reagents & kits, and software & services based on products and services. With a revenue share of over 60.0% in 2021, the reagents and kits segment dominated the immunoassay market. Over the forecast period, the segment is anticipated to keep up its lead. Due to the rising incidence of viral and autoimmune disorders, there is a significant demand for immunoassay reagents and kits for diagnostic purposes. Additionally, it is anticipated that the approval and introduction of innovative immunoassay kits will help the segment's expansion. Due to the need for repeat purchases of kits and reagents, the increasing number of immunoassay tests, and the rising incidence of chronic and infectious diseases, the reagents and kits category had the biggest market share of all the products and services.
Insight by Platform
Key Platforms
Radioimmunoassays (RIAs), Colorimetric immunoassays (CIs),Chemiluminescence immunoassays (CLIAs),Fluorescence immunoassays (FIAs) and Others
Market Player Platform - Chemiluminescence immunoassays (CLIAs)
The CLIAs have the largest market share across all platforms in the immunoassay industry which was valued at USD 7.34 billion in 2020 has the expected CAGR 6.3% for the period of 2022 to 2030. CLIA widely used in the detection of chronic diseases such cancer, diabetes, autoimmune disease, cardiovascular disease, and infectious and autoimmune disorders.
Insight by Technology
Key immunoassay market technologies
Enzyme-Linked Immunosorbent Assays (ELISA), Enzyme-linked immunospot,Immuno-PCR, fast testing, Western blotting, and other technologies.
Market player technology- Enzyme-Linked Immunosorbent Assays(ELISA),
The Enzyme-Linked Immunosorbent Assays held the biggest market share because of frequent test of wide range of infectious and chronic illnesses such as HIV and AIDS. The immunoassays across all technologies has anticipated to reach US$ 2,016.1 million in value in 2022 and its expected CAGR for next five year (2022-2030) is of 6.4% to reach the value of US$ 4.02 billion.
Insight by Specimen Type
The market is segmented into blood, urine, saliva, and other specimen types. Due to the rising incidence of infectious and chronic diseases and number of blood donors, the blood specimen had the biggest proportion of all specimen types. It is predicted to increase at the fastest rate in the immunoassay market. The market size of blood specimen was valued at USD 82.5 billion and is expected to grow with the CAGR of 8.3% till in 2028.
Insight by Application
Market Segments
Infectious illnesses, oncology, cardiology, autoimmune disorders, neonatal screening, endocrinology, bone & mineral disorders, hematology & blood screening, toxicology, and others
Market Player - Infectious Disease treatment
Expected CAGR (2022-2030) - 8.0% to reach the value of US$ 106.3
Factors affecting the growth
Frequent incidence occurrence of infectious diseases and the increasing number of product approvals.
Insight by End User
Market Segments
Hospitals, Blood banks, Clinical Laboratories, pharmaceutical, biotechnology companies, Contract Research Organization (CROs) and research and academic laboratories and others.
Market Players - Hospitals and clinical
Hospitals are the primary end-user in the immunoassay industry. With a projected 81% market share for diagnostic testing at hospitals, hospitals are expected to dominate. The tests at hospitals give the best time and cost savings, and they also have a straightforward method. It is projected that the widespread use of ELISA in blood banks to treat infectious diseases would lead to an increase in immunoassay testing in hospitals. The blood bank sector will benefit from the increase in blood transfusions.
Immunoassay Market Report Coverage
| | |
| --- | --- |
| Report Metric | Details |
| Historical Period | 2018–2021 |
| Base Year Considered | 2022 |
| Forecast Period | 2022 - 2030 |
| Market Size in 2021 | $28.1 Billion |
| Revenue Forecast in 2030 | $xx.x Billion |
| Growth Rate | CAGR 6.7% |
| Segments Covered in the Report | By Product and Services, By Platform, By Technology, By Specimen Type, By Application, and By End-User |
| Report Scope | Market Trends, Drivers, and Restraints; Revenue Estimation and Forecast; Segmentation Analysis; Impact of COVID-19; Companies' Strategic Developments; Market Share Analysis of Key Players; Company Profiling |
| Regions Covered in the Report | North America, Europe, Asia-Pacific, Middle East, and Rest of the World |
Industry Dynamics
The outbreak of Covid-19 affected the immunoassay industry. The market vendors' assessments, strategies, technology assessments, product mapping, industry outlook, economic analysis, segmental analysis, immunoassay market sizing, and analysis tables have all been impacted. With exclusive, in-depth market data, Vynz researches the revenue potential of all high-growth technologies, improving the yearly increases in sales. We have been able to locate new revenue prospects in specialized industries with rapid growth thanks to our knowledge. Our ability to use the client in conjunction with a planned strategy to build an ascending business model has been significantly improved by comprehensive data assets and our revenue model. To understand the present and future state of the immunoassay market and how it will affect the company's income, VynZ research offers a thorough analysis of every sector.
Growth Drivers
The main growth factors for the immunoassay market are technological advancements in immunoassay instruments, immunoassays' critical role in drug and alcohol analysis, the increasing acceptance of immunoassay-based point-of-care testing, and rapid testing and development in the biotechnology and biopharmaceutical industries. Additionally, as a consequence of technological breakthroughs, the major market players are consistently working to offer small, dependable, and portable products, which supports market demand.
Challenges
The main obstacles to the expansion of the immunoassay market are the stringent regulatory requirements for the approval of immunoassay instruments and consumables, the use of excise duty on the sale of medical devices in the U.S., the difficulty of conducting diagnostic tests, and the unfavorable compensation environment. According to a projection by the UN Department of Economic and Social Affairs (UNDESA), there will be 1.4 billion individuals in the world who are 60 years of age or older by 2030, up from 901 million in 2015. This is a global increase of 56%. The number of senior citizens worldwide is anticipated to be around 2.1 billion by 2050. In addition, by 2050, there will be over 437 million individuals in China and 324 million in India who are 60 years of age or older. The market for immunoassay equipment will eventually rise as a result of the growing elderly population.
Geographic Overview
The largest market for immunoassays is the North America. The expansion of this immunoassay market is also being driven by the availability of government resources, rising use of immunoassays in clinical diagnostics, improved healthcare infrastructure. Germany contributed to the biggest revenue share of 23.7%, and is anticipated to expand significantly due to the country's supportive healthcare regulations.
Due to its dense population, the Asia-Pacific region is expected to have the market's quickest expansion. Additionally, the region's immunoassay market is growing as a result of rising rates of chronic illnesses and infectious diseases as well as improved healthcare infrastructure.
Competitive Insight
Market participants are bolstering their positions in the immunoassay instruments market by buying up other comparable businesses. Thermo Fisher Scientific Inc., Ortho Clinical Diagnostics, BioMerieux, Inc., Abbott Laboratories, Sysmex Corporation, DiaSorin S.p.A., Siemens Healthcare, and Merck Millipore Corporation are a few of the other major competitors in the market for immunoassay devices. The study evolves the market size information for a number of nations, including the United States, Canada, Germany, the United Kingdom, France, Italy, Spain, China, Japan, India, and Brazil.
The Immunoassay Market report offers a comprehensive market segmentation analysis along with an estimation for the forecast period 2022–2030.
Segments Covered in the Report
By Product & Services

Analyzers
Reagents & Kit
Software
Services

By Platform 

Chemiluminescence
Colorimetric
Fluorescence
Radioimmunoassays
Others

By Technology 

Enzyme-Linked Immunosorbent Assays,
Enzyme-Linked Immunospot
Immuno-PCR
Rapid Tests
Western Blotting
Others

By Specimen Type

Blood
Urine
Saliva
Others

By Application

Infectious Diseases
Oncology
Cardiology
Autoimmune Disorders
Neonatal Screening
Endocrinology
Bone & Mineral Disorders
Hematology & Blood Screening
Toxicology
Others

By End User 

Hospitals
Blood Banks
Clinical Laboratories
Pharmaceutical and Biotechnology Companies & CROs
Research & Academic Laboratories
Others
Region Covered in the Report
North America
Europe

Germany
U.K.
France
Italy
Spain
Russia
Rest of Europe

Asia-Pacific (APAC)

China
Japan
India
South Korea
Rest of Asia-Pacific

Rest of the World (RoW)

Brazil
Saudi Arabia
South Africa
U.A.E.
Other Countries
PRIMARY RESEARCH INTERVIEWS - BREAKDOWN