Industry Overview
Global demand for the Sterile Medical Packaging market was valued at approximately USD 35.16 billion in 2022 and is expected to generate revenue of around USD 47.3 billion by the end of 2030, growing at a CAGR of around 6.2% between 2023 and 2030.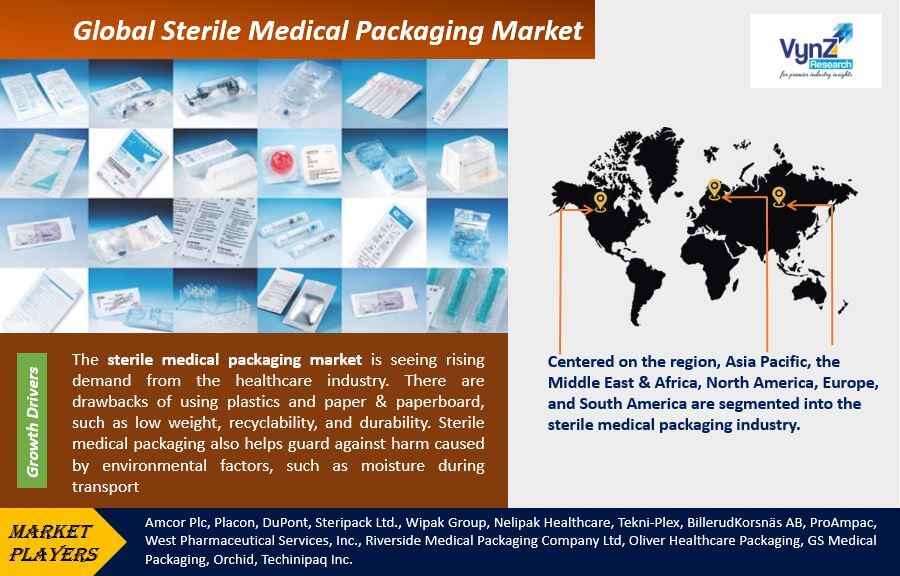 The key drivers driving the growth of the global sterile medical packaging industry globally are growing demographics and their health needs, constant efforts by consumers, suppliers and policymakers to raise the degree of infection prevention, and the beneficial health care policies. Moreover, factors such as expanded purchasing power and increasing customer understanding of healthcare are also expected to fuel the development of the global demand for sterile medical packaging.
Packaging is an integral and inherent aspect of the food development process. It guarantees the protection of goods and the effortless transportation of products.
Different forms of sterilisation packaging, such as bags, wraps and container systems, are available on the market in various sizes and configurations for the sterilisation and packaging of medical equipment and other devices. Factors such as the implementation, consistency and availability of suitable sterilisation packaging systems are very critical for the execution of packaged content sterilisation, the preservation of packaged content sterility before the product is open for use, and the elimination of contamination-free content.
Market Segmentation
Insight by application:
- Pharmaceutical & biological
- Surgical & medical instruments
- Vitro diagnostic products
- Medical implants
The pharmaceutical & biological segment is expected to lead the sterile medical packaging market during the forecast period.
The pharmaceutical & biological application is expected to lead the sterile market for medical packaging dependent on application. This segment's rise can be due to the rising healthcare sector and the introduction of innovative drugs for healthcare.
Technological developments have streamlined and incorporated the pharmaceutical products' sterile packaging process and made it more capital-intensive. The risk of pollution is minimized by this process. The manufacturing and packaging of pharmaceutical and biological products requires numerous checks, safety controls and ensuring that legal compliance with the substance of the drug and the material used in the packaging is complied with.
Insight by Type:
- Thermoform trays
- Sterile bottles & containers
- Vials & ampoules
- Pre-fillable inhalers
- Sterile closures
- Pre-filled syringes
- Blister & clamshells
- Bags & pouches
- Wraps
The thermoform trays segment is expected to lead the sterile medical packaging market during the forecast period.
The thermoform trays section is expected to report the highest CAGR, based on sort. These, owing to their low weight, are flexible and simple to transport. Thermoformed trays are made from plastics, come in a wide range of shapes and sizes and are designed for internal use. As the plastics used for trays can be formed to create various shapes by the thermoforming process, plastic trays have a highly flexible packaging design style. This flexibility makes them versatile for everything. Two types of thermoform trays used in the healthcare industry are semi-rigid and flexible.
Insight by Material:
- Plastics
- Metals
- Glass
- Paper & paperboard
In the forecast timeframe, the plastic segment is projected to account for the largest share of the sterile medical packaging industry.
The section of plastic sterile medical packaging is expected to dominate the market for sterile medical packaging. This advancement can be due to its high usage and rising end-user demand. In the sterile medical packaging industry, plastic polymers such as HDPE, polyester and polypropylene are used widely in the manufacture of tubes, vials & ampoules and pre-filled syringes.
Sterile Medical Packaging Market Report Coverage
| | |
| --- | --- |
| Report Metric | Details |
| Historical Period | 2018–2022 |
| Base Year Considered | 2022 |
| Forecast Period | 2023 - 2030 |
| Market Size in 2022 | $35.16 Billion |
| Revenue Forecast in 2030 | $47.3 billion |
| Growth Rate | CAGR 6.2% |
| Segments Covered in the Report | By Application, By Type, By Material |
| Report Scope | Market Trends, Drivers, and Restraints; Revenue Estimation and Forecast; Segmentation Analysis; Impact of COVID-19; Companies' Strategic Developments; Market Share Analysis of Key Players; Company Profiling |
| Regions Covered in the Report | North America, Europe, Asia-Pacific, Middle East, and the Rest of the World |
Geographical Overview:
- North America
- Europe
- Asia Pacific
- Rest of World
North America is projected to be the largest consumer of the sterile medical packaging market
Centered on the region, Asia Pacific, the Middle East & Africa, North America, Europe, and South America are segmented into the sterile medical packaging industry. North America accounted for the largest share of these, and during the forecast period it is expected to see the fastest growth. This rise can be due to the numerous regulations implemented by the FDA, which, in turn, are driving demand in this area for safe and high-quality products. Moreover, the industry has been very competitive in the area due to the involvement of several big players and strict FDA regulations.
Market Trends- Salient trends of Sterile Medical Packaging Market
Plastic Material is Expected to Hold a Significant Share
Many collaborations in the field have contributed to several developments. New innovations and devices have largely been the outcome of joint projects between the chemical/polymer resin industries and medical device packaging converters.
For example, metallocene is a linear low-density polyethylene that provides greater seal integrity and durable efficiency, autoclave sterilization compliant with modern oxygen and moisture barrier resins, and new polymer chemistries provide enhanced performance in both speed and efficiency of thermoformability.
Improving the overall efficiency of the sterile barrier medical product packaging has been the main priority of the suppliers. This mostly concerns elements such as physical properties, durability of the aged box, performance of the sterile barrier, ease of opening, and clarification of materials.
Market Drivers- High consumption rate of sterile medical packaging in healthcare and pharmaceutical industries
The sterile medical packaging market is seeing rising demand from the healthcare industry. There are drawbacks of using plastics and paper & paperboard, such as low weight, recyclability, and durability. Sterile medical packaging also helps guard against harm caused by environmental factors, such as moisture during transport, resulting in increased demand from the medical industry. Properties such as the microbial barrier make sterile medical packaging the best option for the packaging of medical instruments and prescription goods in the healthcare field.
Thanks to rising health consciousness and growing infection management issues, the sterile medical packaging industry has an optimistic outlook. Sterile medical packaging items, which fuel demand, are easy to treat. The rising level of consumer revenue would change consumer demand to higher spending on healthcare facilities, which will in turn promote the development of sterilized medical packaging goods.
Opportunities- Developing new sustainable packaging options
Changes in the market, such as the implementation of new regulatory policies and increasing health care prices, have prompted suppliers to explore new solutions for packaging. In addition, increasing questions about the use of plastic for medical product packaging and its effect on human health and the atmosphere have also forced manufacturers to create safe and secure recycled packaging alternatives. In order to minimize the cost burden and at the same time protect the integrity of the packaging of the goods, producers are exploring sustainable packaging options that need less material and energy to produce the packaging, reduce shipping costs and have a longer shelf life for the product.
In November2019, for example, Amcor invested over USD 11 million in the all-new multi-layer cast extrusion technology that produces up to 11-layer film to generate safe, reliable, and cost-effective packaging for medical devices. This technology lets consumers of medical devices fulfil ever-increasing regulatory standards, make substantial reductions in manufacturing prices, and continue to ensure that their devices remain sterile at the point of use.
Challenges- Maintaining medical packaging integrity
To assess the sterility of drugs and their shelf life, examination of medicinal packaging is carried out. During packaging, handling, and delivery, preserving the integrity of the medicinal kit becomes a problem for suppliers. To protect the patient and avoid disease spread, ensuring system sterility is important. After its sensitivity to environmental conditions, the effectiveness of sterile medical packaging is still tested, creating a problem for manufacturers. Sterile packaging integrity is usually caused during shipping and storage due to disruption or vibrations.
The packaging integrity of the product may be affected by variables, such as humidity and ageing. Manufacturers are also responsible for assigning the product an accurate shelf life and ensuring that the packaging content selected is sufficient for the intended method of sterilization, shipping, transport, and final usage.
Key Market players:
List of the Key Companies Operating in the Sterile Medical Packaging Market are:
- Amcor Plc (Switzerland)
- Placon (U.S.)
- DuPont (U.S.)
- Steripack Ltd. (Ireland)
- Wipak Group (Finland)
- Nelipak Healthcare (U.S.)
- Tekni-Plex(U.S.)
- Sonoco (U.S.)
- BillerudKorsnäs AB (Sweden)
- ProAmpac (U.S.)
- West Pharmaceutical Services, Inc. (U.S.)
- Riverside Medical Packaging Company Ltd (UK)
- Oliver Healthcare Packaging (U.S.)
- GS Medical Packaging (Canada)
- Orchid (U.S.)
- Techinipaq Inc. (U.S.)
Latest news
Recent Market Developments:
West Pharmaceutical Services launched two line extensions in February 2020, including itsAccelTRA Select EU configurations available in Ready-to-Sterilize (RS) and Ready-to-Use (RU) steam for consumers in need of high-performance elastomer and regulatory assistance in North America, as well as its Ready-to-Sterilize (RTS)/Ready-to-Use (RTU) AccelTRA components product line with the RTS alternative available.
3M completed the purchase of Acelity, Inc. and its KCI branches around the world in October 2019. Acelity is a major global medical technology company sold under the KCI name, concentrating on specialised wound care and specialist surgical applications.
Amcor completed the Bemis purchase in June, 2019. With a comprehensive global presence, size in every area, and industry-leading R&D capabilities, this strategic convergence establishes Amcor as the global leader in consumer packaging.
Primary Research
VynZ Research conducts extensive primary research to understand the market dynamics, validate market data and have key opinions from the industry experts. The key profiles approached within the industry includes, CEO, CFO, CTO, President, Vice President, Product Managers, Regional Heads and Others. Also, end user surveys comprising of consumers are also conducted to understand consumer behavior.
The Sterile Medical Packaging Market report offers a comprehensive market segmentation analysis along with an estimation for the forecast period 2023–2030.
Segments Covered in the Report
By Application

Pharmaceutical & biological
Surgical & medical instruments
Vitro diagnostic products
Medical implants

By Type

Thermoform trays
Sterile bottles & containers
Vials & ampoules
Pre-fillable inhalers
Sterile closures
Pre-filled syringes
Blister & clamshells
Bags & pouches
Wraps

By Material

Plastics
Metals
Glass
Paper & paperboard
Region Covered in the Report
North America
Europe

Germany
U.K.
France
Italy
Spain
Russia
Rest of Europe

Asia-Pacific (APAC)

China
Japan
India
South Korea
Rest of Asia-Pacific

Rest of the World (RoW)

Brazil
Saudi Arabia
South Africa
U.A.E.
Other Countries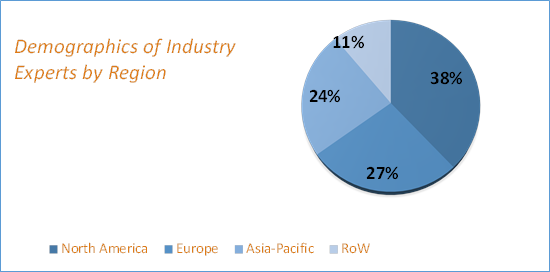 Source: VynZ Research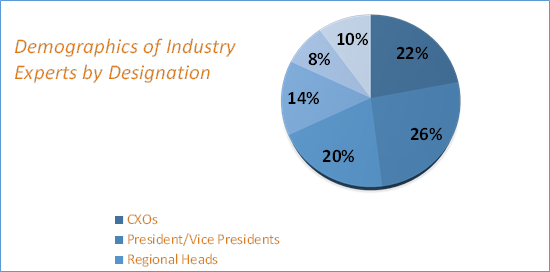 Source: VynZ Research