Industry Overview
The market size of 3D Mapping and Modelling was valued at $ 4.5 billion in 2022 and is expected to grow at a CAGR of 18.5% during the forecast period, thus anticipated to reach $616.35 billion in 2030.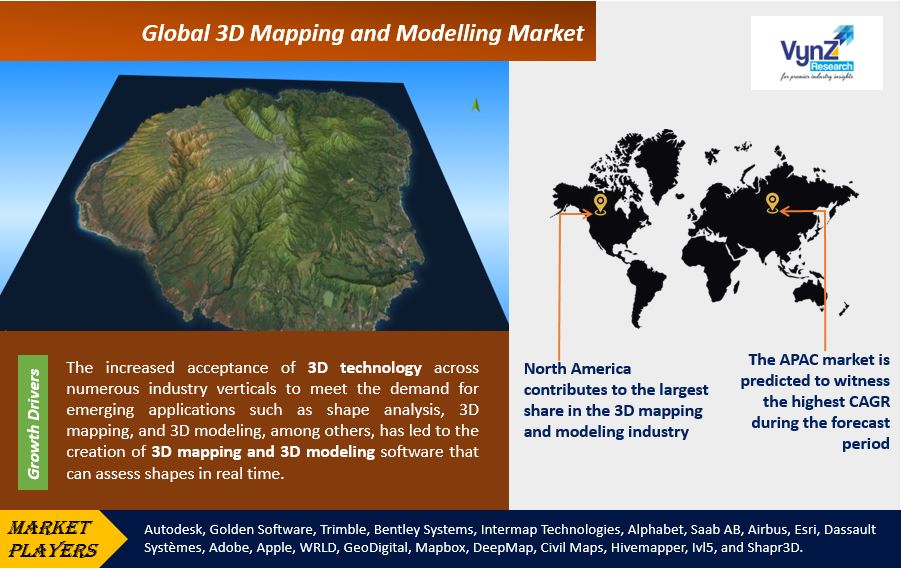 A three-dimensional, mathematically defined, computer-generated, and extremely realistic virtual depiction of an area and the elements therein is referred to as 3D mapping. 3D modelling, on the other hand, is the act of employing software to create a mathematical representation of a 3D object or shape. It is one of the fastest-growing and time-saving design solutions for modeling, visualizing, and producing graphic designs in a variety of industries. Thus, 3D Mapping and Modelling build 3D environments. Due to an increase in the need for 3D maps and 3D models, the global 3D mapping and 3D modeling market have seen a boom in demand in recent years. The global 3D mapping and modeling market has benefited from the change from 2D mapping and modeling to advanced 3D maps and models. The market is currently being driven by technological advancements and developments in 3D mapping and modeling tools and equipment such as 3D sensors, 3D scanners, and geographical positioning systems. Because of the integration of 3D mapping and modeling technologies with electronic devices like smartphones, personal navigation devices (PNDs), and gaming consoles, firms like Google Maps and Here Maps have developed new solutions and updated features to improve their customer base.
The COVID-19 pandemic had an impact on the technology sector. The companies are choosing 3D mapping and modeling software tools to manage huge geospatial data and meet consumer expectations. eCommerce, logistics, online learning, food delivery, and online business collaboration are all booming, putting a strain on customer-facing and internal applications. Businesses are under pressure to speed up and scale out of their applications, and one of the quickest ways to do so is to use 3D mapping and modeling software. The 3D mapping and modeling industry has seen a rise in number of clients who are demanding 3D mapping and modeling software products and services during the COVID-19 crisis.
Market Segmentation
Insight by Component
Based on component, the global 3D mapping and modeling market is segmented into software tools and services. The software tools is further divided into 3D mapping and 3D modeling. The services are further divided into Professional Services (Consulting, System Integration and Implementation, and Support and Maintenance) and managed services. The 3D Mapping software tools category is predicted to account for a larger market share over the projection period.  With the introduction of 4D technologies, the demand for 3D visualization and modeling development applications is expected to increase. The growing usage of various 3D visualization technologies for video games and theatrical films, such as AI, blockchain, and IoT, is predicted to drive up demand for 3D mapping and modeling.
The 3D modeling software category is anticipated to have a high CAGR during the forecast period 2021-2027 due to the rising demand for CAD applications for non-visual simulations which is being adopted in medical and engineering sector.
Insight by 3D Mapping Application
Inspection and Measurement, Object Reconstruction, Projection and Navigation, Reporting and Virtualization, and Others are the segments of the worldwide 3D mapping and modelling market based on 3D Mapping Application. During the projected period, the reporting and virtualization segment is expected to increase at the fastest rate.  Organizations are embracing the infrastructure for producing high-quality digital content. It aids 3D designers in creating amazing visualisations that may be applied to any field. 3D mapping technology is used to appropriately map 3D structures and 3D content on the surface. Real-time virtualization achieved by 3D mapping aids clients in better interpreting designs and models. Virtualization technology is gaining traction because it allows architects and engineers to migrate their projects to clients. It also aids creators, animators, sculptors, and other visual artists in tracing their templates on the surface
Insight by 3D Modeling Application
Based on 3D modeling application, the global 3D mapping and modeling market is segregated into Product Marketing, Animation and Movies, Gaming and Designing, Architectural Rendering, and Others. The gaming & designing and animation & movies are anticipated to have a high CAGR during the forecast period as it is extensively adopted in the entertainment sector to offer a virtual view of cinema and generate animated models of games and movies.
Insight by Vertical
The global 3D mapping and modeling is divided on the basis of vertical into retail and consumer goods, engineering and construction, healthcare and life sciences, transportation and logistics, government and defense, media & entertainment, energy and utilities, manufacturing, and others. Engineering and construction dominate the market outlook for 3D mapping and modeling industry as it helps in creating computer-generated buildings. Time is saved by using CAD and 3D modelling techniques, which allow for a more concise picture of the project, landscape, or construction site. Using 3D technology, the ultimate output to be produced may be visualized in terms of its length, breadth, and height, and realistic 3D virtualization can be used to watch simulations with extensive details of the structure to assess its feasibility. As a result, throughout the forecast period, the anticipated growth of smart cities is expected to drive the 3D mapping and modeling market.
3D Mapping and Modelling Market Report Coverage
| | |
| --- | --- |
| Report Metric | Details |
| Historical Period | 2018–2022 |
| Base Year Considered | 2022 |
| Forecast Period | By 2030 |
| Market Size in 2022 | $4.5 Billion |
| Revenue Forecast in 2030 | $616.35 Billion |
| Growth Rate | CAGR 18.5% |
| Segments Covered in the Report | By Component, By 3D Mapping Application, By 3D Modeling Application, and By Vertical |
| Report Scope | Market Trends, Drivers, and Restraints; Revenue Estimation and Forecast; Segmentation Analysis; Impact of COVID-19; Companies' Strategic Developments; Market Share Analysis of Key Players; Company Profiling |
| Regions Covered in the Report | North America, Europe, Asia-Pacific, Middle East, and Rest of the World |
Industry Dynamics
Industry Trends
The increased demand to strengthen ASW capabilities, and the increased trend towards digitalization to enhance overall operational efficiency and improves customer experience will propel the growth of the market.
The market encompasses a variety of technologies and techniques for 3D mapping and modeling, including laser scanning (LiDAR), photogrammetry, structured light scanning, depth sensing, and more. Each technology has its strengths and is suited for specific applications.
Growth Drivers
Increased implementation of 3D Technology to meet the Demand for Emerging Applications will Propel the Growth of the market
The increased acceptance of 3D technology across numerous industry verticals to meet the demand for emerging applications such as shape analysis, 3D mapping, and 3D modeling, among others, has led to the creation of 3D mapping and 3D modeling software that can assess shapes in real-time. The increased demand for 3D mapping and modeling solutions in the defense, military, and aerospace sectors will enhance geospatial intelligence and improves situational awareness to monitor surveillance programs, crisis intervention, and broad area mapping. Moreover, 3D mapping and modeling solutions are gaining significant traction in topographic mapping and advancement in smart cities owing to their properties to analyze ventilation, visibility, and sunlight distribution between buildings, and offer shapes and dimensions of landscape features and architecture of an area. The surge in the adoption of driverless cars, metros, and other transport systems has led to the use of 3D mapping for custom-designed maps and open-source routine engines for navigation. Thus these factors will drive the market outlook for the 3D mapping and modeling industry.
 The market growth is primarily driven by the increasing demand for 3D models in various industries. The need for accurate and detailed representations of real-world objects or spaces, the growing popularity of virtual reality and augmented reality technologies, and the rise of autonomous vehicles are some of the key factors contributing to the market expansion.
 Challenges
Rigorous government regulations and lack of investments
The market for 3D mapping and modeling is hampered by a lack of adequate investment.  R&D operations, employee training, and the acquisition of modern technologies are all hampered by a lack of funding. Investment in the application of new technologies ensures job productivity and increases the number of opportunities available in the industry. One of the main reasons for the lack of interest by investors in the animation industry is its slow return on investment (ROI). As a result, private investors are wary about entering the 3D imaging and modeling business.
The increased cost required in the 3D mapping and modeling market like costs related to video development time, and expenditure related to the use of projectors, media servers, and hard drivers may act as a restrain in the market growth for the 3D mapping and modeling market.
Mounting corruption and piracy concerns
The animation business continues to be subjected to abuse and piracy threats. Companies have developed detection and monitoring systems to prevent the illegal downloading of 3D mapping and simulation tools in order to combat piracy. In fact, consumers have found it easier to obtain legitimate digital content as a result of this.
However, flexible business plans must be executed to develop prevention techniques and to take aggressive action by forming anti-piracy cells and raising awareness.
Opportunities
The emergence of AI and ML technologies to boost 3D content accuracy
AI has the potential to propel the need for 3D mapping to new heights. The data collecting method required to build 3D maps will be demonstrated using AI technology such as Machine Learning, Deep Learning, and Natural Language Understanding. Thus, enhancing the accuracy of 3D maps. Furthermore, AI solves operational downtime problems by building maps from point-cloud data.
Also, 3D models enable users to participate in better urban planning and assess the environmental impact of new construction developments. The big data analytics and services emphasizing on AI support industry verticals that are adopting automation and identifying illegal practices can be checked via predictive modeling.  Businesses such as Google are now employing AI to combine different aspects, such as image recognition, suggestions, and prediction, and enhance its accuracy and performance. The same can be seen in 3D sensing for other businesses looking to maximize their potential.
Geographic Overview
North America contributes to the largest share in the 3D mapping and modeling industry owing to the rising demand for high-resolution precise 3D geospatial data, resulting in increased adoption of 3D mapping solutions to develop 3D city models. These 3D models are increasingly being used to visualize future construction projects, urban planning, and the reorganization of historic structures, forts, and castles. Furthermore, the technique is used to analyze a variety of simulated scenarios, including disasters and traffic control. As a result of these changes, the 3D mapping and modeling market is likely to expand over the forecast period.
APAC is expected to have faster growth during the projected period owing to the rising number of industry players and increased adoption of 3D mapping and modeling technologies by various verticals, such as engineering and development, and government and defense, which will lead to market growth in the APAC region.
Competitive Insight
The industry players are emphasizing product innovation, and M&A to enhance their profitability and expand their reach. Moreover, there is an increased demand for 3D technology in major industries.  
Autodesk's 3D map-making software and 3D mapping tools help in creating, analyzing, visualizing, and sharing projects conveniently. While there are many other kinds of 3D mapping, Autodesk focuses on 3D projection mapping, GIS mapping, and drone mapping. Autodesk provides software and tools for creating 3D maps using 3D mapping techniques such as GIS, CAD, drones, UAVs, and photogrammetry.
The 3D experience company, DASSAULT SYSTEMS, provides virtual universes for businesses and people to imagine sustainable innovations. Their 3D experience platform includes information intelligence, real-time 3D experience, simulation, 3D modeling, and social and collaborative solutions.
In May 2021, Golden Software, a provider of low-cost 2D and 3D scientific modeling software, updated its Surfer gridding, contouring, and surface mapping software with new and improved 3D features. Surfer users will find it easier to explore, display, and analyze complicated 3D data with new capabilities available as well as capabilities in Beta development.
In March 2021, Bentley Systems, Incorporated, the infrastructure engineering software company entered into a definitive agreement with investors led by Accel-KKR to acquire Seequent for $900 million in cash plus 3,141,361 BSY Class B shares.
Some of the major players operating in the 3D mapping and modeling market include Autodesk, Golden Software, Trimble, Bentley Systems, Intermap Technologies, Alphabet, Saab AB, Airbus, Esri, Dassault Systèmes, Adobe, Apple, WRLD, GeoDigital, Mapbox, DeepMap, Civil Maps, Hivemapper, Ivl5, and Shapr3D.
The 3D Mapping and Modelling Market report offers a comprehensive market segmentation analysis along with an estimation for the forecast period 2023–2030.
Segments Covered in the Report
By Component

Software Tools
Services

Professional Services

Consulting
System Integration and Implementation
Support and Maintenance

Managed Services

By 3D Mapping Application

Inspection and Measurement
Object Reconstruction
Projection and Navigation
Reporting and Virtualization
Others

By 3D Modeling Application

Product Marketing
Animation and Movies
Gaming and Designing
Architectural Rendering
Others

By Vertical

Retail and Consumer Goods
Engineering and Construction
Healthcare and Life Sciences
Transportation and Logistics
Government and Defense
Media & Entertainment
Energy and Utilities
Manufacturing
Others
Region Covered in the Report
North America
Europe

Germany
U.K.
France
Italy
Spain
Russia
Rest of Europe

Asia-Pacific (APAC)

China
Japan
India
South Korea
Rest of Asia-Pacific

Rest of the World (RoW)

Brazil
Saudi Arabia
South Africa
U.A.E.
Other Countries

Source: VynZ Research