Industry Overview
The Global Advanced Analytics Market is anticipated to grow from USD 35.3 billion in 2022 to USD 96.4 billion by 2030, registering a CAGR of 22.3% during 2023-2030. Advanced analytics refers to the complicated examination of data that is used to foresee trends and predict events. It examines the increasing big data and identifies patterns to generate deeper insights using cutting-edge methods such as machine learning and artificial intelligence (ML and AI), as well as complex statistical analysis and algorithms. To find relationships, trends, correlations, and outliers, advanced analytics employs both quantitative and qualitative methodologies. Data mining, machine learning, cohort analysis, cluster analysis, retention analysis, complex event analysis, predictive analysis, regression analysis, sentiment analysis, and time series analysis are all examples of advanced analytics techniques.
The increased adoption of analytics by several industry verticals like BFSI and increased public expenditure to develop IT infrastructure will propel the growth of the market. Furthermore, the mounting demand of analytics for data management and strategic decision making owing to the increased volume of unorganized data like surveillance data, corporate emails, data generated from streaming activity, etc. and continuous integration of analytics with GIS along with enhancement in location-based services, resulting in the adoption of advanced analytics to optimize management of data.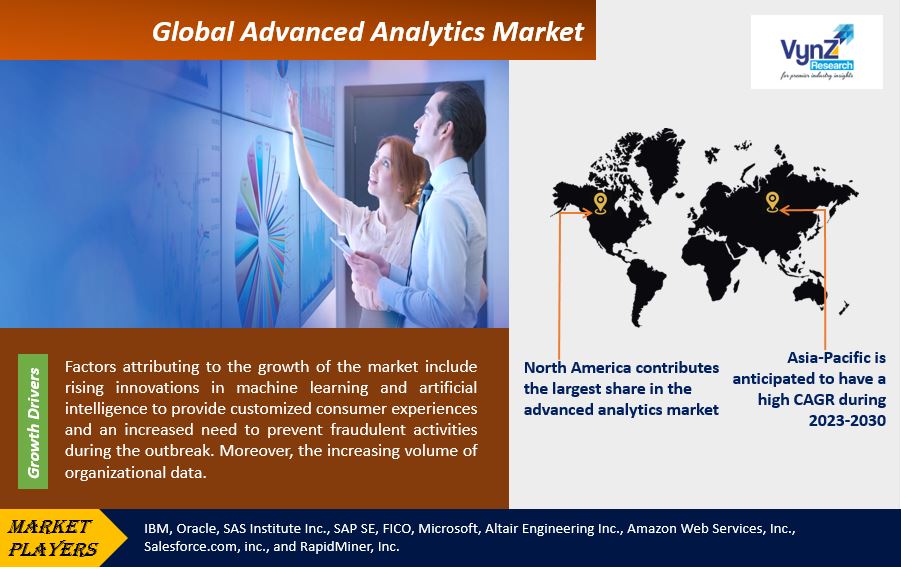 The COVID-19 pandemic has prompted the adoption of analytics across organizations so as to ensure process optimization and business continuity. Organizations are adopting remote working and are increasingly opting for advanced analytics to ensure operational steadiness and business process optimization for decision making.
Market Segmentation
Insight by Component
The worldwide advanced analytics market is divided into solutions and services based on components. The services are subdivided into professional services and managed services. The professional services are further divided into training and consulting system integration and implementation, and support and maintenance. Because of the need to estimate the time and cost of deploying a solution that requires fully managed advanced analytics services, the solution segment dominates the market. There is increased adoption of advanced analytics solutions in various industry verticals like IT and telecom, BFSI, and the retail and consumer goods sector.
Insight by Business Function
Based on business function, the global advanced analytics market is segmented into marketing and sales, finance, human resource, operations, and supply chain. Sales and marketing contribute to the largest share of the market. Advanced analytics is being used by businesses to find historical process data, detect patterns and relationships among discrete process steps and inputs, and then improve the elements that have the biggest impact on business yield. Many multinational manufacturers have access to a large amount of real-time shop-floor data and the ability to perform complex statistical evaluations. They are combining and analyzing previously isolated data sets in order to uncover crucial insights.
Insight by Type
Based on type, the global advanced analytics market is divided into big data analytics, predictive analytics, customer analytics, statistical analytics, risk analytics, prescriptive analytics, and others. The risk analytics segment contributes to the highest share during the forecast period owing to rising demand for advanced credit risk analytics aiding institutions to enhance underwriting decisions and growing revenues along with decreasing risk costs.
Customer analytics is anticipated to grow substantially during 2023-2030 owing to the rising demand for enhanced lead management, customer retention, and customer experience management. The development of innovative technologies like machine learning and artificial intelligence along with integration and the continued introduction of business process automation will drive the growth of the customer analytics segment.
Insight by Deployment Mode
Based on deployment mode, the global advanced analytics market is bifurcated into cloud and on-premises. Cloud deployment is anticipated to grow at a faster pace owing to its advantages like pay-per-use and low installation and maintenance costs. Several vendors like SAP SE, International Business Machines Corp., and MICROSOFT are aggressively adopting cloud-based advanced analytics solutions which will propel the growth of the market.
Insight by Organization Size
Based on organization size, the global advanced analytics market is bifurcated into large enterprises and small and medium-sized enterprises. Large enterprises dominate the market owing to the increased adoption of analytical solutions among several functions like customer analytics and business analytics to effectively manage a large database of customers and other data assets. Large corporations' strong emphasis on data governance, location intelligence, and enterprise planning is expected to drive category growth. The SMEs segment is anticipated to have a high CAGR during 2023-2030 owing to increasing initiatives by the government to provide funds so as to adopt cloud-based solutions that will drive growth.
Insight by Vertical
The global advanced analytics market is segmented into BFSI, IT and telecom, retail and consumer goods, healthcare and life sciences, transportation and logistics, government and defense, manufacturing, media and entertainment, and others based on vertical. Healthcare and life sciences is anticipated to have a high CAGR during the forecast period 2023-2030 as advanced analytics solutions offer care plans and educate patients to improve patient care and outcomes and also reduce healthcare costs to healthcare firms.
The BFSI segment dominates the advanced analytics market owing to the increasing number of fraudulent transactions, optimization of processes, and handling of data risks. Furthermore, advanced analytics aids banks and financial institutions in sorting unstructured data and ensures regulatory compliance.  Nevertheless, it aids financial institutions in ensuring operational efficiency and improves customer experience.
Advanced Analytics Market Report Coverage
| | |
| --- | --- |
| Report Metric | Details |
| Historical Period | 2018–2022 |
| Base Year Considered | 2022 |
| Forecast Period | 2023-2030 |
| Market Size in 2022 | $35.3 Billion |
| Revenue Forecast in 2030 | $96.4 Billion |
| Growth Rate | 22.3% |
| Segments Covered in the Report | By Component, By Business Function, By Type, By Deployment Mode, By Organizational Size, and By Vertical |
| Report Scope | Market Trends, Drivers, and Restraints; Revenue Estimation and Forecast; Segmentation Analysis; Impact of COVID-19; Companies' Strategic Developments; Market Share Analysis of Key Players; Company Profiling |
| Regions Covered in the Report | North America, Europe, Asia-Pacific, Middle East, and the Rest of the World |
Industry Dynamics
Industry Trends
Advanced analytics is gaining significant traction owing to the development of innovative technologies like machine learning, data mining, semantic analysis, neural networks, and multivariate statistics. Also, industry players in several industry verticals like IT and telecom, BFSI, and energy & utilities are adopting state-of-art analytics so as to offer continuous and precise data processing and robust decision-making in a highly competitive environment. These are the trends that are prevailing in the advanced analytics market.
This includes a wide range of software and tools designed to handle data analysis tasks. These tools often provide functionalities for data preparation, data visualization, predictive modeling, and statistical analysis.
Growth Drivers
Factors attributing to the growth of the market include rising innovations in machine learning and artificial intelligence to provide customized consumer experiences and an increased need to prevent fraudulent activities during the outbreak. Moreover, the increasing volume of organizational data, the mounting number of small and medium-scale enterprises in emerging economies, technological development in analytical tools, growing digital platforms, and the increasing advent of cloud technology will accelerate the growth of the advanced analytics market. Furthermore, the rising prominence of online shopping, increasing demand to counter Big Data challenges, and increased social network penetration will drive the demand for advanced analytics over the forecast period. The increased usage of advanced analytics to predict and forecast trading patterns, electricity consumption patterns, and traffic conditions will propel the growth of the market. Also, the increasing demand for IoT-based predictive solutions which aid in collecting and analyzing data from sensors like temperature sensors, motion sensors, air quality sensors, etc. with IoT networks will further bolster the growth of the advanced analytics techniques during the projected period.
Challenges
Advanced analytics solutions are designed to address specific industry challenges or business needs. These solutions typically offer pre-built analytical models, dashboards, and data connectors to streamline the analytics process.
The advanced analytics market's overall expansion may be hampered by a complicated data ecosystem that leads to data breaches and security difficulties, as well as a lack of advanced analytical knowledge among workforces and a lack of standardization will pose a challenge for the growth of the advanced analytics market. Moreover, the lack of a robust IT infrastructure, as well as technical misspecification's or technological problems while functioning, will stymie market expansion in developing economies.
Opportunities
The escalating demand for real-time analytical solutions to track and monitor COVID-19 spread, as well as the proliferation of the internet, and the rising use of connected and integrated technologies, are the major factors adding value to advanced analytics offerings, which are projected to provide opportunities for businesses working in diverse verticals in the advanced analytics market.
Geographic Overview
North America contributes the largest share in the advanced analytics market owing to its well-established infrastructure to implement innovative analytics. Moreover, it is highly effective in organizations and verticals as it offers businesses to operationalize and get more value from data assets.
Asia-Pacific is anticipated to have a high CAGR during 2023-2030 owing to increased expenditure in developing IT infrastructure, growth in eCommerce and retail sectors, and an increasing number of small-scale businesses.
Competitive Insight
The industry players are offering innovative software solutions that can be used over the cloud. Angoss Software Corporation, SAS Institute, Inc., and International Business Machines Corp., for example, are all providing advanced analytics software solutions primarily through the cloud. Moreover, the industry players are investing in R&D activities, enhancing their internal processes, making new product development, and enhancing their existing products so as to attain new customers and improve their market share. The players are entering into collaboration, M&A, and partnerships to develop technologically developed products and sustain themselves in a competitive market.
Working directly with enormous data volumes in the Oracle Database, Oracle Advanced Analytics enables data and business analysts to extract knowledge, find new insights, and make predictions. Oracle Advanced Analytics, a feature of Oracle Database Enterprise Edition, combines strong in-database algorithms with open-source R algorithms that are available via SQL and R languages, as well as a variety of GUI and IDE choices aimed at everyone from business users to data scientists. Oracle Advanced Analytics enables businesses to quickly design and deploy enterprise analytical applications that are highly scalable and easily interact with both business processes and business intelligence environments.
Altair empowers data-driven businesses by empowering teams to employ data analytics and artificial intelligence (AI) to acquire competitive advantages and drive next-level business results. Manufacturers can uncover ML-guided insights, explore novel solutions to challenging design issues using physics and AI-driven workflows and achieve higher product innovation through collaboration and design convergence using computer-aided engineering (CAE) augmented by AI. They expedite model creation with tools like AutoML and Explainable AI, providing transparency and automation so that more time can be spent analyzing and results can be verified. Their no-code method allows them to configure and tune models in whatever way consumers want, providing complete control over the process.
In December 2021, IBM's Cloud Park for Data as a Service now includes streaming analytics (DaaS). This service provides APIs that can be used outside of Cloud Pak for DaaS and adds a tool or other types of interfaces that operate in IBM Cloud.
In November 2021, Samsung Securities has chosen Oracle Cloud Infrastructure (OCI) as the foundation for its digital innovation strategy as the company aims to respond to changes brought by the emergence of digital finance in a post-pandemic world. Samsung Securities is gaining access to flexible, secure, and high-performance computing resources not previously available with its legacy system owing to the adoption of the cloud. System performance has increased owing to the new OCI cloud features. Complex analysis and simulations can now be carried out at a lower cost using readily available computing resources, saving time and eliminating the need for complicated scheduling. In addition, the company has built an information management system based on actual usage, which allows money managers to better understand and maximize derivatives returns.
Some of the industry players in the global advanced analytics market include IBM, Oracle, SAS Institute Inc., SAP SE, FICO, Microsoft, Altair Engineering Inc., Amazon Web Services, Inc., Salesforce.com, inc., and RapidMiner, Inc.
The Advanced Analytics Market research includes a comprehensive market segmentation analysis as well as projections for the analysis period 2023-2030.
Segments Covered in the Report
By Component 

Solutions
Services

Professional Services
Managed Services

By Business Function

Marketing and Sales
Finance
Human Resource
Operations
Supply Chain

By Type 

Big Data Analytics
Predictive Analytics
Customer Analytics
Statistical Analytics
Risk Analytics
Prescriptive Analytics
Others

By Deployment Mode 
By Organization Size 

Large Enterprises
Small and Medium-Sized Enterprises

By Vertical 

BFSI
IT and Telecom
Retail and Consumer Goods
Healthcare and Life Sciences
Transportation and Logistics
Government and Defense
Manufacturing
Media and Entertainment
Others
Region Covered in the Report
North America
Europe

Germany
U.K.
France
Italy
Spain
Russia
Rest of Europe

Asia-Pacific (APAC)

China
Japan
India
South Korea
Rest of Asia-Pacific

Rest of the World (RoW)

Brazil
Saudi Arabia
South Africa
U.A.E.
Other Countries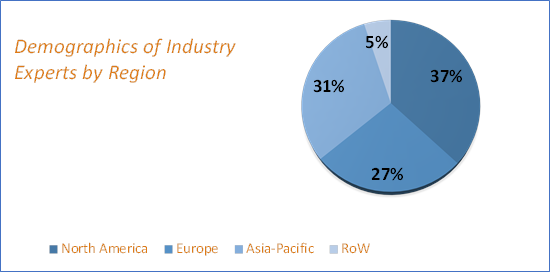 Source: VynZ Research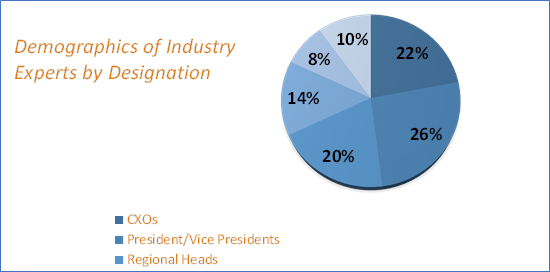 Source: VynZ Research