Industry Overview
The global AI in cyber security market is estimated to be valued at USD 16.0 billion in 2022 and is expected to reach USD 40.5 billion by 2030, growing at a CAGR of 28.5% CAGR during the forecast period (2023–2030). Different technologies including natural language processing, machine learning, and image processing are majorly contributing to the AI in Cyber Security market size. The market has witnessed significant demand for these technologies and services over the last few years due to increasing adoption of internet of things (IoT), vulnerability of systems connected to Wi-Fi networks, and increasing number of cyber-attacks.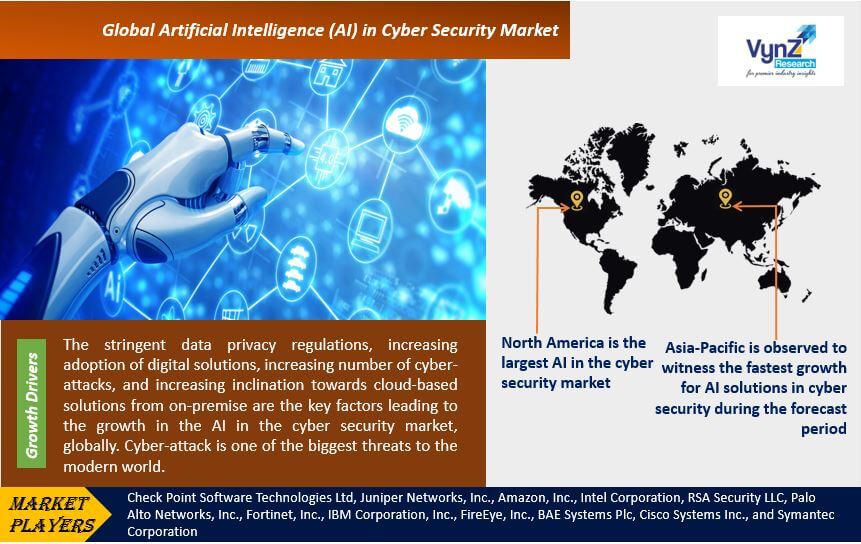 Market Segmentation
Insight by Technology
Based on technology, the AI in cyber security market is categorized into natural language processing, speech recognition, machine learning, and image processing, of which machine learning technology holds the largest share in the AI in cyber security market, globally. The machine learning technology offers rapid analysis, prediction and processing of data from unlimited number of sources and also helps in analyzing user behavior and interpret them, which makes it's the most utilized technology for AI in cyber security market.
Insight by Service Type
On the basis of security type, the market is segmented into Identity and access security services, network security services, cloud security services, data security services, and others. Of all, the AI for cloud cyber security services is predicted to witness the fastest growth during the forecast period. The primary factors responsible for the fastest growth of AI in cyber security services market are the increasing number of or large enterprises using cloud platform for data repository and as servers, which makes it vulnerable to cyber-attacks.
Insight Application
Based on application, the market is segmented into firewall, distributed denial of services, anomaly detection, web filtering, intrusion detection, and data loss prevention. The AI in cyber security market size is the largest for anomaly detection due to the increasing number of financial and banking frauds and mounting number of cyber-attacks. Different organizations especially banking and finance organizations require identification of any suspicious activities which might lead to possible fraud or cyber-attack, therefore they implement AI for cyber security to track any intrusion or fraud.
Wound Care Market Report Coverage
| | |
| --- | --- |
| Report Metric | Details |
| Historical Period | 2018–2021 |
| Base Year Considered | 2022 |
| Forecast Period | By 2030 |
| Market Size in 2022 | $X.XX Billion |
| Revenue Forecast in 2030 | $26.8 Billion |
| Growth Rate | CAGR 4.2% |
| Segments Covered in the Report | By Product Type, By Wound Type, By Application, and By End-User |
| Report Scope | Market Trends, Drivers, and Restraints; Revenue Estimation and Forecast; Segmentation Analysis; Impact of COVID-19; Companies' Strategic Developments; Market Share Analysis of Key Players; Company Profiling |
| Regions Covered in the Report | North America, Europe, Asia-Pacific, Middle East, and Rest of the World |
Industry Dynamics
Growth Drivers
The stringent data privacy regulations, increasing adoption of digital solutions, increasing number of cyber-attacks, and increasing inclination towards cloud-based solutions from on-premise are the key factors leading to the growth in the AI in the cyber security market, globally. Cyber-attack is one of the biggest threats to the modern world.
Increasing Cyber Threats: The rising number and complexity of cyber threats, including malware, ransomware, and sophisticated hacking techniques, have propelled the demand for AI-driven cybersecurity solutions. AI can analyze vast amounts of data and identify patterns that indicate potential threats, enabling proactive defense measures.
Advanced Threat Detection: AI algorithms can detect anomalies and suspicious activities in real-time, helping organizations identify and respond to potential cyber-attacks promptly. Machine learning and behavioral analytics techniques allow AI systems to continuously learn and adapt to evolving threats.
Automation and Efficiency: AI technologies automate time-consuming and repetitive cybersecurity tasks, reducing human intervention and the risk of errors. This automation improves efficiency, enables faster threat detection and response, and frees up cybersecurity professionals to focus on more complex and strategic tasks.
Regulatory Compliance: Stringent data protection and privacy regulations, such as the General Data Protection Regulation (GDPR) and the California Consumer Privacy Act (CCPA), have necessitated robust cybersecurity measures. AI solutions can assist in ensuring compliance by monitoring data flows, identifying vulnerabilities, and protecting sensitive information.
Growing Adoption of Cloud and IoT: The widespread adoption of cloud computing and the Internet of Things (IoT) has expanded the attack surface for cybercriminals. AI-based security solutions help protect cloud environments, IoT devices, and networks by detecting and mitigating potential threats in real time.
According to the World Economic Forum (WEF), the top five most likely events to happen in 2018 across the globe, from most to least likely are extreme weather events, natural disasters, cyber-attacks, data fraud or theft and failure of climate-change mitigation and adaptation. The fact itself depicts the utmost need for security from cyber-attacks and data fraud. Therefore, the increasing vulnerability of databases to cyber-attacks results in the growth of AI in the cyber security market.
Challenges
Key challenges faced by the AI in cyber security industry are limitation of security budget against cyber-attacks especially in developing and underdeveloped countries and inefficiency of AI to tackle cyber threats in advance. In addition, dearth of skilled AI and cyber security professionals for cyber threats is having a negative impact on the growth of the market.
Geographic Overview
Geographically, North America is the largest AI in the cyber security market as the number of mobile malware attacks are increasing in the country and increasing usage of connected devices in the region. Moreover, in the U.S., large number of industry players spend large sum of capital to tackle the cybersecurity threats. Asia-Pacific is observed to witness the fastest growth for AI solutions in cyber security during the forecast period. Different organizations including larges as well as small enterprises are adopting these technologies to ensure security from cyber-attacks.
Global Artificial Intelligence (AI) in Cyber Security Market, By Region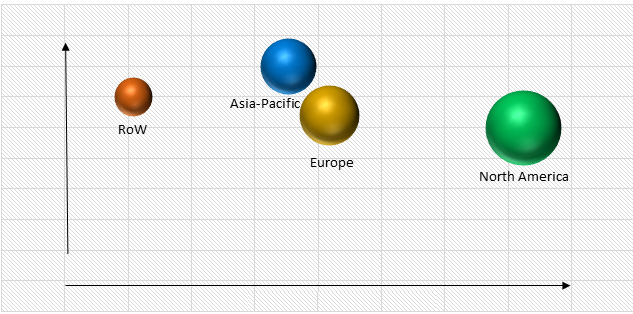 Competitive Insight
Market players in the AI in cybersecurity industry are investing capital to develop technologically advanced systems for anomaly detection, web filtering, intrusion detection, and data loss prevention among others.
Check Point Software Technologies Ltd, Juniper Networks, Inc., Amazon, Inc., Intel Corporation, RSA Security LLC, Palo Alto Networks, Inc., Fortinet, Inc., IBM Corporation, Inc., FireEye, Inc., BAE Systems Plc, Cisco Systems Inc., and Symantec Corporation are some of the key players offering solutions and services for AI in cybersecurity.
Primary Research
VynZ Research conducts extensive primary research to understand the market dynamics, validate market data, and have key opinions from industry experts. The key profiles approached within the industry include CEO, CFO, CTO, President, Vice President, Product Managers, Regional Heads and Others. Also, end user surveys comprising of consumers are also conducted to understand consumer behavior.
The Artificial Intelligence (AI) in Cyber Security Market report offers a comprehensive market segmentation analysis along with an estimation for the forecast period 2023–2030.
Segments Covered in the Report
By Technology

Natural Language Processing
Speech Recognition
Machine Learning
Image Processing

By Service Type

Identity and Access Security Services
Network Security Services
Cloud Security Services
Data Security Services
Others

By Application

Firewall
Distributed Denial of Services
Anomaly Detection
Web filtering
Intrusion Detection
Data Loss Prevention
Region Covered in the Report
North America
Europe

Germany
U.K.
France
Italy
Spain
Russia
Rest of Europe

Asia-Pacific (APAC)

China
Japan
India
South Korea
Rest of Asia-Pacific

Rest of the World (RoW)

Brazil
Saudi Arabia
South Africa
U.A.E.
Other Countries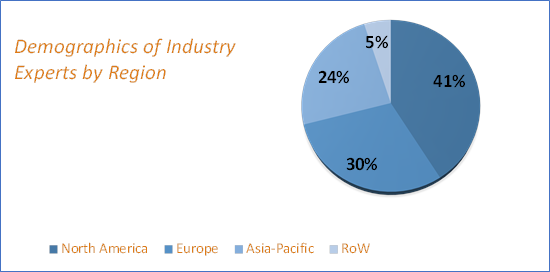 Source: VynZ Research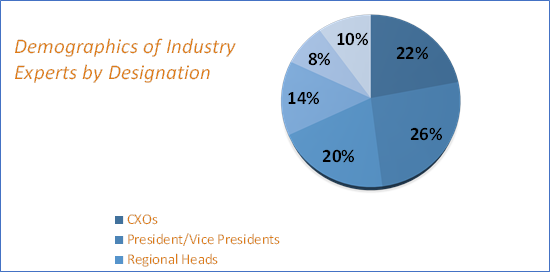 Source: VynZ Research